AICHR convenes second Special Meeting this year
Friday, November 27,2020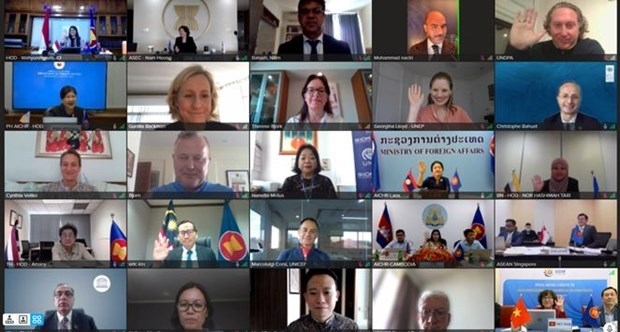 AsemconnectVietnam - The ASEAN Intergovernmental Commission on Human Rights (AICHR) convened its second Special Meeting via video conference from November 23 to 25, the last official meeting chaired by Vietnam in its capacity as AICHR Chair 2020.
The meeting brought together representatives of the AICHR from ASEAN member states and the ASEAN Secretariat to review cooperation between stakeholders and results in 2020, while also discussing plans for 2021 and preparations for a meeting between the AICHIR and partners.
The meeting reviewed eight concept papers on activities being implemented in the 2019-2021 period, 19 priority activities for 2014-2020, and seven AICHR regional studies. Member states greatly appreciate the AICHR's concerted efforts during COVID-19 to maintain cooperation and implement priorities to further promote and protect human rights in the region and effectively respond to the complex and multidimensional impacts of the pandemic.
Representatives exchanged views and agreed on the content of the Guidelines on the AICHR's External Relations, which is fundamental to fostering consultation and cooperation between the commission and its partners and guarantees the principles of consensus and ASEAN's centrality in such matters.
In her remarks as Chair of AICHR 2020, Vietnamese Ambassador Nguyen Thai Yen Huong underscored the importance of the implementation of agendas and cooperation on the promotion and protection of human rights within ASEAN.
She welcomed active coordination between member states in drafting and adopting the AICHR Five Year Work Plan 2021-2025, AICHR Priority Programmes and Activities 2021, and Guidelines on the AICHR's External Relations.
Vietnam, as Chair of AICHR and ASEAN at large this year, has coordinated with other member states to strengthen the region's cohesiveness and responsiveness to the impact of COVID-19 and accelerate progress of the AICHR's regional cooperation in human rights, contributing to the ASEAN Community's joint efforts, Huong said.
Representatives from ASEAN member states also spoke highly of Vietnam's role as ASEAN Chair 2020 in leading the AICHR during a time of hardship. They pledged to further step up the AICHR's cooperation with regional and international human rights mechanisms.
They moved on to highlight the relevance of this year's ASEAN Chairmanship theme of "Cohesive and Responsive", which was dedicated to maintaining the grouping's solidarity, unity, and partnership and effectively responding to the impacts of COVID-19 in the areas of economy, and social welfare and human rights, particularly of vulnerable groups, like women, children and people with disabilities.
On the sidelines of the meeting, the AICHR held online meetings with representatives from the UN, the EU, Switzerland, and the International Committee of the Red Cross, to exchange experience in issues of mutual interest, such as humanitarian assistance, the promotion of gender equality, the protection of the rights of women, children, migrant workers and vulnerable groups, and the incorporation of human rights and the environment, particularly in disasters and pandemics.
The meeting saw Vietnam officially hand over the AICHR Chairmanship to Brunei for 2021./.
Source:
en.vietnamplus.vn/aichr-convenes-second-special-meeting-this-year/191138.vnp