Forum highlights youth role and development in ASEAN Community
Wednesday, November 25,2020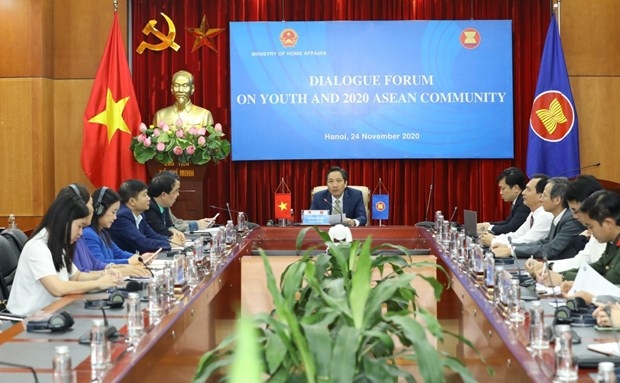 AsemconnectVietnam - The Dialogue Forum on Youth and 2020 ASEAN Community took place online on November 24, discussing youth development policies and related trends and issues facing ASEAN member states.
Organised by Vietnam's Ministry of Home Affairs, the forum gathered representatives from ASEAN members' State agencies in charge of young people affairs and the ASEAN Secretariat.
In his opening speech, Deputy Minister of Home Affairs Tran Anh Tuan said Vietnam and other ASEAN member nations highly value the role of youth in the building, integration, and connectivity of the ASEAN Community, saying they are important human resources, particularly in enhancing solidarity and friendship regionally and globally.
This is the third time Vietnam has organised the forum since 2011, he said, which aims to promote the role and creativity of young people in addressing national and regional issues and to propose ideas and policies to boost living standards of youth and all people in the ASEAN Community as a whole . The forum also created an opportunity for the exchange of culture and policy making and the sharing of experience between participants.
Rodora T. Babaran, Director of Human Development at the ASEAN Secretariat's ASEAN Socio-Cultural Community Department, praised Vietnam's effort in holding the forum amid the COVID-19 pandemic.
Babaran said young people play an important role in the strategy for the formation of the ASEAN Community and are a priority in the making of policy in the bloc and its member states.
ASEAN is home to 220 million young people, who account for one-third of its population. The bloc recently built a youth action plan for 2021-2025 and a youth development index.
Babaran suggested policies be issued that encourage youth start-ups in different sectors, adding that increasing young people's engagement in socio-economic matters and raising their awareness about ASEAN are also needed.
Participants discussed bloc members' current situation regarding building and implementing policies regarding youth, in terms of education and training, healthcare, start-ups and job creation, and volunteer work.
They took the occasion to share experience in handling youth-related issues and make recommendations on ensuring the rights and interests of youth in the region and to optimise their participation in tackling socio-economic matters./.
Source:
en.vietnamplus.vn/forum-highlights-youth-role-and-development-in-asean-community/190994.vnp