General plan for Ha Tien city and Ha Tien border-gate economic zone, Kien Giang province, till 2040
Friday, January 31,2020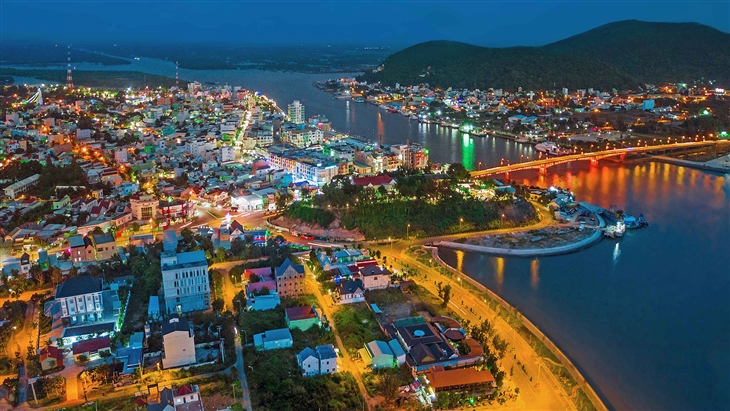 AsemconnectVietnam - To develop Ha Tien city sustainably and synchronously with modern technical and socio-economic infrastructure, identifying its position to become a rich cultural and heritage; preserve, exploit and promote the values of traditional culture
General plan for Ha Tien city and Ha Tien border-gate economic zone, Kien Giang province, till 2040
1. Scope, boundary and scale of the research
The scope and boundary of the general urban planning are determined throughout the entire administrative boundary of Ha Tien city, including 7 administrative units (5 wards: Binh San, Dong Ho, Phao Dai, To Chau and My Duc and 2 communes of Thuan Yen and Tien Hai island communes) have a natural area of ​​about 100.49 km2 and the sea surface area is located between Tien Hai island commune and the mainland communes of Ha Tien city. The scope and boundaries of the planning study are determined as follows:
- Bordering Giang Thanh district, Kien Giang province to the East;
- The West borders the Gulf of Thailand;
- Bordering Kien Luong district, Kien Giang province to the South;
- The North borders the Kingdom of Cambodia.
2. Planning term
- Short-term period till 2030;
- The long-term period till 2040
3. Planning objectives
- To build the city and Ha Tien border-gate economic zone, Kien Giang province, into a center of economic, commercial, cultural and heritage tourism in the Mekong river delta;
- To develop Ha Tien city sustainably and synchronously with modern technical and socio-economic infrastructure, identifying its position to become a rich cultural and heritage; preserve, exploit and promote the values ​​of traditional culture;
- Planning urban spaces and border-gate economic zones, improving regional linkage, associating economic development with national defense and border security, creating a premise to reach grade-II urban standards before the year 2030, in accordance with the planning orientation of the national urban and rural system;
- Manage urban development in the direction of modernization, green and intelligent development, and save energy; attracting investment; human resource training; climate change adaptation;
- Establishing a basis for managing the planning and implementing detailed plan; prepare urban construction investment according to planning, ensuring feasibility.
4. Properties and functions
- Being an international border-gate urban, cultural, administrative, scientific-technical, educational - training and coastal tourism; urban areas with historical traditions, cultural and natural heritage of diverse ecosystems;
- Being a western growth pole of Kien Giang province, a key urban area of ​​the Mekong river delta region;
- Having an important position in national defense and security.
5. Forecast
a) Forecast of population:
- Population until 2030: about 170,000 - 195,000 people;
- Population until 2040: about 200,000 - 225,000 people.
b) Regarding land area forecasts:
- Urban construction land till 2030: about 3,000 - 3,900 ha, norm of about 170 m2 - 200 m2 / person;
- Urban construction land till 2040: about 4,000 - 5,000 ha, norm about 200 m2 - 225 m2 / person.
6. Content of planning research
a) Assess the current situation:
- Analyzing and evaluating natural features, current situation of topography, climate, hydrology, geology, ecological landscape and natural resources, identifying lists and classifying relics and heritage in the planning area according to local characteristics, tourism resources of Ha Tien city and surrounding areas affecting the development orientation of Ha Tien city; evaluate in detail the construction land fund on the basis of favorable, unfavorable construction zoning and construction ban;
- Assessment of socio-economic development, development status of key industries and fields. Current status of population, labor, and employment: population, labor statistics, occupation structure, percentage of population and labor (in the last 5 years); analysis of population development trends, population distribution (urban - rural areas), migration phenomena, problems of urbanization;
- Assessing the current status of land use: making statistics of the land use status at the planning area; analysis and evaluation of land use efficiency and existing land use and spatial landscapes to be addressed to meet development requirements;
- Assessing the architectural space and landscape of existing urban areas and planning research areas;
- Assessing the current status of socio-economic infrastructure systems in the scope of planning study. Identify outstanding issues to meet Grade II urban standards;
- Assess the current status of urban technical infrastructure systems and the environment within the planning study. Identify outstanding issues to meet Grade II urban standards;
- Reviewing and evaluating the contents of the general planning of Ha Tien border-gate town and economic zone, Kien Giang province, approved by the Prime Minister in Decision No. 32/2000 / QD-TTg of March 3, 2000, specifically evaluating the implementation and implementation of investment projects under the general planning approved in 2000 up to now, stating key characteristics in the current development of the city and Ha Tien border-gate economic zone. , identify shortcomings and inadequacies to be solved;
- General assessment of the current situation, proposing contents to be studied in the new planning;
- Factors affecting the overall development of the city, socio-economic development requirements.
b) Urban spatial development orientation:
- Proposing ideas, development models of cities and border-gate economic zones based on their potentials and typical strengths, suitable to the regional context, natural conditions, trends, growth drivers, capacity to cope with climate change, development requirements of each period to 2030, 2040;
- Orientations on architectural space - landscape, urban structure, functional subdivisions, land use planning; research to propose solutions for urban design, urban management regulations according to planning; orientations for the development of specific architecture in Ha Tien city;
- Security and defense requirements at sea; current situation and policies on natural resources management and marine environment protection;
- Renovating existing urban embellishment and exploiting mountainous land fund; studying urban development, expanding the scope and boundaries of the existing urban center in the northeast direction;
- Studying the possibility of exploiting and using marine space on the basis of the thrifty and efficient principle to develop urban space, ensuring conformity with the national marine spatial planning and protecting the environment, marine and island ecology. Studying urban development towards the sea in accordance with the terrain, soil and existing islands, connecting landscape space, forming island chains and coastal peninsulas;
- Identification of functional areas of the urban area, development of central areas, public centers, service areas, green parks, industrial parks, clusters, handicrafts and warehouses , wharves ..., and functional areas of the border gate economic zone.
c) Orientation of socio-economic infrastructure system: Proposing orientations for development of the system of social infrastructure works for residential quarters, medical, educational, cultural and sports facilities, tourism, etc. Golf courses are located in suitable positions to meet the needs of urban centers and surrounding areas.
d) Urban design:
Content of urban design complies with the Ministry of Construction's Circular No. 06/2013 / TT-BXD of May 13, 2013, guiding the contents of Urban Design and Circular No. 16/2013 / TT-BXD dated October 16, 2013 amending and supplementing a number of articles of Circular No. 06/2013 / TT-BXD of May 13, 2013 of the Ministry of Construction on urban design contents; specifically: Landscape design on both sides of the Ha Tien River, major transport routes, coastal, urban landscape; proposing spatial organization in central areas, urban gateway areas, main spatial axes, some symbolic high-rise highlights in urban areas; organize green space and water surface. Make the most of the natural landscape, culture - history as a highlight for urban development.
Urban greenery: studying tree species suitable to the natural environment, infrastructure for planting greenery in urban areas; Landscape design of parks, squares and monuments of Mac Cuu.
Studying architectural characteristics of Ha Tien city and landscape architecture of artificial islands and the Pirate Islands.
d) Land use planning according to the stages:
- Identify functional areas; determination of criteria on population density and norms of urban land use; development orientation and principles for each functional area; propose land use plans suitable to each stage of development; demarcation of urban areas and border economic zones;
- Arranging isolation corridors, main infrastructure corridors and land fund for construction of national and regional technical infrastructure focal points (if any).
Land use planning in the short, medium and long-term period must be consistent with the land fund in the Land Use Plan for the period of 2021 - 2030 and in accordance with the adjustment of land use planning to 2020 and the plan. Land use end term (2016 - 2020) of Kien Giang province was approved by the Government in Resolution No. 79 / NQ-CP of June 19, 2018.
f) Planning on technical infrastructure system:
- Technical preparation: general evaluation and selection of urban development land; assessment of topography, geological changes, identification of areas banned from construction and construction restrictions; identify basins and major drainage basins; water drainage directions, locations and sizes of water drainage works; determine the construction bases for urban centers and each region, capable of coping with climate change and sea level rise;
- Transport: To identify external transport networks connecting Long Xuyen - Ha Tien, Rach Gia - Ha Tien expressways, national highway 80, national highway N1, urban and waterway traffic (Giang river, Rach Gia - Ha Tien canal, existing ports ...), static traffic system, classification of urban roads and design solutions for the internal traffic network. ; development orientation of technical infrastructure, transportation connecting regions, intra-regions and water supply and drainage systems, wastewater treatment, cemeteries and solid wastes. The study proposes a location to build dual-use airport for planning vision to 2040.
Determine the location, scale and number of traffic hubs.
- Water supply: determining demand and water supply; location, scale of key works and main transmission and distribution network of water supply system, analysis and assessment of water resources, proposing solutions for water supply and protection of water sources. Determining standards and demands for water use, estimated sources of supply, key works, networks of water supply pipelines, fire-fighting water supply and technical specifications;
- Waste water drainage, solid waste collection and treatment, cemeteries: determining standards and forecasting volumes of waste water and solid waste drainage and cemetery land demand. Orientation of wastewater and solid waste collection and treatment system; urban cemeteries and funeral homes;
- Electricity supply and lighting: To determine standards and demands of electricity use; choose the balance of power sources; propose solutions to design the power supply network, expected focal works for each planning period. Calculate demand and propose solutions for lighting. Proposing the exploitation and use of other energy sources (if any);
- Communication: calculating demand and proposing solutions for development of post and telecommunications infrastructure. To build a synchronous optical transmission network along the direction of using common infrastructure, expanding public telecommunications systems to meet use demands and serving socio-economic development.
g) Strategic environmental assessment:
- Assess the current situation, analyze and forecast the positive and negative impacts affecting socio-economic development and urban environment;
- Assessment of impacts due to development of functional areas, urban space development and regional infrastructure development;
- Proposing solutions to solve remaining environmental issues in the planning scheme; forecast and propose solutions to prevent, mitigate and overcome natural disasters, based on the latest climate change and sea level rise scenarios and specific studies for the city of Ha Tien.
h) Determine priority investment programs and projects in line with the forecast of resources for implementation:
- Analysis of data on urban economy, arguments to identify a list of programs and projects of priority investment to create motive forces for development of cities and border-gate economic zones according to prescribed stages. planning;
- To formulate programs, concretize objectives and investment projects on technical infrastructure development in order of priority;
- Proposing and proposing implementation resources, capital sources structure (central budget, local budget, socialized capital, mobilized funding) and capital mobilization plan to implement the plan; phased investment in each stage associated with the ability to ensure resources to implement the plan.
i) Draft of management regulations according to the planning scheme:
Proposing regulations on management of planning and architecture under the Government's Decree No. 37/2010 / ND-CP of April 7, 2010, in accordance with the planning scheme and complying with the relevant law provisions, making Legal basis for the management of construction investment in the city and Ha Tien border gate economic area.
7. Product records
Dossier composition and project contents comply with the Government's Decree No. 37/2010 / ND-CP of April 7, 2010, on elaboration of appraisal, approval and management of urban planning, Decree No. 44 / 2015 / ND-CP dated May 6, 2015 of the Government detailing a number of contents on construction planning and Circular No. 12/2016 / TT-BXD dated June 29, 2016 of the Ministry of Construction regulations on regional construction planning tasks and planning, urban planning and specific functional area planning and other relevant laws. Including: Proposal for appraisal and approval; explain the mission content; draft task approval decision; miniature colored printed drawings; relevant legal documents.
8. Organization of implementation:
a) Progress of planning: The planning time does not exceed 12 months from the date the planning tasks are approved.
b) Responsibilities of relevant agencies:
- Approving level: The Prime Minister;
- Appraising agency: Ministry of Construction;
- Approving agency: People's Committee of Kien Giang Province;
- Planning organizer: Ha Tien City People's Committee;
- Planning agency: The consulting unit has appropriate capacity, selected according to the current law.
The People's Committee of Kien Giang province allocates capital and approves the total cost estimate for planning; coordinate with the concerned ministries and branches in organizing the formulation and submission of the general planning scheme of the city and Ha Tien border-gate economic zone, Kien Giang province, till 2040 in accordance with the provisions of law.

Long Giang
Source: Vitic / thuvienphapluat.vn