Cement industry development plan of Vietnam to 2020
Monday, January 14,2019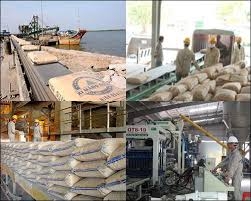 AsemconnectVietnam - Cement industry aims to fully meet domestic demand in terms of quantity and quality, moving towards exports and to develop into an efficient industry equipped with high technology.
CEMENT INDUSTRY DEVELOPMENT PLAN OF VIETNAM TO 2020

I. Development goal
The cement industry aims to fully meet domestic demand in terms of quantity and variety, moving towards exports and to develop into an efficient industry equipped with high technology, which is competitive in the domestic and world markets amidst the integration process.
II. Development viewpoint
1. On investment:
The investment in cement projects must ensure socio-economic efficiency and the competitiveness of cement products in the light of Vietnam's integration with the regional and international economies, as well as rational use of natural resources, conservation of environment, ecology, historical and cultural relic sites, natural setting and meet the requirements of security and national defense. Priority shall be given to the development of expansion investment projects and new projects in southern and central regions as well as projects to be undertaken in northern provinces. No new investment shall be made in shaft kiln cement plants and stand-alone grinding stations that are not integral to domestic cement clinker manufacturers.
2. On technology
- To use state-of-art technology, high automation and appropriate equipment in order to ensure that products are of high and stable quality and diversified with reasonable prices.
- To economically utilize natural resources, minerals and power for cement production.
- To diversify sources of raw materials and fuels used for cement production, including the use of waste and scraps from other industries, meeting standards of product quality and environment protection.
- To gradually shift from the shaft kiln to rotary kiln technology and eventually end up using the shaft kiln technology before 2020.
3. On capacity
- Priority will be the development of large-scale plants.
- To choose appropriate capacity for projects in mountainous and remote areas.
- Projects, which call for the transfer of technology from shaft kiln to rotary kiln, can adopt small and medium production capacity which must not be lower than 1,000 tons of clinker a day.
4. Location of cement factories
Cement plants must be built in areas where material resource and infrastructure are favorable. Based on the regional and local market demands, taking supply and demand nationwide into account, cement plants shall be concentrated mainly in the following eight areas.
that are potential for producing cement and clinker:
| | |
| --- | --- |
| Zone | Province/City |
| I | Quang Ninh |
| II | Hai Phong, Hai Duong |
| III | Hoa Binh, Ha Tay, Ha Nam, Ninh Binh, Northern Thanh Hoa |
| IV | Southern Thanh Hoa, Nghe An |
| V | Quang Binh, Quang Tri, Thua Thien Hue |
| VI | Quang Nam, Da Nang |
| VII | Tay Ninh, Binh Phuoc |
| VIII | Kien Giang |
Large-scale cement clinker plants shall be constructed primarily in areas with rich natural resources and a waterway system convenient for the transport of clinker to the South.
In the northwestern and northeastern mountainous regions, cement plants of scale shall be built in line with the requirements of socio-economic development of the regions and the neighboring areas.
III. Targets
1. In relation to proven reserves
- As for projects with a capacity of more than 3,000 tons of clinker a day: the minimum reserve must cover continuous production over a period of 30 years.
- As for projects with a capacity of under 3,000 tons of clinker a day: the minimum reserve is to be sufficient for continuous production over a period of 20 to 25 years.
2. Technical specifications for cement production
Investment projects for the cement industry's development must adopt advanced specifications on the consumption of fuels, raw materials, power and dust content of exhaust gas, noise intensity, automation level, labor productivity, and local content.
The following table shows some required specific technical specifications
Specification

Capacity (tons of clinker a day)

> 3,000

>1,000 to < 3,000

1,000

Calorie consumption, kcal per kg of clinker

£ 730

£ 800

£850

Power consumption, kwh per ton of cement

£ 95

£ 98

£ 100

Dust content, mg per Nm3

£ 50
3. Cement plants, which adopt the rotary kiln technology as a replacement for the shaft kiln one, must fulfill the conditions as follows:
- Having fully repaid investment loans and wanting refurbishment and transfer technology.
- The source of qualified limestone and clay is available, with the reserve being enough for the operation of the plant over a period of 20 years or more.
- Having sought markets for their products.
- Being financially healthy.
- Having a contingent of senior directors and production managers.
Shaft kiln cement plants, which fail to meet the afore-mentioned conditions, are required to draw up plan for production reorientation or liquidation ahead of 2020.
4. The requirements for grinding stations:
- To be integral to cement manufacturing establishments and to supply clinker to meet domestic needs.
- To meet the requirements of environment hygiene as prescribed.
5. Demand and plan for mobilization of cement plants' production
The following tables indicates forecasts of cement demand of the whole country and eight economic zones, respectively (in million metric tons):
Table 1. Vietnam's cement demand , 2015 -2020
Year

Range

Average

2015

59.5 – 65.6

62.5

2020

68 –70
Table 2. Vietnam's cement demand by economic zone, 2015 -2020
Economic zone

Cement demand

2015

2020

Northwest

0.7

0.94

Northeast

3.98

5.32

The Red River Delta

13.10

17.5

North of Central Vietnam

4.92

6.56

South of Central Vietnam

3.74

5.0

Central Highlands

1.17

1.56

East of Southern Vietnam

12.17

16.25

The Mekong River Delta

7.02

9.37
IV. On investment capital source
To mobilize domestic and foreign funding sources, including credit lines, project bonds, own capital, equity capital, paid up capital etc. to invest into the cement industry. To encourage businesses of economic sectors invest in cement production, including foreign investment in the form of joint venture or share holding.
The State shall grant due support to projects for cement production development in mountainous, remote and disadvantaged areas through the existing policies and mechanisms.
V. On inter-branch coordination
- To harmoniously and synchronizingly combine production with consumption and branches with relevant sectors, such as mechanical engineering, communication, natural resources and environment, science and technology, education and training, and infrastructure development etc., so as to best serve the development of the cement industry and facilitate the development of other industries.
- The development of the cement industry must be linked with major mechanical programs of the Government.
- To bring into full play capacities of the industries of mechanical engineering, metallurgy, informatics and automation etc. in the research, design and manufacture of technology, equipment and spare parts for the cement industry, with a view to rapidly increasing the proportion of domestically produced equipment used.
- The State shall provide support to the procurement of technology needed for the design and manufacture of machinery and equipment of the cement industry to gradually replace imported ones.
- To gather resources in order to quickly acquire know-how to design, manufacture, install and operate cement production lines with a capacity of 2,500 tons of clinker a day by means of advanced technology. As for large cement projects, the weight and value of domestically produced goods and equipment used must account for 60% and 25 to 30%, respectively.
- To encourage businesses those have technical capacity and financial health to work as a general contractor of cement projects.
Long Giang
Source: www.mpi.gov.vn