HANOI BEER - ALCOHOL - BEVERAGE JOINT STOCK CORPORATION
Sunday, November 1,2020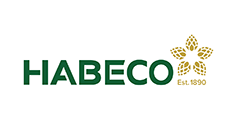 AsemconnectVietnam - HANOI BEER - ALCOHOL - BEVERAGE JOINT STOCK CORPORATION 183 Hoang Hoa Tham Street, Ba Dinh District, Hanoi Tel: (024) 3845.3843 - Fax: (024) 3722.3784 Website: www.habeco.com.vn
Hanoi Beer – Alcohol - Beverage Joint Stock Corporation (HABECO) transformed its operation model from state corporation to joint stock corporation under the Decision No.1863 / QD TTG dated 28/12/2007 and Decision No. 575 / QD TTG dated May 16, 2008 by the Prime Minister, with chartered capital of VND2,318 billion. At present, HABECO has 16 subsidiaries and 6 associates. With technology - traditional hundred years and the system of modern equipment, the skilled, qualified and enthusiastic staff, HABECO products have received the love of millions consumers in the country as well as international consumers. HANOI brand of beer that is built, crystallized from many generations, is the belief of consumers, the pride of the Vietnamese brand.

HABECO products are widely distributed to domestic market as well as foreign markets such as Taiwan, Korea, UK, Germany, America, Australia and many other countries in the world.

Vision

· Hanoi Beer – Alcohol - Beverage Joint Stock Corporation is aiming to become a strong and leading company in the beer, alcohol and beverage industry in Vietnam.

Mission

· Provide Vietnamese and regional consumers with quality beverages, food safety and hygiene.

· Contribute to the creation of the drinking culture of Vietnamese, supporting responsible drinking.

· Responsibility to the Government and society in social security.

· Research and develop strategic brand with added value to meet the increasing demand of domestic and foreign consumers.

Establishment & development process

· In 1890: The predecessor of Hanoi Brewery was the French-built Hommel Brewery.

· In 1958: Factory Restore. On August 15th, the first bottle of Vietnam brand name Truc Bach was born, marking a turning point in the brewing industry in Vietnam.

· In 1993: Hanoi Brewery was transformed into Hanoi Brewery Company, started to invest in expanding and renovating equipment, and increased its capacity to 50 million liters per year.

· In 2003: Hanoi Beer-Alcohol-Beverage Corporation was established on the basis of the reorganization of Hanoi Beer Company and a number of member units in the industry.

· 2004: Capacity of 100 million liters/year.

· 2005: Hanoi Premium beer line was born.

· 2008: the corporation changed its operation model into a joint stock company.

· 2010: Recover Truc Bach Beer on the occasion of 1000th anniversary of Thang Long - Hanoi and inauguration of Hanoi - Me Linh Brewery with the capacity of 200 million liters/year in Me Linh, Hanoi.

· 2015: Put into operation refined water production line with the capacity of 8,000 bottles/hour at 183 Hoang Hoa Tham street. The production capacity of the whole complex is up to 875 million liters of beer of all kinds, 20 million liters of liquor and 10 million liters of bottled water.

· In 2017: Established Hanoi Brewery - Hoang Hoa Tham.
Business area
· Producing and trading beer, alcohol, beverage and packaging;
· Import and export of raw materials, materials, equipment, spare parts, materials and chemicals;
· Scientific and technological services, investment consultancy, creation of investment capital sources, organization of raw material areas;
· Trading real estate.
Product quality
In order to maximize business efficiency and maintain, improve product quality, HABECO has built up and strictly adhered to the quality management system (ISO 9001: 2000); Environmental management system (ISO 14000: 2004) and Food safety management system (ISO 22000: 2005).
In addition to its strength in brewing and fermenting traditions, HABECO always has a source of barley and hops from the best raw areas in the world such as the Czech Republic, France and Australia.
Outstanding achievement
• 29th International Award for the most famous brand in Madrid - Spain;
• The International Asia Pacific Quality Award (IAPQA);
• Vietnam Gold Star Cup continuous since 2003;
• National Brand Award;
• Enterprise credibility for consumers;
• Gold brand name of Vietnamese food for Truc Bach Beer, Hanoi Beer, Hanoi Premium Beer, and Hanoi canned beer;
• Top 10 gold products of WTO integration in the 9th in 2014;
• Vietnam strong brand award.
Affiliated factories
1. Hanoi Brewery - Hoang Hoa
2. Hanoi Brewery-Me Linh
The company's main products
1. HANOI BOLD
Inspired by Hanoi, Hanoi Bold is a premium beer with a charming, enchanting flavor, an adventure to the passionate experiences of youth. Every fun with friends will add an explosion with the bold and mixed glaze of Hanoi Bold


2. HA NOI LIGHT
Created between the land of ancient and poetic Capital, Hanoi Light beer brings in its subtlety of people with its light-hearted enamel. Hanoi Light brings the beer connoisseurs with a refreshing, relaxing experience with cool beer and immersing in endless refreshment.

3. TRUC BACH BEER CAN
A high-class product line was launched to celebrate the 1000th anniversary of Thang Long – Hanoi with 5.1 percent of alcohol, marking the return of the famous Truc Bach beer brand over the years.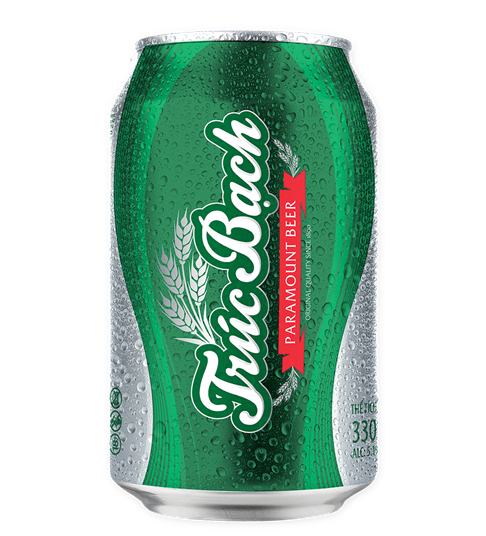 4. TRUC BACH BEER BOTTLE
A high-class product line was launched to celebrate the 1000th anniversary of Thang Long – Hanoi with 5.1 percent of alcohol, marking the return of the famous Truc Bach beer brand over the years.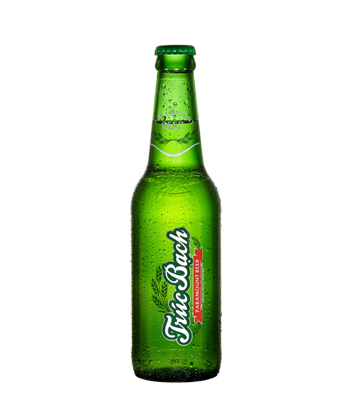 6. HANOI BEER PREMIUM CAN
Beyond the framework of a common beer can, Hanoi Beer Premium Can with modern and liberal design is a beer product representing a vibrant, youthful and creative lifestyle, always yearning for new and always Leading the trend, with the mission to give young people different experiences and affirm themselves.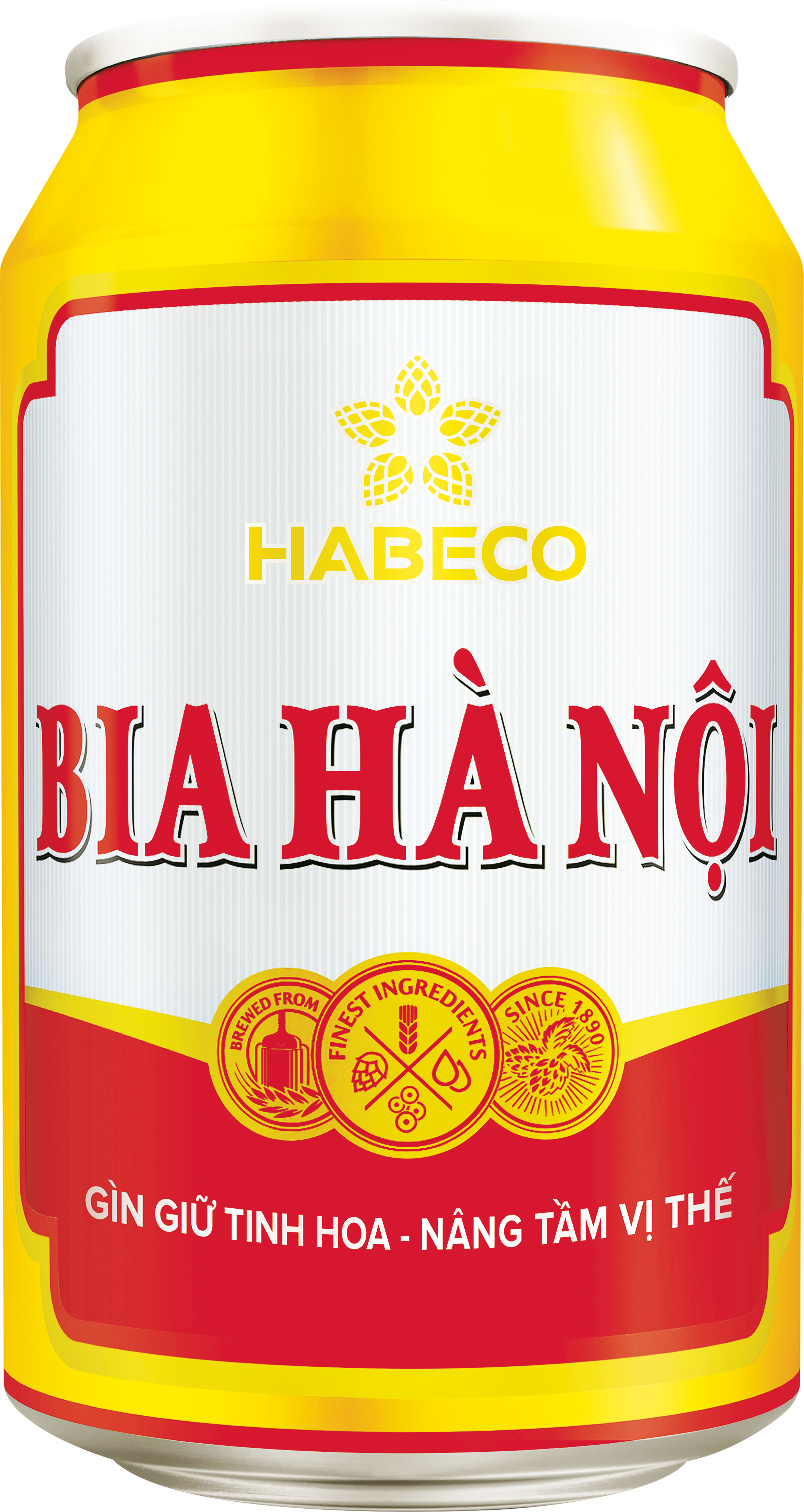 7. HANOI BEER BOTTLE 450ML
Oriented as a core product of Hanoi beer brand in general, Hanoi Beer Bottle 45ml has an annual output of up to 70 percent of HABECO's products. The reason why the bottled beer in Hanoi has a strong position in the markets of the provinces and cities in the North is the attractive bright yellow beer color, durable foam, smooth white, harmonious bitter taste and aftertaste deposition.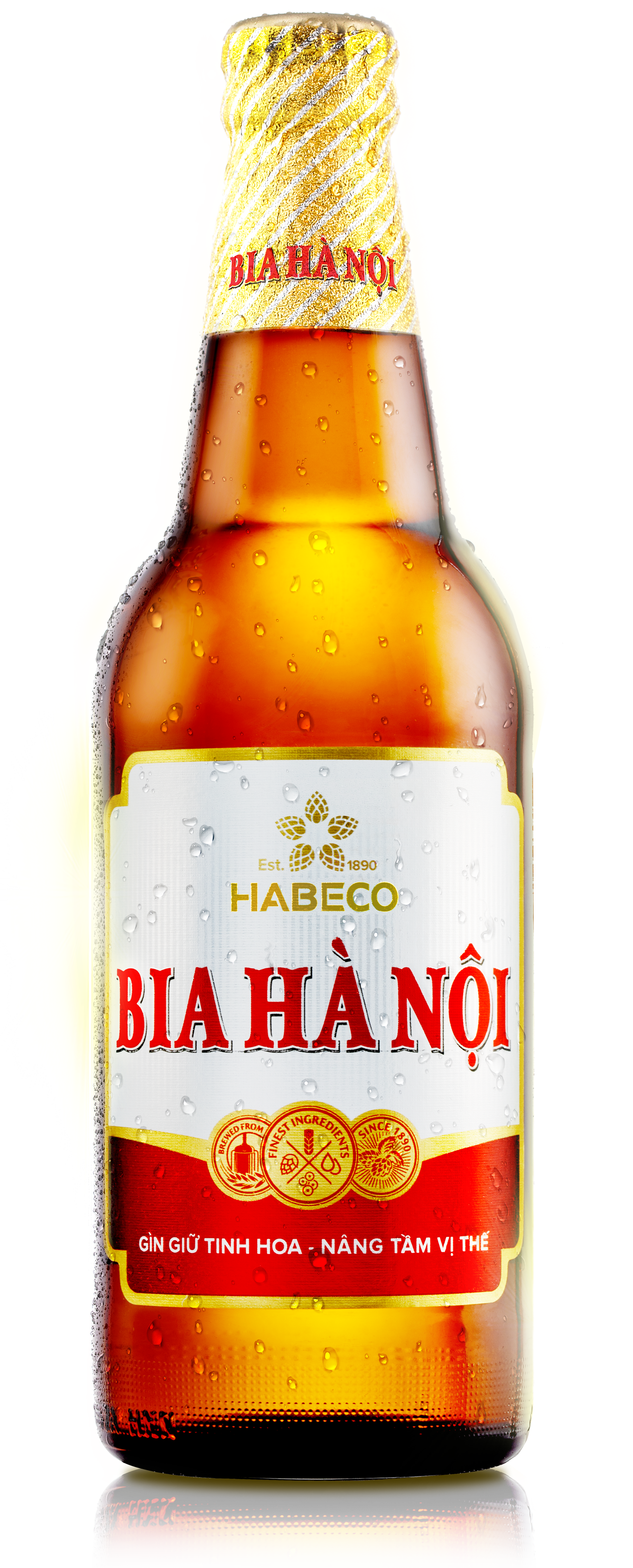 8. HANOI BEER CAN
First introduced to Vietnamese beer lovers in 1992, until now, Hanoi beer cans of 330 ml with 4.6% alcohol content are always products that many consumers choose. The quality as well as the convenient form of canned Hanoi is the reason why this product is always targeted as a gift on Tet holidays or important anniversaries. Hanoi Beer can is an important catalyst for the story of the occasion of gathering more fun and exciting.
Hanoi beer cans of 330ml are currently being exported to many countries around the world and received much appreciation from international customers.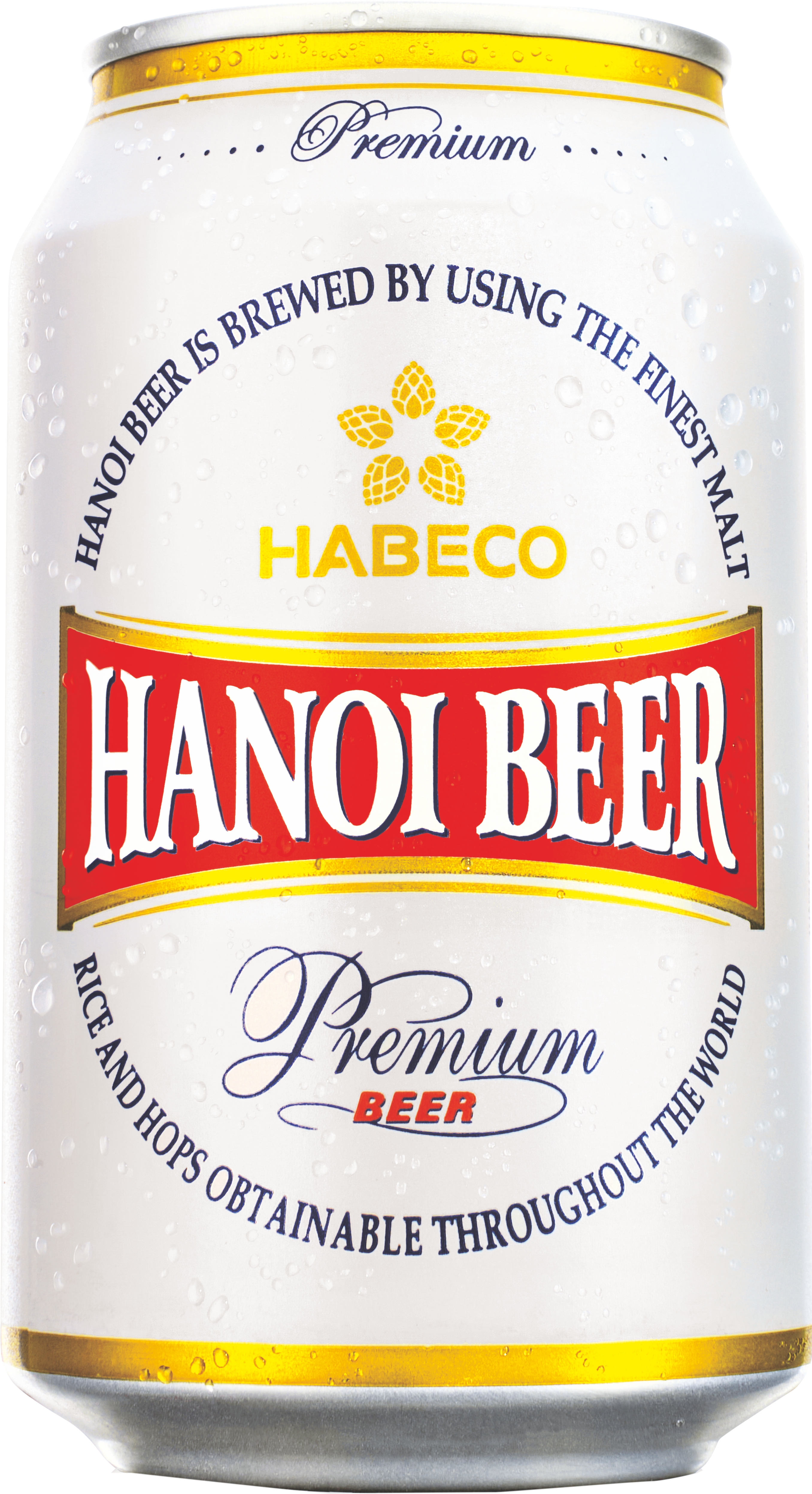 9. GREEN LABEL HANOI BOTTLED BEER
With the desire to better meet the needs of consumers in all parts of the country, in September 2014, HABECO launched Green Label Hanoi Beer - a product exclusively for beer lovers in Central Vietnam.
With the slogan of Green label Hanoi Beer - "Traditional beer - Central vitality", these 450ml bottled beer and 330ml cans of beer are a combination of elite for over 120 years of Hanoi Beer and the typical beer taste of the people in Central Vietnam.
Combined with enjoying the beautiful scenery of white sandy sea in Central Vietnam, beer lovers will have an unforgettable experience when enjoying the soft and settled taste of green labele Hanoi beer bottle.
Green label Hanoi Beer products possess excellent quality, and are drawn from the top beer ingredients. Besides, the strong bottle shape and fresh packaging with the main green color are also attractive features, which make people feel comfortable and familiar to the Central consumers in general.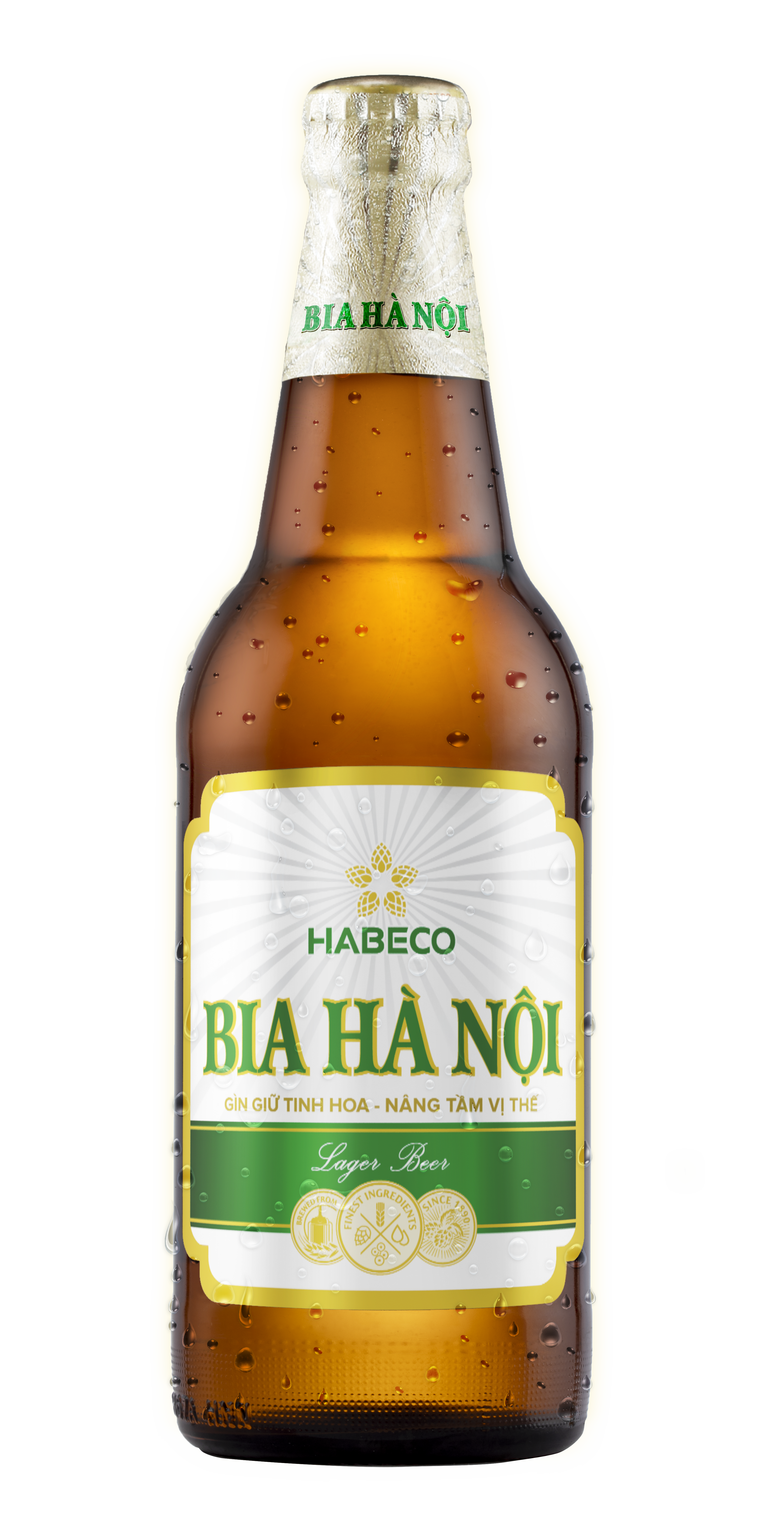 10. HANOI DRAUGHT BEER
Since its inception in 1960, Hanoi draught beer has always been a reputable beer brand and warmly welcomed by beer lovers. Not only is the first choice for intimate gatherings of many domestic customers, Hanoi beer also captures the interest of many international friends when having the opportunity to visit the capital. Because the name of this product as well as the image of sitting enjoying Hanoi beer at sidewalks has long become a feature of typical culture, only Hanoi capital.
With its aromatic flavor, Hanoi draught beer always maintains its pioneering position in the beer market segment in Vietnam. Besides, the right direction of brand management as well as the motto of enthusiastic and friendly service has helped Hanoi draught beer always win a favored position among beer lovers.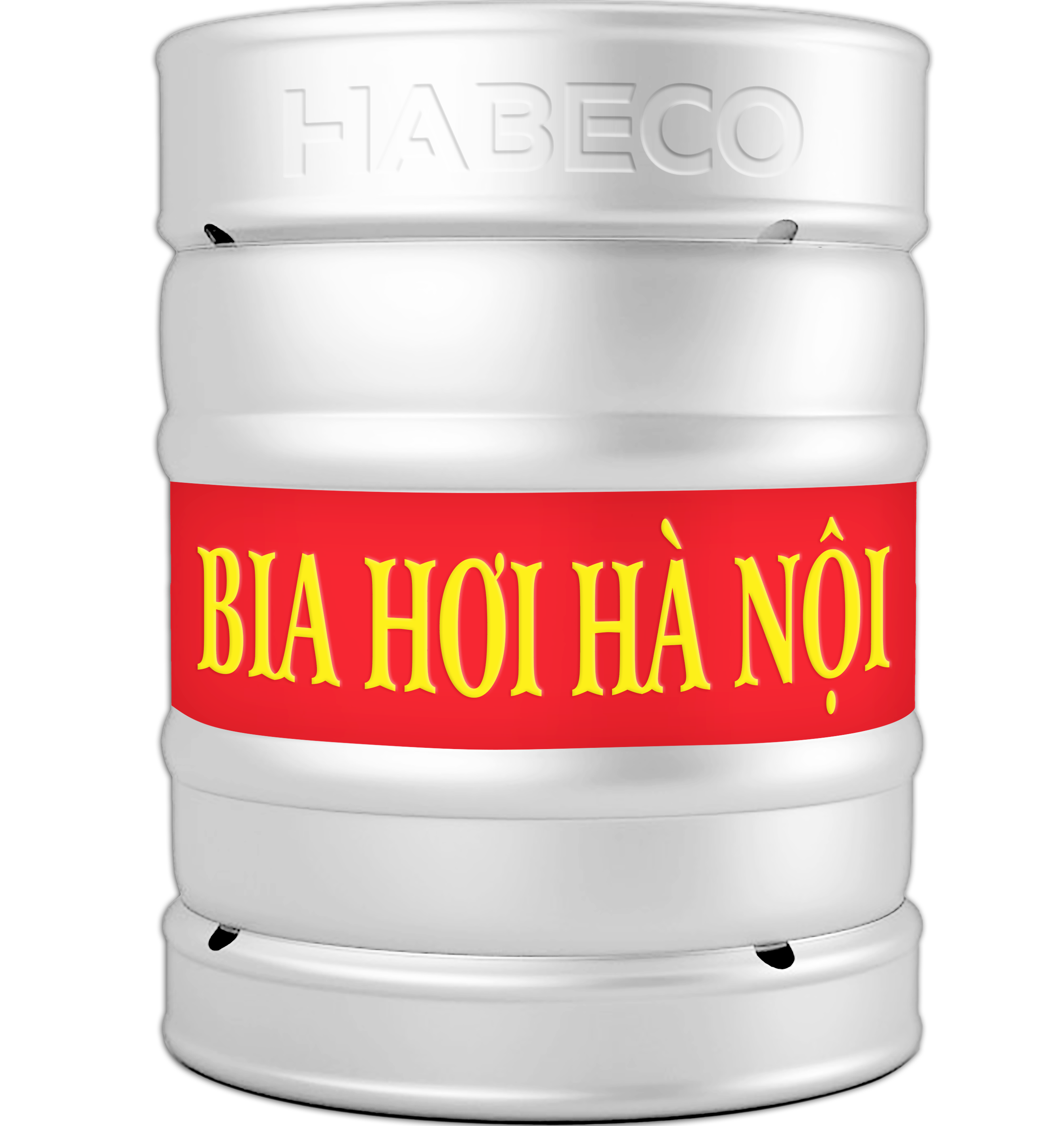 Source: habeco.com.vn