Local firms struggle to reap benefits from CPTPP
Thursday, May 2,2019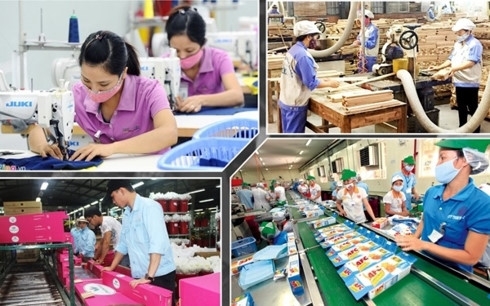 AsemconnectVietnam - A large number of local firms are still struggling to make market entry into CPTPP member countries and grasp opportunities arising from the agreement that came into force over three months ago.
The Comprehensive and Progressive Agreement for Trans - Pacific Partnership (CPTPP) is regarded as the largest scale and highest standard trade deal that Vietnam has joined. However, experts complained that the implementation of the CPTPP remains sluggish in Vietnam as the pact took effect in mid-January.
In fact, a slew of local firms are struggling to pass through the CPTPP gateway while many have yet to know how to take advantage of the sweeping deal.
Preliminary statistics show that exports to Canada reached over US$500 million during the first two months of 2019, a year on year surge of 36.6 per cent, while Mexico spent US$320 million on importing goods from Vietnam, a hike of 11.2 per cent. These markets were followed by Chile and Peru which saw relatively positive growth in imports from the Southeast Asian country.
FDI enterprises reportedly made thorough preparations to make the most of opportunities from CPTPP markets, thus enabling their revenues from these markets to enjoy upbeat growth.
In contrast, domestically-invested enterprises are facing a range of difficulties as they have yet to update relevant guidelines and procedures to tap into CPTPP markets. Hence, their export orders from CPTPP markets remain fairly modest.
According to a recent survey conducted by the Vietnam Chamber of Commerce and Industry (VCCI), only 13 per cent of the total queried firms said they have fully acknowledged the CPTPP, while those making little sense of the deal account for 65 per cent.
Alarmingly, up to 14 per cent of the surveyed firms were completely unaware of the CPTPP, despite the negotiation process and signing of the pact highlighted frequently by local media over the past six years.
Phung Thi Lan Phuong, head of the FTA division under the VCCI's Center for WTO and Economic Integration, said there would be more opportunities arising from the CPTPP than the previous free trade agreements (FTAs) Vietnam has signed, but a great concern remains over the fact that a large number of local firms have limited understanding of the deal due to its complexity. This therefore has a negative impact on how they utilize opportunities from the agreement.
"Hopefully, in the coming time, businesses will be more proactive in updating relevant information and provisions in order to make full use of CPTPP opportunities," Phuong said.
The benefits and opportunities that the CPTPP could bring about are great as it motivates the integration process and opens up more trading opportunities both inside and outside the block, as well as to attract additional investment flows.
However, competition will become more severe for domestic firms as more than 90 per cent of them are operating on small and medium scale, thus restricting their ability to meet rules and requirements prescribed in the CPTPP as well as their access to export markets.
Other hindrances range from a shortage of capital to underqualified workforce, hence posing difficulties for firms trying to expand their production scale.
Phan Thi Thanh Xuan, vice chairwoman of the Vietnam Leather, Footwear, and Handbag Association (LEFASO), said the capacity of local enterprises remains generally weak.
Xuan stressed the need to categorize domestic enterprises for their further development with a view to optimizing connections between supply sources as well as saving their costs and time. This would therefore enable them to enjoy better access to the supply chain.
Each CPTPP member country has made different commitments and specific provisions for goods and services from Vietnam. Deep analysis of these commitments and regulations is a must for local businesses.
In the near future, ministries and agencies must take a more active role in perfecting and enforcing legal institutions with the aim of taking full advantage of the potential opportunities and benefits from the trade deal.
Businesses must quickly catch up with the features of the CPTPP, and also gain a deep understanding of the pact if they want to make good use of the opportunities arising from the deal, said economic expert Vo Tri Thanh.
Small and medium - sized enterprises meet various difficulties in understanding legal issues in relation to the CPTPP, due to their weaknesses in resources and capacity, Thanh added. "Therefore, they need strong support from the government and professional associations in order to help them define the issues. However, the business support and the protection of these firms by legal tools should be carried out professionally."
Obviously, in order to grasp opportunities from the CPTPP, firms must actively learn about relevant detailed provisions and commitments. Simultaneously, they should utilize their advantages as well as find and overcome weaknesses, in order to improve their competitiveness and integrate more deeply into the global economy.

Source: vov.vn