CPTPP helps drive Canadian firms' interest to Vietnam
Wednesday, March 13,2019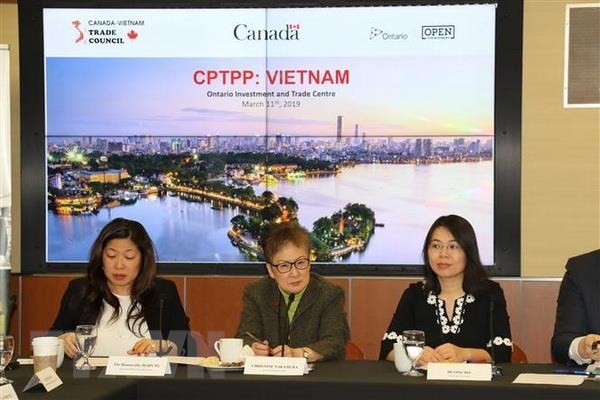 AsemconnectVietnam - A conference was held in Toronto, Canada on March 11 to help Canadian small- and medium-sized enterprises (SMEs) study the Vietnamese market with the Comprehensive and Progressive Agreement for Trans-Pacific Partnership (CPTPP) effective.
Addressing the event, themed "CPTPP: Vietnam", Canadian Minister of Small Business and Export Promotion Mary Ng affirmed the significance of the relationship between Canada and Vietnam, two members of the CPTPP, as well as the position of Vietnam as the largest trade partner of Canada in ASEAN.

The minister held that the Vietnam-Canada partnership is strong, expressing her hope to connect businesses of the two sides to promote two-way trade.

She said the Canadian side can fund its enterprises' activities to research the market and join trade fairs to seek business opportunities in Vietnam.

Statistics showed that in 2018, Canada exported 1.02 billion CAD worth of goods to Vietnam, while importing 5.38 billion CAD worth of commodities from the country.

Jay Allen, deputy head of CPTPP negotiation team of Canada, highlighted the strengths of the Vietnamese market, including a strategic position in Southeast Asia, young population, and a high GDP growth of more than 6 percent annually since 2014.

Allen said cooperation opportunities between the two countries are abundant in agriculture, aquatic farming, infrastructure, green technology and ICT.

Meanwhile, Dr. Nguyen Dai Trang, Director of the Canada-Vietnam Trade Council, said since the CPTPP was ratified, Canadian firms have paid greater attention to Vietnam.

She revealed that the council will introduce the Vietnamese market to Canadian businesses through the organisation of and participation in events, while also helping delegations study the Vietnamese market.

Canada is the only country in the G7 that shares trade agreements with all members of the group.

The Canadian business community is interested in various Vietnamese products, especially farm produce such as pork, beef, chicken and fresh fruit.

Source: vov.vn