CPTPP a step into the future
Wednesday, February 6,2019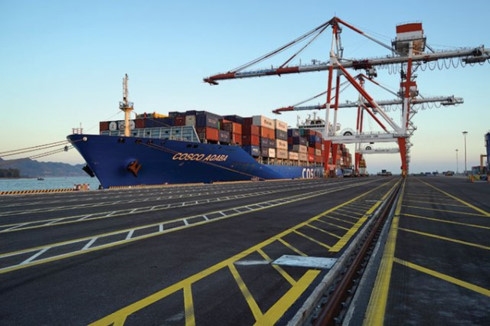 AsemconnectVietnam - The Comprehensive and Progressive Agreement for Trans-Pacific Partnership (CPTPP) took effect in Vietnam from January 14, with great expectations that it will substantially contribute to growth in the country's economy, investment, and trade.
At the "CPTPP - Opportunities and Challenges for Vietnamese Enterprises" workshop held in Hanoi recently, Mr. Ngo Chung Khanh, Deputy Director of the Multilateral Trade Policy Department at the Ministry of Industry and Trade (MoIT) said: "The agreement will boost Vietnam's trade and investment flows by facilitating investment and putting in place rules that address emerging trade challenges. It will create opportunities and solid prospects for Vietnamese enterprises in the future."
Broad prospects
Vietnam officially became the seventh member to ratify the CPTPP after all National Assembly (NA) deputies approved a resolution on the pact on November 12.
Negotiated following the US's withdrawal from the Trans-Pacific Partnership (TPP) in early 2017, the CPTPP will drive improvements in the quality of administrative procedures, ensure equal access to all resources by enterprises from all economic sectors, and eradicate market barriers in service and investment domains, according to Mr. Khanh.
He compared the significance of the agreement's ratification with the country's official admission into the WTO, as both are major turning points for the economy.
Ratification also demonstrates Vietnam's consistent policy of supporting an open multilateral trading system.
The deal forms one of the world's largest free trade blocs and will greatly benefit Vietnam in creating a combined market of 499 million people and annual GDP of over $10 trillion, which accounts for 13.5 per cent of global GDP and 14 per cent of total trade.
The CPTPP should help Vietnam's GDP and exports rise by 1.32 per cent and 4.04 per cent, respectively, by 2035, Deputy Prime Minister and Minister of Foreign Affairs Pham Binh Minh told the sixth session of the 14th NA in November.
Vietnam and five other countries that have ratified the agreement, with Japan the exception, will apply commitments to the first round of tariff cuts on December 30 or January 1, depending on the country, and for the second round on April 1.
It has committed to cutting tariffs on nearly 10,000 product lines to zero per cent, according to the roadmap of three, seven, and nine years, depending on the sensitivity of each product line, according to Mr. Khanh.
Conversely, other member countries will cut import tariffs on commodities from Vietnam, such as Canada (94 per cent of tariff lines), Chile (95 per cent), Japan (86 per cent), and Mexico (77 per cent).
According to economists, such factors have a major impact on an export-dependent economy like Vietnam.
Vietnam has also committed to public procurement activities that are open to domestic and foreign enterprises in regards to bidding. It has committed to the reform of the State-owned sector, with zero subsidies, proper dispute resolution between State-owned and non-State-owned enterprises, and the removal of any other subsidies that distort the market.
"Employees are allowed to be federally organized at a company, not necessarily under the General Labor Union," Mr. Khanh explained. "This is a commitment that will create resilience among Vietnamese institutions and in company activities."
Additionally, Vietnam's commitments to the environment and e-commerce do not require providers set up servers in Vietnam or commit to freely transferring information and intellectual rights to a greater degree than in WTO commitments.
It will publish a list of investment and service fields, so that businesses clearly see where investment is permitted or restricted.
The country has also committed to adjust investment policies to ensure they create suitable conditions.
With such commitments, Vietnam's biggest opportunity is not in market opening but in institutional reform, according to Mr. Khanh.
The CPTPP is the third trade agreement the NA spent a great deal of time scrutinizing, given that its large-scale and major commitments require amendments to several key laws.
The ratification of the agreement reflects Vietnam's determination to accelerate its ongoing institutional reform agenda in the context of extensive international integration, in which economic integration is at the core.
Institutional reform, especially administrative procedures reform, is currently one of the top priorities of the government, with the aim of building up an increasingly transparent and open environment for local and foreign investors, Dr. Le Xuan Sang, Deputy Director of Vietnam's Institute of Economics told VET. The CPTPP is a real test of the country's determination to pursue this process.
The NA needs to promulgate amendments to seven laws, then review documents from the central to local level to ensure legal provisions are consistent with commitments.
"Vietnam will take into account the CPTPP when making any changes," Mr. Khanh said. "I have found that ministries, before adjusting laws, have been asking themselves whether this conforms to the WTO commitments, and I hope they will adopt a similar attitude towards the CPTPP."
As Vietnam conducts institutional reform and its investment environment becomes more transparent, greater volumes of foreign investment are certain to flow in.
Many enterprises from Japan, the world's third-largest economy, have arrived in Vietnam recently to build the brand of Vietnam's vegetable and ginger for export to Japan.
As such, local businesses have benefited from investment by foreign companies investing in high technology.
Figures from the Ministry of Planning and Investment (MPI) show that, as at October 20, CPTPP countries had registered over $120 billion worth of FDI in Vietnam, accounting for 35.7 per cent of the country's total.
One of the major benefits of the CPTPP is that it will drive shifts in supply chains, as exports and imports face virtually no tariff and non-tariff barriers.
Vietnam will certainly benefit greatly from broader participation in supply chains, according to Dr. Vo Tri Thanh, Director of the Research Institute for Brand and Competitiveness Strategy.
The pact will also help create jobs, increase incomes, and reduce poverty. According to MPI, job creation may reach 20,000-26,000 annually. Meanwhile, the number of poor will be reduced by 600,000 by 2030, according to a March report released by the World Bank.
Once fully ratified and into effect, economists and experts believe the CPTPP will promote mutually-beneficial economic cooperation between member countries, enhance regional connectivity, and promote economic growth.
Barriers remain
At the Vietnam International Economic Integration Forum 2018, held by the Intersectoral Steering Committee for International Economic Integration at the World Bank in Vietnam and the Australian Embassy in Vietnam on December 4 in Hanoi, Deputy Minister of Industry and Trade Do Thang Hai said that addressing the requirements for economic growth and macroeconomic stability in the context of volatile global trade is not easy.
"If policies are not flexible, Vietnam may not gain the anticipated economic growth," he told the gathering. "Any delay in reform could dampen the enthusiasm of businesses and the ability to stay abreast of Industry 4.0 and outpace other countries."
Vietnam will have to amend certain legal provisions to implement the commitments made in the CPTPP. A review report from the government on the pact revealed that 265 legal documents have been reviewed. Seven laws are proposed for amendment and supplementation, including the Labor Law, the Anti-Corruption Law, the Intellectual Property Law, the Criminal Law, the Criminal Procedure Law, the Law on Insurance Business, and the Law on Food Safety Regulations.
"This is a challenge for the government in creating advantages for Vietnam in joining the CPTPP," Dr. Thanh said.
On the business side, Dr. Thanh pointed out that Vietnamese enterprises will face three major challenges.
Firstly, the playing field will be expanded, requiring they understand and adapt quickly. Secondly, this is a standard, professional playground, so they must implement and take advantage of opportunities by meeting many standards in the commitments, which not only relate to product but also process, the environment, and humanity. Thirdly, the world is in an unstable situation, so enterprises must identify market trends to prepare plans and strategies to reduce risks.
A report from Vinamilk presented at the Forum noted that foreign businesses are very active and have good human resources and financial and management systems.
Once the trade pact comes into effect, foreign goods and services will compete fiercely with Vietnamese equivalents.
The report explained that the challenges for Vinamilk are quite serious. Vietnam has a tropical climate and is not particularly suitable for dairy farming, while costs are high and it's difficult to compete with products from Australia and New Zealand.
Local enterprises need to be dynamic, create unique products, and determine how best to take advantage of the agreement.
Mr. Khanh said that Vietnamese enterprises are, generally, uninterested in free trade agreements and don't know how best to access tariff incentives.
"Initiatives taken by enterprises in trade agreements, including the CPTPP, are unclear," he added. "They need to take the initiative to seize the advantages provided by the incentives in the CPTPP."
The Vietnamese Government is now focused on implementation. Prime Minister Nguyen Xuan Phuc has emphasized that Vietnam must promote the development of its business community to meet the pact's requirements.

Source: vov.vn