CPTPP boosts economic integration in Asia Pacific
Monday, January 7,2019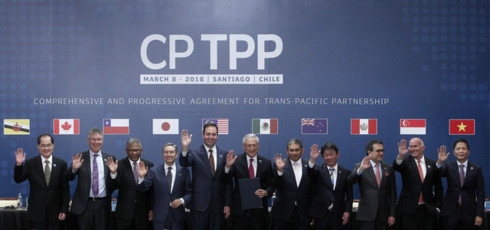 AsemconnectVietnam - The Comprehensive and Progressive Agreement on Trans-Pacific Partnership took effect on December 30, creating a free trade area of 11 countries in the Americas, Asia, and Oceania. The trade pact is expected to help member economies overcome challenges caused by strongly emerging protectionism.
The CPTPP is a free trade agreement between Australia, Brunei, Canada, Chile, Japan, Malaysia, Mexico, New Zealand, Peru, Singapore and Vietnam. Signed in Santiago, Chile, last March, the deal will reduce tariff barriers between member countries.
Australia, Canada, Japan, Mexico, New Zealand, and Singapore were the first countries to ratify the deal which will come into force in Vietnam on January 14.
Promising speeches
Chilean Foreign Minister Heraldo Munoz said the CPTPP is expected to boost economic growth, generate jobs, improve people's quality of life and strengthen cooperation of the 11 member countries. The agreement will create one of the world's largest free trade area with a market of 500 million people and a GDP of more than US$10 trillion.
Australian Prime Minister Scott Morrison said the CPTPP is one of the most ambitious and comprehensive agreements in history. The agreement will help Australian enterprises grow and contribute US$11 billion to the national economy by 2030.
New Zealand's Minister for Trade and Export Growth David Parker said the deal will bring New Zealand from 800 million to US$2.6 billion each year.
The CPTPP is expected to boost the annual growth of Malaysia, Singapore, Brunei, and Vietnam 2% by 2030. Before submitting the agreement to the National Assembly for approval, Party General Secretary and President Nguyen Phu Trong said Vietnam's participation in the agreement shows a strong commitment to renewal and international integration.
CPTPP is attracting other economies
The benefits of the CPTPP are attracting other economies. Indonesia, South Korea, the Philippines, and Thailand are considering joining the pact. Colombia has already proposed joining. The UK has expressed interest in the deal after leaving the EU. British officials say that the CPTPP might be a foundation for the UK's future economic cooperation.
With trade protectionism growing, the CPTPP needs to admit more members to increase global free trade. The 11 current signatories deal will discuss admitting new members later this month. Japan will continue to lead this process.

Source: vov.vn