NA passes resolution approving CPTPP, related documents
Tuesday, November 13,2018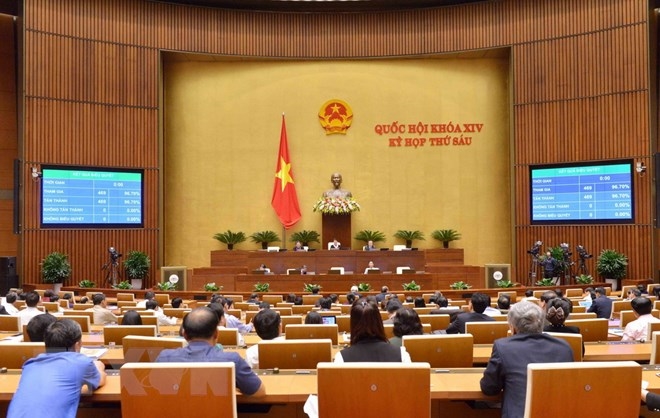 AsemconnectVietnam - The 14th National Assembly passed a resolution approving the Comprehensive and Progressive Agreement for Trans-Pacific Partnership (CPTPP) and related documents in the afternoon of November 12 with 96.7 percent of votes.
The resolution allows the application of the entire content of the CPTPP, with direct enforcement of stipulations in the CPTPP's Annex 2.
The NA assigns the Government, the Supreme People's Court, the Supreme People's Procuracy and relevant organisations and agencies to review laws listed in Annex 3 and other legal documents so as to request authorized agencies to timely make adjustments and supplements or issue new documents, thus ensuring the consistency of the legal system and keeping up with the roadmap for implementing commitments under the CPTPP.

The Prime Minister will be responsible for approving plans for the implementation of the CPTPP and instructing central and local agencies and organisations in carrying out the plans.

The resolution also requires the building and enforcement of measures to prevent and address adverse impacts that can arise during the implementation of the CPTPP. It urges the popularization of the pact's content in order to create consensus in awareness and actions of the entire political system, business circle and people regarding Vietnam's membership in the CPTPP.

The Government is asked to instruct relevant ministries and sectors to complete procedures for the ratification of the CPTPP and announce the date the pact takes effect for Vietnam.

The NA, the NA Standing Committee, NA committees, NA delegations and NA deputies are responsible for supervising the implementation of the resolution in accordance with their tasks and authority.

The CPTPP was signed by 11 member states, namely Australia, Brunei, Canada, Chile, Japan, Malaysia, Mexico, New Zealand, Peru, Singapore, and Vietnam in March 2018.
It is one of the most comprehensive trade deals ever concluded and strips 98 percent of tariffs for the 11 countries with a combined GDP of more than US$13.8 trillion and close to 500 million consumers.

The pact will be provisionally enacted 60 days after it is ratified by six countries.

As such, the CPTPP is hoped to take effect in December 2018, as so far Mexico, Japan, Singapore, New Zealand, Australia and Canada have ratified the deal.

Source: vov.vn