Vinh Long province
Monday, October 17,2022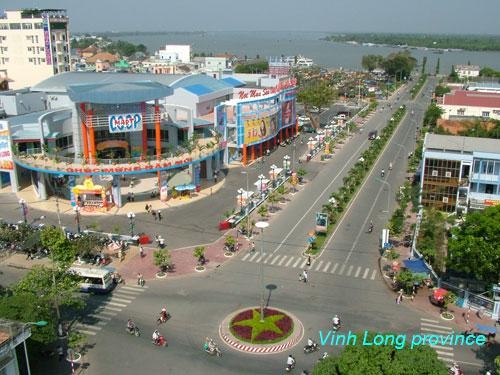 AsemconnectVietnam - Master plan on socio-economic development of Vinh Long province to 2025 must conform with socio-economic development strategy of the whole country, master plan on socio-economic development of Mekong river delta province.
MASTER PLAN ON SOCIO-ECONOMIC DEVELOPMENT OF VINH LONG PROVINCE TO 2025


I. Development viewpoints
1. Master plan on socio-economic development of Vinh Long province to 2025 must conform with socio-economic development strategy of the whole country, master plan on socio-economic development of Mekong river delta province; ensuring uniformity, consistency with plans of sectors, fields.
2. To maximize potentials and strengths of the province; boosting international economic integration; gradually strengthening internal resources, increasing cumulative rate for the economy, reducing challenge in order to form economic structure advance, open, harmonious, balance and competitive in domestic and foreign market.
3. Economic development associates with development of health, culture, education, training, implementation of social progress, justice, environmental protection, improving quality of people's living, reducing gradually rate of poverty household; focusing on training high quality human resources to meet market demand, associating development of human resources with development and application of science and technology.
4. To associate closely socio-economic development with building strong political system, consolidating national defense, security, ensuring social order and safety.
II. Development objectives
1. Overall objectives
To build Vinh Long province to become ecology, green, clean, beautiful urban area, developing harmoniously between urban area and rural area, improving material and spirit living of the people; promoting development of industry and service toward technology and high quality; gradually establishing knowledge-based economy with high quality of human resources; strengthening national defense and security, maintaining firmly political stability and social order and safety.
To associate with Can Tho to develop and become dynamic economic region, center of economic centers, training, culture, science and technology of Mekong delta region, contributing to successful implementation of objective of building our country to become an industrialized country.
2. Specific objectives
2.1. Economic objective
- Average economic growth rate hits 13%/year in a period of 2015-2020 and 14.5%/year in a period of 2021-2025; income per capita reaches over USD 1,900/person by 2020 and over USD 4,000 by 2025.
- To transfer economic structure towards increasing proportion of industry and services; by 2020, proportion of agriculture - forestry - fisheries, industry - construction and services to GDP reaches 36% - 26% - 38%, respectively; by 2025, 23% - 32% - 45%, respectively.
- To strive to hit export value of USD 460 million in 2020, over USD 1 billion in 2025; proportion of the State budget collection to GDP hit 20%/year in a period of 2015 - 2020 and 22% - 23%/year in a period of 2021-2025; proportion of amount of social development investment capital to GDP is 33-34%.
2.2. Society
- Rate of natural population growth maintains at 1% - 1.1%/year in a period of 2015 - 2020 and 0.8% - 0.9%/year in a period of 2021 - 2025; reducing average annual rate of poor households (under new standard) to 1.5% - 2%; striving to 2020, number of communes meeting new countryside criteria is 22 communes and 2025, 50% of communes in the province meet the criteria.
- To strive to create new jobs for approximately 25,000-27,000 employees/year in a period of 2015 - 2020 and approximately 18,000-20,000 employees/year in a period of 2021-2025; rate of trained workers is 55% by 2020 and 65-66% by 2025; reducing rate of agricultural labor to around 52% by 2020 and 28% by 2025.
- By 2020, rate of pupil going to kindergarten school hits 80%, rate of pupil going to primary school reaches 100%, rate of pupil going to high junior school hits over 98%, rate of pupil going to high school achieves 63%; universalizing preschool for children of 5 years old; by 2025, the above mentioned rates are 90%, 100%, 85%, respectively, completing secondary education universalization. Rate of schools at all levels achieves national standard is 40% by 2020 and 50% - 60% by 2025.
- By 2020, rate of malnourished children under 5 years old reduces to less than 15% and less than 8% by 2025.
2.3. Environment
- To strive to 2020, 100% of urban population, 60% of rural population have access to clean water; rate of collected solid waste hits 90% in urban areas and 60% in rural areas.
- To strive to 2025, 90% of rural population have access to clean water; 100% of schools are supplied full of clean water; 100% of wastewater and solid waste from health facilities are collected and processed; 100% of industrial parks and industrial clusters have wastewater treatment systems.
2.4. National defense and security
To ensure national defense and security, maintaining political stability, curbing increase of crime and social evils, gradually reducing crime and social evils.
III. Development orientation of fields and sectors
1. Agriculture, forestry, fisheries
To develop comprehensively towards production of high quality goods associating with deep-processing industry; ensuring ecological environment. Striving to hit average growth rate of agriculture, forestry, fisheries of over 5%/year in a period of 2015- 2020 and 4% - 4.5%/year in a period of 2021-2025.
- Agriculture: paddy remains main trees, combining with planting other crops such as vegetables, corn, sweet potatoes, soybeans; researching to transfer plant structure which are suitable for soil conditions and demand of consuming market in order to increase production value per unit of area; rotationally cultivating paddy - crops, paddy - fisheries; stabilizing paddy area of ​​about 54,000 ha by 2020 and approximately 51,000 ha by 2025; applying science and technology to reduce production costs, increasing productivity and quality of products; conducting synchronously mechanization, paying attention on post-harvest processing. Developing fruit trees under brand name of Nam Roi grapefruit, Cat Loc mango, Sanh orange...
To form, construct concentrated breeding areas hitting hygiene and safety standards; developing methods of semi-industrial and industrial livestock, accounting for 55% - 60% throughout the province; organizing synchronously farming, processing, preserve and consuming distribution, ensuring quality and hygiene safety.
Fisheries: developing towards forming more efficient rotational cultivation model such as paddy-shrimp, paddy - fish in eligible regions; transferring suitable breed structure; developing model artificial reproduction on river to provide seed for local area; by 2025, stabilizing area of aquaculture water surface water of approximately 3,400 ha.
2. Industrial development
- To develop industry in direction of creating favorable conditions for advantage economic sector for stable and sustainable development; focusing on developing small industry, handicrafts associating with development of tourism; paying special attention on application of advanced technology, creating high-quality products with high competitiveness on domestic and foreign markets but not affecting ecological environment. Striving to hit average growth rate of 24%/year in a period of 2015 – 2020 and 19,5% in a period of 2021 - 2025.
- To focus on developing following key industries: Industry of food and beverage (processing agricultural products, vegetables, all kinds of beverages); agriculture mechanic (agricultural machines, carts, types of pump); chemical industry, pharmaceutical industry are current advantage sector of Vinh Long province; light industry attracting big number of workers (textiles, garments, footwear, leather, faux leather, production of consuming goods).
For industry of processing food and beverages: investing in modern and synchronous technology from harvesting, storage, processing and consuming distribution in order to create high-quality products; paying special attention to preservation of post-harvest products; calling for investment, building facilities, factories of processing fruit, food, foodstuff.
To develop chemicals, pharmaceuticals and medical device industry in direction of creating competitive products to meet demand for export and domestic consumption, gradually replacing imports; exploiting and using full of capacity of capsule production factory, 50% of their products for export; expanding production of fertilizers...
To focus on intensive investment, technological innovation, efficient use of raw materials for mining and production of building materials, ceramics and fine art in direction of production of unbaked construction materials, take waste source of other industries (slag, dross etc ...), saving agricultural land for material, stockpile, contributing to goal of replacing 20 - 25% of clay brick in 2020, 30-40% in 2025, looking toward eradicating completely units of production of clay brick under manual ovens.
Power industry: striving to achieve an average growth rate of 15.4%/year in period of 2015 - 2020 and 14.9%/ in a period of 2021-2025.
- To focus on developing promptly, efficiently industrial parks, industrial clusters which have been approved, associating with construction of waste treatment facilities, planting trees, ensuring green, clean and beautiful environment; at the same time, developing synchronously services, ensuring living conditions for workers especially housing for workers.
3. Development of trade and services
To strive to achieve an average growth rate of 13.5%/year in a period of 2015 - 2020 and 15.0%/year in a period of 2021 - 2025. Developing service field in direction of diversification, giving priority to development of high added value service sector, forming new service fields.
To develop network of goods retail and distribution, striving to reach rate of retail sales through modern distribution system of about 15% by 2020 and 20% by 2025; constructing market system as planned, focusing on developing systems of wholesale markets, rural markets; encouraging economic sectors to participate in building markets and trade centers; expanding export markets, in next 5-7 years, major export items are agricultural products, processed aquatic products, textile goods and some handicraft products. In a period of 2020 – 2025, adding chemical, electrical, electronic products and other consuming goods.
- To diversify tourism products, implement linkage of tourism development with other localities in the region, especially with city of Can Tho; improving quality of service to strives to attract number of tourists of 1.3 million arrivals/year in 2020 and reaches 2.6 million arrivals/year in 2025; developing model of tourism, relaxation tours, ecotourism, historic relic sightseeing tours...
- To focus on developing synchronously financial services, insurance, banking, transportation, training services, consultation, telecommunications, information technology which are high added value service and to promote development of other manufacturing, service sector.
4. Social fields
4.1. Education - training
- Education - training development must put into a relation with master plan on socio-economic development of the province and in association with Can Tho city towards forming education - training center of the region; improving quality of comprehensive education; enhancing training and retraining of teachers and education managers, striving to maintain standardization rate of 100% of teachers at all levels. Striving to rate of all level schools reaching national standard of 40% by 2020 and 50-60% by 2025.
- To develop training profession structure in accordance with requirements of economy, associating training with employment after training; diversifying types of training towards improving quality; focusing on vocational training for rural workers, strengthening network of vocational schools.
- To increase size of professional training, hitting average rate of 200 university, college, professional school students/10,000 people by 2020 and 250 students/10,000 people by 2025.
4.2. Health
- To implement national target program on health and population, family planning, improving public health under viewpoint of positive prevention, education of nutrition, hygiene and disease prevention, body exercise, improving treatment effectiveness. Increasing investment in infrastructure equipment and medical staff from provincial level to grassroots level to meet demand of healthcare which are increasing in quantity and quality.
- To strive that 100% of communal health center reaches national standards; maintaining communal, ward health stations, polyclinic having doctors, completing medical stations in villages, hamlets; striving to hit rate of 22 beds/10,000 people by 2020 and 30 beds/10,000 people by 2025; ensuring to have 7 doctors, 1.5 pharmacists/10,000 people by 2020 and over 15 doctors, 2-2.5 pharmacist /10,000 people by 2025.
4.3. Culture and sport
- To conserve, inherit and promote selectively traditional cultural values, forming a civilized lifestyle, cultural family; striving to 2020, 95% of households hits title of cultural family, by 2025, 100% of household hits standards of cultural family; accelerating construction of new cultural life in rural areas; focusing on building system of synchronized cultural institutions at all levels.
- To develop sport and physical movement in the people; promoting socialization, increasing resources for investing in infrastructure; improving physical education in schools; focusing on training and retraining achievement sport force to participate in tournaments at regional and national level.
4.4. Reducing poverty, creating jobs and ensuring social security
- To implement synchronously, comprehensively and effectively program on hunger eradication and poverty reduction; constructing solutions, model of sustainable poverty reduction, enabling the poor to develop production; having policies to encourage households, communes to get out of poverty, encouraging enterprises to train vocation and create job for the poor.
- To strive to create average annual employment for approximately 25,000-27,000 people in the province or export of labor; reducing unemployment rate in urban areas, improving rate of using rural labor time, transferring labor structure in agricultural sector to non-agriculture sector in both rural and urban areas. Ensuring implementation of good policy for employees to contribute to improve people's living and maintaining social order and security.
- To promote social evil prevention and combating, enhancing and improving effectiveness of campaign of building healthy commune/wards, having no social evils associating with campaign of "all people unite to build new cultural life".
4.5. Environment
To protect and improve environment for sustainable development, focusing on management and handling environmental pollution in concentrated areas of agricultural and fisheries production, resorts, protecting and restoring diversity of biology; strengthening pollution treatment of wastewater, industrial waste, municipal wastewater, proactively preventing disaster, timely rescuing environment incidents, climate change and sea level rise.
4.6. Science and technology
- To research and implement solutions of extracting and using natural resources in a sustainable manner; widely apply new science and technologies like biotechnology, post-harvest technology, making a breakthrough on plant and animal varieties having high productivity, value; exploiting new technologies to serve mechanization of each stage in process of agricultural production.
- To support enterprise to renovate technology, applying technology in the traditional villages to make a fundamental change in productivity, quality and efficiency of a number of important economic sectors such as aquaculture industry and industry of processing of agricultural products and fisheries products. Developing technology market, implementing strategy of developing and applying high technology and forming a number of high-tech industry.
5. Investment in infrastructure
5.1. Transport
- Roads: researching to upgrade provincial roads, district roads and inter-communal roads, rural roads which are suitable for each stage of resources; synchronously developing urban roads as planned; constructing suitable parking, creating favorable conditions for transport of the people.
- Waterways: focusing on fully exploiting advantage of waterways, rehabilitant and upgrading waterways managed by the Central; regularly dredging waterways in the province, refurbishing and upgrading embankment, waft and downtown areas of city, towns and townships; researching to expand Vinh Thai port, raising designed capacity to 1 million tons/year. Researching to invest in Binh Minh port, Tra On port (on Hau river), Tam Binh port, port of Vung Liem to suit with development demand and resources in each stage.
- To study to open river waterways, sea route to Cambodia and other countries in the region; high quality passenger transport waterways of Ho Chi Minh City - Vinh Long and Vinh Long - Can Tho, Vinh Long - Dong Thap, Vinh Long - Long Xuyen, Chau Doc.
5.2. Irrigation
To research, construct and invest in irrigation systems for area of fruit trees cultivation, concentrated aquaculture area, rice-growing areas; solidifying infield irrigation on closed irrigation area; plan of irrigation systems combines with rural transport in terms of climate change and sea level rise.
5.3. Power supply
To develop network of electricity transmission and electricity distribution network under plan to ensure electricity supply safety, continuously, reducing power losses in distribution system; researching to build stable redundant power supply, especially for area far from national power source; researching and supporting to encourage people to use renewable energy sources such as solar, wind ...
5.4. Water supply, drainage and sanitation
- To pay attention on investing in upgrading and building newly, synchronously clean water supply system for urban area to ensure water demand for living of the people and production; ensuring that rural residential can access to clean, sanitation water.
- To develop synchronously system of rainwater drainage, collecting and treating waste water, especially in urban areas, industrial parks. Striving to 2020, ensuring that there are not flooded urban area; medical waste in hospitals, clinics will be collected and processed; city must have ​​landfill and waste treatment plants.
5.5. Information communication:
To continue to modernize and expand network in parallel with application of modern technology in field of postal, telecommunications and Internet, ensuring information security to meet requirements of socio-economic development; by 2020, hitting average rate of 35 telephones/100 people with 12-15% of population using Internet services; by 2025, reaching average rate of 55 telephones/100 people and 50-60% of population using internet services.
6. National defense – security
- To strengthen national defense and security; promoting synergy of the political system in order to build up the people's national defense combining with the people's security posture.
- To develop and implement well defense plans, manage strictly reserve forces to ensure both quantity and quality; closely associating with socio-economic development in each locality, in plans, programs and development investment projects.
IV. Orientation of space organization and development
1. Development of urban – rural area.
- Urban: developing urban system, distributing systems of urban area, combining renovation of old urban areas with building new urban areas to balance development among regions and in accordance with development specification of each region. Focusing on developing key areas towards urbanization to develop urban areas to become service and industrial development centers, creating motivation for socio-economic development, adjusting distribution of population.
- Orientation to 2025: having 01 city of Vinh Long, striving that Binh Minh district meet criteria of urban level III; towns of Vung Liem, Tra On achieves criteria of urban level IV; towns of Tan Quoi (Binh Tan district), Phu Quoi (Long Ho district), Cai Ngang (Tam Binh district), Huu Thanh (Tra On district), Ba Cang (Tam Binh district), Tan Luong (Vung Liem district ), Quoi An (Vung Liem district) hit criteria of urban level V. Rate of urbanization reaches 31% in 2020 and 60% in 2025.
- Rural area: planning residential routes or residential areas under capacity of cultivation of crops such as residential areas specializing in paddy, residential areas along Co Chien river and Hau river (fruit trees). Striving to 2020, 22 communes meets new countryside standard, remaining communes hit 10 - 15 new countryside criteria; by 2025, 50% of communes meets new countryside standard, equivalent to average level of the country.
2. Development of economic region
- To develop Tien river region with growth pole of city of Vinh Long having advantage of traffic hub, long-standing center of trade - training; industrial center with Hoa Phu industrial zone (Long Ho district), Co Chien industrial route (Long Ho district, Mang Thit district). Key development orientation of the region are trade, industry - handicraft, aquaculture; development of intensive orchards associating with ecotourism in islet communes on Co Chien river, development of education - training with universities, colleges, vocational schools and vocational training schools. Being a gateway connecting Ben Tre province with Tra Vinh province and under constructed Co Chien bridges, paying attention on strongly developing trade and services with central urban area of town of Vung Liem becoming 3rd growth pole of the province.
- To develop Hau river region with the province's growth poles of Binh Minh town, having advantage of nearby urban area of Can Tho city; long-standing intensive vegetable and Nam Roi orange tree production area. Key development orientation of region are trade, specialized vegetable production, aquaculture; developing special orchards associating with ecotourism and developing training with university branches. Focusing on development of trade and services in Tra On area, which is contiguous with Tra Vinh province, locating on waterways, roads connecting with Dinh An open economic zone, project of Quan Chanh Bo (Tra Vinh province) with city of Can Tho.
- The province's area with an advantage of production of paddy and fruit trees. Key development orientation of this area: focusing on production of export specialty rice, fruit trees and fish farming in rice fields and gardens, in addition, developing industrial clusters associating with food processing, seafood, fruit trees; developing trade, services, tourism ...
V. Some key solutions
1. Solution of raising investment capital
Demand for investment capital of the province in a period of 2015 - 2025 is about VND 240,000 billion, out of which, about VND 70,000 billion in a period of 2015 - 2020 and VND 170,000 billion in a period of 2021 - 2025. Basing on ability of balancing annual State budget, the province should actively plans, allocates investment suitably to ensure funding for importance projects of the province; at the same time, there should be specific measures to effectively mobilize domestic and international resources for development investment as:
- To develop and promulgate a list of programs and projects calling for investment to 2025. On that basis, promoting introduction promotion, investment promotion to attract investment from economic sector, paying attention on ODA source.
- To improve investment environment, trade and production environments, continuing to reform investment procedure towards compact, transparent, publicly; creating favorable conditions for infrastructure to be ready to receive investment projects; promulgating mechanisms and policies to support investment on basis of advantages of economic development of the locality and in accordance with provisions of law.
- To promote socialization to attract investments especially in areas of education, training, health, culture, sports, radio, television, science-technology, environmental protection...
- To expand form of BOT, BT, BTO, PPP, ... creating favorable conditions for development of capital markets; development of joint ventures, affiliate investments and contributing investment capital by asset.
2. Solution of training and development of human resources
- To develop human resources of the province toward basically meeting demand of labor of industries, harmonizing between training with creating jobs for workers; having policies to attract experts, highly qualified labor.
- To pay attention on training, retraining, planning and using staff, especially management staff; detecting and fostering young talents who are officers, employees and managers, research scientists, technicians; diversifying forms of training, focusing on specialized training; improving quality of training; using staff and employees in accordance with lines of professional training.
- To implement socialization of education and training; encouraging social activities of learning and talent promotion, building a learning society; having capacity of international integration.
3. Solution of science and technology
- To boost movement of promotion of initiative and technical innovation patent in manufacturing, trading, implementing regulations of industrial property rights; encouraging enterprises to spend funds for researching technological and technical innovation to improve productivity of labor; closely cooperating with research institutes and universities to perform well study associating with application into production and life.
- To renovate mechanisms, policies of training, retraining and employment of labor and having plans to rejuvenate staff working in science and technology; performing better remuneration policy of scientist, policy of encouraging socialization in scientific research and development of science and technology markets.
- To invest in facilities of management of science and technology; enhancing control of operation of technology transfer, technology and quality assessment and environmental pollution.
4. Solution of investment policy
Building programs and projects calling for investment: on basis of socio-economic development, setting up projects having capacity of high effectiveness of production and trade; implementing open policies to attract investment from all economic sectors in the province, the country and foreign country. Attracting investment from overseas Vinh Long people to homeland.
To strengthen investment promotion to attract ODA. Creating an attractive investment environment to lure FDI through mechanisms of exemption and reduction of land rent price, preparation of infrastructure of industrial parks. Researching some special mechanism such as allowing foreigners to lease land for industrial park and service development, allowing foreign companies to open supermarkets, trade centers in city of Vinh Long, Binh Minh area...
5. Strengthening cooperation and market development
- To strengthen links with other provinces and cities in the Mekong delta region, southern key economic region and Can Tho city to exploit well potential and advantages of each localities and region, building material area to meet both quantity and quality for production, consumption, exports; encouraging joint ventures, affiliate forms in investment, production, processing and consumption of products and goods.
- To develop market of goods and services; improving product quality and brandname of commodity in market. Enhancing trade promotion, implementation of diversification of export markets; expanding rural market for product consumption.
6. Solution of protecting natural resources and environment
To strengthen advocacy, education to raise awareness for people, organizations and enterprises on protecting environment, environmental protection is common responsibility of the whole society.
To revise, supplement, complete regulations to ensure suitable, saving and efficient exploitation and use of natural resources in socio-economic development, and environmental protection.
To invest in projects of waste treatment in industrial parks, clusters, hospitals, urban areas.. to ensure that waste will be handled under standards before being discharged into environment. Developing mechanisms of supporting enterprises to renovate and apply advanced technologies, clean production technologies to reduce pollution and protect environment. Regularly inspecting, monitoring and treating strictly cases of violation of laws on environmental protection.
VI. Organizing and supervising implementation of plan
1. Publicizing, popularizing plan.
- To publicize and popularize master plan on socio-economic development of Vinh Long province to 2025 for the Party committees and local governments, agencies, organizations, enterprises and the people in the province after being approved by the Prime Minister. Basing on contents of the plan, constructing a specific action programs to have plans to implement and achieve results.
- To boost investment promotion, organizing to introduce and promote potential and advantages of the province to investors; introducing programs and projects being prioritized for investment, focusing on calling for key investment projects to manufacture key products.
2. Developing action plans
- The province should detail contents of the plan by 5-year, annual plans to implement and evaluate achieved results. On that basis, reviewing the plan and submitting to competent authorities for timely adjusting and supplementing to ensure compliance with task of socio-economic development of the locality in each period.
- All governmental levels, agencies, socio-political organizations and the people in the province are responsible for inspecting and monitoring implementation of the plan.
3. Master plan on socio-economic development of Vinh Long province to 2025 is a basis for formulation, submitting for approval and implementation of plans of fields (construction plan, plan of using land and other relevant plans), investment projects in province of Vinh Long.
4. To assign the People's Committee of Vinh Long province basing on content of the approved plan, direct preparation, approval and implementation in accordance with following contents:
- Master plan on socio-economic development of district; construction plan; land using plan; development plans of sectors, fields in the province in accordance with tasks of socio-economic development associating with national defense and security.
- To establish long-term, medium-term and short-term plans associating with specific projects to allocate suitably investment capital.
- To research, build, issue or submit competent authorities for issuing (if beyond authority) a number of mechanisms and policies to conform to requirements of socio-economic development of the province.
5. Ministries and agencies within their functions, duties and powers, have responsibilities:
- To guide and assist the People's Committee of Vinh Long province in implementation of the plan.
- To coordinate with Vinh Long province in process of reviewing, adjusting, supplementing plans of sectors, fields to ensure uniformity, consistency of the plan; considering and supporting the province to mobilize domestic and foreign investment capital source to implement the plan.
Long Giang
Source: moj.gov.vn