Quang Ngai province
Monday, November 23,2020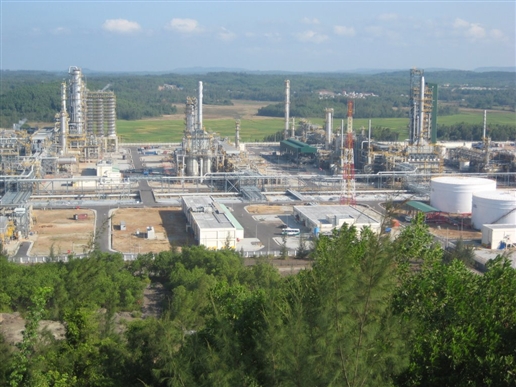 AsemconnectVietnam - To promote all of potential and advantages of the province; using effectively all resources to focus on key sectors for socio-economic development.
MASTER PLAN ON SOCIO-ECONOMIC DEVELOPMENT
OF QUANG NGAI PROVINCE TO 2020


I. Development viewpoints
1. To promote all of potential and advantages of the province; using effectively all resources to focus on key sectors for socio-economic development. At the same time, constantly improving institution and operational mechanism, implementing extroverted, open development objectives; actively integrating, expanding economic exchanges with coastal provinces in central region, central highlands and development triangle of Vietnam - Laos - Cambodia.
2. To strive to maintain economic development objective with high, sustainable growth in order to eradicate hunger and reduce poverty, improving material and spiritual conditions for the people, developing human resource with reasonable quality structure under sector and territory.
3. To boost process of economic structure transformation of the province's economy towards industrialization and modernization; focus on key competitive and advantage fields such as petrochemical industry, steel industry, agriculture, forestry and fisheries processing industry and services with high content of technology science to create development breakthroughs with great efficiency, forming the province's economic structure of industry - services - agriculture. At the same time, paying special attention to support socio-economic infrastructure development in districts in western of the province and flooded areas, islands.
4.
Economic development associating with solving effectively pressing social problems, improving material and culture living of the people. Developing high quality human resource to ensure development requirements, first of all, key industries such as oil and gas, metallurgy, shipbuilding, high quality services sector. Paying attention on development of culture, education, training and human resource in rural mountainous areas.
To implement synchronously solutions and plans of industry, urban development, development of infrastructure of industrial parks and residential areas with requirements of protection of sustainable environment and ecology. Investing adequately in protecting forest and improving quality of forest, protecting ecological environment, preventing urban and industrial pollution, ensuring a safe working environment.
5. To combine economic development with defense, security, strengthening and build a solid political system towards constantly enhancing defense potential, building solid, uninterrupted and basic defense zone. Ensuring people's national security and defense posture, maintaining social order and stability, especially in key and crucial areas.
II. Development objectives
1. Overall objective
To expand foreign economic cooperation relations, domestic and foreign markets, paying attention on investing in high competitive sectors to achieve high, effective and sustainable economic growth rate, transforming economic structure towards industrialization, creating a foundation to become an industrial, service province by 2020.
To create a breakthrough in development of basic industries in order to create high added value, high quality ecological agriculture and service. Investing in human resource development, especially high quality human resources combining with increasing application of advanced technology, creating jobs for workers; rapidly reducing poverty households, improving quality of material and spirit living of the people.
To combine closely between socio-economic development with ensuring firmly national defense - security, protecting ecological environment. Striving for raising Quang Ngai province to a high development level among provinces in key economic region of the Central by 2020.
2. Specific objectives
2.1. Economic
- To strive to achieve annual average economic growth rate of 14%/year in a period of 2011 - 2015 and about 12-13%/year in a period of 2016 – 2020. GDP per capita of the province under fixed price of year of 2007 reaches about 2,000-2,200 USD/person by 2015 and 4,300-4,500 USD/person by 2020.
- Economic structure transforms towards increasing services and industry, declining proportion of agriculture to GDP. Proportion of industry and services will reach 85 - 90% by 2015 and 90% by 2020.
-
To build
a huge trade center in city of Quang Ngai and system of supermarkets in major economic centers of the province. By 2020, proportion of services to GDP of Quang Ngai proportion reaches 32-35%.
- To implement measures to increase the State budget revenue and use effectively the State budget capital in the province to increase proportion of the State budget revenues to GDP from 13.2% in 2008 to 18% in 2020.
2.2. Society
- To strive to 2020, 99% of primary and secondary pupils go to school at right age; there are more than 50% of pre-school, 70% of primary schools and 70% of secondary schools meeting national standards; 99% of right age pupils achieve secondary education universalization, 99% of right age children go to kindergarten. Striving to achieve human development index (HDI) to equaling in the country's average level.
- To create annually about 35,000 -38,000 jobs in a period of 2011-2015 and 38,000 – 42,000 jobs in a period of 2016 – 2020. Rate of trained workers reaches over 35% by 2015 and 42% by 2020; rate of agricultural workers drops to 47% by 2015 and 40% by 2020.
- To increase GDP per capita of the province higher than about 1.2 times over average national level in 2020. Decreasing rate of poverty households in the province under new criteria to below 8% in 2015 and about 6% in 2020.
- By 2020, 100% of roads to center of communes will be asphalted, 20-30% of roads to villages will be asphalted. Developing synchronously infrastructure and social services in the area to ensure that by 2020, 100% of the population access to national electricity grid, 98% of the population use clean water, 100% of the population enjoy primary health care, rate of under 5 year old malnourished children drops to below 5%.
-
To p
erform well tasks of population and family planning, striving to achieve an average population growth rate of 0.9%/year in a period of 2011-2015 and 0.87%/year in a period of 2016-2020.
- To strive to achieve 100% of communes, wards and towns have cultural villages. Implementing gender equality, developing social security system and preventing social evils. Expanding democracy, strengthening national unity, raising effectiveness of the State management. Conserving and restoring immaterial and object cultural heritage relics.
2.3. Combining economic development with defense and security.
To perform tasks of consolidating national defense and security, ready to fight in any situation and ensuring order and discipline of socio-economic activity. Potential of economic, defense and security will be enhanced, solidifying firmly political system to maintain social order and safety. Combining economic development with defense, security, adapting to context of regional and international integration. Building defense economic zone on mainland and on islands.
2.4
. Using
rationally natural resources combining with environmental protection, sustainable development.
-
To exploit r
ationally mineral resources, water resources, having plans to convert purpose of using land, ensuring food security and ecological sustainability.
- To ensure forest coverage rate of 50%, collecting and treating 95% of waste in urban area and 65% of waste in rural areas, 100% of hazardous industrial waste, medical waste; collecting and treating about 65% of waste water.
III
. Development o
rientations of sectors and key products
1. Industry: exploiting absolutely potential and comparative advantages of the province to develop industry at high growth rate, especially advantages of Dung Quat economic zone; creating a breakthrough of development and transforming economic structure of the province. Striving to raise proportion of industry – construction GDP to 60% in 2020.
-
Petrochemical industry:
In a p
eriod of 2011 - 2015: developing petrochemical industry and petroleum products such as liquefied gas (250,000 tons/year), N-paraffin (65,000 tons/year); polystyrene plastic production (60,000 tons/year), black coal production (50,000 tons/year); industrial detergent production (80,000 tons/year) with a total investment of about 250 million USD. Implementing projects of LAB, Carbon Black, Radian rubber tires, production of PVC, PE plastic. Expanding scale of existing oil refinery factory to hit capacity of 10 million tons and preparing conditions for development of new oil refinery complex in Dung Quat.
In a period of 2016 - 2020: developing new oil refinery complex, raising total value of petroleum products to 1.5 to 2.0 times comparing that in 2015 and increasing added value of oil refinery industry to 3 times higher than that in 2015.
- Industries of metal processing, shipbuilding, electronics and information technology
Investing in production of electro-mechanical equipment and high-end electronic equipment for export and domestic consumption demand; processing non-standard equipment for construction of Dung Quat economic zone, city of Van Tuong and other industrial parks in region.
Developing industries of electronic and information technology towards software outsourcing, integrated system to support development of machinery and mechanical appliances, electronics, production lines of production units in the province.
- Industry of agro - forestry – fishery processing:
To modernize production equipment to produce high-quality products, ensuring quality of food, food hygiene and safety for seafood processing, forest products, livestock products for export. Striving to achieve proportion of production value of agro - forestry - fishery, food to the province's industrial production of 14% by 2020.
- Industry of construction materials, ceramics, glass:
Investing in increasing capacity of additive processing plant; clinker grinding plant; brick production factory, building factory of producing corrugated iron sheet with a capacity of 1.5 million m2/year; centrifugal concrete plants with a capacity of 100 m concrete pipe/day. Raising proportion of production value of the field to industrial production value of the province to 6.2% by 2020.
-
Ores m
ining industry
Investing newly quarries and expanding capacity of stone exploitation in west Doc Soi region (Binh Chanh, Binh Nguyen) in Binh Son district; Binh My region, east Tra Bong district (Tra Son, Tra Phu) and Tinh Hiep; Pho Phong area in Duc Pho district and Ba Dong in Ba To district (along national road No.24); south Duc Pho district (Pho Hoa, Pho Khanh and Pho Thach).
To invest in mineral water production units in Binh Dong (Tra Binh commune, Tra Bong district), exploiting and using synthetically mineral water source of Nghia Thuan and Thach Tru, Thach Bich mineral water. Investing in mining and processing other valuable minerals in area such as iron, titanium, tin, rare earth...
- Industries of textile - footwear:
To raise extra capacity of garment factories of 3 - 3.5 million products/year. Constructing sports shoe factory with capacity of 1 million pairs/year; PE fiber production plant with capacity of 200,000 tons/year.
-
Industries of e
lectricity, clean water production and distribution
To focus on investing in constructing and putting into operation hydro power plants under the province's electricity plan (15 factories), focusing primarily on projects on Tra Khuc river with a total capacity of 40 MW; Nuoc Trong hydro power factory (16 MW); Dakring hydropower cluster (170 MW).
To continue to invest in, improving clean water supply system and increasing capacity of clean water plant in city of Quang Ngai to 45,000 m3/day; completing stage II of Dung Quat clean water plant to 100,000 m3/day. Investing in water plants for industry of refining steel with a capacity of 33,000 m3/day.
- Handicraft industry and traditional villages:
To restore and develop traditional industries, improving quality of products to meet increasing demands of market. Introducing and developing new industries: mushroom, ornamental plants, pets, flowers, embroidery and handicrafts production.
-
Development of industrial parks and clusters:
To develop industrial parks of the province associating with Dung Quat Economic Zone toward modern, synchronous manner. Striving to fill Tinh Phong and Quang Phu industrial parks by 2015, reaching overall growth rate of industrial parks of 3.0%/year. After 2020, expanding Tinh Phong industrial park more 209 ha, building residential area of this park.
To plan industrial
- handicraft clusters - handicraft villages in districts with a total used area of more than 560 hectares, creating jobs for 45,000 workers. Out of which: planning 04 industrial – handicraft clusters in Duc Pho district including Sa Huynh (05 ha), Pho Phong (10 ha), Go Hoi (05 ha) and Pho Khanh (5 ha); La Ha (50 ha), Co Luy and Nghia Thuan industrial – handicraft clusters in Tu Nghia district; in Nghia Hanh district, expanding Dong industrial – handicraft clusters from 10 hectares to 30 hectares and setting up industrial cluster of Da Hai mountain in Hanh Phuoc commune with scale of 05 ha; in Binh Son district, developing 04 industrial parks of Binh Nguyen (20 ha), Binh Khuong (15 ha), east Chau O township (10 ha); Binh Hiep (20 ha); in Mo Duc district, expected to complete Quan Lat industrial clusters and raising its scale to 20 ha after 2020, setting up Thach Tru industrial cluster (20 ha) and considering to form west Mo Duc industrial cluster in a period after 2015; in Son Tinh district, completing Tinh An Tay industrial cluster and traditional villages in Son Tinh township. Expanding An Hai traditional village in Ly Son island district from 1 ha to 2 ha.
2.
Services: developing rapidly and diversifying forms of services, raising proportion of services to GDP to 30.8% by 2015 and 32.4% by 2020. Export value of goods and services reaches 400-410 million USD by 2020.
- Trade:
To strive to achieve growth rate of total social commodity retail sales of 16-18%/year in a period of 2011 – 2015 and 16%/year in a period of 2016-2020.
In a period of 2011 – 2015, completing construction of 189 market; giving priority for Dung Quat markets, wholesale markets of agricultural products in Quang Ngai city, Duc Pho market.
In a period of 2016 – 2020, building new synthesis agricultural market of Nghia Chanh (Quang Ngai city), synthesis agricultural market of Son Tinh. Building synthesis business supermarket in city of Quang Ngai, Dung Quat Economic Zone, Doc Soi, Duc Pho. Constructing of 2 warehouse area of commodity export and import in Sa Ky port, 1-2 commodity warehouse area of domestic consumption in suburban of cities of Quang Ngai and Van Tuong. Constructing newly warehouse Dung Quat port with an expected capacity of 60,000 m3, wharf which can receive ships of 30,000 DWT. Forming exchanges, auction centers, online stores, developing e-business...
- Tourism:
To develop rapidly, stably and sustainable tourism field towards tourism of culture and history, ecology, landscape, festival and environment with high economic efficiency associating with investment in protecting and embellishing scenes and environment, promoting cultural tradition and national identity.
To plan to develop 5 key tourism area: central tourism zone (Quang Ngai city and suburban), northeast tourism zone (Van Tuong district and vicinity), south tourism zone (Sa Huynh beach and its vicinity), southwest tourism zone (Ba To district and vicinity), northwest tourism zone (Tra Bong district and vicinity); key tourism destinations include Thien Dang (Khe Hai), Van Tuong, Ba Lang An, My Khe, Sa Huynh, Nuoc Trong - Ca Dam. At the same time, constructing intra provincial tourism route and exploiting well inter provincial tours, combining with efficient exploitation of eco-tourism sites and traditional villages in mountainous districts.
- Tourism and transport:
To invest and upgrade Sa Ky port and transport means to Ly Son island.
To build and manage implementation of intra-provincial transportation plan and organizing to open route of inter-provincial passenger transport. Firstly, encouraging to open a high-quality bus routes, gradually developing systems of taxi, bus from Quang Ngai city to districts.
-
Service of f
inance, banking, insurance:
To enhance local capital mobilization of banks and other credit institutions, expanding capital investment for economic sectors, ensuring stable, sustainable safe and effective growth of credit.
To promote activities of insurance (life, non-life insurance) and other financial services (financial leasing, credit card services, financial consultation...) associating with development of Dung Quat Economic Zone.
To develop rapidly other types of services such as training services, consultation services, technology transfer ...
3. Agriculture, forestry and fisheries
To develop agriculture, forestry and fisheries toward industrialization and modernization, ecological sustainability, providing clean agricultural products having high competitiveness on domestic market and for export.
To develop rapidly livestock, fisheries and livestock technical services. Combining development of production of agricultural products with ensuring quality of agricultural products and food safety. Value of agricultural production per 1 ha of arable land reaches VND 50 million by 2015 and VND 55 million by 2020. Foodstuff output per capita is 332 kg/person and 307 kg/person in 2015 and 2020, respectively. Output of all kind of meat hits 81,000 tons in 2015 and 130,000 tons in 2020.
To form intensive cultivation areas such as area of high-quality rice, fresh vegetables intensive cultivation area, applying modern techniques in production, increasing investment value/ha of arable land. Applying advanced technologies into post-harvest stage associating with organizing commodity consumption for farmers. Creating nonfarm jobs to reduce proportion of agriculture labor to total labor force to 40% by 2020.
- To invest in forestry development towards promoting afforestation, combining forest restoration and forest protection, particularly watershed forest. Increasing rate of forest coverage to 47-48% by 2015 and over 50% by 2020.
- To invest in building infrastructure systems of fisheries, firstly Sa Huynh fishing port, Sa Can fishing port, Sa Ky fishing logistics center; dredging estuary of Cua Dai (Phu Nghia), ... Preparing and implementing construction of fishing port of My A, Cua Dai - Co Luy. After 2015, planning to continue to build boat casting zone and fishing logistic center of Ly Son.
4. Social sectors
- Population and human resource
Quang Ngai province's population is about 1.4 million people by 2015 and approximately 1.5 million people by 2020. It is expected that in 2020, number of agricultural labor is only about 40.4% of total labor workforce. Striving to 2020, 42% of labor workforce will be trained and 35-37% of labor workforce have jobs.
By 2015, 100% of key leaders of communes in plain district have university or college degree; 100% of key leaders of communes in mountainous, island districts have intermediate level of professional competence. Staff of leaders, managers, scientific – technical staff, cultural - artistic, public servant have full of capacity to assume assigned tasks, standard of titles.
To strive to create new jobs and more jobs for 38,000-42,000 employees each year. Reducing unemployment rate to under 5% in 2015 and less than 3.5% in 2020.
- Education and training
To maintain and improve quality of primary education universalization at right age, striving that 50% of preschool, 70% of primary schools, 70% of junior high schools and 70% of high school meets national standards.
To ensure that 90% of pupils of junior high schools, high schools participate in vocational program, activities. Eradicating absolutely illiteracy and primary education universalization for laborer of 35 years old, opening remote training classes in accordance with regulations.
To complete construction and put into operation vocational college of Vietnam - South Korea - Quang Ngai, vocational secondary school of Duc Pho, high technique vocational training centre of Dung Quat, orienting to upgrade to high technique vocational college when having enough conditions. Constructing regional vocational training units and establishing vocational training centers in six mountainous districts.
To coordinate with the Ministry of Finance to establish university of finance - accounting on basis of current college of finance - accounting. Increasing investment in upgrading modern facilities for Pham Van Dong university, branch of Ho Chi Minh City industrial university.
- Health, community healthcare
To train, retrain and improve medical staff quality about professional knowledge, medical ethics, management and use of modern equipment.
To continue to develop depth technique in provincial hospitals. By 2015, establishing endocrine hospital, eye hospital. After 2015, constructing provincial tumor hospital. Expanding scale and upgrading medical secondary schools to become medical colleges.
- Culture, physical and sport education
To strive to 2015, 90-95% of families, 80-85% of villages; over 95% of agencies, schools hits cultural standards; 100% of radio stations of districts, communes will be strengthened and upgraded, invested modern equipment; 100% of districts and cities have center of culture - sports, libraries, sports grounds, traditional home and entertainment zone, mobile communications team; 100% of cultural houses of districts, cities will be invested in repairing, upgrading to meet requirements of organizing cultural information activities.
By 2020, 70% of villages have culture houses; 100% of townships, communes and ward have cultural villages and cultural quarter; 100% of families, 90-95% of villages and 100% of agencies, schools hits cultural standards.
- Science and technology
To implement socialization of development investment of science – technology. By 2020, science and technology of Quang Ngai province will be really production forces of the local economy. Forming a number of application research centers to serve socio-economic development, firstly center of application and research agricultural, forestry and fishery technique.
To promote universalization of information technology, connecting broadly internet and local area network. Developing technical services such as measurement and technology evaluation, strengthening the State management on product registration, anti-counterfeiting. Strengthening protection of intellectual property rights (protection of trademarks, industrial designs) for commodities produced in the province.
- Social policies and poverty reduction
To implement synchronously, comprehensively and effectively programs and projects of poverty reduction and hunger eradication; enhancing resources towards socialization, speeding poverty reduction and hunger eradication; paying attention on 6 poor mountainous districts; implementing policies of supporting house for the poor; promoting development of production, gradually raising living standards of population in poor communes. Constructing and developing social safety network, speeding up implementation of social policies and prevention of social evils.
- Radio and television
100% of households are listened to radio, 99% of households can watches television, 80% of households can watches satellite TV. Constructing modern and synchronous radio - television station of the province.
5. Infrastructure development
5.1. Transportation
- Roads: Upgrading system of key vertical axis road (7 roads), key horizontal axis road (3 roads) of provinces, at least meeting road standards of level III and road standards of level IV in mountainous areas, 100% of urban roads will be asphalted; district roads hits standards of level IV and level V; communal roads hits standard of level V. Roads in center of villages hits class A, B.
To upgrade key provincial roads to reach road standard of level IV. Especially provincial roads No.623, No.625 (section of km4 - km26 +800) upgrade to standard of level III in a period of 2011-2020. Planning to upgrade provincial road of Dung Quat - Tra Bong - Thanh Tra - Tra My – Tac Po - Ho Chi Minh road to become national road.
To invest in upgrading, asphalting and concreting about 90% of length of district roads, 70% of length of communal roads, ward roads, township roads, inter-village roads. Upgrading roads in center of districts of Ba To - Ba Trang – Pho Ninh to become provincial roads after 2015.
To upgrade urban roads to reach standard of urban road of level III after 2015. By 2020, reaching urban road standards of level II.
To build 01 central bus station of the province in Quang Ngai city to hit standard of type I; constructing newly Son Tinh bus station (north Quang Ngai bus station) to hit standards of level III; 12 bus stations in district centers hit standards of level IV and disembarkation point at center of communes in mountainous districts of the province. Establishing network of public transport.
- Waterways: Upgrade and renovate waterway of Chau O – Sa Can to hydropower factory of Ca Du (Tra Bong river); from Cua Dai to Thach Nham irrigation dam (Tra Khuc river). Putting into operation as planned inland waterways of Kinh Giang river, Ve river, Tra Cau river, Thoa river and route of Sa Ky - Ly Son.
To complete construction of Dung Quat port to be a specialized and container port of area as planned. At the same time, research to plan Dung Quat II deep-water port to receive ships of capacity of 26,000 DWT; by 2020, capacity of the port is 30 million tons/year; Sa Ky port (Tinh Ky commune): by 2020, the port can receive ship of capacity of 2,000 DWT and capacity of the port is 0,3 to 0,4 million tons/year. Planning small ports of the localities: Co Luy (general), Ly Son (fishing port), Sa Huynh (fishing port), military terminal in Ly Son island, My A port (general port), investing in infrastructure of boat anchorage phase II in Ly Son island.
- Railway: Building new railway to connect to port of Dung Quat with railway size of 1,435 mm. Upgrading and expanding railway stations of Binh Son, Duc Pho to raise to 4 lines; Quang Ngai railway station to 6 lines.
- Airway: Upgrading military airport of Quang Ngai to become amphibious airports and airport of taxi service to serve socio-economic development of the province. Investing in recovering airport of Ly Son to serve helicopter operations, socio-economic development and defense - security.
5.2. Power supply
To maintain power source and ensure quality of power supply network to meet electricity demand of the province. At the same time, taking advantage of natural conditions to build a number of small and medium hydropower or utilize wind energy, solar energy to supply electricity to remote areas and island communes having no national electricity grid. Researching to install solar battery and constructing thermal power plants with a capacity of 8 MW in Ly Son island.
5.3. Information - communication
To develop about 30 post offices in industrial parks, new residential areas; 4 post offices in Pho Phong industrial park; 5 post offices in industrial parks of Tinh Phong and Quang Phu. Building newly 129 communal culture post offices. Extending coverage of telephone service and Internet to each communes. By 2015, achieving rate of telephone of 114 telephone/100 people by 2015 and 130 telephone/100 people by 2020.
In a period of 2011 – 2015, building 250km of fiber optic cable, installing 159 additional BTS stations; in a period of 2016 – 2020, completing underground of optical fiber within residential areas, industrial parks and almost of communes. To strive that 100% of communes and 100% of secondary schools and health units have Internet access point, 25-30% of population use Internet. Successfully implementing basic services of e-government, e-services, G2B, G2C, G2G, B2B, B2C.
5.4. Water supply, drainage and wastewater treatment
To renovate water supply system and improve capacity of clean water supply plant in city of Quang Ngai to 45,000 m3/day; Dung Quat water plant to 100,000 m3 of water/day and building water plants for industry of steel with a capacity of 33,000 m3/day. At the same time, investigating, supplementing and planning to develop water supply systems in new urban area and industrial parks.
To continue to build and complete major reservoir to complete systems of irrigation sources and flood control of Thach Nham and Nuoc Trong water reservoir to support Thach Nham; deploying project of irrigation reservoir of Chop Vung, plan of sea dyke construction (sea dike project of Quang Ngai - Kien Giang) combining with coastal road of Dung Quat - Sa Huynh.
To review plan of flood control of entire area towards flood prevention, arranging construction capital and upgrading large scale irrigation projects in upstream area. Developing synthesis plan of water use of major river systems, having detailed plan to handle situation of water-related disasters in key areas of the province.
To invest in construction and operation of infrastructure systems of wastewater treatment in industrial parks, industrial clusters and industrial production units, urban zones and residential areas. Ensuring that by 2015, 65% of industrial wastewater will be treated to meet standard; by 2020, the rate is 75%.
IV
. T
erritorial development plan
1.
Development of urban networks
To expand city of Quang Ngai toward Son Tinh district including 06 communes and township of Son Tinh in Son Tinh district and 02 communes of Tu Nghia district - Nghia Ha commune and Nghia Phu commune; bordering the East sea on east, highway of Da Nang - Quang Ngai on west.
By 2015, reaching urban standard of grade II. By 2020, completing infrastructure and decorating urban area to become modern coastal city of Central region. Developing city of Van Tuong to become coastal industry - services - tourism city, centers of expanded Dung Quat economic zone with beautiful, modern landscape architecture, having national characteristics, synchronous and modern infrastructure equaling to major cities of the Central. Developing Duc Pho district to become a provincial town by 2015, a center of economy, culture and tourism in south of Quang Ngai. Developing Doc Soi urban area to achieve urban standards of level IV by 2015. By 2020, Chau O town reaches a basic criteria of level IV.
To develop and form new townships in districts of Son Tinh, Tra Cau, Thach Tru, Sa Huynh. By 2020, forming township of south Ve river and township of Pho Phong.
2. Development of dynamic territory
- Dung Quat economic zone and Binh Son district
To plan to expand Dung Quat economic zone from current area of ​​10,300 ha to 45,332 ha to establish an open industry city, center of national oil refinery (capacity of 10 million tons/year), associating with depth water port of Dung Quat II, Chu Lai international airport, becoming economic center of Quang Ngai province in key economic region of the Central and playing an important role in defense of the entire Central and Central Highlands in future.
- Quang Ngai City
To develop Quang Ngai City to have modern trade, tourism and finance infrastructure, one of important transport hub and an economic, trade and tourism center of the Central, playing important role in formation and development of Dung Quat economic zone.
- Thach Tru - Sa Huynh in districts of Mo Duc and Duc Pho

To focus on d
eveloping key fields of industry of
processing of agricultural products and foodstuffs; seafood breeding, fishing products; building materials industry, tourism and handicraft villages, especially interprovincial cultural and historical tourism, combining with travel routes in the Central and Central Highland.
- Mountainous socio-economic center in Son Ha district
To develop
Son Ha urban area to reach urban standard of level IV by 2020 to become economic hub of 6 districts in mountainous area on basis of promoting well advantage of mountainous technical - economic corridor in west of Quang Ngai province. Gradually forming system of processing industry facilities at medium scale, handicraft industry, traditional craft, creating jobs, improving incomes of mountainous people to an average level of mountainous provinces in the Central region.
3.
Socio - e
conomic development of sub-regions
- To implement effectively goals of project 30A on sustainable poverty reduction in area of 6 mountainous district, gradually changing economy of entire region of west the province. Reducing poverty household rate to below 10% in 2015, less than 8% in 2020. Reducing proportion of agricultural labor to total workforce to below 60% by 2015 and to about 50% by 2020. Rate of trained employees hits over 40% by 2015 and 50% by 2020. All of communes and almost of villages are guaranteed transportation, electricity for living, learning, treatment, cultural activities in four seasons.
To complete secondary education universalization in entire region in 2015; rate of malnourished children is below 16% by 2015 and less than 13% by 2020. Forest coverage of the region reaches 58% by 2015 (reaching 47-48% in the province), by 2020 over 63% (50% in the province).
- To strive to 2020, maritime economy and coastal districts contribute over 80% of GDP of the province, contributing to 85-90% of exports, income per capita of coastal districts is twofold higher than that of the whole province.
- To develop Dung Quat economic zone to become open industrial city with a special administrative and economic institution, attracting foreign investors for large-scale and modern technology projects, implementing international administrative institutions, take as a foundation for coastal corridor of the Central: Chan May - Da Nang - Dung Quat...
-
By 2015, developing cultural – economic – tourism zone of Sa Huynh, archeological research center of the province and the country, synthesis center of trade - services - tourism and international movies studio, industrial and handicraft clusters with fields of shipbuilding industry, seafood processing...
- To develop coastal economic corridor Dung Quat - Sa Huynh which borders Chu Lai open economic zone, starting from Dung Quat economic zone running along the coast with a length of 110 km to south the province, connecting with Binh Dinh province in Tam Quan, creating linkage of marine economy of the region and the country.
- To develop marine tourism, building sea ecological tourism zones of Thien Dang, Van Tuong, Ba Lang An, My Khe, Sa Huynh, Ly Son and coastal tourism destinations such as evidence relic of My Son, Co Luy – Co Thon,
Chua Ong...
- To construct fishing ports and fisheries logistics centers of Tra Bong river, Sa Huynh and Tinh Ky. Planning fishing ports and fisheries logistics zone of Tu Nghia. Investing in construction boat anchorage and fishing logistics services zone of Ly Son.
- To plan and develop Ly Son island district to become clean green tourism island associating with seafood exploitation. Completing infrastructure on island with construction of disaster rescue and warning centers, boat anchorage, military airports completing all of task of national defense and security.
V. Key measures of implementing plan

1.
Raising investment capital
Total amount of investment capital in a period of 2010 - 2015 is about VND 158,000 billion; VND 279,000 billion in a period of 2016 - 2020;
To mobilize investment capital source for implementation of plan, the provinces should closely coordinates with ministries and central agencies from first stage of establishing the plan to ensure that key projects, programs of the province, especially large projects of transportation, irrigation, defense, security, will be put into the plan, associating with capital plan for programs and projects.
To perform diversification of investment; continuing to promote reform of administrative procedures, creating an open investment environment; developing attractive mechanisms and policies to promote investment promotion activities, encouraging and creating favorable conditions to attract foreign direct investment projects and investment of economic sectors to invest in developing production while encouraging existing projects to invest in expanding production.
To implement measures of encouraging investment in field of manufacturing export products; mobilizing and using efficiently funds raising from land to build socio-economic infrastructure. Ensuring that proportion of credit capital, joint venture capital and capital mobilizing from the population to total amount of investment capital demand is 31.5% in a period of 2011-2015 and 35.2% in a period of 2016 – 2020. Foreign direct investment capital is estimated to make up 15% of total amount of investment capital in a period of 2011 - 2015 and 42% in a period of 2016-2020 with a total amount of investment capital of over VND 113 trillion or USD 7.2 billion.
In addition to investment capital from the State budget, encouraging enterprises to invest under form of BT, BOT, BTO and other forms of investment to attract strongly capital into infrastructure development, at the same time, implementing target programs and national programs in each area, prioritizing capital of the programs for disadvantaged areas, ethnic minority areas, revolutionary base areas.
To have solution to use effectively long-term investment credit capital, credit capital of national support funds will focus on several trade and production enterprises under priority subjects, especially profitable enterprises under fields of investment priorities.
2. Solutions on training, developing human resource
To continue to implement satisfactory remuneration policy for good staff working in the province, staff of cadre working in mountainous districts and islands. Supporting to train human resources for small and medium enterprises such as entrepreneur training expense, short-term vocational training expense, funding for employment.
To promote socialization aiming at strengthening investment resources in health and education - training, vocational training, culture and sports. Strengthening infrastructure of healthcare sector, raising medical ethic, expand voluntary health insurance. Forming, developing and expanding social insurance, proceeding to implement unemployment insurance.
3. Solutions for infrastructure development
To focus capital resource on investment in key infrastructure systems of Dung Quat economic zone, industrial parks, infrastructure of urban area of Van Tuong, Quang Ngai, Duc Pho and coastal towns...
To pay attention on transport and irrigation projects having important implications for production, tourism infrastructure, infrastructure of Dung Quat economic zone, urban area and industrial parks, concentrated residential areas on basis of linking the State capital, credit capital, advance capital of investors, joint venture capital with investors of infrastructure. Developing a specific plan on investment in environmental infrastructure projects associating with construction of sea dike project from Quang Ngai province to Kien Giang province.
4. Solution on mechanisms and policies
To improve environment of trade and production development, developing new market, especially market of import-export goods, boosting activity of economic zone, timely disseminating economic information, especially policies and mechanism. Strengthening inspection and control of market, fighting against smuggling, fake goods production and fraud trading in the area.
To strengthen and diversify investment promotion activities, proposing mechanisms and policies of developing dynamic regions of economic, developing services, tourism, finance, human resources training...
To deploy the detailed plan of land use on basis of ensuring rational use of land for socio economic, national defense and security objectives according to criteria of sustainability of ecological environment, social safety, national security and defense.
5. Solution on science - technology, environment
To build and implement programs of supporting modernization of enterprises, technology innovation of enterprises. Diversifying partners and forms of cooperation in science and technology between provinces with competence bodies of science and technology.
Implementation of forest and land allocation must be associated with plan, sedentary, settlement, programs of hunger eradication and poverty reduction, forest and garden development, farm economy. Implementing requirements of environmental protection for large scale plan, investment projects, strictly supervising process of treatment of wastewater, garbage, dust, noise ... in industrial parks, hospitals, urban areas.

Appendix
Quang Ngai province's list of project given priority to research investment to 2020


No.

Title of project

A

Projects invested by Ministries

1

Project of Da Nang – Quang Ngai highway

2

Project of upgrading national road No.24 Quang Ngai - Kon Tum

3

Project of bypass road through townships of La Ha - Tu Nghia

4

Project of bypass road through townships of Chau O - Binh Son

5

Project of Quang Ngai University of Finance and Accounting

B

Projects invested by the province

I

Investment projects from Central budget source

1

Project of flood drainage of Thoa river

2

Project of coastal road of Dung Quat - Sa Huynh

3

Project of search and rescue road in west Quang Ngai province

4

Project of provincial road No.623 (Son Tinh - Son Tay)

5

Project of coastal road (stage 2) in Ly Son island

6

Project of Ben Dinh port – Ly Son island

7

Projects of sea dyke from Binh Son to Duc Pho

8

Project of storm shelter zone in Ly Son island

9

Project of fire protection center in Dung Quat economic zone

10

Project of Cua Dai bridge on coastal road of Dung Quat - Sa Huynh

11

Project

of disarming post-war mine,

explosive remnants

12

Memorial zone of the late Prime Minister Pham Van Dong (stage 2)

13

Project of road of

Tri

Binh - Dung Quat port (main road of Dung Quat Economic Zone)

14

Project of Vo Van Kiet road stage 2 (Dung Quat economic zone)

15

Project

of

Traditional Medicine Hospital and provincial specialty hospitals

16

P

roject of constructing resettlement areas for compensation,

site clearance in Dung Quat economic zone

II

Investment projects from Central budget source and local budget source

1

Infrastructure of expanding Dung Quat economic zone

2

Socio - e

conomic

infrastructure of Ly Son island towards developing rapidly economic, maintaining firmly defense - security

3

Infrastructure of tourism zones of My Khe, Dang Thuy Tram

4

Student hostels in Quang Ngai

5

Building 15 auto roads to central of communes

6

Irrigation projects and water reservoir in districts

7

Building fishing ports of Sa Huynh, Sa Ky, My A, Co Luy

8

Erosion control e

mbankment

in urban and residential areas

alongside Tra Bong river, Tra Khuc river, Ve river, Tra Cau river

9

Infrastructure of Tinh Phong industrial park

10

Infrastructure of Quang Phu industrial park

11

Project of building 72 flood affected residential areas under new countryside criteria

II

Investment projects from local budget source

1

Project

of

Tra Khuc river

spillways

2

Infrastructure of Quang Ngai city

3

Infrastructure of Duc Pho town

4

Project of Quang Ngai - Thach Nham road (provincial road No. 623B)

5

Project of Quang Ngai - Minh Long road

6

Project of Quang Ngai - Co Luy road

7

Project of Quan Lat - Da Chat road

8

Roads in north and south banks of Tra Khu river

9

Project of sport complex of the province

10

Project of administrative area

11

Project of youth center

of the p

rovince

12

Infrastructure of industrial clusters

13

Infrastructure of markets in 14 districts and cities in the province

14

Center of vocational education and training in districts and cities

C

Projects calling for investment

I

Infrastructure of industrial parks

1

Building infrastructure of industrial park of Pho Phong

2

Building infrastructure, residential areas in Van Tuong city – Dung Quat economic zone

II

Industry

1

P

roject

of

expanding Dung Quat oil refinery factory and raising its capacity to 10 million tons/year

2

Project

of producing synthetic rubber with a capacity of 4

0,000

tons/year

3

P

roject of

factory of producing black coal (carbon black) with a capacity of 350,000 tons/year

4

P

roject of factory

of producing

industrial detergents LAB with a capacity of 80,000 tons/year

5

Project of factory of producing

Polyester fiber with a capacity of 45,000 tons / year

6

Project of factory of producing Styrene Monomer with a capacity of 210,000 tons/year

7

Project of factory of producing

lubricant with a capacity of 50,000 tons/year

8

Project of factory of

producing 30-50

horsepower diesel engine (2,3,4 cylinders)

9

Project of factory of manufacturing super weight crane equipment

10

Project of factory of producing organic fiber roofing with a capacity 10 million m2/year

11

Project of building factories of manufacturing high technology products of electronic, information technology, agro biology…

III

Service, tourism

1

Project of Duc Pho trade center

2

Project of Van Tuong trade center

3

Quang Ngai exhibition and fair center project

4

Ecological tourism zone of Ca Dam – Nuoc Trong lake

5

Ecological tourism and mineral mud bath zone of Nghia Thuan

6

Tourism zone in Ly Son island

7

Import – export transport services, logistic services

8

Tourism zone and film studio of Vina - Universal - Dang Thuy Tram
Long Giang
Source: www.moj.gov.vn