Cao Bang province
Wednesday, August 10,2022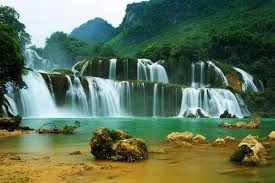 AsemconnectVietnam - Economic development associates with implementation of social progress and justice, reducing poverty rapidly and sustainably, creating jobs and improving material and spiritual living of the people and protecting environment. To combine closely socio-economic development with ensuring defense, maintaining firmly security, political stability and social order and safety.
CAO BANG PROVINCE'S OVERALL PLAN ON SOCIO-ECONOMIC DEVELOPMENT TO 2020, VISION TO 2025

I. Development viewpoints
1. Overall plan on socio-economic development of Cao Bang province to 2020, vision to 2025 must be in conformity with socio-economic development strategy of the wholly country, overall plan on socio-economic development of northern midlands and mountainous areas, plans of branches and sectors.
2. To develop economic rapidly and sustainably together with reasonable economic restructure in order to promote and effectively exploit advantages and potentials of the province. To improve efficiency of economic development on basis of promoting comparative advantage and potentials of sub-regions, growth motive power sectors.
3. Development of mining, mineral processing industry and service become two firm pillars of economic development in order to build a solid structure of economy towards services - industry - agriculture in a period after year of 2020. Comprehensive improvement of transport network, employment skill raising and administrative reform are three key stages to promote economic development.
4. To strengthen economic linkages between Cao Bang with north-eastern mountainous provinces and provinces in the west and west-southern of China, taking it as motivation to overcome difficulties in economic development.
5. Economic development associates with implementation of social progress and justice, reducing poverty rapidly and sustainably, creating jobs and improving material and spiritual living of the people and protecting environment. To combine closely socio-economic development with ensuring defense, maintaining firmly security, political stability and social order and safety.
II. Development objectives
1. Overall objectives
Economic development towards industrialization and modernization bases on advantages of natural conditions, geographical location, history, society and being operated on basis of administrative reform toward open and friendly direction. Material living of the people increases step by step. Income per capita reaches high level in region and being narrowed gap with national average level; spiritual living is maintained and developed on basis of multi-ethnic cultures; security, defense, public order, living environment of the people strengthen and improve firmly.
2. Specific objectives
2.1. On economy
- In a period to 2015, average economic growth rate (GDP) posts about 13.8%/year, reaching approximately 14.2%/year in a period of 2016 - 2020 and hitting approximately 13.4%/year in a period of 2021 - 2025; average growth rate of export value increases by 18-20%/year.
- By 2015: economic structure of industry - construction, services, agriculture - forestry - fishery are 30.5%, 45.3% and 24.2%, respectively; GDP per capita is about USD 1,179/year; the State budget revenue reaches about VND 1,500 billion/year.
- By 2020: economic structure of industry - construction, services, agriculture - forestry - fishery are 33.4%, 46.6% and 20.2%, respectively; GDP per capita is about USD 2,484/year; the State budget revenue reaches about VND 4,300 billion/year.
- Vision to 2025: economic structure of industry - construction, services, agriculture - forestry - fishery are 33.3%, 50% and 16.7%, respectively; GDP per capita is about USD 5,143/year.
2.2. Society
To strive to hit population growth rate of 0.6%/year; to create new jobs on average of about 9,500 people each year; to reduce poverty rate to about 3%/year.
- By 2015: to strive to hit 14% (90/657) of schools meeting national standards. Out of which 75% of boarding ethnic minority schools meeting national standards; to universalize primary education at right age, reaching universal standard of preschool education for children of 5 years old. Rate of trained labour hits 34%; rate of malnourished children is only 20%; ratio of communes meeting national standards of health reaches 40%; coverage ratio of television and radio reaches 100%; 60% of communes and towns have cultural houses and 100% of villages have cultural houses; 80% of households hits title of cultural family; to strive to have 01-02 communes reaching new rural standards in each district.
- By 2020: To strive to reach 28% of schools meeting national standards. Out of which, 100% of boarding ethnic minority schools meeting national standards of universal secondary education. Rate of trained labor hits 50-55%; rate of malnourished children is below 18%; rate of communes meeting national standards of health reaches 60%; 100% of communes and towns have cultural houses; 85% of households reaches title of cultural family; rate of communes hitting new rural standard is about 20%.
2.3. Environment
- Rate of forest coverage is over 55% in 2015 and over 60% in 2020.
- By 2015: 87% of urban population have clean water, 86% of rural populations are supplied clean water.
- To strive to 2020, 100% of urban population, over 90% of rural population use clean water; 100% of urban area have plans of rubbish dump and implementing garbage collection; over 60% of urban area and over 80% of production units have concentrated wastewater treatment system reaching environmental standards; to guarantee 100% of residential areas have water environment, air environment and pollution of solid waste within allowed standards.
III. Development direction of sectors
1. Development of agriculture, forestry and fisheries:
To strive to achieve growth rate of 4%/year in a period of 2011-2015, reaching 3%/year in a period of 2016-2020, hitting 3.5%/year in a period of 2021-2025.
- Agriculture: to develop towards commodity production on a basis of combining model of small and medium-sized farm with household economy; to boost intensive cultivation to increase productivity, bringing new varieties of high productivity, quality and efficiency into production; to build material area associating with processing of key and competitive agricultural commodities in market, focusing on developing wet paddy and maize; to focus on developing crops which are suitable to conditions of province such as tobacco, sugar cane, soybeans, kind of vegetables; to continue development of fruit trees such as orange, tangerine, pear, plum, longan, chestnut, seedless persimmon associating with product consumption markets.
- Livestock: To focus primarily on development of cows, buffaloes, pigs, goats towards livestock farms, household farms; to strive livestock density in agricultural sector to account for 34% in 2015, up to 40% in 2020 and 45% in 2025.
- Forestry: to develop towards intensive cultivation, focusing on building forestry areas with reasonable structure among production forests, protection forests and special-use forests. To build concentrated material area of ​​intensive cultivation associating with processing units as well as exploiting and using effectively forest resources to improve value contribution of forestry sector to around 3-3.5% of GDP at the end of plan period. To strive to 2020, new artificial forest area hits 34,321 ha including area of protection forest and special use forest of 4,974 ha, production forest of 29,347 ha.
- Fisheries: to exploit existing surface water, continuing to improve irrigation reservoirs combining with concentrated aquaculture breeding; to focus on developing specialty varieties such as cold-water fish (Pha Den), cool water fish in Phuc Hoa; to develop model of fish breeding on paddy fields, fish cages in lakes and rivers.
2. Industry – construction development
- To strive to reach average growth rate of 13.5% in 2015, reaching 15% in 2020.
- Mineral exploitation and processing: to exploit and use rational mineral resources associating with processing units, meeting demand of some essential materials, fuel for production inside and outside the province. To focus on exploration and evaluation of mineral resources reserves; to research and evaluate detail of potential of key minerals such as iron ore, manganese ore, and lead - zinc ore; to invest in technological innovation, raising level of mechanization of small production units to minimize loss of natural resources and protect ecological environment. Key minerals have prospects to exploit at industrial scale including iron ore (50 million tons), manganese ore (6.65 million tons), limestone...
- Electricity production and distribution: to review plan of small and medium hydropower system, focusing resources on completion of implemented hydropower projects; to research and apply electricity production by new forms of energy in remote areas, accelerating construction of low voltage electrical systems, performing better content of hydropower development plan at each stage.
- Production of construction materials: To continue to renovate technology, improving productivity and quality of building material products to guarantee to meet growing demand in the province; to organize exploitation of materials which are available in the local such as stone, sand and gravel.
- To continue to develop crafts, traditional craft villages which produce consumption goods for development of tourism and contributing to create jobs and increase incomes for agricultural and rural labor.
- To continue to invest in construction of industrial park of De Tham; to research and implement industrial clusters such as Mien Dong, Thong Hue, Hoa An ...
3. Trade and service development:
- Development of trade and service must be linked to plan of construction of industrial parks and industrial clusters, tourism zones and new urban areas in order to develop comprehensively and sustainably. To strive to hit average growth rate of 17% in 2015, reaching 16% in 2020.
- Trade: To combine traditional commercial development with investment in construction of modern and civilized trade networks through system of commercial centers, supermarkets. To complete market system of towns, wards, communes under approved plan to meet trade demand, serving activities of production and consumption of the people. To develop systems of supermarkets and trade centers network in accordance with approved urban plans and ensure shopping demand of residents; to diversify models, scale and methods of business.
- Tourism: To focus on developing eco-tourism, cultural tourism and community tourism to better utilize and promote value of natural resources, specific historical and cultural relics of ethnic minority groups of the province; to increase investment in tourism areas such as Ban Gioc fall, Nguom Ngao cave; Pac Bo ... in order to attract domestic and international tourists.
- Transportation service: to ensure inner-provincial and inter-provincial transport as well as focusing on developing warehouse system in order to help Cao Bang become a place of goods transshipment in a domestic and foreign service and trade development network.
- To continue to invest in building infrastructure of border economic zones, border gates and border markets; to build border economic zones become a key economic region of the province; to focus on exploiting effectively activities of trade, tourism and services at border gates and border markets. To attract domestic and foreign investors to invest in the gates.
4. Development of field of culture and society:
4.1. Education and training:
To improve quality of education and training; to retain firmly results of secondary and elementary education universalization at right age, continuing to universalize preschool education for children of age of 5 years. To research to establish college of Cao Bang on basis of upgrading Cao Bang teacher training college, eastern vocational training college on basis of upgrading vocational training schools of group of eastern districts, establishing 03 vocational training schools on basis of improving vocational training centers of town, vocational training center of Thach An district and vocational training center of Phuc Hoa district;
4.2. Health:
To continue to upgrade and expand healthcare network at provincial and local levels; to invest in completing provincial hospitals and district hospitals, communal healthcare centers. To research to build several specialized hospital: tuberculosis and lung hospital, hospital of nursing and rehabilitation, hospital for mother and children, hospital of psychiatry; to upgrade endocrinology center to become endocrinology hospital. To research to upgrade traditional medicine hospital to become general hospital, to newly construct center of preventive medicine to meet national standards prescribed by the Ministry of Health.
4.3. Culture, sports:
- To preserve and promote cultural values ​​of ethnic minority, developing traditional festivities; to strengthen links with other provinces in northeastern region in maintenance, preservation tune of Then, creating foundation to promote development linkage of cultural tourism; to gradually eliminate unsound customs and superstitions, developing forms of mass culture, folklore. To promote socialization to mobilize all resources in society to participate in development of culture.
- To develop mass sport movement, promoting physical and sport activities in schools. To focus on investments in improving quality of traditional and advantage sport subjects of the local such as athletics, traditional martial arts, basketball; to continue to research and expand concentrated training on a number of subjects: martial arts, table tennis, badminton, shooting, stick pushing and boxing (female). To focus on investment in building necessary institutions for community sports activities in districts, communes and high performance sport in the province.
4.4. Poverty reduction, job creation:
- To continue to implement comprehensively and effectively national target programs, poverty reduction projects; to boost activities of industry promotion, forestry promotion; to raise awareness, responsibility and self-reliance of poor households with help of community to escape sustainably poverty. To develop social welfare activities as well as implementing well policies of taking care national devotees, policies on children's rights, ensuring that children in special circumstances will be protected and cared for.
- To continue to promote vocational training and expand new profession in order to boost labour resource transfer from agriculture to industry and services. To raise quality of vocational training to meet domestic demand and exports.
5. Infrastructure development:
5.1. Transportation:
To coordinate with Ministry of Transport to renovate and upgrade national road No.4A, national road No.34, national road No.4C, road connecting national road No.3 with national road No.4A (avoiding city of Cao Bang). To continue to invest in upgrading and renovating roads to border gates, road to resorts, provincial roads, communal roads, inter-communal roads to ensure transportation in four seasons in consistent with plans and ability to balance of resources in each stage. To research building of Cao Bang airport, Cao Bang – Lang Son highways, national road No.3 (road section of Bac Kan - Cao Bang) under a new route to avoid mountain pass in accordance with plan and transport demand.
5.2. Electricity supply:
To improve capacity of electricity supply. To strive to 2020, to raise total capacity of 220 KV station to 2x125 MVA, constructing single-circuit 220 kV electricity line Cao Bang - Lang Son with a length of 125 km, renovating, expanding and lifting capacity of 04 substations of 110 KV to reach a total capacity of 97 MVA, including Nguyen Binh station; Gang Thep station, Quang Uyen station and Hoa An station.
5.3. Irrigation, water supply and drainage:
- To protect, exploit effectively and develop sustainably water resources. To actively prevent to the lowest level of damage caused by water. To implement on rate of progress of irrigation projects, out of which, focusing on unshakeable projects such as water reservoirs: Khuoi Khoan lake (Hoa An district), Khuoi Ky lake (Ha Quang district), Na Lai lake (Quang Uyen district); lakes under system of reservoirs in Gam river region, reservoir system in Quay Son river region, system of reservoirs in Bac Vong river region, system of reservoirs in Bang river region; to invest in reinforcing lake dams and upgrade system of canal;
- To continue to invest in upgrading water supply system for city of Cao Bang, towns, townships and residential areas to ensure supply of full of clean water demand for people's living. To research and invest in building system of concentrated industrial and living wastewater collection and treatment for urban areas and hospitals; to construct system of waste collection and treatment in urban areas.
5.4. Post and telecommunications, e-commerce and information technology:
- To continue to universal multi-service to post offices, communal culture post offices; to complete network services to end-customers and improve quality of services, combining public service with other trade services in order to meet socio-economic development demand.
- To complete telecommunications infrastructure, applying modern technology which has broad coverage with high capacity and high quality, providing multi-service. To distribute telecommunications projects in a reasonable manner, especially system of signal receive and transmit station, coaxial fiber optic cable system. To build a plan on implementing fiber optic cable to 100% of communes to 2020 and construct underground telecommunications infrastructure to ensure long-term interests and meet demand of security and defense in development process.
- To strive for large enterprises to conduct e-commerce transactions of type of business to business, small and medium-sized enterprises to conduct e-commerce transactions of type of businesses to consumers or business to business.
6. Defense - security:
- To enhance consolidation of defense, security and social order and safety, ensuring national sovereignty, political stability for socio-economic development. To develop all-people national defense combining with all-people public security. To ensure security, politic, social order and safety, preventing kinds of crime which cause harm to national security, pushing back social evils, curbing traffic accidents.
- To regularly organize combat training, implementing manoeuvre of defense area, preparing all readiness conditions in all situations to firmly defend the country's border area.
- To construction border between Vietnam - China peace, friendship, expanding external relations, cooperation of economic, science – technology, education - training with China for socio-economic development.
7. Environmental protection
To focus on protecting ecological environment, maintaining forest area, reducing soil erosion and landslides. To enhance to control and handle sources causing water pollution, controlling pollution of solid waste and industrial emissions; to strictly manage mining exploitation as well as having measures to overcome environmental pollution caused by mining exploitation activities.
IV. Orientation on organizing development space
1. Development of economic region:
1.1. Middle sub-region (region I), including city of Cao Bang and districts of Hoa An, Nguyen Binh and Ha Quang is a development center of the province and having development orientation to become a center politic, economic, culture and society with synchronous infrastructure systems; to develop industries of mineral processing and exploitation, processing of agricultural products; being a center of gathering and distributing commodities to industrial parks, border gate via system of trade centers, wholesale markets; to develop agriculture towards high-quality commodity production, clean agriculture to meet domestic consumption demands.
1.2. East sub-region(sub-region II), including districts of Tra Linh, Trung Khanh, Ha Lang, Quang Uyen, Phuc Hoa, Thach An have development orientation towards border gate economic, trade, service and agricultural product processing industry; to invest in infrastructure of border gates of Ta Lung, Tra Linh in order to promote border trade; to develop ecotourism, festival under routes of Cao Bang - Tra Linh, Cao Bang – Trung Khanh, Cao Bang - Quang Uyen; to develop agriculture towards industrial crops (sugar cane, tobacco, developing animal husbandry, to afforest protection forest and production forests interspersed with native forest trees; to develop agro-processing industry at large scale.
1.3. West sub- region (sub-region III), which includes districts of Bao Lam and Bao Lac, Thong Nong being identified as underdeveloped areas; having development orientation of production afforesting, grass growing and livestock development under concentrated industrial form; to develop mining industry, hydropower at small scale.
2. Development of urban areas:
To have development orientation of Cao Bang city become a modern city, being center of politics, economy and culture of the province; to upgrade and expand township of Ta Lung to become town of Ta Lung, reaching urban level IV; to invest in expanding township of Nuoc Hai to become town of An Hoa; to prepare conditions for formation of Tra Linh town in a period after 2020 on basis of upgrading current township of Hung Quoc; to research to form some new townships in border districts having border gates, concentrated industrial parks or ability to develop eco-tourism in order to create favourable conditions to develop industrial production, trade, services, tourism and improving people's living, fulfilling target of urbanization in a period of plan.
3. Rural area development:
- To organize, arrange, reorganize rural residential areas toward forming rural concentrated resident area or semi-rural areas under new rural model. To implement this pilot model from now to 2015 and making mass deployment at a later stage; model of concentrated resident size of 100 households, semi-rural resident area (communes in Cao Bang city) with large scale of population of over 200 households.
- To invest in technical economic infrastructure development to improve people's living, creating favorable conditions for implementation of policies of supporting farmers to develop economy, and raising income. To strive to 2020, all concentrated rural residential areas have convenient roads and supplied electricity to ensure living of the people.
V. Solutions of implementing plan
1. Strengthening linkage:
- To strengthen coordination with other provinces and cities in north midland and mountainous region. To expand cooperation, close linkage and proactive actions with neighborhood localities and other localities in northern key economic region; to develop economic linkage relations to promote trade and economic relations between northeast Vietnam with south China; at the same time, to apply flexible mechanisms, policies in accordance with actual conditions in order to fully exploit comparative advantages of the province.
- To gradually build Cao Bang border gate economic zone and other gates towards civilized and modern, creating favorable conditions for exchange of goods and tourism development; to proactively strengthen cooperation with China, especially Guangxi on many fields.
2. Solution of mobilizing capital
- Demand for investment capital for implementation of the plan is estimated at VND 282 trillion in a period up to 2025. To base on ability to balance annual budget, to proactively plan and suitably allocate investment to ensure appropriate funding for key projects. At the same time, to have solution to promote domestic and foreign investment attraction; to mobilize and use all resources from all sectors of the economy, capital resources of residential, non-state enterprises and foreign direct investment; to continue to study incentive mechanisms and policies to attract investment resources, focusing on raising capital from land exploitation, ODA loans, socialization of investment.
- To take advantage of investment capital resource, supporting capital resource of the government for border gate area and industrial parks, infrastructure investment in disadvantaged localities.
- To mobilize funds (direct investment funds of the government, preferential credit, deferred or finance leasing foreign loans, direct investment FDI, ODA ...) and using efficiently, synchronous medium and long term capital resources to ensure stable production development.
3. Mechanism, policy, administrative reform
- To continue to review and supplement mechanisms and policies in accordance with provisions of law and research and suggest polices in order to give priorities for investment in Cao Bang province in next time.
- To further promote effectively reform of administrative procedures, applying extensively information technology in management. To promote implementation of grassroots democracy regulation together with perfecting the State management regulations at the grassroots level, developing and improving quality of human resources through training and re-training to meet new integration situation.
-
To organize
apparatus towards streamlining, highly effective in management, administration, raising capacity and accountability in implementation. To decentralize to all levels, strengthening inspection and promoting grassroots democracy.
- To improve efficiency and effectiveness of political system at all levels; to build and issue fully and timely regulation, mechanisms and policies to ensure promotion of democratic, initiative and creativity to meet development demand.
4
.
Science and technology
- To encourage businesses in the province to focus on investment in improving production technology, replacing outdated equipment, synchronization of technology of advantage fields such as mineral mining and processing ; processing of agricultural, forestry and fisheries products; food processing. To expand form of collaborative links between production units with science and technology research and application units in order to bring science and technology into reality.
- To build
and develop scientific and technological potential of the province, training science staff in field of technology, management, business and environmental protection. To invest in equipment and technical facilities to serve management of science and technology to meet timely research and implementation work.
- To promote technical applications, investment in equipment and machinery renovation, technological lines coupling with environmental protection, especially for in-depth processing industry of mineral, industry of processing of agricultural and forestry products.
5
.
Development of human resources
- To regularly train profession, new knowledge of the State management and skills of using information technology, foreign languages ​​for the State management staffs and civil servants. To build staff and civil servants having quality and capacity to meet requirements of socio-economic development in a new period.
- To plan, actively support and further expand new training and re-training staff of entrepreneurs, enterprises managers to have full of knowledge to approach new advances of management science, new technology, forecasts and access market to actively integrate into globalization process.
-
To r
esearch policies to attract economic and scientific cadres, skilled experts, skilled technical workers, artisans to the province for economic construction and development; in short-term, to research appropriate mechanisms, policies to calls for capacity businesses to invest in the province.
-
To r
ejuvenate management staff of fields, creating favourable conditions to travel, learn and exchanges with foreign countries to seize timely market information, technology ... to meet integration and competitive requirements.
VI
. Organizing and supervising plan implementation
1
. After overall plan
of socio-economic development of the province to 2020, vision to 2025 being approved, Cao Bang province needs to publicize and disseminate to the Party committees and authorities, fields, unions, businesses and residents in the province. Basing on contents of plan, to build specific action plan to implement plan.
2
. To p
romote investment promotion activities, organizing to introduce, advertise potential and advantages of the province to investors; to introduce programs and projects prioritized for investment, focusing on call for investment in key projects to manufacture key products.
3. To concretize objectives and tasks of the plan by 5 year plan, annual plan to implement and evaluate results. On that basis, to review the plan and submit to competent authorities to timely adjust, supplement to ensure suitability with socio-economic development of the local in each period. All levels, agencies and socio- political organization and the people in the provinces are responsible for inspecting and supervising implementation of the plan.

Long Giang
Source: mpi.gov.vn