Thanh Hoa province
Wednesday, June 14,2017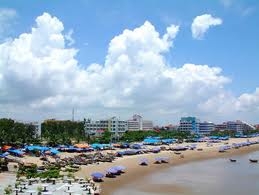 AsemconnectVietnam - To promote the highest potential and advantages of the province on basis of effective use of all resources for socio-economic development, accelerate economic growth, narrow gap with other provinces in region and nationwide. Construct Thanh Hoa province soon become one of an economic exchange center between North Vietnam and North Central region and one of an economic, social –culture center of the country
THANH
HOA PROVINCE
'S OVERALL PLAN ON SOCIO-EOCNOMIC DEVELOPMENT TO 2020

I
. Development viewpoints
1.
Promote the highest potential and advantages of the province on basis of effective use of all resources for socio-economic development, accelerate economic growth, narrow gap with other provinces

in region and nationwide. C

onstruct Thanh Hoa province soon become one of an economic exchange center between North Vietnam and North Central region and one of an economic, social –culture center of the country.

2.

Improve quality of economic growth with reasonable structure, construct highly competitive economy, efficient use of natural resources; develop quality industry, services and travel

; develop agriculture towards production of goods.
3. Concentrate investment resources to build economic driving force and main products groups; give priorities in investment to quickly develop Nghi Son Economic Zone, creating breakthrough growth and economic restructure.
4.

Gradually adjust to create harmonious and reasonable development between provinces in the region; develop strongly coastal and sea economic; enlist maximum support and investment of the State and economic sectors.

Develop midland, the west and mountainous regions to soon get out of underdevelopment.
5. Combine economic development with gradual progress and social justice. Promote implementation of policies of socialization in fields of education, training, health, environment ...; ensure high quality human resources to meet requirements of rapid development; focus on hunger and poverty reduction, health care, social stability, and strengthening unity among ethnic groups in the province.
6. Consider development of science - technology as a key stage in improving quality of goods and services; promote economic growth, increased competitiveness of the economy.
7. Combine economic development with strengthening national defense and security; hold firmly borders and islands sovereign; maintain friendly relations with provinces and neighboring border areas of Vietnam - Laos, security and political order and social safety.
II. Development goals
1. Overall objectives
Develop quickly, effectively and sustainable socio-economic; make fundamental changes in growth quality and competitiveness of the economy. Strive to 2015, Thanh Hoa province reaches average level of the country and by 2020, Thanh Hoa become an industrial province with reasonable economic structure and synchronous and modern socio-economic infrastructure system of economic infrastructure and at the same time as one of economic, education - training, health and sports, science - technology centers of the North Central region and the country, strengthening security and political stability, great national unity.
2. Objectives
2.1. Economic objectives
- Average growth in a period of 2011 - 2015 reaches 17-18% and reaches over 19% in a period of 2016-2020. In 2015, GDP per capita of the province hits an average level of the country and exceeds average level of the country in 2015;
- Restructure economy towards industrialization and modernization; in 2015 economic structure: agriculture - industry, construction – service are 15.5% - 47.6% - 36.8 %, respectively and in 2020 are 10.1% - 51.9% - 38%, respectively;
- In 2015, strive to hit export turnover of $ 800-850 million, in 2020 reaches over $ 2 billion, export growth rate reaches 19-20% per year;
- The State budget revenues account for about 6-7% of GDP in 2015 and over 7% in 2020.
2.2. Social objectives
- Limit speed of population growth, natural birth rate of population increase 0.65% in 2015 and about 0.5% in 2020;
- Increase rate of trained labor to 45% in 2015 and 55-60% in 2020;


- Employ about 50,000 workers per year. R

ate of urban unemployment below 3%, rate of employment in rural areas below 3.5% in 2020;
- Reduce poverty rate (current standard) each year to 3-5%;
- Improve healthcare network; strive to 85% of commune clinics have doctors before 2015; to 2015, there are 23 beds /10,000 people and 25 beds / 10,000 people in 2020; reduces rate of malnourished children under 5 years old down to 18-20% in 2015 and less than 10% in 2020;
- By 2015 all provincial roads, district roads, roads to commune centers are asphalted or concrete, 100% of households have access to electricity; 100% of population are watched television.
2.3. Objective of environmental protection
- Increase rate of forest cover to 53-54% in 2015 and over 60% in 2020. Environmental protection of groundwater, surface water, and coastal waters;
- In 2015 collect and treat waste in all urban areas, 100% of new production facilities construct concentrated waste treatment to ensure environmental standards or application of clean technologies ; number of production facilities meet environmental standards in 2015 reaches over 80% and 90% in 2020;
- By 2015, all households in urban are supplied clean water and 90% of rural households used hygienic water and 100% in 2020.
2.4. Defense and security objectives
Ensure national defense and security, maintaining sovereign borders, islands, political stability, inhibit increase, then proceed to gradually reduce crime and other social evils.
III. Development orientation of industry field
1. Industry
- Develop fast, robust industries whose role as foundation for growth and restructuring of provincial economy. Gradually forming industrial zones, develop infrastructure in industrial zones; rapidly deploy projects in Nghi Son Economic Zone and form some economic motivation to generate growth for economy;
- Maintaining a growth rate of industry - construction over 21.5% per year (including in a period of 2011-2015 reaches 21.4% and in a period of 2016-2020 reaches 21.6% per year);
- By 2020 fundamentally Thanh Hoa become fundamentally an industrial province with a modern structure;
- Development of following major industries:
+ Oil refinery industry: Complete construction of complex of Nghi Son oil refinery with a capacity of phase I of 10 million tones / year and come into operation before 2013, while investment in phase II with a capacity of 10 million tons per years; develop other industries such as polypropylene, synthetic fibers, plastics, synthetic fertilizers, synthetic detergents and other products;
+ Build industry of producing construction material: speeding up construction of line 2 Cement Nghi Son, Bim Son, Thanh Cong, construction of Thanh Son cement plant with capacity of 1.4 million tons per years, striving to increase in 2015 total cement capacity of the province over 18-20 million tons;
Build bases of producing construction materials in Nghi Son Economic Zone and industrial zones such as: factories of asphalt concrete, fresh concrete, precast concrete, roofing production.
+ Power Industry: By 2020 commercial electricity output reaches over 20 billion KWh. Invest in construction of Nghi Son thermal power plant, forming large thermal power center of north Central region. Nghi Son thermal power plant will complete soon phase I with a capacity of 600 MW in operation; phase II of investment to increase capacity to 1,800 MW in 2015.
- Construction works: 260 MW hydro Tong San, 92 MW hydro Hoi Xuan and some small and medium hydropower projects such as: Ba Thuoc 1 and 2; Cam The 1 and 2; Song Lo; Chay river...
+ Engineering, manufacturing industry
Speed up construction of POMIDO steel plant with a capacity of 650,000 tons per year, Nghi Son steel plant with capacity 750,000 tons per year. Attract more manufacturing project of sheet steel, shaped steel, high-grade steel in Nghi Son Economic Zone with a capacity of about 6 million tons per year; produce steel for the defense industry.
Develop industry of mechanical , manufacturing: assemble heavy equipment, transport means and equipment; manufacturing equipment for industry of building materials and agricultural products processing; electrical equipment, electronic components, information technology, automobile assembly, production of locomotives, wagons, equipment and accessories rail...
Complete phase I marine shipyard Nghi Son with a capacity of building 50,000 DWT vessels in 2010, II phase of investment in 2015 to building 50,000 DWT ship and repairing ships over 100,000 DWT.
+ Industry of processing of agricultural, forestry and fisheries: Renovate, upgrade, promote maximum production capacity of existing facilities; while building new facilities of processing agricultural, forestry and fisheries associating with construction of concentrated material area. Expanding capacity of rubber processing plants in Xuan Thanh, Cam Thuy; upgrade vegetable processing plant in Thach Thanh, build new vegetable processing plants, in Bim Son and some conditional locations such as Hau Loc , Hoang Hoa; food processing factories in industrial parks of Thach Quang (Thach Thanh) and coastal plain districts;
Innovate technology and improve production capacity of aquatic product processing factories of Hoang Truong, Le Mon, Lach Bang, Hoi Lach, Lach Truong , construct concentrated processing plants for animal feed in districts of Nong Cong, Trieu Son, Thieu Hoa, Ngoc Lac, ...
+ Continue to develop other industries: mining, export consumer goods, clothing, packaging, sport leather shoes, tourism and . Gradually develop a number of high-tech industry. Restore and develop traditional craft villages such as sedge, embroidery, silk, brocade, bamboo and rattan, fine arts, jewelry stone.
- Develop industrial zones:
Continue to invest and expand and develop existing industrial parks; form a number of other industrial parks in city of Thanh Hoa and Bim Son town and districts of Ngoc Lac, Hau Loc, Quang Xuong, Hoang Hoa, Nhu Xuan, and Thach Thanh. By 2015 construct uniform and gradually modernize infrastructure of industrial zones having been established, promoting investment to improve to meet industrial parks in the area.
- Develop industrial clusters, small and medium sized traditional villages in districts and towns in the province. Strive to 2020 all communes and about 50% of communes in mountainous villages have industrial clusters.
2. Services
Rapidly develop and diverse types of services to create more jobs and a great contribution to economic growth.
Average growth rate of service in a period of 2011 - 2020 reaches 18.5% per year; increase proportion of services in GDP to 36.8% in 2015 and over 38% in 2020. Export value of goods and services to reach USD 800-850 million in 2015 and over $ 2 billion in 2020.
Development of main service sector:
- Trade
+ Develop synchronous trading system, construct Thanh Hoa province become a point of convergence of goods transport North - South and circulation of goods between northwest and northern provinces of Laos through Nghi Son port and mountainous areas in the country;
+
Invest in building a modern commercial center in city of Thanh Hoa, Nghi Son Economic Zone in association with free tax zones; construct Na Meo border gate economic zone to trade goods between Thanh Hoa province with Laos, especially northern Lao province and surrounding regions, construct a commercial center in Bim Son and Ngoc Lac and some other towns.
- Tourism: develop rapid and sustainable tourism to become important economic sectors and major contributors to economy. Focus on developing a number of key areas, key tourist sites, create diverse and high quality tourism products; Thanh Hoa gradually become one of tourist center of the country and is an important tourist destination in system of national tourism. By 2015 strive to attract about 3 million tourists per year, which reaches about 30% of foreign tourists and in 2020, 5 million tourists per year with 40% of international tourists ;
Construction of infrastructure in tourist areas . Invest in construction of Ham Rong tourism area, fishing streams Cam Luong, Lam Kinh, Ben En, Nga Son, Hai Hoa, and Hai Tien. Develop eco-tourism zone of Nghi Son and some other tourist areas after 2010.
- Transportation: developing diverse types of transport, combine transport development of railway and waterway to exploit strengths of Nghi Son deep-water port and river port system to expand maritime transport and inland waterway transport. Develop passenger transportation, combine with tourism development; forms of transportation to tourist areas; focus on developing passenger transport in city of Thanh Hoa, towns and business centers the province.
- Finance, Banking: encourage domestic and foreign banks, especially large financial regional and international institutions to open branches or representative offices in the province; gradually establish financial market to meet increasing demand for capital of economic sectors;
- Promote development of post and telecommunications and information technology, contribute positively to social economic development , ensuring national defense and security;
- Develop faster types of services such as training services, consulting services, technology transfer ...
3. Agriculture, forestry, fisheries
- Develop a comprehensive agriculture, striving to build high-tech agriculture, clean agriculture towards export, increase of income per area unit. Also, gradual improve infrastructure for agricultural development, cope effectively with natural disasters;
- Growth rate of agriculture, forestry and fishery reaches 5% in a period of 2011-2015 and 5.1% in a period of 2016 – 2020, reduce proportion of agriculture, forestry and fisheries in GDP from 31.6% in 2005 to 15.5% in 2015 and 10.1% in 2020;
- Develop a stable area of food crops by 2020 from 270-280,000ha; area of paddy is around 220-230,000 ha, about 50-60,000 ha of maize; food production in 2020 is 1.7 million tones, ensuring food security and big commodity food . Increase area of trees of high economic value from about 30% of total cultivated area in 2010 to over 50% 2020;
- Development of other crops: rubber plant in 2015 reaches 25,000 ha; stabilize sugar cane area in 2020 about 26,000 to 28,000 ha; peanut tree 22,000-23,000 ha in 2020; stable vegetation area from 3,000 - 3,500 ha associating with processing industry.
- Develop poultry breeding livestock in both scale and quality in direction of producing goods, raising proportion of animal husbandry in agricultural production value up to 45% in 2015 and over 50% in 2020;
- Develop towards forest protection, develop and rational exploit forest resources to ensure protection features, environmental protection and raising contribution to the economy; strives to 2020 raising forest coverage rate to 53% - 54% in 2015 and over 60% in 2020. Construct of forest as flow of materials, paper materials, wood ... associating with the processing industry;
- Develop a comprehensive fisheries including fishing and aquaculture in direction of both protecting ecological environment, creating a stable source of raw materials for export processing. Strong develop aquaculture including freshwater, brackish, salt water; in 2015 aquaculture area reaches 19,000 to 20,000 hectares and over 30,000 hectares in 2020. Expand the types of services for production of agriculture, forestry and fisheries.
4. Social sectors
4.1. Education, training
Develop education and training towards standardization and improve quality of teachers and education managers, building a learning society; promote socialization of education and training to mobilize all sources in development of education - training. By 2015, 100% of teachers meet national standard. Enhance facilities for teaching and learning, complete solidify of schools and classrooms in the province before 2015; Maintain and strengthen achievements of lower secondary school and implementing universal of lower secondary school, striving to complete lower secondary school universal by 2020.
- Diversify of types of vocational training; pay attention to vocational training for rural workers; improve rate of trained workers to 45% in 2015 and 60% in 2020. Continue construction of University of Hong Duc to become quality training center. Construct plans for development and expansion of facilities of training of human resources, in accordance with the plan of the country.
4.2. Community health care
Develop community medical and health care system in direction of developing preventive medicine stations, ensuring all citizens are examined, and initial treatment and provide basic health services.
Promote socialization, improve investment facilities, equipment and medical staff from the provincial to grassroots level to improve the quality of medical treatment and activities of population - family planning ; in 2015 to 85% of commune health stations have doctors and meet national standards on health, rate of hospital beds reaches 23 beds / 10,000 people and 25 beds / 10,000 people in 2020. Complete upgrade and modernization of provincial hospital, increase equipment and expand a number of health specialist; complete construction children's hospital, hospital of Ngoc Lac and some district hospitals. Strengthen specialty hospitals to meet level 2 or higher.
Implementing effective national programs on health. Rate of malnutrition children under 5 to below 20% in 2015 and less than 10% in 2020; mortality rate of infants under 1 year to less than 15% o; in 2020 reduce annual birth rate 0.5% o to reduce rate of natural population growth to 0.5% in 2020.
4.3. Science and Technology
Promote research, apply and develop technology; -select- to transfer modern, advanced technology and friendly environment technology and in accordance with development orientation of economic sectors. Focus investment in building a base of science and technology that province has strengths, encourage and create favorable conditions for business to invest in research, application and development of science - technology.
4.4. Broadcasting - TV
Develop rapidly wide network of digital television; construct technical infrastructure to receive information from satellites VINASAT-1; extend coverage to remote areas, increase radio power in ethnic minority. By 2010, radio coverage rate of 100%, rate of television coverage reaches 100% before 2015.
4.5. Cultural, physical training, sports
Improve quality of cultural activities, information and entertainment facilities, meeting needs of cultural spirit of the people. Continue to invest in conservation and creation, promoting value of historical, cultural relics. Complete Lam Kinh project, building heritage of Ho dynasty citadel, Ba Trieu monument ... upgrade and restore historic cultural relics. Strive to 2020 reaches 100% of villages having places for cultural and entertainment, spots activities, radio systems, law bookcases.
Develop movement exercise, sports facilities and promote sport socialization. Invest in construction of sports training center; develop high achievement sport, strive to bring Thanh Hoa province into group of 10 the country's leading in exercise and sport.
4.6. Labor, employment and poverty reduction:
Improve and enhance people's living; strive to reduce poverty rate each year from 3-5%. Successfully implement social welfare policy in the area. Create new jobs every year for about 4-5,000 workers, promoting labor export, reduce unemployment in urban areas and percentage of workers lacking jobs in rural are, focus on training of human resources to meet requirements of social economic development.
5. Infrastructure development
5.1. Transport
- Roads:
+ Develop synchronous transport system to ensure uninterrupted, link between the local and provincial; connect major economic centers of the country; focuses on opening roads connect to the Northwest, Laos, Thailand, Myanmar; Building modern transport system in key areas: Nghi Son General Economic Zone, Thanh Hoa city, town of Bim Son Sam Son, ... build new roads having an important role in economic development, security and defense, especially roads connecting with main axis as:
+ National Highway 1A: Upgrade national highway 1A to delta road level III. Construct intersections between railway and a large traffic road, moving homes of household living in industrial zones.
+ Ho Chi Minh road: implement second phase. Invest in building horizontal roads connecting Ho Chi Minh road with National Highway 1A (Thach Quang - Bim Son) standard level III.
+ North - South Highway through Thanh Hoa province 100 km long.
+ Nghi Son – Bai Tranh (length 53 km) linking port of Nghi Son with Ho Chi Minh road.
+ Yen Cat - Ben Sung - Chuong – Tan Dan.
+ Other highway: upgrade highway 47 to level III, highway 10, 45, 15A, 217 to level IV. Expand highway 10 from But Son connect to national highway 1A (But Son – Do Dai - Moi – Nui Chet), extend highway 45 to Nghe An connect with highway 48 (Yen Cat - Thanh Quan)

, Highway 47 through Kheo gate into Laos ( along provincial road Xuan Thuong – Bat Mot) before 2010.

Proceed to upgrade entire highway in the province to reach level III, several importance roads meets grade II. Extend highway 217 to highway 10; construct highway 217 become trans-Asia road.
Provincial road system: in a period of 2011 - 2020 continues to upgrade provincial road system to meet plain standard level III, level IV and mountainous level III, IV, V.

Construct traffic intersects with others in large traffic.

Upgrade important highways.
The system consists of horizontal lines: Duong Van Mai - Muong Lat 70 km long, Lang Chanh - Yen Khuong - 44 km long, Hoi Xuan – Tan Moi - Muong Chanh length 139 km; Urban roads (some major project):
City of Thanh Hoa: Build highway 1A to avoid city of Thanh Hoa; expand Le Loi boulevard; ring road in western of the city; highway 47 in Thanh Hoa City in 2010. Conduct renovation and new construction of Lai Thanh bridge, Cao bridge, Duong bridge...
Other urban areas: construct system of urban roads in towns of Sam Son, Bim Son, and new urban Nghi Son - Ngoc Lac. By 2020, all big towns in the province complete modern transportation network.
Coastal roads: building coastal roads (length about 100 km from Dien Ho, Nga Son to Nghi Son, Tinh Gia district
- Rural transport systems: By 2010, 100% of communes have roads to commune centers. By 2020 fundamentally stabilize transportation infrastructure and create conditions for social economic development.
Complete building a number of major rivers before 2015 such as bridges of Tham ( Nga Son district ), Chuc Son (Hoang Hoa district ), Khanh Chung, Khanh Hoang (Hoang Hoa), Van Cam (Cam Thuy), Nam Tien bridge (Quan Hoa), Kim Tan (Thach Thanh ) and suspension bridge system in mountainous districts.
- Waterway: complete construction of Nghi Son port group with a capable of receiving ships up to 30,000 tons, preparing conditions for expanding port capacity to 50 million tons per year before 2015. Research deep-water transshipment port in island of Me. Expand ports and construct a specialized service complex of oil refinery, thermal power plants, steel and cement plants.
+ Upgrade and expand river ports: Le Mon port, ( increase its capacity from 1.6 to 2.5 million tons / year), Lach Hoi port, port of Ham Rong. Develop port of Quang Chau in 2010, able to receive ship of 1,000 DWT with a capacity of 1.5 million tons per year.
Develop waterway traffic on the northeastern provinces (Quang Ninh, Hai Phong, Thai Binh ...).
- Railway: Develop railway network in the province to connect most of economic zones especially in Nghi Son Economic Zone. After 2010 upgrade existing rail systems and build North – South high speed railway . Invest in building a bridge over railway and some important provincial roads.
- By Air: strive to implement construction of civil airport in Quang Thuong commune - Quang Xuong district before 2020.
5.2. Aquaculture - irrigation infrastructure
- Focus on investment in irrigation , upgrading irrigation systems of Hoang Khanh, Dai Xa . Complete water supply system for Nghi Son Economic Zone, pumping stations. Invest in complete sea dyke system (including estuaries issue) before 2012.
- Develop fishery project combining with farm of freshwater aquaculture.
5.3. Development of power supply
- Invest newly and upgrade to gradually modernize entire system of transmission and distribution to ensure stable power supply with high quality and meet requirements of social economic development in the province.
- Focused on construction of small hydropower plants and supply electricity to high, deep and remote areas. Ensure 100% of the population in the province has access to electricity before 2015 with a total used capacity up to 5-6 billion KWh.
5.4. Water Supply
Construct water supply systems for cities, towns, economic zones and industrial parks ; upgrade, expand and build new water supply systems for towns, concentrated residential areas . Give priority to build water plant for city of Thanh Hoa, towns of Bim Son , Sam Son, Nghi Son Economic Zone and district capital, ensuring clean and qualified water supply in big cities with an average rate of 180-200 liters / person /day in 2020.
By 2015, construct work of drainage and collection of waste water for city of Thanh Hoa and other towns, townships, industrial parks, economic zones. For concentrated industrial zones, focus on building systems and wastewater treatment station for each area, ensuring all wastewater will be treated under standard before discharging into environment.
5.5. Post and telecommunications
Develop wide -postal network to every region in the province. Focus on developing telecommunications infrastructure with modern technology, coverage across geographical areas with large capacity, high speed and high quality, good service. Meet communications requirements of the Party committee, government, business and people, contributing positively to social economic development, national security and defense, flood and storm prevention, mitigation of natural disasters.
IV. Plan on developing society - economy under territory and space
1. Plan for development areas
1.1. Delta:
- Promoting role of driving force to promote growth and economic restructuring of the province. Development of industries such as building and repairing means of transport, processing, cement, light industry, electronics, information technology, high-tech industry. Speeding up, improve infrastructure construction of industrial parks to meet development requirement, improving to meet the existing industrial parks.
-
Strongly develop service sector such as trade, banking and finance, transport, post and telecommunications ...
- Develop agricultural in direction of commodity production; form intensive farming of food crops, industrial crops and livestock concentration areas.
1.2. Coastal zone: building a dynamic economic region, creating a driving force for economic growth of the province and the North Central
- Speeding up construction of large industrial projects such as cement, thermal power, repairing and building ships, especially oil refinery industry and other industry, industry of processing of agricultural, forestry and fisheries.
- Develop and to fully exploit islands, coastal waters and ports, estuaries, creeks door; construct North-South exchange economic center; construct Le Mon port, Ai Len harbor especially Nghi Son deep-water port.
-

Construct infrastructure and modernize Sam Son tourism town; construct tourist resorts of Tien Hai, Hai Hoa, Nghi Son island associating with tourism points, routes in the province and neighboring provinces.


- Develop trade and import / export, maritime transport, banking and finance. Building non-tariff zone in Nghi Son Economic Zone, the area has gradually developed into international exchange center of the province and the North Central region.
- Develop agricultural towards construction of intensive farming of rice, rush, peanut, soybean, vegetables, flowers, ornamental plants. Develop livestock and fisheries in direction of farm of producing goods under large scale.
1.3. Midland region and mountainous areas: Develop forest production towards intensive formation of forest materials focusing on providing raw materials for wood processing.
Construct industrial plants having advantages such as rubber, sugarcane, pineapple and livestock concentration areas, especially breeding of high quality beef, ... provide raw materials for processing industries.
Develop industry of mineral processing, industries of producing construction materials, hydropower, agro-forestry products (paper, wood plywood, flooring export ,...). Build industrial clusters of rural villages associating with rearrangement of population and new urban along Ho Chi Minh road.
Invest in building Na Meo border economic zone and upgrade Tan Ten border gate and some other border gate
Invest to build resorts of Ben En, Yen My lake, Cam Luong stream fish. Protect and rational exploit national parks and nature conservation areas in the region for tourism development and scientific research.
2. Development orientation of urban space
To 2020, Thanh Hoa province will have approximately 65-70 urban areas in three levels: central urban of the province and the region; central urban of districts; urban center of towns, communes . Urban population of Thanh Hoa province is bout 850,000 people in 2010 and 1.5 million person in 2020 and rates of urbanization are respectively 20% and 35%, rate of urbanization increase in average 5.5 to 6% per year. Develop and organize the urban space from now until 2020 as follows:
Urban system of the province was developed by morphological spread from urban centers in coastal areas and southwest, along highway routes.
- Thanh Hoa Province: expand its progress toward southeast to merge with Sam Son town in 2020 with population size of about 45-50,000 people.
- Bim Son town: invest in upgrading the town from urban type IV at present to urban type III before 2015.
- Urban zone of Nghi Son: invest and upgrade to urban zone level III in 2015, urban zone level II in 2020 in accordance with development of south Thanh Hoa – north Nghe Tinh economic zone.
- Western urban center of Ngoc Lac: focus on constructing rapidly infrastructure of town of Ngoc Lac to meet urban standard type IV; continue to expand urban space to upgrade urban standard type III in 2020.
In addition , conduct review, adjustment of urban plan in the province. From now to 2015, focus investment in building infrastructure systems of district capitals, especially urban transport system and power supply system, water supply. Invest in construction of urban associating with commercial services in both rural and mountainous areas.
V. List of research programs and investment projects
1. List of priority research and investment programs
- Program of building infrastructure Nghi Son General Economic Zone;
- Socio-economic development program in western Thanh Hoa province;
- Program of developing tourism in Thanh Hoa province;
- Program of building rural infrastructure associating with new rural development;
- Program of reducing promptly, sustainable poverty in seven districts of Thanh Hoa province under Resolution No. 30a/2008/NQ-CP dated December 27, 2008 of the Government;
- Develop comprehensively Thanh Hoa City;
- Develop rubber trees in the province;
- Construction area of high quality, efficiency rice yield;
- National target program response to climate change.
2. List of priority research and investment project
(Appendix attached)
VI. Solutions to implement plan
1. Mobilize capital
Demand for investment capital in a period of 2011 - 2020 of about VND 452 trillion, of which:
- Investment capital construction - industry of about VND 262 trillion;
- Investment capital in service area of about VND 161 trillion;
- Investment capital in agricultural, forestry and fisheries sector of about VND 29 trillion.
Mobilize investment capital and close coordinate with other ministries and branches to supply full of capital for projects , ensuring construction of key projects of the province, especially on large projects of transportation, irrigation, defense, security.
Perform diversified investment, continue to accelerate administrative reforms and create investment environment, information system; build mechanisms and policies to attract and promote investment promotion work to encourage all economic to invest in developing production and business in the area.
Besides investment capital from the State budget, encourage investment in form of BT, BOT, BTO and other forms of investment for attracting capital to develop infrastructure. Step up campaigns to attract foreign investment in many ways to court sources of capital for ODA, FDI of other countries and international organizations.
2. Training solutions, developing human resources
Strengthen training for universities, colleges, secondary school to meet requirements of social economic development in north central of the province. Concentrate investment in universities, vocational training centers with equipment, facilities and raise ability of teachers.
Expanded forms of vocational training, focusing on industries with large demand such as petrochemical, construction, mining, manufacturing construction materials, mechanical manufacturing, electricity, agricultural product processing. ..
Encourage enterprises to participate in vocational training for workforce in and outside the enterprise. Promote type of training to expand scale of training. Focus resources on training skilled workers and highly qualified managers.
Promote socialization on training sector, develop strongly type of private schools to attract all resources in field of human resource training.
3. Science – technology solutions
Increase investment, mobilize and effectively use, research and apply advanced science - technology in production and life; have mechanisms and preferential policies, encourage business enterprises, organizations and individuals to invest in research, application and transfer of scientific - technology into production.
Complete organizational structure and management in direction of socialization, organizations and individuals operating in science and technology are allowed to have rights of highly autonomous, self-responsibility
4. Protect natural resources and environment
Strengthen propaganda and education to raise awareness for people and organizations and enterprises on environmental protection, as environmental protection is a common responsibility of entire society.
Review, supplement, complete regulations to ensure fair, economical and effective exploitation and use natural resources on social economic development and environmental protection.
Investment in waste treatment in industrial parks , hospitals, urban, ... ensures that waste is being processed under standard before discharge into environment. Have mechanisms to support business in innovation and application of advanced technology; develop clean production technologies to reduce pollution and protect environment. Regularly inspect, monitor and strictly handle violations of legislation on environmental protection.
Implement effective programs on afforestation, greening vacant land and bare hills to increase percentage of covering forest and protect water resources.
VII. Organize and monitor to implement plan
1.

Organizing public dissemination plan
- Organize public dissemination master plan for socio - economic development of the province to year of 2020 for all levels of Party Committees and administration, departments, -UNION-s, businesses and people in the province.
- Organize to introduce, promote potential, advantages programs and projects prioritizing for investment.

2. Build action plan
- After Prime Minister approve the plan, on basis of objectives of plan, construct action plan and step by step implement the plan.
- Concretize objectives of the plan in 5-year plan and annual plan for implementation. Depending on change of situation of social – economic development in each period, conduct timely review, adjustment and additional plan in accordance with actual situation of development
- All levels and branches of political organizations - and people in society have the responsibility to inspect and supervise implementation of the plan.

L.Giang
Source: www.mpi.gov.vn