Lao Cai province
Monday, April 19,2021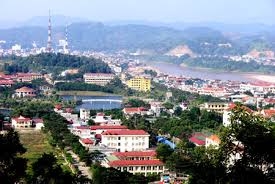 AsemconnectVietnam - Lao Cai is a mountainous province of Northern Vietnam. It borders China to the north, Yen Bai Province to the south, Ha Giang Province to the east, and the provinces of Son La and Lai Chau to the west. The provincial capital of Lao Cai is close to the borderline between Vietnam, China.
ADMINISTRATION OF LAO CAO PROVINCE


PARTY COMMITTEE
Address: No. 519 Hoang Lien road, Kim Tan ward, Lao Cai city, Lao Cai province
Tel: 020.3840044
Secretary: Bui Quang Vinh
Deputy secretary: Sung Chung
Deputy secretary: Nguyen Huu Van
PEOPLE'S COUNCIL
Chairman: Sung Chung
PEOPLE'S COMMITTEE
Address: No. 268 Hoang Lien road, Kim Tan ward, Lao Cai city, Lao Cai province
Tel: 020.3840006; 3840015
Chairman: Nguyen Huu Van
Vice chairman: Pham Van Cuong
Vice chairman: Bui Thi Kim Dung
DEPARTMENTS
- Department of Planning and Investment
Address: No. 226 Hoang Lien road, Kim Tan ward, Lao Cai city, Lao Cai province
- Department of Finance
Address: No. 182 Hoang Lien road, Coc Leu ward, Lao Cai city, Lao Cai province
Tel: 020.3820170
Fax: 020.3821204
- Department of Natural Resource and Environment
Address: No. 103 Thanh Nien road, Duyen Hai ward, Lao Cai city, Lao Cai province
Tel: 020.3821207
Fax: 020.3824862
- Department of Trade and Industry
Address: No. 151 Hoang Lien road, Lao Cai city, Lao Cai province
Tel: 020.3820171; 3820172; 3820173
- Department of Agriculture and Rural Development
Address: No. 86 Thanh Nien road, Duyen Hai ward, Lao Cai city, Lao Cai province
Tel: 020.3820062
Fax: 020.3820080
- Department of Culture, Sport and Tourism
Address: No. 258 Hoang Lien road, Kim Tan ward, Lao Cai city, Lao Cai province
Tel: 020.3840039
Fax: 020.3840706
- Department of Science and Technology
Address: No. 92 Hoang Lien road, Lao Cai city, Lao Cai province
Tel: 020.3820125
Fax: 020.3924898
- Department of Justice
Address: No. 143 Hoang Lien road, Lao Cai city, Lao Cai province
Tel: 020.3820162
Fax: 020.3820162
- Department of Health
Address: No. 82 Hoang Lien road, Lao Cai city, Lao Cai province
Tel: 020.3820930
Fax: 020.3820931
- Department of Home Affairs
Address: No. 262 Hoang Lien road, Kim Tan ward, Lao Cai city, Lao Cai province
Fax: 020.3840031
- Department of Information and Telecommunication
Address: No. 027 Coc Leu street, Coc Leu ward, Lao Cai city, Lao Cai province
Tel: 020.3828666
Fax: 020.3828667
NATURAL CONDITIONS OF LAO CAI PROVINCE
- Geography
Lao Cai is a mountainous province of Northern Vietnam. It borders China to the north, Yen Bai Province to the south, Ha Giang Province to the east, and the provinces of Son La and Lai Chau to the west. The provincial capital of Lao Cai is close to the borderline between Vietnam and China, above 300 km from Hanoi and around 300 km from Kunming City, the capital of China's Yunnan Province. The town has emerged as a spotlight as the result of the development of trade and tourism activities and related services between Vietnam and China.
- Topography
Lao Cai's terrrain is divided into two distinct natural areas, including:
- The highlands are at an elevation of 700 m or more. They are made up of high mountain ranges, with two main ones being Hoang Lien Son (Marble) Range and Con Voi (Elephant) Range. To the right bank of the Red River is the magnificent Hoang Lien Son Range with the tops of Fanxipan (3,143 m), Ta Giang Phing (3,090 m), Pu Luong (2,938 m). Here is home to ethnic minorities, such as H'mong, Dao, Ha Nhi, Phu La, Khang La, La Chi etc.
- The lowlands comprise of valleys along the bank of the Red River and the third biggest valley of Muong Than in the Northwest. The ethnic minorities of Tay, Thai, Nung, Giay Lu, Bo Y and Muong live here.
- Climate
Lao Cai's climate is divided into two seasons: dry season and wet season. The dry season begins in October and ends in March while the wet season lasts from April to September. In the highlands, the average annual temperature ranges from 15o C to 20o C and the rainfall is 1,800 - 2,000 mm. In the lowlands, the mean temperature is 23o C to 25o C and the annual rainfall is 1,400 to 1,700 mm.
INDUSTRIAL PARKS OF LAO CAI PROVINCE
· Tang Loong Industrial Park – Bao Thang district
+Area: 350 hectares
+Investor:Lao Cai Industry Department
+Address:149 Hoang Lien St., Lao Cai Town, Lao Cai Province
+Tel:84-20 - 3820173
· Eastern Pho Moi Industrial Park – Lao Cai city
+Area: 146 hectares
+Investor: Lao Cai Construction Department
+Address: Thanh Nien Road, Duyen Hai Ward, Lao Cai Town, Lao Cai Province
+Tel: 84-20 -3820060
· Northern Duyen Hai Industrial Park
+Area: 304 hectares
+Investor: Lao Cai Construction Department
+Address: Thanh Nien Road, Duyen Hai Ward, Lao Cai Town, Lao Cai Province
+Tel: 84-20- 3820060
DEVELOPMENT RESOURCE OF LAO CAI PROVINCE
· Human resources
There are 294,968 working-age people, accounting for 49% of the provincial population. Out of that, 284,232 persons or 93.36% of the local manpower have been working for the state sector, mainly in the towns of Lao Cai and Cam Duong.
The total number of civil servants in the province are 10,982, including 6,894 females, making up 62.8%; 1,889 people of ethnic minorities, controlling 17.12%; 1,674 post-graduates, accounting for 15.24%; and 6,492 high-school graduates, representing 59.12%.
· Natural resources
Mineral resources
Lao Cai Province is rich in natural minerals. The preliminary surveys showed that the province now has 32 kinds of natural minerals and 130 mines. Some mines of great reserves are easy to tap, carry and in great demand in the international market, like Lao Cai Apatite Mine, Sinh Quyen Copper Mine, Quy Sa Iron Mine, Kim Tan Feldspar Mine, Van Ban Kaolin and Dolomite Mine, Nam Thi Graphite Mine, and other precious metals mines. The resource is favorable for developing the local minerals processing industry.
Soil resources
The soil resources is rich and diverses with 10 groups of soil and 30 main kinds of soil. Around 41,100 hectares are at a slope of under 5o, accounting for 5.13% of the natural area while about 57,612 hectares are at a slope of under 15o, representing 17.16%. These kinds of soil are good for developing agricultural production. In addition, 42,000 to 45,000 hectares at a slope of 15o to 20o enable the growing of crops and fruit trees.
The following table shows the current usage of land in Lao Cai Province:
| | |
| --- | --- |
| Kind of land Area (in hectares) | |
| Arable land | 76,203 |
| Forest land | 1,780,192 |
| Idle land | 399,088 |
Forest resources
The forestry land is estimated at 568,560 hectares, including 260,600 hectares of forests (21,780 hectares of natural forests and 42,720 hectares of planted forests) and 307,960 hectares of idle land.
The forests here can be classified into three types:
- Forests for production purpose: 191,420 hectares, of which the land with forests covers an area of 41,545 hectares, accounting for 22% of the total area of forests for production purpose; the land without forests is 149,875 hectares, representing 78%.
- Preventive forests cover an area of 375,149 hectares, of which the land with forests is 204,698 hectares, accounting for 57% of the total area under preventive forests while the area without forests is 149,875 hectares, making up 43%.
- Forests for specific purposes
cover an area of 19,991 hectares, of which the land with forests is 14,457 hectares, controlling 72% of the total area under forests for specific purposes while the land without forests is 5,534 hectares, accounting for 28%.
MASTER PLAN ON SOCIO-ECONOMIC DEVELOPMENT OF LAO CAI PROVINCE TO 2020 WITH A VISION 2030

I. Development viewpoints
1. Master plan on socio-economic development of Lao Cai province to 2020 with a vision to 2030 must be in consistent with a strategy of socio-economic development of the wholly country, master plan on socio-economic development of northern midlands and mountainous region; being united with plans of fields and sectors of the wholly country.
2. To promote reform, economic restructuring, development model innovation; attaching great importance to quality of growth in order to restore and maintain economic growth at a high level; ensuring social justice and progress, reducing gap of living standards, the rich and the poor, difficulties among strata and regions of the province.
3. To promote potentials and comparative advantage of the province to develop; using saving, efficiency of resources in the province, especially natural resources. Mobilizing internal resources and at the same time, enhancing to attract external resources for rapid and sustainable development of economy.
To focus on giving priority to investment in developing key economic sectors, dynamic economic regions associating with poverty reduction and hunger eradication, improving material life and spiritual living of the people in mountainous border ethnic minorities and disadvantaged regions of the province.
4. To develop socio-economic toward continuing to promote international economic integration and cooperation, especially with province of Yunnan (China) and other countries in the ASEAN region. Cooperating, linking closely with other provinces and cities in the wholly country, associating development of northern midlands and mountainous region with renovation process of the country to develop high quality economic.
5. To combine economic development with preservation of traditional culture of ethnic communities; protecting environment, balancing ecological; does not harming and degrading natural landscapes. Linking closely economic development with strengthening national security and defense, building solidly political system and strong administration.
II. Development objectives by 2020
1. Overall objectives
To build Lao Cai province to become a economic center of the region and the country on industry of deep mining and processing of minerals, commodity import and export in economic corridor of Kunming - Lao Cai - Hanoi - Hai Phong - Quang Ninh, border gate services, tourism, initially developing high-tech applied agriculture; being important areas for international cooperation with Yunnan province (China); maintaining and promoting beauty of multi-ethnic culture; sustainability of natural environment; political stability, national security, social order and safety and national sovereignty guaranteed.
To strive to 2020, Lao Cai province will become a developed province of northwest region. By 2030, province of Lao Cai will become the country's developed province.
2. Specific objectives
2.1. Economic:
- To strive to hit growth rate of added value of approximately 10.5%-11.5%/year in a period of 2016 - 2020, out of which, agriculture, forestry and fishing hits growth rate of 6.0 to 6.5% / year, industry and construction achieves growth rate of 12 - 12.5%/year, service sector increases by 11-12%/year. GRDP per capita (current prices) in 2020 is about VND 75 million.
- Economic structure by 2020: Agriculture, forestry and fisheries accounts for 13.0% of GDP; industries - construction makes up 44.5%; service sector accounts for 42.5%.
2.2. Society:
- Rate of natural population growth is about 1.2%/year; proportion of urban population by year of 2020 is approximately 25%. Reducing average rate of poverty household to about 3-5%/year by 2020, lowering than average rate of poverty household of the region.
- To strive to hit rate of trained workers of over 65% (including vocational training rate of 55%); creating an annual average new jobs for about 55,000 – 60,000 people.
- To promote implementation of new countryside construction program: by 2020, about 50 communes meet criteria of new rural countryside construction, accounting for 34.7% of total amount of communes in the province.
- To maintain firmly national security, social order and safety.
2.3. Environment:
- To strive to hit forest coverage rate of 56%.
- Almost urban population have access to clean water; over 95% of rural population are used clean water and striving that 100% of industrial parks have concentrated wastewater treatment systems; solid waste will be collected and processed.
III. Vision to 2030
1. Overall objective
- By 2030, Lao Cai province will become modern service –industry and high-tech applied commodity agriculture production economic, a major tourism center of Vietnam and Southeast Asia. Developing sustainably sectors such as service, manufacturing, mining and urban development; social services are provided efficiently in all fields such as health, health care, education, training, culture and sport. Narrowing development gap among residential areas, social order and security and social welfare will be ensured; maintaining firmly national security.
- Environment: preventing, repelling trend of increasing environmental pollution, natural resource degradation and depletion of biodiversity; improving quality of living environment; actively responding to climate change; forming basic conditions of a green, low waste, low-carbon economy for prosperity and sustainable development. By 2030, all of waste will be processed basically.
- Several key indicators: striving that average growth rate of GRDP is around 9-10%/year. By 2030, GRDP per capital is around USD 6,500-7,000/person; rate of natural population decrease to below 1%/year; almost of labor workforce will be trained (including vocational training rate of over 80%); each year, creating new jobs for over 6,000 people; 100% of population in the province can access easily to basic social services with high quality.
2. Development orientations
- Services sector will contributes over 50% of total GRDP with key field of tourism, shifting gradually to high-end customer segment with ancillary services such as wholesale, retail, financial services and education.
- Processing, manufacturing industry develop toward deep processing, forming industrial cluster with high added value, developing clean and high tech.
- To develop mineral mining towards cleaner and more sustainable trend.
3. Urbanization and development of infrastructure system
3.1. Urbanization:
- For rural areas: apply new countryside model towards ensuring sustainable development, having convenient transportation infrastructure system and developed information infrastructure; narrowing gap of living standards under criteria of income, education and medical healthcare between urban and rural areas.
- For urban areas: forming basically and stabilizing urban network. Urban system in Lao Cai will be developed towards combining modern style with environmentally friendly, respecting and preserving traditional cultural values in architecture. Suburban area have developed infrastructure, ensuring urban civilization with development of basic social services at a high level, high quality.
3.2. Development of infrastructure:
- To complete basically synchronous and modern infrastructure in the wholly province, ensuring convenient, easy connections among development centers of the province with residential areas of the province, areas and other regions of the country (especially in northeast and northwest border provinces) and foreign countries. System of information infrastructure ensure coverage throughout the wholly territory and access to areas and international regions with high quality and stable services. Promoting development and application of information and communication technology, science and modern technology for construction and development of synchronous and efficiency socio-economic infrastructure.
- Major urban infrastructure in the province will be invested in with modern projects; water supply system ensures consumption demand at high standard in accordance with international standards, supplying enough power with stable, efficiency and high quality.
IV. Development orientation of sectors and fields
1. Development orientation of agriculture, forestry and fisheries
- To form areas of high technology agricultural production such as high-tech agricultural zone in Sa Pa, Bac Ha with a scale of 500 ha, seed production centers (rice, potatoes, vegetables, flowers, fruit trees, medicine materials...) and high quality commodity agricultural products to supply for the wholly country; associating agricultural production with processing industries and consumption markets, aiming at developing production of goods under chains of production, supply and consumption of products.
- To develop and protect well watershed protection forests, especially Hoang Lien National Park. Conserving and developing species of non timber forest product tree which are capable of developing into commodity areas. Attaching protection, development of forests as high value economic activity to ensure stable incomes for workers, improve living standards and responsibility in protection and development of forests. Arranging domestic population, border residential areas to ensure adaptation to climate change, economic development and maintain firmly border areas.
- To develop and diversify some other aquatic products having economic value and high consumption in market as freshwater fish which are suitable with climatic conditions of the province.
- Agriculture and rural economic development associates with program of building new countryside. Striving that by 2020, production value of 1 ha of arable land hits over VND 75 million.
2. Development of industry and small scale industry
- To develop concentrated industry towards forming industrial linkage clusters; researching to establish industrial park in west city of Lao Cai with an area of 500 hectares; focusing on investment in technical infrastructure of existing industrial parks, clusters.
- To prioritize to development of deep processing industry using raw materials as mineral resources, focusing on mineral mining, processing, construction materials production, hydropower, fertilizer, chemicals. Continuing to maintain capacity of exploiting and processing operation mines.
- To attach importance to develop processing industry: completing construction of Bao Yen pulp plant with a capacity of 10,000 tonnes/year; a factory of producing export paper in Ban Vuoc hamlet - Bat Xat district with a capacity of 3,000 tonnes/year; factory of manufacturing furniture wood products combining with MDF bar in town of Phong Hai - Bao Thang with a capacity of 30,000 m3/year; factory of processing civil and export furniture wood products in Lao Cai city with a capacity of 10,000 m3/year. Increase investment in upgrading and renovating technology to improve quality of processed products to meet export requirements: tea processing factory in Phong Hai tea company and Thanh Binh tea company; factories of brewery, pharmaceutical processing...
- To develop traditional villages and handicraft industries such as textiles and brocade embroidery in districts of Van Ban, Sa Pa, Bac Ha and Si Ma Cai; bamboo and rattan craft production in districts of Sa Pa, Bao Yen and Van Ban; expanding production and new investment in facilities of processing specialty wine such as: Sin San, Nam Pung, Thanh Kim, Coc Ngu, Lang Moi...
3. Development of services, tourism
- To focus on developing border gate economic zones and border gate system, concentrating on Kim Thanh, Ban Vuoc trade and industry zones; researching to form areas of border pass economic cooperation to implement well a role of "bridge" between Vietnam and ASEAN countries with southwest China market in Bat Xat area. Expanding Lao Cai border gate economic zone. Continuing to improve technical infrastructure and services in Lao Cai border gate economic zone, focusing on improving quality of border gate service.
- To continue to develop services of transport, banking, finance, insurance and postal and telecommunications.
- To focus on developing tourism into a spearhead economic sector with high quality tourism products of vacation, national culture, traditional festivals, ecology ... Attracting investment in tourism infrastructure development in Sa Pa, Lao Cai, Bac Ha. Researching to supplement plan to invest golf in Bat Xat, Bao Thang districts to attract tourists. Giving priority to tourism development cooperation with Yunnan - China; stepping up promotion, attracting tourists through Lao Cai international border gate.
4. Development of social sectors
4.1. Health and healthcare
- To improve synchronously health systems from at provincial, district and commune levels, raising quality of service. Upgrading and expanding scale of provincial general hospital uniform, modern, ensuring scale of hospital at grade II (size of 1,000 beds); Establishing cancer centre under provincial general hospital. Building newly provincial hospital for women and children, traditional medicine hospital, provincial endocrinology hospital, provincial tuberculosis hospital, provincial psychiatry hospital, provincial nursing - rehabilitation hospital, facility 2 in Sa Pa and facility 3 in Bac Ha, Muong Khuong genral hospital, department of food safety and hygiene; upgrading district general hospitals, regional general hospital to meet scale of hospital of class III; investing in and upgrading infrastructure, equipment for specialized hospitals for women and children, endocrinology, traditional medicine.
- To encourage and create favorable conditions for all economic sectors and private sector to develop specialized hospitals, clinics.
4.2. Education and training:
- To continue to implement and complete program on solidification of schools, classrooms and public service house for teacher before 2017; implementing model of connected day ethnic schools to mobilize, maintain attendance rate.
- To diversify types of schools and type of training. Mobilizing all funds to expand, develop education - training to meet learning demand; accelerating construction of schools which meet national standards at stage II.
- To establish a network of training institutions in modern direction. In short term, establishing branch of Thai Nguyen university in Lao Cai province, proceeding to establish university of Fansipan (Lao Cai university) on basis of arrangement, reorganization of some training, researching institutions in the area. Performing a combination of teaching, learning and scientific and technological research aiming at developing high technology agricultural fields in order to exploit research facilities and human resources, forming a new model of combining training, scientific research and production business; applying some incentives for workforce, lecturer at universities in order to ensure effective development of universities.
4.3. Culture and sport
- To invest in upgrading cultural institutions at provincial, district and city centers such as museums, cultural centers, stadiums ... investing in construction of national sport training center in Sa Pa.
- To enhance professional training for staff of culture, strengthening advocacy, propaganda, guide to set up performance teams carrying national identity and organizing cultural activities of full national identity in localities. Building Lao Cai province to become national high-quality athletes training center.
4.4. Environmental protection:
To accelerate transformation of economic activities towards becoming "cleaner" and mitigating environmental impact. Shifting and speeding up economic development towards "green" industrialization, especially fields of tourism and services; minimizing environmental damage caused by operation of energy intensive industries and having a huge impact on environment such as mining industry.
5. Development of infrastructure
5.1. Transport:
- To coordinate with central agencies to implement projects of investing in transport infrastructure of road, railways in the province.
- Road: Building Noi Bai - Lao Cai highway road stage 2. Studying to build bridges across the Red river linking two countries of Vietnam - China; upgrading national road No.70, national road No.4D, No.4E and national road No.4, national road No.279. Investing in provincial road system, developing urban and rural road system (inter-commune roads, investing in upgrade inter-village roads to all villages); building bridge over the Red river: Ban Vuoc - Bat Xat, Bac Cuong – Pho Moi, Pho Lu 2.
- Railways: improving and upgrading railway of Yen Vien - Lao Cai; researching to build newly railway of Lao Cai - Hanoi - Haiphong under double road standards of 1,435 mm.
- Waterways: renovating and upgrading waterways flow passage of segment of Yen Bai - Lao Cai (length of 166 km) under waterway of Hanoi – Viet Tri - Lao Cai to hit grade III, ship two-lane flow.
- Aviation: investing in building airport of Lao Cai before 2020 with airport of level of 4C standards as prescribed by International Civil Aviation Organization (ICAO) having a runway of landing and takeoff of 2,800 m with a width of 30 m.
5.2. Electricity supply:
To invest in grid infrastructure to villages without electricity grid; building new small and medium-sized hydropower plants with a capacity of 454.65 MW.
5.3. Irrigation, water supply:
- To invest in solidification of reservoirs and dams; clean water supply works in upland area: Muong Khuong, Bac Ha, Si Ma Cai.
- To invest in embankment system of border rivers, streams to ensure border security and production and living of the people.
- To expand scope and improve quality of clean water supply services. Rationally exploiting existing water supply facilities, expanding, upgrading and constructing new projects which are suitable with development of urban areas.
Mobilizing effectiveness of management of existing water supply systems. Improving all aspects of technological lines, production, business, services, and especially management in order to raise quantity and quality of water to serve consumption demand, limiting water loss. Protecting water resource and rationally using water resources.
5.4. Information and communication:
To ensure information infrastructure, improving information safety and security for development of e-government, information infrastructure for national defense and security and comprehensive development of socio-economic infrastructure. Striving that, by 2020, 100% of the State agencies from provincial level to commune level have LAN network and connect with WAN network of the province; 100% of communes, wards and towns have broadband internet connection and gradually expanding connections to village; 100% of the State agencies are equipped with specialized equipment and safety measures of enhancing information security. 100% of communes, wards and towns have radio stations using frequencies under plan of using FM radio frequency channels by 2020.
6. Ensuring national defense, security and foreign affairs
- To associate socio-economic development with national security, construction of solid defense sector, ensuring that the provinces become firm defense area of the Fatherland; ensuring political security, maintaining social order; maintaining firmly national defense and security posture.
- To strengthen management and guidance of implementation of external activities in the province. Developing and implementing well programs, plans of Party external. Developing and implementing environmental protection measures across borders.
- To implement policies on border management to ensure stability and development. Investing in upgrading border stations, border patrol roads; arranging residential areas and investing in infrastructure of 26 border communes; upgrading road of Thanh Phu - Suoi Thau (Sapa) - Hoa Mac (Van Ban) to connect Sa Pa district with Van Ban defense area to serve protection of security and national sovereignty.
V. Orientation on organizing territorial space
1. Rural, urban system
- To build system of urban areas, rural residential areas under form of link - support and ensure equal distribution under distance among grids of district, provincial and national roads; developing border service, trade urban areas into dynamic, nucleus urban areas on basis of mounting, supporting and promoting development of other cities, especially communal center or center of communal clusters in the region.
- To build and construct general urban area and urban complexes which are the first important sites of the country to associate directly with interference position among Ha Noi oriented engineering, economic corridors and East – West linking border belt in national and international relations crossing border gate of Vietnam - China.
- Construction of economic - defense zones combine with construction of socio-technical infrastructure system at belt of national road No.279. Forming urban system alongside this road to be a bridge between urban and mountainous areas in midland region.
- To expand, upgrade and complete system of town, communal centers and center of communal clusters, creating development nucleus for rural residential areas or linkage to support development of rural areas.
2. Economic zone
- Industrial zone: forming and developing industrial areas, industrial axes alongside Noi Bai - Lao Cai highway, national road No.70; developing several industrial complexes in towns and townships.
- Agricultural region: forming specialized cultivation areas of agricultural production, especially high-tech agriculture, fruit and vegetable production areas in Sa Pa, Bao Thang, Bat Xat, Bac Ha and Lao Cai city. Developing existing flower growing areas in Lao Cai, Sa Pa, Bao Thang; forming area of developing pharmaceutical plants in Sa Pa district.
- Forest area: conserving and developing Hoang Lien national garden, area of Van Ban, Bao Thang, Bat Xat, Bac Ha.
- Tourism region associating with conservation and promotion of natural resources, especially forest resources include:
+ Forest of protecting natural landscape: Hoang Lien, Bac Ha national park;
+ Landscapes region: Muong Vi cave complex, Ta Phin cave, Silver waterfall, Rock park (Sapa), Ham Rong waterfall (Si Ma Cai), Thien Long cave (Bac Ha), Dau Nhuan waterfall (Bao Thang );
+ Resort region: Sa Pa, Bac Ha, mineral water resorts of Cam Duong, Y Ty;
+ Historical culture relic region: Cam Duong revolution relic, Bao Ha temple, Nghi Lang ancient relic.
VI. Solutions on implementing plan
1. Solution on attracting investment
- To identify priority investors for key sectors and objective projects and learn demand of investors, update list of priority projects associating with these guidelines on investment requirements.
- To provide adequate, accurate information for potential investors; guaranteeing and committing transparency of long-term policy orientation; having solutions to solve these big problems which are caused impediments to investment.
- To reform procedures of investment licensing process in order to reduce time, costs for investors; supporting and creating favorable conditions for investors in process of project implementation, timely handling arising problems.
- To set up and maintain strong relationships with existing and potential investors through online database system; strengthening advertisement of images and trademarks through media and opinions of investors to increase confidence on Lao Cai province; consolidating activities of investment promotion agencies.
2. Human resource development solutions
- To build a team of provincial, district officials having sufficient capacity and qualifications. Improving skills of current workforce to increase labor productivity.
- To attracting qualified and skilled professional labourers to meet increasing needs of management, engineering, direct production. Training graduated students and employees through training programs which are formed from demand of employment position; improving management quality of education system. Assigning human resource management agency for comprehensive management of workforce.
3. Land using solutions
- To improve efficiency of land use as plans. Implementing well close links among farmers, scientists, entrepreneurs, the State and developing industry, handicraft industry, services in rural areas. Developing farmer associations and organizations of promoting agriculture, forestry, fishery, creating conditions for organizations to operate practically, effectively.
- To stabilize paddy cultivation area as plans, ensuring national food security and increase value of rice exports; strictly protecting area of protective forest land, special use forest and nature reservation; improving land use coefficient of urban area to meet development demand; encouraging development investment in industrial parks in mountainous areas, far from urban and residential areas, combining with infrastructure development.
4. Science and technology solutions
- To implement effectively programs of scientific research in development of industry, agriculture and services. Investing in infrastructure of information and communications technology (ICT); strengthening scientific and technological potential in surveying, evaluating and using fuel resources.
- To strengthen cooperation with local authorities in the country, with foreign countries, especially regional countries and advanced countries having high scientific and technological potential to promote further key science and technology activities of the province. Having policies to attract staff of highly qualified technicians and scientists.
5. Solutions on business development and development cooperation
- To strengthen investment promotion, calling huge enterprises for participating in development investment, especially industrial manufacturing sector in industrial park, tourism development projects, projects of supplying basic social services.
- To create favorable conditions for development of business sector in the province in both quantity and competitiveness; encouraging enterprises to invest in doing business in agricultural sector, services of science and technology consultancy. Encouraging business development towards formalizing, developing from individual business households, informal sector in order to create favorable conditions to control, support, improve production and business quality and competitiveness of trade and service products.
- To continue to promote administrative reform to create favorable conditions for business registration, establishment of enterprises, accessing to capital and financial services, other public services. Strengthening and expanding training of business management knowledge to create a team of qualified entrepreneurs in the locality. Organizing well business information, socio-economic information to create conditions for businesses to access easily information to ensure to capture, access market quickly, improving operation efficiency of enterprises.
Source: www.mpi.gov.vn