Daknong province
Monday, January 15,2018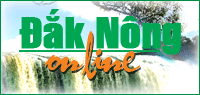 AsemconnectVietnam - Overall socio - economic development plan of Dak Nong province to 2020 must be consistent with the overall strategy of national socio - economic development.
OVERALL PLAN ON SOCIO-ECONOMIC DEVELOPMENT OF DAKNONG PROVINCE TO 2020


Overall planning for social - economic development of Dak Nong province to 2020 being consistent with the general strategy of the national social - economic development; ensuring the relationship between economic growth and the settlement of social problems, specially poverty alleviation, ensuring social justice and national solidarity; ensuring the relationship between the development of production and the expansion of consumer market; between economic development and security & national defense; between sustainable development and environmental protection. Accelerating economic growth, gradually shifting its economic structure towards industrialization and modernization, improving product quality and the proportion of goods; improving the quality, efficiency and competitiveness of the economy. Striving for income per head being equivalent to the average income of the Central Highlands and the whole country. To encourage all economic sectors to develop production and business, mobilizing maximum domestic resources and attracting external resources. Make Investment to totally develop and basically complete the key social- economic infrastructure in the province during the planning period. Improving the quality of human resources, developing education, improving people's knowledge, enhancing professional training, technical and vocational training for workers.
II. Main development goals
1. Economy
- The average GDP growth in the period 2006 - 2010 achieved 15.63% per year (of which, industry - construction increased by 45.22%, agriculture increased by 5.67%, services by 17%); reached 16% in the period 2011 - 2015 (of which, industry – construction increased by 25%, agriculture increased by 5.0%, services increased by 17.66%); reached 15,6% in the period from 2016 to 2020 (of which, industry - construction increased by 20%, agriculture increased by 4.5%, service increased by 15.68%).
- Shifting the economic structure towards increasing proportions of industry and services. Up to 2015, the provincial economic structure is industry - services - agriculture and forestry. Proportion of industry in GDP increased from 17.8% in 2005 to 48.6% in 2010, up 60.3% in 2015 and 66.3% in 2020. Proportion of service sector in 2010 reached 22.5%, 22.8% in 2015 and 23.8% in 2020. Proportion of agriculture in GDP structure in 2010 was 28.9%, 16.9% in 2015 and by 2020 ped to around 9.9%.
- GDP per capita in 2010 reached 14.3 million VND, in 2015 reached 30.4 million, in 2020 reached 66 million. Shortening the gap of GDP per person compared with that of the whole country from 58% in 2005 to 90% in 2010 and 163% in 2020.
2. Society
- The natural population growth rate decrease to 1.7% in 2010, to 1,1 - 1,2% in 2020. The rate of urban population accounts for 25% in 2010, 28% in 2015 and 36% in 2020.
- The rate of poor households reduces to 15-16% in 2010 and equivalent to national average rate in 2020. making the rate of poor households in the ethnic minorities become equivalent to that rate of the whole province.
- By 2010, reduce the proportion of malnourished children to 22%, 85% of the population using clean water; there are six doctors / ten thousand people. By 2020, reduce the proportion of malnourished children to 10%, 100% of the population using clean water; there are 8 doctors / ten thousand people.
- By 2010, complete universalizing secondary school education, 30% of the population is universalized senior secondary school education and 50% of primary schools achieved the national standard. By 2020, 75% of the population is universalized senior secondary school education and 80% of primary schools meets the national standard.
- By 2010, 80% of families; 60% of villages; 90% of organizations & offices and 30% of communes, wards meeting the cultural standard. By 2020, 100% of families, 80% of villages, 100% of organizations & offices and 60% of communes, wards, towns meeting the cultural standard.
- Complete the defense system, continue building and strengthening the national defense posture and people security, ensuring social order and safety, and giving prominence to the Socialist rules of law.
III. Development orientation of sectors and fields
1. Agriculture, forestry, fisheries
Develop agriculture towards production of goods, combining the planning of concentrated & intensive farming areas with increasing drought-resistant plant varieties which use less water, ensuring to provide enough materials for processing industry and export. Focus on developing crops & plants such as rubber, cashew, pepper, fruit trees, hybrid maize and some other plants such as cocoa, sugarcane, cassava, soybean, mulberry….. Promote the development of cattle breeding such as buffaloes, cows and goats. Gradually develop breeding methods towards industrial method, concentrating cattle into farms. To encourage economic sectors to renovate ponds, lakes, water surface area for aquaculture breeding. Promote application and transfer of science and technology for production, looking it as the most important breakthrough to improve the efficiency and income of agricultural, forestry, fisheries production, and rural industries. Strengthening the association with scientific research institutions, and consolidating and developing the system of stations, technology transfer centers to test and put into mass production of crops and cattle with high quality & production capacity. Strengthening activities of agricultural encouragement and veterinary Give priorities to and strengthen the investment into irrigation, building more dams, ensuring water supply for agricultural production and increase quotient of land using. Develop handicrafts professions and types of services for agriculture. Focus on searching and expanding consumer markets of agricultural products. Encourage the consumption of agricultural products through signing contract, stabilize the material areas serving agricultural products processing factories. Create the close links between farmers- scientist – businesses - the State. By 2010, in the structure of agricultural production value, the proportion of cultivation declined to 84.5%, the proportion of breeding increased to 10.2%, the proportion of services accounting for 5.3%; to 2020, the correlative proportion of the above sectors is 77.8%, 16.3% and 5.9%. Well protect and develop existing forest areas, especially main protective forests, Nam Nung & Ta Dung natural conservation zones, Dray Sap beauty spot. Make combination between protection of forests and regenerating forests and enriching natural forests. Promote afforestation, focus on planting forests for raw materials. Conversing the area of poor, exhausted forests, inefficient production forests into the area of planting long-term industrial plants, fruit trees, raising the forest coverage to 61% in 2020.
2. Industry and small-size industry
Focus on investment and development of industrial sectors which have advantages in the province, in accordance with market demand and ensuring environmental requirements; Maintaining high growth rate together with improving product quality and production efficiency. At first, focus on developing industries of processing agricultural and forest products for the domestic markets and for export; developing the production of construction materials, speeding up the construction of hyower plants. Implement projects of investing
into boxide exploitation, alumina refinery, creating a breakthrough in the industrial, social - economic development of the province. Support enterprises to create the technology innovation, developing their brand, actively participate into international economic integration. Construct infrastructure and implement the policies of attracting investment into Tam Thang industrial zones, and Nhan Co, Dak Ha industrial clusters. Concentrate investment in the development industries with advantages in natural resources and domestic raw materials such as hyower, agro-forestry product processing, minerals, production of construction materials, industry of fertilizer production and food processing. Establish and promote the production effectiveness of Hoa Phu industrial zones, and industrial clusters of Dar Ea - Ea Kar, Buon Ho - Krong Buk, Buon Ma Thuot; at the same time planning the industrial clusters of Ea H'Leo, Krong Bong and each industrial cluster in other districts being constructed with the scale of about 30-50 ha. Pay attention to the development of rural industry with small and medium scale, appropriate and effective technologies, connecting the industrial zones with raw material areas. Recover and develop handicraft villages. Building and completing mechanisms and policies to mobilize all domestic and foreign resources for industrial development. Encourage the development of small and medium scale industries, develop small-size industry and trade villages in rural areas, especially traditional craft villages of the ethnic minorities. ing industrial location and trade villages in the townships, towns and communal centers.
3. Trade and services
- Trade: Trade development towards well exploiting and serving provincial markets combining with promoting the circulation of goods and economic exchanges with other provinces in the country, especially provinces in the South and the Central. Focus on trade promotion activities in order to expand export markets of goods; strive to increase the annual export turnover by over 10%. Focus on strongly developing infrastructure of trade, in which focusing on upgrading and expanding the network of rural markets, gradually developing and solidifying the centers of trade and services in the district centers, communal centers, sub-region. At first, constructing Gia Nghia market become a Center of trade and services with modern scale of the province. Strongly develop the economy of border gate area. ing two border economic zones of Bu Prang and Dak Per as per planned.
- Services: Improve the quality of the financial - banking services, post and telecommunication services, transportation services; Promoting types of services of technology transfer, agricultural and forestry encouragement. Encourage the investment to increase transportation capacity in scale and quality, ensuring the travel needs of the people and goods transportation of the economy. Develop types of cultural and tourism services, recreation and resort services. Expanding services network in rural areas to create more jobs for workers.
- Tourism: Develop tourism associated with the ethnic culture, natural landscape of the province, combining with the formation of tourism routes linking Dak Nong with other provinces in the Central Highland and the Central. Research to form Phnom Penh- Dak Nong - Ho Chi Minh International tourism route
Concentrate on investment into the development of ecotourism products, cultural & landscape tourism; construct cultural tourism villages of M'Nong and Ma ethnic minorities; research to preserve and promote the traditional festivals of the province. Construct infrastructure for tourism industry such as transportation, electricity and water supply; Building accommodation places, restaurants and hotels as per planned
4. Ecological environment protection and prevention of natural disasters
Strengthening the management and protection of the environment, encourage the use of products and production technology which cause less environmental pollution. Well handling the waste issues, raising awareness of the people about the prevention of forest fires, making urban areas become green, clean and beautiful. Prevent and limit natural disasters by method of building works to regulate them, combining with other solutions. Focus on protection of land, forests, water and minerals resources; protecting natural landscapes which are useful for tourism industry.
5.Development orientation of social sectors
5.1. Population, labors, employment and poverty reduction
Well implement the National Program about population development and family planning, decreasing the annual birth rate by 1 - 1,1‰. Gradually reallocate population on residential areas for economic development associated with strengthening national defense and ensuring border security. Increase the rate of using working time in rural areas to 85-90%. Each year training over 3,000 workers with professional and technical qualification of all levels. Increase the rate of workers who have technical training in the total quantity of social workers to 20% in 2010 and to 30% in 2020. Continue to implement poverty reduction programs; Gradually raising the living standards of households that have escaped from poverty. Strive to reduce the annual average poor households rate from 5-7%.
5.2. Education and Training
By2010, complete the pre-school education system of all communes; 100% of schools are built solidly; maintaining primary school education universalization, preventing illiteracy in the whole province. Promote the activities of education and training socialization, encouraging the establishment of non-public schools; establish the College of community, professional secondary schools and some vocational schools.
5.3. Medical and people health care
By 2010, striving for 80% of communes reaching national standards on health, having 6 doctors/ ten thousand people, and 15 hospital beds/ ten thousand people; vaccination extended to 100% of the children By 2020 there are 8 doctors / ten thousand people and 18 hospital beds/ ten thousand people, 100% of communes reached national standards on health. Promote socialization in health care sector; encourage opening more hospitals, private clinics, family doctors, and high-quality medical examination and treatment units. Promote the development and improve the quality of health insurance. Gradually shifting the operation mechanism of public hospitals to providing services mechanism.
5.4. Culture, propaganda information, gymnastics – sports
Focus on conservation of traditional cultural values of the Highland ethnic groups, combining conservation with social- economic development. Promote the movement of building civilized lifestyle, cultural family, building cultural villages. Construct places for cultural activities in each commune, and some other inter-regional, inter-communal cultural houses. Develop networks of information, radio and television broadcast, and newspapers in the communes, towns and villages. Increase investment into infrastructure for culture and information sector, radio and television stations in the province. By 2010, Striving for 100% of communes being covered with radio and television broadcast. Develop gymnastic- sports movement, promote gymnastic- sports movement in the public. Conduct planning and building sites for cultural – sport activities, and stadium in the area. Construct provincial Sports Center at Gia Nghia Town.
6. National defense and security
Firmly protect the sovereignty, territorial integrity; ensuring political stability, maintaining social order and safety, contributing to successfully implement the tasks of social- economic development. Continue to strengthen the national defense posture and people security. Construct borderline of peace, friendship, long-term cooperation with the province of Mondulkiri (Kingdom of Cambodia). Planning and building infrastructure together with rearrangement of population towards social- economic development with national defense and security in the border line
7. Infrastructure development
7.1. Road network
By 2020, strive to construct uninterrupted traffic network that is convenient for goods transportation and travel needs of the people. - Develop and upgrade the national highway routes passing through the province such as: Ho Chi Minh Road (phase II); Highway No.14, Highway No.14C, Highway No.28. - For provincial roads, district roads: By 2010, the entire road surface being asphalted with scale of level 4 roads with two lanes and solidify culverts on all routes. Upgrade and renovate the provincial road No.4 and building the stretch of road connecting Highway No.28 with provincial road No.4. Upgrade some district roads so that they're qualified for becoming provincial roads. Upgrade the road through Bu Prang border gate and Dak Per border gate; upgrade provincial roads connecting to border, forming the stretch of roads linking the highway No.14, No.14C, No.27, No.28. Build some new routes passing through new districts, connecting the districts of the province with the neighboring areas.
- Communal roads: by 2020, there are roads for cars running to all communes all the year round. Roads to the communal center being asphalted or concreted.
- Urban transportation: focus on investment planning and construction of transportation network in Gia Nghia town; By 2010, 100% of roads in the town being asphalted with paved sidewalks and completed drainage system. The stretch of national highways, provincial roads passing through the town being expanded with four lanes; Building bus and trucks stations; planning public parking spots.
7.2. Building power network
Expanding power network, especially to rural areas; Building some hydroelectric plants; by 2020, 100% of households accessing to electricity; make investment to construct the intermediary transformer stations in the districts. Improving the grid of Gia Nghia town and other districts; building urban lighting systems
7.3. Building irrigation system
Focus on building reservoirs on rivers and springs to actively regulate water; constructing pumping stations along major rivers. Give priority to the building of center lakes in Gia Nghia town, irrigation systems in Dak ro - Krong No, Dak Dier - Cu Jut and small irrigation works in the basin of Da Nong stream, small irrigation clusters in Krong No - Cu Jut; By 2010 strive to ensure enough irrigation water for more than 60% and in 2020 to more than 80% of area with irrigation needs.
7.4. Expanding clean water supply system
By 2020 strive to ensure 100% of the population using clean water; Increase the capacity of water supply factory in Gia Nghia town to 25,000 m3/day. Building some water plants for the district capitals where water plants are not available currently. For fresh water in rural areas, need to install the water exploitation & treatment system to meet standards of clean water supply.
7.5. Development of information technology, post and telecommunication
Promote the investment into infrastructure of information technology. Prepare the necessary conditions to implement "e-government", "e-commercial transactions". Modernizing the post –telecommunication network; Gradually automate, digitalize the information network and diversify types of services. Develop the wide post - telecommunication network to all localities in the province. By 2010, striving for 100% of communes having post offices, on average 7-8 telephones/ 100 people; by 2020 there're about 15 telephones per 100 people.
IV. Development orientation on territory
1. Planning orientation of administrative boundaries
- Before 2010
+ Separate district of Dak R'Lap into districts of Dak R'Lap and Tuy Duc
+ Separate district of Krong Nô into districts of Krong No and Duc Xuyen (including Quang Son commune of Dak GLong district).
+ Separate Dak Mil district into Duc Lap town and Dak Mil district. + Separate Dak R'Lap districts into Kien Duc town and district of Dak R'Lap.
+ By 2020, Gia Nghia becoming urban type III and becoming the city under province.
2. Urban development orientation
By 2020, urban network of Dak Nong province includes 13 urban areas, including one city of provincial center, two towns of sub-region central and 10 towns (eight towns of district center and two towns of communal centers).
- To concentrate investment on completing the infrastructure of Gia Nghia town matching with the position of provincial urban area with its architecture consistent with the landscape, local culture, following the model of green, clean, beautiful and civilized urban. - make investment to expand the existing district towns such as Ea T'linh, Dak Mam, Dak Mil, Dak Song and Kien Duc. Upgrade and improve the infrastructure of the towns, in order to form and develop urban centers of the sub-region.
- To establish and build some new towns becoming the center of some newly- separated districts and some communal center towns.
3. Development by the sub-region
- The Northern sub-region: including Duc Lap town, districts of Dak Mil, Cu Jut, Krong Nô and Duc Xuyen (new district) Development Orientation: intensive cultivation of rice, forming the provincial key region of food. Develop short-term and long-term industrial crops. Enhance tourism exploitation; promote commercial activities and services; make Investment into the exploitation of Dak Per border-gates; expand economic cooperation relationship with border districts of Cambodia. It's schedule that Duc Lap town becoming the center of sub-region.
- Center sub-region: including Gia Nghia town, Dak Song district and district of Dak GLong (new district). Development orientation: make investment to strongly develop industry. Increase investment into infrastructure of industrial clusters. Building Gia Nghia Trade Center and develop the tourism in Gia Nghia town become the provincial key tourism sector.
- The Southern Sub-region: including Kien Duc town and districts of Dak R'Lap, Tuy Duc Development orientation: promoting the exploitation and efficient use of land and forests. Develop agriculture in the direction of commodity production. Attract investment to develop the industries of processing agro-forestry products, industry of machinery and mechanical repairs, quarrying, construction of hydroelectric power; trade and services development.
V. The key development and projects of investment priorities
- Create the positive changes as a breakthrough in the exploitation and effective use of agro- forestry land; promote the transfer of land and forests to the residents; organize agricultural and forestry encouraging activities and support the residents to stabilize their production activities.
- Speed up the development of industry of bauxite mining and alumina refinery. Construct hydroelectric power plants. Develop industry of producing construction materials, wood processing industry. Promote economic development in border-gate area.
- Develop high quality human resources and build scientific and technological potentials.
- Develop Gia Nghia town becoming the city under province in 2020; upgrade Highway No.14, 14C, 28, provincial roads and rural roads, construct irrigation works, clean water supply works, the infrastructure for tourism areas and industrial parks.
- Projects prioritized for investment.
Long Giang
Source: www.mpi.gov.vn