Ho Chi Minh Mausoleum Management Board
Monday, June 12,2023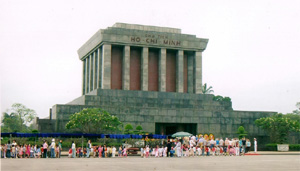 AsemconnectVietnam - Ho Chi Minh Mausoleum Management Board is a government-affiliated agency, which operates under the Government's Decree No. 37/2008/ND-CP dated April 10, 2008 on functions, tasks, powers and structure of the Management Board of Ho Chi Minh Mausoleum

Ho Chi Minh Mausoleum Management Board is responsible for:
· Directing and coordinating concerning agencies in the protection and preservation of Ho Chi Minh President's corpse.
· Maintaining order and safeguarding security in assigned areas.
· Controlling and organizing some activities in areas of the Mausoleum and the Memorial to Fallen Soldiers.
· Managing Ba Dinh Square and other auxiliary works according to legal provisions.
Leaders of Ho Chi Minh Mausoleum Management Board
Head of the Board: Bui Hai Son
Deputy Head of the Board: Do Xuan Tiep
Add: No.1 Ong Ich Khiem street, Ba Dinh district, Ha noi
Tel: 04 38455102 - 04 3855850
Fax: 04 37331994

Source: www.bqllang.gov.vn