Contemporary dance fiesta comes to HCM City
Monday, November 4,2019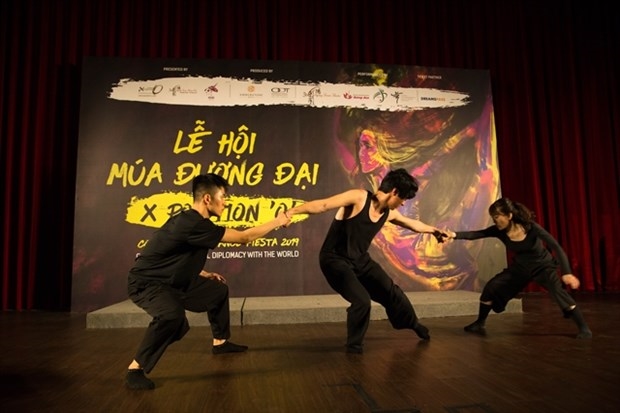 AsemconnectVietnam - The three-day Xposition 'O' contemporary dance fiesta (XPO) is introducing contemporary dance performances to local audiences at the Soul Lie Project Complex in HCM City.
The three-day Xposition 'O' contemporary dance fiesta (XPO) is introducing contemporary dance performances to local audiences at the Soul Lie Project Complex in HCM City.

The festival, which opened on October 31, is taking place in Vietnam for the first time, under the co-operation of the Odyssey Dance Theater (ODT) from Singapore and the Saigon Contemporary & Ballet Dance Company (SCBC).

Established in 2001, XPO has become one of the largest dance festivals in Asia. Based in the prestigious Odyssey Theater, the festival has received major global support and compliments from embassies, audiences and artists worldwide through its tours and cultural exchange events in many countries such as Germany, Italy, the Republic of Korea, Taiwan (China), Laos, Thailand and Singapore.

Organised in Vietnam, the festival is expected to contribute to Vietnamese cultural arts and contemporary dance, and will be the connection between Vietnamese and global contemporary dance organisations.

The first XPO Festival in Vietnam this year will showcase world-class performances and international cultural exchanges with the participation of famous dancers Dr Danny Tan, art director of Odyssey Dance Theater (Singapore), the ODT international art troupe, and South Korean choreographers Sun See & Pyoung Su.

Experienced Vietnamese contemporary dance companies are also offering high-level performances from their famous artists, including choreographer Do Hai Anh, champion of the "So You Think You Can Dance Vietnam" contest and art director of SCBC Vietnam dance company; choreographer Ha Loc, runner-up in "So You Think You Can Dance Vietnam" and champion of the Contemporary Tremplin organised by the French Institute; choreographer Nguyễn Phúc Hùng, choreographer for the HCM City Opera and Ballet; H'mong artist Sùng A Lùng who won a gold award at the National Youth Choreography Competition; dancer Mai Trung Hiếu, and many other artists.

Explaining why the festival is being held in Vietnam, Danny Tan, Odyssey Dance Theater director, said: "The future development direction of this co-operation is to develop talented artists and professional dancers in Vietnam and to create cultural exchange environments between Singapore and Vietnam. In particular, I would like to support Do Hai Anh and SCBC Vietnam's dancers to introduce Vietnamese dance talents to the world, starting with Singapore."

In another development, SCBC Vietnam has announced that it will bring more contemporary dance events to Vietnamese audiences.

SCBC Vietnam has the goal of becoming an arts company with a deep and modern cultural spirit, focused on sustainable development, and outreach to the community on an international scale. It aims to bring more contemporary dance programmes of an international scale to Vietnamese and International audiences.

Do Hai Anh, art director of SCBC Vietnam, and an artist participating in performances as well as the organising board, shared that she was very happy to be a performer and an organiser this year to bring XPO to Vietnam.

"I hope this will be a promising start for me and SCBC Vietnam to organise more bilateral international exchanges with other art troupes around the world, as well as to introduce Vietnamese culture through its performances at international events. In Vietnam, there aren't many activities for contemporary dance, and dancers have few opportunities for exchange experiences, so this is a chance for Vietnamese artists to interact and to exchange and learn from foreign directors, choreographers and dancers. Vietnamese dance troupes will also have the opportunity to practise together and stand together on an international level stage."

The Saigon Contemporary & Ballet Dance Company specialises in stage performances and was founded by artist and arts advocate Thanh Bui, dancer Do Hai Anh and director Dao Minh Vu.

SCBC Vietnam was born with an aim to build a sustainable, community-oriented company that creates cultural art pieces that mix culture, tradition and contemporary art, inspiring Vietnamese art lovers and reaching out internationally./.

Source: VNA