Hai Nam Co., Ltd: A reputation export business in market
Monday, February 24,2020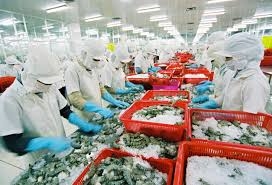 AsemconnectVietnam - Hai Nam Co., Ltd is one of leading seafood producers and exporters in Vietnam. Its exports to Europe and Japan contribute to 45 percent and 40 percent of its export turnover, respectively. With advantages of plentiful seafood resources, the company's products have asserted its prestige and quality on domestic and international markets.
Established in 1993, Hai Nam Company specialises in purchasing, producing and processing seafood products, particularly squid, cuttlefish, octopus, scallops, oysters and many other seafood specialties. Another advantage of the company is that all processing factories are located in the coastal city of Phan Thiet, with one lying by the side of Cang Ca fishing port, which gathers the most seafood in the country. Thus, Hai Nam can provide premium-quality products for the market because it uses well-preserved fresh seafood immediately when it reaches the fishing port. This is certified by international food quality certification agencies. The company's production facilities also meet international standards like HACCP, ISO 9001-2008 and BRC. Starting from Japan, the company has now expanded export markets worldwide, including Europe, the US, South Korea and the Middle East. While expanding export markets, the company has also focused on developing the domestic market. Currently, Hai Nam's products are supplied to Metro, BigC and Lotte supermarkets and a lot of restaurants and hotels in the country.
According to Mr Nguyen Van Thuan, Assistant to Director, the company always underlines the focus on high-quality products and high-valued products. Therefore, in its business development and investment strategies, the company only focuses on core business lines by upgrading processing technologies and equipment and training employees.
From the success above, Hai Nam will add a showroom in HoChiMinh City which will introduce and sell the company's products and local specialties, and build a new modern seafood processing facility to produce premium-quality products for the market. The company also plans to build a cardboard packaging factory to cater for the demand of its seafood processing facilities.
Sharing about difficulties, Thuan said: The grace period for taxes subject to importing inputs for export-driven production is only 275 days. Words used in the new regulations on the duration for submitting tax refund documents (increasing from 45 days to 60 days) are misleading to the company. The policy changes inadvertently caused many companies to violate administrative procedures, which result in huge financial fines. As exporters and importers of agricultural and seafood products are confronting a lot of difficulties, the fines have created huge pressures on companies in balancing inventory management and tax payments. Therefore, Hai Nam Company in particular and local exporters in general very much expect export-facilitating regulations from State agencies to boost production operations, create more jobs for residents, and contribute more to local socioeconomic development."
N.Nga

Source: VITIC/Vccinews.vn