Dong A Plastic JSC: A reliable partner of investor
Thursday, February 20,2020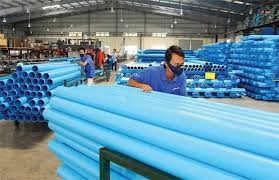 AsemconnectVietnam - Dong A Plastic Joint Stock Company DAG is a pioneer in Plastic Building Materials Industry and Interior - Exterior Decoration Materials. At the moment, DAG run in parent company and 3 subsidiaries with 03 factories supply for 3 markets in the North, Central and South of Vietnam.
Besides, there are 02 associated companies specializing in shape steel and trading products: advertising materials and interior furniture decoration materials. With the mission of non-stop studying and creating, Dong A Plastic Joint Stock Company expects to create new products with high quality and suitable price, meeting the increasingly demanding market. Key products of Dong A Plastic Joint Stock Company include: uPVC Profile bar Shide Profile and Sea α Profile brand name; PVC ceiling Panel; Plastic door; uPVC Profile door SmartWindows with reinforcement steel core; Hi-Flex Banner; PP sheet; PVC edge trim… These products have been well accepted by domestic customers by its suitable quality and various styles for Asian taste.
Dong A Plastic Joint Stock Company have been researching characteristics of Vietnamese climate, living standard and customs of Vietnamese people to make DAG products fit consumers. DAG's products are manufactured by modern, automatic and synchronous production lines which were imported from leading suppliers in Europe, under the control of enthusiastic and experienced staff. DAG products are made under ISO 9001-2008 Quality Management System. Established for more than 15 years - not a long time of existence, DAG gain certain successes. DAG are yearly awarded valuable prizes: Third class Labor Medal, Certificate of Merit from the Prime Minister, Vietnam's Top 500 Enterprises, Vietnam Golden Star, Golden Medal and Golden Cup in the International Industry Exhibition, Vietbuild and other honor awards, certificates from organizations, departments and the People's Committee of Hanoi.
In the context of the global economy integration, Dong A Plastic Joint Stock Company has been setting up the first step in the way of becoming a Multi-section Economic Group. According to high estimation of domestic demand on building materials products, Dong A Plastic Joint Stock Company still concentrate on current section. Core values of Dong A Plastic Joint Stock Company are:
Take science and technology to be foundation
Take management to gain effectiveness
Take quality to gain existence
Take trust to gain development.
These are guiding values for the development and success of DAG.
N.Nga