MONRE teams up with firms on plastic waste management
Friday, February 21,2020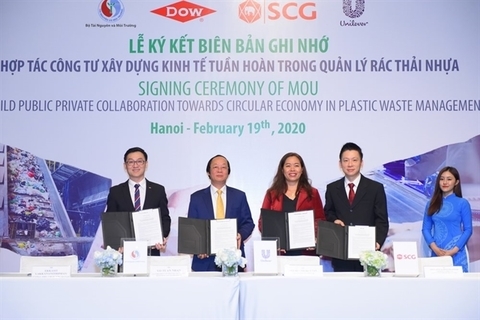 AsemconnectVietnam - The Ministry of Natural Resources and Environment signed a memorandum of understanding (MoU) with three enterprises on building public-private collaboration towards the circular economy in plastic waste management in Ha Noi on Wednesday. Dow Chemical Vietnam LLC, SCG Group and Unilever Vietnam International Co. Ltd signed the MoU.
On behalf of the Ministry of Natural Resources and Environment (MONRE), deputy minister Vo Tuan Nhan said the signing represented co-operation between State agencies and enterprises to help solve societal problems.
In his opening speech, Nhan stated that plastic pollution was a global crisis and the problem of plastic waste was becoming one of the biggest challenges humans face.
He also noted that solving the plastic waste problem was not only the responsibility of State management agencies but also of the entire society, businesses and communities.
He said that the MoU shared goals, vision and responsibilities for promoting the circular economy in Viet Nam between MONRE and businesses to build a public-private partnership (PPP) model to promote efficient sorting and recycling of waste.
MONRE and the businesses will set up a joint working group to implement specific plans on four contents.
These are raising public awareness about minimising plastic waste and sorting waste at the source; supporting sorting waste at source and recycling plastic waste; enhancing technology innovation and solutions for plastic waste recycling; and developing dialogue and policies to support the circular economy in plastic waste management in Viet Nam.
Despite being mentioned a lot in Viet Nam, this was the first time a working group has been set up to implement a circular economy model in a practical manner, said Nguyen Thi Bich Van, chairwoman of Unilever Vietnam.
The circular economy is a sustainable solution to plastic waste in the country, she said.