Validus Vietnam and Nafoods Group partner up to finance agriculture
Friday, February 14,2020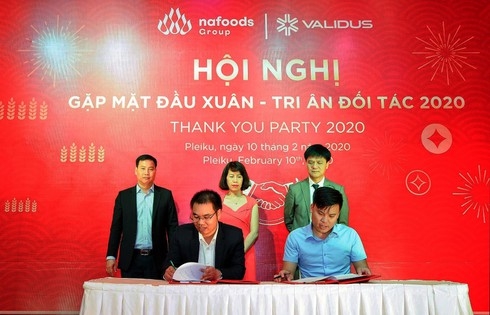 AsemconnectVietnam - Validus Vietnam, the local entity of Singapore's largest SME financing platform, Validus Capital (Validus), has announced entering into a collaboration with Nafoods Group JSC to provide supply chain financing to Nafoods and the small- and medium-sized enterprises (SMEs) in its ecosystem.
Agriculture is a crucial sector that accounts for 10 per cent of Vietnam's GDP and supports 40 per cent of its total employment. Agricultural exports like fruits and vegetables surged by 29 per cent in 2018, contributing $438 billion to the country – exceeding conventional commodities like crude oil and rice. Local SMEs make up 97 per cent of the total number of registered enterprises in Vietnam, but these businesses face an unmet $21 billion SME financing gap in the country.
Tran Thi Thuy Ha, chief business officer of Validus Vietnam, said, "SMEs play a crucial role in the country's economy. With access to financing, these SMEs are able to obtain capital to fund their business operations as well as expand and accelerate their business growth. Validus Vietnam is proud to be working alongside Nafoods Group and its SMEs, as agriculture continues to be a key sector that contributes significantly to the country's economy."
The partnership iterates Validus' commitment to providing ways and bridging the financing gap that many SMEs face when it comes to business financing. Through its Corporate Partnership programme, Validus seeks to actively work with companies like Nafoods to provide supply chain financing to its SMEs, such as farmers and distributors.
Nafoods is a Vietnamese agri-food business and manufacturer that integrates agricultural processing from farm to distribution. It is also backed by the International Finance Corporation (IFC), a member of the World Bank Group that works with the private sector in developing countries to create markets that open up opportunities for all.
Nguyen Manh Hung, chairman and CEO of Nafoods Group, said that many farmers and SMEs along the supply chain sometimes do not get the funding on time to purchase their primary materials for crop growth.
"Many agricultural SMEs in Vietnam face financial issues due to challenges in getting loans from banks such as insufficient collateral, strict corporate customer screening criteria, and lack of financial literacy. Through working with Validus Vietnam, SMEs can obtain financing in time to improve their productivity to grow and expand their businesses."
Nafoods Group is among the most innovative fruit and vegetable growers, processors, and exporters in Vietnam, specialising in fruit juice/NFC, puree, concentrate, IQF, and fresh fruits. The company sources more than 13,300 tonnes of fresh and processed fruits annually from farmers located in various regions in Vietnam, including the Central Highlands, the northwestern mountains, and the north-central coastal regions.
The company's products are distributed all over the world, especially in Europe, the United States, Oceania, the Middle East, as well as Japan and Korea.
Nguyen Chi Long, general director of Long Hue Investment JSC, an SME supplier to Nafoods, admitted that he was able to boost his cash flows for operational expenses and expand his business operations after receiving funding from Validus Vietnam.
"In the past, it was difficult for small business owners like myself to obtain sufficient funding from banks due to the lack of collaterals and business records. Thanks to Validus Vietnam, I can now receive financing on time to purchase farming equipment to harvest fruits and vegetables on my farm and sell them to Nafoods. I managed to improve my cashflow to purchase new supplies and expand my crop variety."
"These SMEs each play an important role in supplying local produce like fruits and nuts, supporting and helping to boost Vietnam's strong food culture. Validus is proud to be a part of Vietnam's agricultural ecosystem by supporting the SMEs in Nafoods' supply chain with much-needed financing," added Ha from Validus Vietnam.
Focusing on agri-business, Nafoods marks Validus Vietnam's third corporate partnership in the country within a short span of less than three months since its launch last November. This comes after Validus Vietnam's pilot partnership project with Medicare Vietnam, the largest pharmacy, health, beauty, and personal care retail group, and Unicons, a member of Coteccons Group and one of the leading private construction enterprises in Vietnam.
Validus Vietnam looks to plug the unmet financing needs of SMEs in Vietnam's burgeoning industries like agriculture, manufacturing, wholesale trade, and healthcare. It operates using the same proprietary technology and credit scoring systems used in Singapore and Indonesia (known as Batumbu) to provide local SMEs to fast, reliable, and affordable sources of growth financing.