Que Lam North Co., Ltd working with farmers to promote sustainable organic agriculture
Saturday, February 15,2020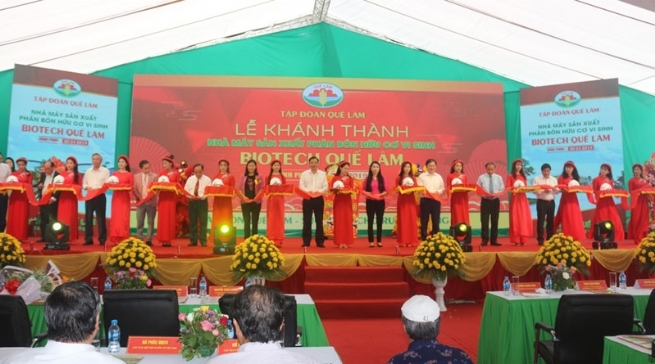 AsemconnectVietnam - As a member of Que Lam Group, Que Lam North Co., Ltd manufactures, supplies and develops the market in northern provinces of Vietnam. The company pioneers in applying modern technologies to produce microorganic fertilizers and supporting people to develop comprehensive organic agriculture.
Que Lam Group is a leading producer of organic fertilizers in Vietnam. Starting from a manufacturing facility in Tan Phu Trung Industrial Park (Cu Chi district, Ho Chi Minh City), Que Lam Group Joint Stock Company has seven organic fertilizer manufacturing factories across the country and 13 member companies specialized in manufacturing and distributing organic products domestically and internationally. The group can manufacture up to 1 million tons of organic fertilizers a year, thus making a significant contribution to improving soil and environment, limiting degradation and soil pollution, and supporting fertilizer application and cultivation science. Besides, in recent years, the group has cooperated with producers to invest in seeding, fertilization and consumption to create sustainable, organic and healthy agricultural value chains.
In 2006, after surveying most northern provinces and cities, the ground found that Vinh Phuc has land potential, geographical advantages and especially the hospitality of Vinh Phuc Party Committee, government and people. Thus, Que Lam Group decided to invest in the province and prepare for broad expansion. The firm built a cutting-edge microbiological organic fertilizer factory in northern Vinh Phuc province and assigned Que Lam North Co., Ltd to manage the factory which covers ​​9,500 square meters and manufactures 30,000 tons of products a year. In the past 12 years, Que Lam Group has always received the active assistance, cooperation and support from provincial local authorities and farmers.
Mr. Nguyen Thanh Vinh, General Director of Que Lam Group, said, Vinh Phuc has abundant sources of peat and agricultural by-products - the input for microorganic fertilizers. Situated at the heart of the northern region, Vinh Phuc province has convenient road links for transporting fertilizer products to 25 northern provinces and cities. Especially, the group benefits from a lot of preferential policies and support from local authorities.
In response, Que Lam Group in general and Que Lam North in particular have carried out many organic agricultural development programs in the province in recent years. The company has cooperated with the Vinh Phuc Agriculture and Fisheries Extension Center to launch many organic rice and organic vegetable models in Thanh Lang Town (Binh Xuyen District), Nguyet Duc Commune (Yen Lac District), Tho Tang Town and Ngu Kien Commune (Vinh Tuong District), and red flesh dragon fruit trees in Lap Thach District, thus promoting the province's rural agricultural development.
Furthermore, to meet market demands in northern provinces and implement State policies on organic agriculture, Que Lam Group again chose Vinh Phuc to build and expand the second factory, Que Lam Biotech. The project received special attention and support from central and local authorities. This is the group's 8th fertilizer plant, invested with cutting edge technology to improve labor productivity and product quality to meet sustainable organic agricultural standards.
Once completed, the facility will be powered by the most modern production line and equipment of Que Lam Group and will be one of the largest and most modern organic fertilizer plants in the northern area. All fertilizer production lines at the Que Lam Biotech Factory are automated, from input processing to production and packaging. The robots use European standard technologies.
Mr. Khac Ngoc Ba, General Director of Que Lam North Co., Ltd, said, when the plant goes into operation, it will turn out high-quality fertilizers, especially bioorganic fertilizers, biological fertilizers, biomineral fertilizers for various crops and soil to meet growing consumer demand in the current era of international economic integration.
The factory will employ about 400 local workers, each of whom is estimated to be paid an average monthly salary of VND8 million, pay about VND12 billion a year to the State Budget in the first years and more than VND20 billion after 10 years. Using microbiological technology, Que Lam North Co., Ltd treats by-products of livestock farming to improve the environment and create high-quality products in the organic agriculture chain such as microorganic fertilizers and bio-organic fertilizers in Vinh Phuc and northern provinces.
Que Lam Group's factories and projects in Vinh Phuc have created a premise to increase commodity value and increase benefits for farmers; gradually changed public awareness of inorganic and organic farming methods. Organic farming significantly reduces the use of chemicals, pesticides and herbicides in agricultural production. This brings in double benefits, ensuring food safety and hygiene for consumers and helping improve, protect and develop sustainable agriculture.
In the coming time, the company will support farmers in general and Vinh Phuc province in particular to create high-quality products, bring benefits to consumers, and build sustainable organic agriculture. This is also the vision and mission of Que Lam Group in general and Que Lam North Co., Ltd in particular.
N.Nga