CPCPEC: Over 25 years of affirming brand
Monday, January 13,2020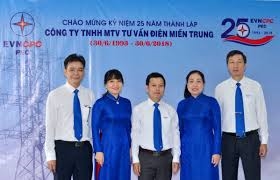 AsemconnectVietnam - With the devotion and dedication to the common goals of the Vietnam Electricity (EVN) and the Central Power Corporation (EVNCPC), and to the common goal of national industrialization, over the past 25 years, Central Power Engineering Consulting Company (CPCPEC) has made ongoing efforts to carry out many key national power projects, thus not only affirming its brand position but also importantly contributing to national industrialization.
CPCPEC was formerly known as Electrical Design Center, set up in 1993 under the Ministry of Energy. In 2010, the center was renamed to Central Power Construction Consulting Company and transformed into Central Power Engineering Consulting One-member Limited Liability Company. From September 27, 2019, according to Decision 438/QD-EVNCPC of the Central Power Corporation, the company was renamed to Central Power Engineering Consulting Company - Branch of Central Power Corporation.
CPCPEC is engaged in investment consulting, survey, supervision and bidding of power projects and renewable energy projects nationwide with the capacity up to 120MW; construction of transmission lines and transformer stations with the voltage scale up to 220 kV. In addition, the company plans power development and consults on designs of power telecom projects and other construction consultancy services for customers.
With those functions, despite many development stages, with a lot of changes to the operational model, name and especially amidst fierce competition pressure, the company has constantly grown. CPCPEC has participated in many national key projects as a consultant, a designer, a supervisor and an investor. All works and projects meet technical requirements, construction criteria and progress schedule. In particular, the company does not let any unforeseen errors or technical problems occur.
Mr. Le Van Nghiep, Director of CPCPEC, said that, in the past years, the company has always focused on investing in modern equipment, applying Technology 4.0 and building laboratories to serve business operations and improve productivity, product and service quality. CPCPEC has applied advanced management tools, adopted information technology, invested in computer systems connected to the intranet, power industry-dedicated internet network and high-speed broadband internet. Devices, management software and professional software are the latest and the most modern of the class.
"CPCPEC has striven to invest in applying technology to business operations. Typically, in 2005, the research unit applied automation technology to control 110-kV transformer stations, in August 2008, operated the Tam Quan 110-kV substation - the first computer-controlled system in central Vietnam, a premise for deploying the grid system automation and, later, unmanned operations. From 2012, EVNCPC assigned PEC to study the automation of 110-kV power stations in Binh Dinh province. So far, PEC has cooperated with EVNCPC's units and committees to deploy unmanned operations of 95% of stations and was expected to apply this operation mode to 100% of stations, thus making grid operations more flexible, minimizing the time needed to operate equipment, reducing power outages and improving the reliability of power supply and customer satisfaction. At the same time, the company has helped customers reduce operating costs and enhance labor productivity," he said.
Every year, CPCPEC pays close attention to launching production emulation movements and new business initiatives. As a result, initiatives have helped boost the company performance. Some outstanding initiatives include "Applying Benley MicroStation V8i software, Google Satellite Maps Downloader, Global Mapper to draw route plans"; "Applying Autolist Design software in Autocad medium in the formation of boreholes and geological sections"; "Replacing connectors at the 110-kV Vinh Son - Phu My line"; "Solution to quick replacement of T1 25MVA transformers with 40MVA transformers to prevent overloading of 110-kV Duy Xuyen station and install two 110-kV Duy Xuyen transformer stations"; "Improving the layout of compact devices on 110-kV lines"; "Solutions for calculating single steel columns in the design of overhead power transmission lines". These initiatives have helped improve fieldwork time, shorten the working time and reduce unexpected errors among others to accelerate the process, improve consulting quality, and reduce costs for investors while meeting increasing requirements of customers.
In the early days after its establishment, CPCPEC had only 20 employees. At present, its headcount has increased to 86, 72% of whom hold university and post-graduate degrees, and 20% hold secondary technical qualifications from Grade 4 or higher. From the initial task of surveying and designing power grid projects to 35kV in the central region, the company has so far provided consultancy to the power grid up to 220kV and hydropower plants up to 120MW. Jobs and income have increased year by year. In the last 10 years, the revenue has risen by 2.5 times and the income has grown by more than 2.65 times. Better livelihoods made employees feel assured of their work.
These achievements come from, in addition to the support and guidance of EVNCPC, the ongoing effort of all employees. Especially, the company's leaders always attach much importance to building corporate culture, which is seen as the core of the company, and employees are the most valuable assets of the company. Therefore, all employees are offered employment contracts, entitled to health insurance, social insurance and unemployment insurance. Salary and allowance payment is always ensured to comply with the current law. Hence, there are no employee complaints.
In addition, the CPCPEC leadership particularly upholds its corporate responsibility to society. Social welfare, gratitude and humanity activities are enthusiastically responded by the company. The firm took care of Vietnamese Heroic Mother Nguyen Thi Dat from 1995 until her death in 2007. In response to Da Nang City's social security policies, the Company's Trade Union raised over VND37.5 million from its employees to upgrade and repair houses for policy-benefited families in Hai Chau 1 Ward and poor lonely families in Thach Thang Ward, Hai Chau District. Besides, they take part in many activities in support of the poor and victims of floods and storms.
Seeing corporate culture as the core to its success and its sustainable development, CPCPEC introduced the Code of Conduct featuring its core values, ethical standards and cultural commitments. Accordingly, the Code of Conduct directs all employees and leaders of the company to good ethics, thereby creating a fair working environment where the employees are the most valuable asset, each person can have the space to bring their capabilities to full play and devote to company development. They are rewarded and promoted to their competence.
Especially, to customers and partners, CPCPEC directs employees to be polite, enthusiastic, friendly and professional in all transactions and always upholds the company reputation. The company fulfills its commitments to customers and partners, and builds partnerships on the principle of equality, mutual respect towards long-term development.
Over 25 years of construction and development, having taken part in many big projects, the CPCPEC brand has been well-established and affirmed. Currently, given that the Government advocates developing clean energy sources, with its accumulated experience and highly qualified workforce, CPCPEC has not hesitated to expand its business to supplying design consulting services for renewable energy projects and it has successfully served many renewable energy projects in the provinces of Ninh Thuan, Binh Thuan, Thua Thien Hue, Tay Ninh and further to the south, to contribute more to the cause of national construction and development.
In recognition of CPCPEC's contributions, the President of Vietnam conferred the Third-class Labor Order to the company for its achievements in the 5-year task from 2005 - 2009; the Prime Minister awarded the Certificate of Merit for its contributions to the cause of building socialism and defending the country from 2006 to 2008; The Ministry of Construction granted the Certificate of High Quality Construction for the 110-kV Vinh Son - Phu My transmission line project for its design consultancy in 2017. The company and Mr. Le Van Nghiep also received many certificates of merit from ministries, branches and localities.
N.Nga

Source: VITIC/Vccinews.vn