Hung Thinh Corporation on mission for a prosperous society
Sunday, December 8,2019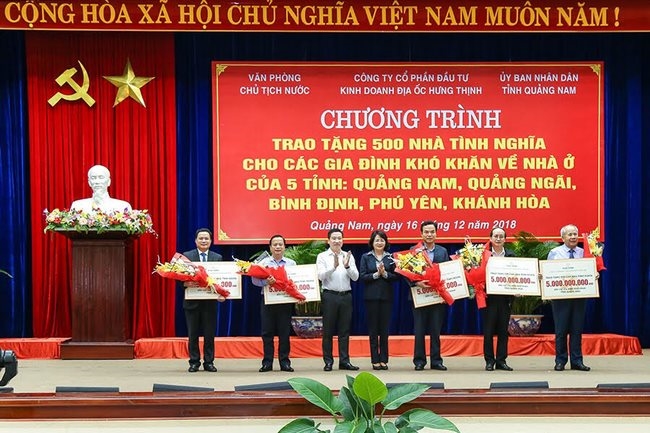 AsemconnectVietnam - For the sake of success and sustainable development, Hung Thinh Corporation, a Vietnamese real estate developer based in HCMC, has for the past 18 years followed a code of professional ethics in which the company strives to provide high-quality products to ensure the interests of its clients and partners, as well as the local community.
In addition to bringing a prosperous life to its clients through a wide variety of its high-quality property products, Hung Thinh Corporation also aims to make positive contributions to the society. The organization of corporate social responsibility (CSR) activities has long been at the core of the firm's targets since its early days of establishment by its own motto, "For a flourishing community."
Together with its robust business activities, Hung Thinh Corporation regards CSR activities as a mission in alignment with its sustainable development strategy. To do so, the corporation's leaders and staff seek to extend kindness by helping the unfortunate, and encouraging them to overcome their difficulties. The firm has been implementing a host of social programs of various scales all over the country.
So far this year, the corporation has spent nearly VND70 billion on many programs, including the construction of charitable homes in the Mekong Delta province of Vinh Long and the sponsorship of the Nha Trang-Khanh Hoa Sea Festival 2019, "Tet lam dieu hay" (Doing good deeds for the Lunar New Year, or Tet holiday), and other activities supporting needy residents on the occasion of Tet, as well as donation to the HCMC Fund for the Poor.
As a lunar new year comes, Hung Thinh Corporation celebrates "Xuan Yeu Thuong" (Beloved Spring) program for people in the central coastal province of Binh Dinh. The program was scaled up this year since it was also held in the south-central province of Khanh Hoa for the first time. More than 1,500 gifts worth nearly VND1.2 billion were directly given to policy beneficiary families and underprivileged individuals in the rural district of Hoai Nhon in Binh Dinh province, and the outlying districts of Dien Khanh and Cam Lam in Khanh Hoa Province.
The corporation also sponsors volunteer programs for people in disaster-prone areas in central Vietnam. Recently, it donated more than VND3 billion to residents affected by severe storms in Binh Dinh Province, as well as local officials and workers in charge of environmental protection, who joined hands to minimize damages by Tropical Storm Matmo in October, the fifth to hit Vietnam this year.
In August 2019, the corporation sponsored VND28.5 billion for a sea and island program in the provinces of Ba Ria-Vung Tau and Khanh Hoa. The purpose of the program was to assist military officers and soldiers on duty on Truong Sa (Spratly) Archipelago and 15 offshore scientific-technological economic service stations, also known as DK1 rigs, in overcoming hardships and completing the mission of defending the motherland.
Speaking at the event, Vietnamese Vice President Dang Thi Ngoc Thinh praised Hung Thinh Corporation for having made many positive contributions to social security activities, as well as sea and island programs for the past time.
Chairman of Hung Thinh Corporation Nguyen Dinh Trung said, "This gift is not great, but conveys the love and hearts of the entire 3,000 employees of Hung Thinh Corporation. We hope, to a certain extent, to warm up the hearts of the soldiers on the remote islands. This is not only our affection but also our partial responsibility to the officers and soldiers who have spent their entire 'spring years' protecting the country."
Last year, Hung Thinh spent roughly VND68 billion implementing social security programs and building nearly 700 charitable houses for disadvantaged households in many cities and provinces like Binh Dinh, Quang Nam, Quang Ngai, Phu Yen, Khanh Hoa, Ba Ria-Vung Tau, Vinh Long, and HCMC.
These outcomes are made possible by Chairman Nguyen Dinh Trung and the executive board of the corporation, who are making every effort to uphold the Vietnamese tradition, "Good leaves cover torn leaves," referring to activities aimed at helping the disadvantaged to rebuild their lives for the better.
As a result, Hung Thinh Corporation has been presented with more than 150 awards and certificates of merit – an empowering affirmation for its brand reputation on the local real estate market, as well as the confidence among its clients and partners.
It goes without saying that during the past 18 years, Hung Thinh has become a prestigious corporation in southern Vietnam and a major property brand in the country. Currently, it has around 50 member companies, 12 representative offices, and a system of nine transaction platforms with nearly 3,000 employees. The corporation has left a distinct impression on some 80 property projects of various types across the country.
For a flourishing community, Hung Thinh has been transforming itself into a multi-sectoral corporation, which makes investment in technology, education and healthcare in order to complete its value chain and thus bring about more benefits to its clients, and the society in general.