Dai-ichi Life Vietnam and a lofty mission
Tuesday, December 3,2019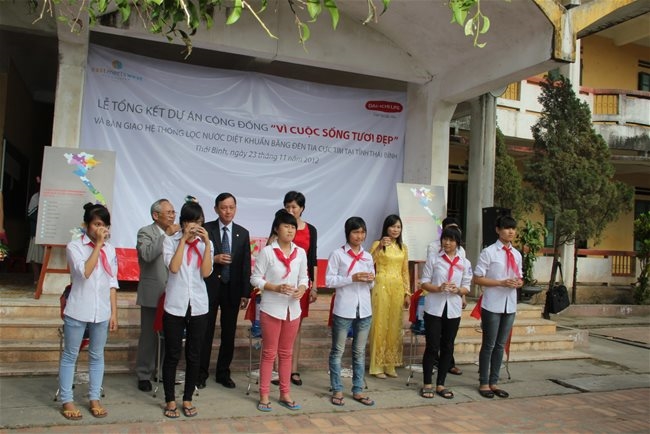 AsemconnectVietnam - As one of the leading life insurers in the country, Dai-ichi Life Vietnam has been loyal to its humane philosophy: "All for people." Besides great effort in doing business, the enterprise always considers community support as its social responsibility, spending more than VND30 billion carrying out charitable projects during over 12 years of operation to bring about positive changes for the country.
"For a better life" Foundation
To stay connected to the country and Vietnamese people, the insurer established the "For a better life" CSR Foundation that won approval from the Ministry of Home Affairs on April 6, 2016. As a non-profit organization operating on a voluntary and financially independent basis, the foundation supports the community in various aspects such as education, healthcare and environment, aiming at improving living standards of citizens and building high-quality manpower for the nation.
Speaking at the establishment ceremony, Takashi Fujii, chairman of Dai-ichi Life International for Asia Pacific and Dai-ichi Life Vietnam, stressed that the sustainable foundation for a company is its responsibility towards the community.
"To the society, Dai-ichi Life Vietnam's duty is to carry out humane and charitable programs to improve living standards for Vietnamese citizens. Launching the "For a better life" CSR Foundation into operation will enable us to conduct meaningful programs in the long term throughout the country, thereby affirming our position and sustainable development commitments in the Vietnam market," Fujii remarked at the time.
Nurturing talents for future
Education is the key for success of every person, society and country. Sharing the dream of disadvantaged children in mountainous and remote areas who have a strong desire for education but cannot go to school due to financial problems, Dai-ichi Life Vietnam has introduced many study encouragement programs, such as Chao nam hoc moi tuoi dep (Hello new school year), Chao mua he tuoi dep (Hello summer) and Tinh thuong cho em (Love for children). Therefore, a lot of scholarships, study equipment and warm coats have been handed over to millions of needy pupils nationwide.
Besides the education sector, the foundation pays strong attention to the living environment of pupils, in which water sources play an important role in keeping children healthy. Since 2012, the foundation has embraced the "Clean water for school" project, installing 99 water filter systems and drilling 10 wells for schools in rural and undeveloped areas. So far, the project has benefited over 32,000 pupils and teachers.
Supporting community health
Teaming up with the HCMC Sponsoring Association for Poor Patients since 2009, Dai-ichi Life Group and the "For a better life" Foundation have launched the "Bring light to the poor" program to support over 5,000 sight-impaired people in the country. Besides, the foundation has given ear-nose-throat endoscopy equipment to clinics in Yen Bai and Son La provinces, helping doctors and health workers there to improve treatments for local residents, especially during cold weather.
Giving strength to disadvantaged people
Over the past 12 years, Dai-ichi Life Vietnam has given support to needy households in the country, especially those suffering impacts of floods and natural disasters. The enterprise has visited many places to give gifts and food to the poor, and build houses and bridges to help them overcome difficulties.
With meaningful contributions to the community, Dai-ichi Life Vietnam has chosen 2019 as the "Love Connection Year" to celebrate its milestone – reaching three million customers in Vietnam. It has connected millions of families to spread love and good values of life insurance in the community through many practical activities.
Source: thesaigontimes.vn