Sovitex – balancing business and social responsibility
Sunday, November 17,2019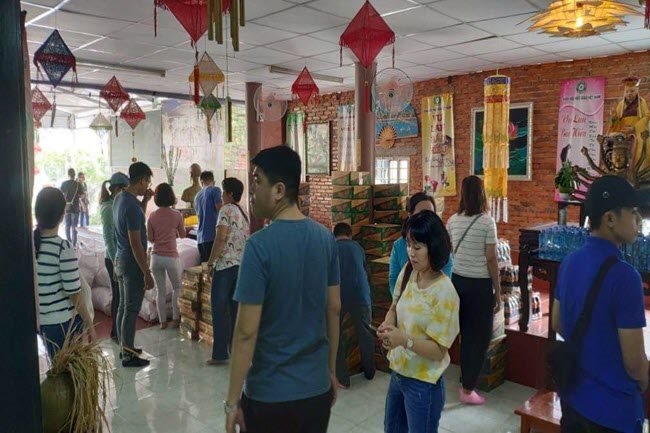 AsemconnectVietnam - Since its establishment in 2001, Son Viet Garment Corporation (Sovitex) has set a goal to embrace corporate social responsibility as part of its daily operations. And over the years, the HCMC-based company has expanded its CSR programs to cover a wide range of activities, having been aware that being socially responsible really pays off.
"Sovitex is fully aware that being socially responsible provides a solid foundation for the sustainable development of any company. Therefore, the firm has concurrently focused on running its business in an effective manner and contributing to the community," says Ha Xuan Anh, board chairman of Sovitex. Such a spirit is not only advocated by the company's management, but also instilled in all employees.
The garment firm has managed to create a pleasant workplace for staff members to jointly build a corporate culture based on six core values: fashionable, friendly, sharing, proactive, cooperative, and responsible. Sovitex helps the staff fully aware of responsibility of each individual in society, says Anh.
"At Sovitex, we are committed to giving back to the community through charitable practices," Anh confides to the Saigon Times, when talking about the various types of social activities the company has pursued.
Being socially responsible, according to Anh, could be as simple as making sure that all employees are properly taken care of by providing them with health benefits and well-deserved rewards for their contribution. Such activities can be deemed as internal CSR.
The apparel company has created a fair workplace, where employees can feel secure, grow fond of and never want to leave. It has fully complied with prevailing regulations and laws on labor, aiming to ensure all the staff members maintain good health conditions and feel valued.
When the staff take part in the firm's activities at work or outdoors, they will receive adequate salaries and bonus.
Anh says the company has made efforts to reduce its negative impact on the environment by adopting environmentally-friendly solutions. It does not allow any actions harmful to the environment, such as leaks of hazardous waste, to happen and cuts down on plastic waste by switching to using cloth bags from plastic ones.
Such actions sound simple and small, but if they are adopted by every business, a huge positive impact would be created for the environment, remarks the Sovitex chairman.
Going beyond the office space toward the community, Sovitex focuses on helping students who are disadvantaged and eager to acquire knowledge, as well as offers a lending hand to charitable programs, in addition to creating job opportunities for the local community.
At Sovitex, every staff voluntarily keeps a piggy bank to create a fund backing poor children. Every July, representatives of the firm will travel to the northwest or the hinterland for presenting gifts to the children.
Last July, Sovitex and Anh Sao (Starlight) charitable club joined hands to give 2,000 gift combos, including clothing, stationery, and rice, to the needy kids in the Central Highlands province of Dak Nong.
During August and September, its staff members went to Dong Nai-based Mental Health Nursing Care Center to give presents to, cook meals for and take care of the patients there. In August, the firm also gave as many as 3,200 Mid-Autumn gifts to ethnic minority kids in Dak Lak and is set to present winter coats to children this month, among many other activities such as offering health checkup and treatment services, as well as free medicine to the needy, or serving as a sponsor of charity football games in various localities across the country.
Further, it is also an active player of Library Caravan, a biannual charitable tour hosted by the 2030 Business Club, under the Saigon Times Club. This program will benefit school children in poverty-stricken areas.
Anh observes that a business' value is not only reflected through figures in financial statements but also through what it has done for the community, and therefore, the firm has conducted these social activities over the years.
The chairman continues, "Sovitex has reaped more valuable things after completing these CSR activities. Acknowledging what Sovitex has done for the sake of the community, many shareholders and customers at home and abroad have built up their trust in the firm, and added Sovitex to their priority lists. Staff members also take pride in being a part of the Sovitex platform."
Source: thesaigontimes.vn