Kim Oanh Group cooperates with three large partners
Thursday, October 17,2019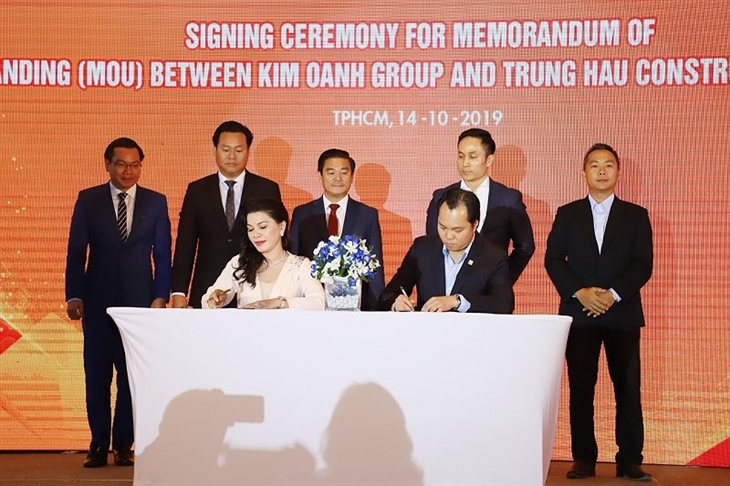 AsemconnectVietnam - On October 14, 2019, Kim Oanh Group inked a comprehensive partnership agreement with Orient Commercial Bank (OCB), while at the same timesigning cooperation deals with CornerStone Vietnam Company and Trung Hau Construction JSC.
This is part of its strategy to develop large urban area projects and expand business into the industrial real estate sector.
Cooperation to go farther
According to the comprehensive partnership, OCB pledged to provide funds for Kim Oanh's business activities and investments in real estate projects. OCB will also provide consulting services and financial assistance for customers buying its products.
OCB is one of the leading banks in Vietnam will over 200 banking units nationwide. Cooperating with OCB will help Kim Oanh secure strong financial sources for its development strategies in the coming time.
Meanwhile, CornerStone Vietnam gathers leading experts who used to work at multinational giants in the property sector such as Savills Vietnam, Indochina Properties, Ernst & Young, Hyatt and Starwood Hotels. With advantages in consulting, management service provision and strong relationships with large companies in Vietnam and overseas, CornerStone Vietnam will support Kim Oanh in promoting its full potential. Through CornerStone Vietnam, the group can establish business relationships with foreign customers and have more chances to reach out to the international capital market.
As Trung Hau is among top companies in design and construction of industrial projects in Vietnam, the cooperation between the both sides will help Kim Oanh access factory investment, design, consulting and constructions services. This will enable Kim Oanh to prepare for the participation in the industrial real estate segment to meet demands of enterprises.
Currently, Kim Oanh Group owns over 500 hectares in key real estate hot spots such as HCMC, Binh Duong and Dong Nai, an advantage for the group to develop large-scale urban areas with full auxiliary facilities in the coming time.
16 projects in the offing
After more than 11 years of establishment and development, Kim Oanh has developed a network with six member enterprises, nine branches and over 1,000 staff who are knowledgeable of the property market. In the future, Kim Oanh will open more branches to reach out to more clients.
Aside from enhancing cooperation with reputable partners, Kim Oanh Group recently has prepared human and financial resources to make a breakthrough.
Dang Thi Kim Oanh, general director of Kim Oanh Real (a key member of Kim Oanh Group), said that the cooperation with OCB, CornerStone Vietnam and Trung Hau plays an important role in its strategies to diversify products and services. However, this is just the first step as the enterprise is negotiating to join hands with more partners in the finance, construction, real estate development, planning, design, trade and service sectors.
"The real estate market has seen tougher competition, but Kim Oanh is confident at its long-term prospect thanks to solid foundation in terms of finance, available land and market accessibility. The cooperation with large and professional partners such as OCB, CornerStone Vietnam and Trung Hau will help lift up Kim Oanh brand to a new height," Oanh added.
From now to 2020, Kim Oanh Group expects to deploy 16 projects, offering tens of thousands of products such as land lots, shop houses, villas and condos. Especially, a commercial-industrial urban project will be developed on a 106-hectare area in Binh Duong Province this year to meet demands of businesses.
According to Binh Duong Province's Department of Planning and Investment, the southern locality attracted nearly US$2 billion in foreign direct investment (FDI) capital in the January-August period of 2019, surging 74% year-on-year and ranking third nationwide. Binh Duong is housing over 3,600 active FDI projects with the combined capital of around US$33 billion. As such, local enterprises have increasing demands for factories. This is a chance for Kim Oanh and its partners to develop the industrial real estate segment.
Source: thesaigontimes.vn