Asanzo resumes operation, opens another factory
Wednesday, September 18,2019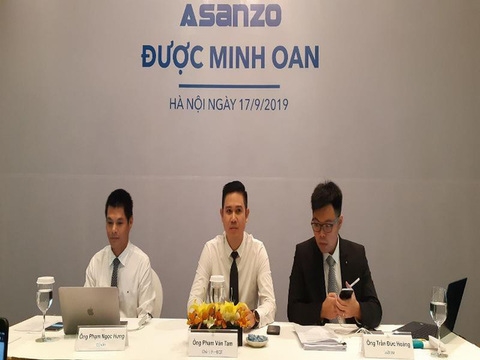 AsemconnectVietnam - CEO of Asanzo Vietnam Electronics JSC, Pham Van Tam announced in Ha Noi yesterday that his business was "vindicated" and would return to operations from September 17.
At a press conference held by television maker Asanzo, lawyer Tran Duc Hoang said the media accused Asanzo of origin fraud and cheating customers but the General Department of Market Management reported it had found no evidence of fraud in the company's origin of goods after their investigation.
In addition, Hoang added that the Vietnam Chamber of Commerce and Industry (VCCI) concluded that Asanzo did nothing wrong with the labelling "Made in Vietnam".
According to VCCI, it is legal to label a product "made in Vietnam", "manufactured in Vietnam", "country of manufacture of Vietnam", "origin of Vietnam" or "manufactured by Vietnam" if the product is assembled from components which are purchased in Viet Nam or imported from other countries.
Hoang continued: "The General Department of Customs has granted their Post-Clearance Inspection for Asanzo products, showing that Asanzo has done nothing wrong in its import and export activities."
Answering the accusation of false advertising for Asanzo's slogan of "Japanese technology", Asanzo said it got permission from the Department of Culture, Sports and Tourism of HCM City for the ad. In addition, Sharp Roxy Hongkong, a subsidiary of Japanese Sharp Group declared to have a business contract with Asanzo, including the sale of electronic components, software transfer, technology and know-how, along with their services.
CEO of Asanzo Tam said: "As of today, we resume our normal operations and will open another factory in the high-tech industrial zone on HMC City's district 9 soon." Tam revealed that the fifth factory with a capacity of 2 million - 2.5 million televisions per year will be 4 times bigger than the others.
When asked why the company announced the conclusion of other authorities who had not revealed the results to the public, Tam said: "We cannot wait any more, we want to come back to the market."
In the 89 days since the case occurred, Tam's company lost more than VND1 trillion (US$43 million) excluding the cost of brand building over the last 5 years. According to the CEO, it would take another VND1 trillion ($43 million) or more to rebuild the trademark of Asanzo in the market.
Local media in June reported Asanzo had set up operations to import parts from China for assembly in Viet Nam. Their workers then allegedly removed the 'Made in China' stamps, assembled them into finished products and labelled them 'Made in Vietnam'.
CEO Pham Van Tam denied the accusation on June 23, saying 70 per cent of the products' parts came from China and other countries as Viet Nam was unable to produce them. It is a common practice employed by many other companies.
The market backlash has been devastating for the company with major retailers taking their goods off the shelves and consumers calling for a boycott of the brand.
Established in 2013 to serve the low-income segment in Viet Nam, Asanzo sells mobile phones and home appliances such as air conditioners, microwaves, cookers and blenders, with TVs its key product line.