Russian firms come looking for business in Viet Nam
Wednesday, September 18,2019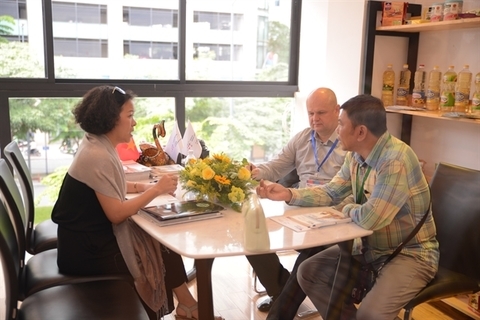 AsemconnectVietnam - A delegation of executives from 20 Russian companies in the agricultural and technology sectors met with executives from 60 Vietnamese companies in HCM City on Tuesday to explore business opportunities.
The Russian companies are mainly in sectors like processing and trading of agricultural products such as natural fruit juices, wines, confectionery, fast moving consumer products, sunflower oil and seeds, legumes, grains, sugar, wheat flour, barley flour, data solutions for accounting and business operation, automated production, and high-tech equipment for aviation.
Semernya Nikolay, project director of Belyov Pastila LLC, said his company wanted to introduce pastila made from sourish Russian apples and other products to the Vietnamese market.
They are available in some 40 markets but not Viet Nam, and he has come to study the Vietnamese market and seek customers.
Vadim Gvozdkov, product manager of IT-Trader-Soft LLC, said his company wanted to introduce its Pirogov interactive anatomy table, which is a fusion of medicine and the latest computer technologies such as anatomy in 3D format, which allows one to visually examine human organs in colour and do differential diagnostics.
It is an innovative educational product with unique human anatomy data content, and using the software in education at medical universities would help reduce costs compared to using mummified bodies, he said.
He said six medical schools and hospitals in Viet Nam were interested in the technology.
Andrey Naryshkin, director for international network development at the Russian Export Centre, said Viet Nam and Russia had a close traditional friendship and co-operation in many fields.
The Viet Nam-Eurasian Economic Union Free Trade Agreement, which took effect in 2016, had sharply increased bilateral trade, with the figure reaching US$6 billion last year, he said.
But the figure was low compared to the potential, and such business-matching events could boost trade, he said.
"Russian agricultural products are safe and healthy. Consumers in many countries prefer its agricultural as well as technological products. Therefore, I believe Russian products will have a foothold in the Vietnamese market.
"In addition to supporting Russian firms export to the Vietnamese market, we also support Vietnamese companies who want to invest in production in Russia and export their products to third countries."