Kafnu joins coworking space market in HCMC
Tuesday, July 9,2019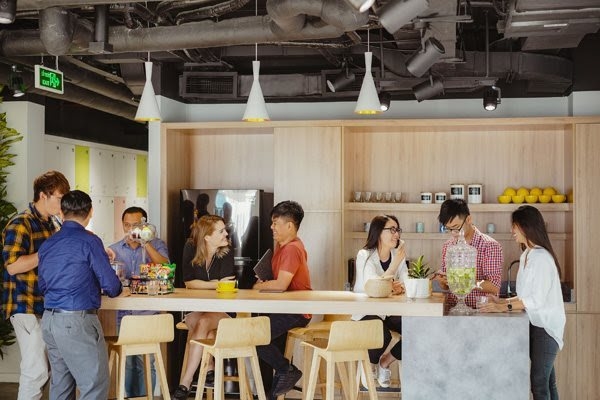 AsemconnectVietnam - Coworking space facility Kafnu, which is operated and managed by international hospitality company Next Story Group, has been put into service in HCMC's Binh Thanh District, marking the brand's first appearance in the local coworking space market.
Kafnu HCMC is an eight-story building located in Saigon Pearl, covering over 2,400 square meters, Next Story Group stated in a press release on July 3.
The facility offers multiple services and work spaces to companies and individuals, including desks, private offices, high-speed internet connections, a soundproof phone booth and five meeting rooms with video conferencing capabilities.
It also has a multiscreened 180-square-meter event space for product launches, workshops and other events, accommodating up to 150 guests. In addition, there are eight en-suite hotel rooms and a Virtual Fitness Studio, which offers 1,500 fitness classes, alongside bars and restaurants serving Asian cuisine.
Kafnu members can access all Kafnu properties worldwide.
Chris Edwards, general manager of Kafnu HCMC, said, "We aim to be a catalyst for success for entrepreneurs and creative trailblazers who choose to build their enterprises, brands and personal networks in the vibrant economic hub of HCMC.
"To support their endeavours, we are cultivating a warm, welcoming community of like-minded change-makers, delivering targeted programming and providing unique opportunities for discovery, connection and growth."
Kafnu HCMC is the fifth Kafnu property to open globally, following launches in Taipei, Bengaluru and Sydney, since the brand's debut in Hong Kong in 2017.
Kafnu is the latest addition to the coworking space market in HCMC. Earlier, WeWork, the U.S.-based coworking space firm, last December put into service its coworking space office in District 4. Other players in the field such as Toong, CoGo and Dreamplex are reportedly expanding their businesses by opening new facilities.
Source: thesaigontimes.vn