Mao Khe Mechanical JSC to accelerate scientific and technological application into production
Friday, June 28,2019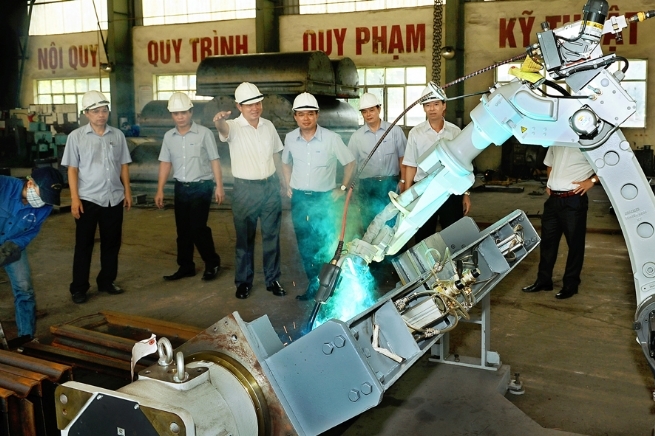 AsemconnectVietnam - For nearly 40 years of development, Mao Khe Mechanical Joint Stock Company has created many high-quality mechanical products for the mining industry, highly appreciated by partners and customers.
As a member unit of the Vietnam National Coal, Mineral Industries Holding Corporation Limited (Vinacomin) specializing in manufacturing mechanical machines, equipment and parts for the coal mining industry, Mao Khe Mechanical Joint Stock Company has promoted scientific and technological application into production in the past years, thus creating new breakthroughs in improving productivity and product quality. In particular, the company constantly researches and innovates advanced technologies and equipment to make highly competitive mechanical products to meet customers' needs. The company's product lines have been selected and highly appreciated by many companies inside and outside Vinacomin, hence securing a stronger foothold in the market.
Chain and scraper conveyors are used to transport soil, rock, coal and minerals. This is one of the main traditional products of the company. Currently, welding chain and scraper conveyors at some manufacturers are still only done by hand with arc, thus productivity and quality are not high. To replace this traditional welding process, the company has bought a robotic welding system made by Panasonic (Japan). In fact, a robotically welded conveyor is completed in six minutes with higher-quality welds and overall output, thus achieving a higher productivity than manually welded ones (used with arc) which take 30 minutes. So far, the company has localized more than 90% of some conveyor products. In addition, the company has also researched and applied robotic welding to other products such as screening equipment, hydraulic support frames, conveyors and carts.
Chain ring is also one of major products that make the name of Mao Khe Mechanical Joint Stock Company. Manufactured on German production lines since 1982, the output of chainwheels reaches 40,000 meters a year. The company invested in new equipment to replace old devices, such as rolling cutters, welders and tensile testing machines. In addition, many innovations on technical improvement have been effectively applied to production. Since then, the company has gradually improved the production capacity of chain rings to an average of 100,000 - 140,000 meters a year. Its chain rings are completely trusted and appreciated by businesses.
In addition to key products, the company has also applied scientific and technological progress to other products such as conveyor belts, electric trains, coal carriages and underground people carriers. Especially, in 2017, Mao Khe Mechanical Joint Stock Company successfully researched and manufactured GM 20/30 hydraulic support frames. This product is currently being produced on a large scaled as assigned by Vinacomin Group.
Fulfilling Vinacomin's orientation and strategy in 2015-2020, Mao Khe Mechanical Joint Stock Company has targeted to become a key mechanical unit of Vinacomin Group and a mechanical center of Dong Trieu, Uong Bi and Vang Danh areas, with annual revenue growth of 7 - 10% and ensure stable income and livelihoods for workers.
To successfully achieve the above goal, the company continues to dominate the market by brand, product and service quality. Many consistent solutions to production, business, marketing and employment have been implemented in order to comprehensively complete production and business plans. Despite unfavorable conditions caused by slowing development and tightening investment by Vinacomin Group, Mao Khe Mechanical Joint Stock Company has maintained stable business growth. In 2018, its revenue reached VND210 billion (US$9 million), 10.5% higher than the full-year plan, and its profits topped VND2 billion. Employee were paid over VND7.2 million a month on average. All employee policies are applied seriously and fully. The material and spiritual life of employees has been increasingly enhanced. Occupational safety and health are guaranteed. Tax obligations to the State Budget are fulfilled under the law. The company preserves and develops capital for shareholders, and actively supports the social community with charitable activities. In addition, the firm continues to invest in innovative technology and advanced equipment to make highly competitive mechanical products to meet the demand for localization of materials, equipment and parts used in the coal mining industry. It strives to control technology, design and manufacture mechanical products which are currently supplied by foreign manufacturers.
With the business motto "Innovation - Discipline - Responsibility", in the coming time, Mao Khe Mechanical Joint Stock Company will further focus on innovating technology and equipment, improving labor productivity and product quality and manufacturing coal mining product lines so as to become a key mechanical unit of Vinacomin Group that serves the mechanization and automation of the group in the new period. At the same time, the company is resolved to be more sustainable.
With relentless efforts of all employees, Mao Khe Mechanical Joint Stock Company has received many noble awards from the Party and the State, including Third, Second and Third-grade Labor Orders; Third-grade Independence Order (2012); National Quality Silver Award (2014); National Quality Gold Award (2015) and Certificate of Merits from the Prime Minister (2016).
N.Nga
Source: VITIC/Vccinews.vn