Vinamilk on the way to develop Vietnam's dairy industry
Tuesday, June 25,2019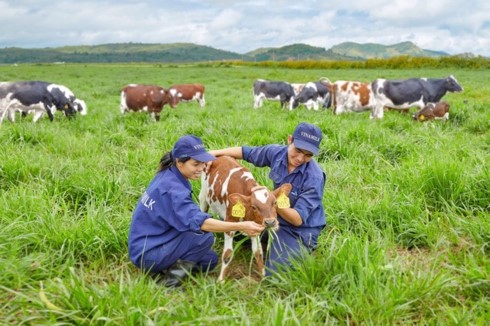 AsemconnectVietnam - Vinamilk is a pioneer in developing Vietnam's dairy industry. It accounts for half of the industry's market share.
Over the past more than 40 years of development, the company has invested heavily in technology and growing region and expanded its export market.
Vinamilk's material area includes a system of Global GAP-standard farms across Vietnam with all breeding cows imported from Australia, the US, and New Zealand.
The company has recently invested in Vietnam's first European standard organic dairy farm in Tay Ninh province, marking a new milestone in Vietnam's dairy industry thus efficiently implementing the national strategy on nutrition. The farm has total investment of 50 million USD and more than 8,000 dairy cows.
Trinh Quoc Dung, Executive Director of the company's Raw-Material Development Department, said "We have a cattle-feed production system which has been programmed with daily recipes and data updates. Our breeding facilities have automatically been cooled and an automatic waste collection system is in place that keeps the breeding facilities clean."
Vinamilk has a total of 120,000 dairy cows to turn out more than 950 tons of raw fresh milk a day. It is expected to increase this number to 200,000 next year. The raw milk productivity is consequently expected to double.
Vinamilk CEO Mai Kieu Lien said "We are proud to have a dairy industry on par with that of other regional countries. We have built a dairy cow breeding system, the core factor in developing the industry, because once we can control the materials, we can control the production process and price. To date, Vinamilk's dairy products are available in more than 40 countries and territories."
The company's achievements in recent years have been attributed to its considerable investment. It has constantly expanded its system of farms and factories both at home and abroad.
Vinamilk currently has more than 10 factories across Vietnam in which two large-scale milk and milk powder factories in Binh Duong are equipped with the most advanced technology in the world with a closed and fully automated equipment system ranging from processing to finished products, packaging, and securing food safety and hygiene.
Vinamilk has also invested in dairy processors abroad including the US' Driftwood Dairy, Cambodia's Angkor Dairy Product Company, and a subsidiary in Poland. In addition, it is investing in an organic farm in Laos.
For more than 40 years, Vinamilk has received many domestic and international awards. It topped the Forbes list of the 40 most valuable Vietnamese brands for 3 consecutive years and has made the list of 10 most prestigious companies in the food and beverage industry published by Vietnam Report, and has become the most chosen brand in Vietnam for 4 consecutive years, as announced by Kantar Worldpanel.
Source: Vov.vn