Asia Group overcoming difficulty to success
Thursday, May 30,2019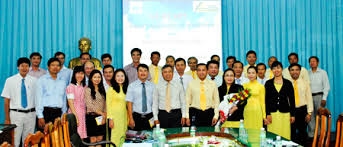 AsemconnectVietnam - Set up in 1996, after 23 years of construction and development and engaged in a variety of business operations (mining, construction material, taxi service, real estate, security service, hotel, education, etc.), Asia Group has become a large-scale, well-branded and influential entity.
Started as a limited liability company, Asia Group was transformed into a shareholding company in 2009. Since its inception over 20 years ago, the company always provides premium services for customers and currently employs 800 workers in Khanh Hoa and neighbouring provinces. Although it is successful, it is little known that Asia Group experienced a lot of tough times. "In early days of operation, Asia Group had only one employee-the very owner, only one computer, one dot-matrix printer and a desk phone. The office was also the residence of the owner. With a small start-up capital, I had to think over to find out the mission for the company. Today's success is a testimony to the company's right direction," said Mr Ho Minh Chau, President and CEO of Asia Group.
Recalling his experience with the company, Chau said, Asia Group established Hon Ngoc quarry site in Dien Tho in 1996; set up an enterprise specialised in exploiting and producing stone, sand and gravel and carrying out construction works. The company built a stone grinding and screening factory with an hourly capacity of 150 metric tonnes. Then, it invested to install more stone grinding machines with an hourly capacity of 250 metric tonnes and other machinery and equipment for exploiting and manufacturing materials for construction of Road 1A from Danang City to Nha Trang City as well as other construction works. In 2003, the firm pooled capital with Mai Linh Group to set up Mai Linh Corporation in Southern Central & Highland, which is now operating taxi services in Khanh Hoa and Ninh Thuan provinces. In 2007, the company engaged in a new scope of business, security service, after it set up Quang Vinh Security Services Co., Ltd., which now has more than 300 security staff. In 2009, Asia Real Estate Investment Service One Member Company Limited was founded. In 2012, Asia Group launched the Asia Gold Tax brand. At present, Asia Taxi service is available on mobile application from which customers can call the service-a way proven to save time and budget for them. In the first and third quarters of 2014, the company respectively launched Asia Gold Taxi Ninh Thuan brand with 50 cabs and Asia Gold Taxi Cam Ranh brand with 200 cabs. And, from the third quarter of 2014, the firm expanded into production of environment-friendly unbaked construction materials sourced from Khanh Hoa province. Asia 96 New Material Joint Stock Company-a member of Asia Group-is involved in this new business. In 2015, Asia Group acquired Sao Mai Service Co., Ltd-a discovery tourism company (serving electric car services, selling Vinpearl tickets, operating inbound and outbound tours, etc.). It also opened Asia Home Hotel, a totally new CAPSULE & POD hotel form in Nha Trang City. The hotel serves a choice of services such as Foot Massage New and Lotus Bar & Coffee in a sea-view and city-view space, air and train ticket sale, processing and trading of swiftlet nest, agarwood and cordyceps roberti-famously valuable specialities of Khanh Hoa province.
To bring customers with best products and services and satisfy customers with a minimum cost, Asia Group will focus investment on core competencies, market development and business expansion to strengthen its existing strengths and boost cooperation with partners sharing common understanding and seeking common profits. At the same time, the company will expand into other production and business fields. With its ongoing efforts, Asia Group will certainly have a strong position on the market and contribute to the development of Khanh Hoa province," Chau stressed.
N.Nga
Source: asiafoods.vn