Chu Mom Ray Rubber Co., Ltd: 12 years of establishment and development
Tuesday, May 28,2019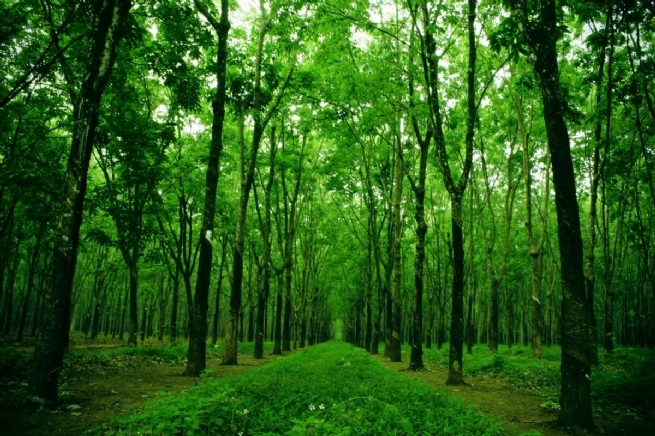 AsemconnectVietnam - Established by the Vietnam Rubber Industry Group in May 2007, Chu Mom Ray Rubber Co., Ltd has overcome numerous difficulties to grow over time and reach its current rubber area of 5,200 ha. The company managed to transform a harsh and arid land into a prosperous crop growing area.
In response to the government-backed policy of transforming poor forests into rubber farms, 12 years ago, Kon Tum province agreed to allow Chu Mom Ray Rubber Co., Ltd to grow rubber on a total area of 6,440 ha in Mo Rai commune, Sa Thay district, which adjoins the national borderline with Cambodia. So far, the company has cultivated 5,200 ha of rubber trees and employed 892 workers, including 560 ethnic minorities or 63% of its workforce.
In 2018, despite enormous hardships as a result of powdery mildew disease, prolonged rain, unstable labor and low selling prices, with its resolution and efforts, Chu Mom Ray Rubber Co., Ltd has tapped over 3,009 tons of latex to earn revenue of more than VND86 billion. An average monthly salary of an employee reaches VND5 million. Promoting these outcomes, in 2019, the company has put into operation 3,200 ha to produce 5,000 tons of latex and raise the average monthly income of an employee to VND6 million.
In order to sharpen its competitive edge in the market, in addition to applying new techniques to rubber care to enhance latex productivity and quality, Chu Mom Ray Rubber Co., Ltd has focused on streamlining the management apparatus, adopting ISO standards, and deploying information technology applications to boost administrative performance.
In addition to its efforts for better business performance, Chu Mom Ray Rubber Co., Ltd has led social security, taken care of employee livelihoods and built strong corporate culture. Accordingly, the company focused on investing in domestic electricity and water supply systems to its affiliated farms and residential areas; building houses for employees, clinics and kindergartens in its farms. Besides, the company coordinated with the Trade Union to help and support poor families, organize cultural, arts and sports activities during public holidays, thus helping raise the quality of worker life.
Remarking on development directions in the coming time, General Director Tran Xuan Thinh said, to realize the goal of sustainable development, Chu Mom Ray Rubber Co., Ltd focused on improving management and scientific and technological application to increase productivity, output, product quality and clean production to meet stringent requirements imposed by demanding markets like Europe to obtain the highest economic value. Furthermore, the firm has been, and will be, paying special attention to the community factor. "The rubber industry has a tradition of developing rubber farms together with social security infrastructure to ensure livelihoods of workers and local people. This goal is harder to achieve in the current context, but we will do it with our great resolve for a common goal," he affirmed.
He added, as the rubber growing project of Chu Mom Ray Rubber Co., Ltd is located in the border area where very few people live and infrastructure is not invested, it is very difficult to recruit workers. In the coming time, when our remaining area is cultivated, we will need to hire 300 more workers. Given the current context, this is a hard nut to crack for the company. To tackle this, the company needs support from local authorities to provide residential land and economic land for workers.
N.Nga
Soure: Vccinews.vn