Keppel Land to build luxury hotel in downtown HCMC
Monday, April 8,2019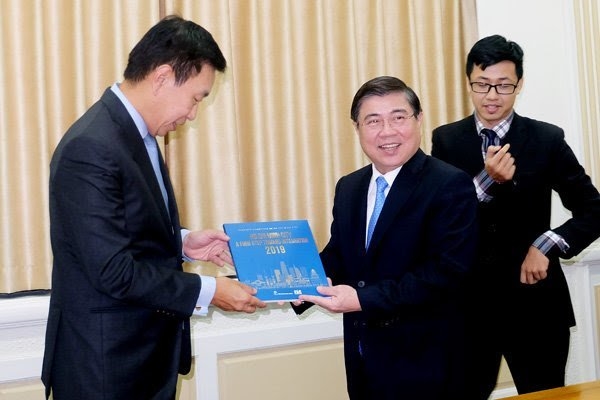 AsemconnectVietnam - Keppel Land, a Singaporean property developer, will develop a luxury hotel within a property complex project, Saigon Centre, in downtown HCMC, said Loh Chin Hua, CEO of Keppel Corporation and chairman of Keppel Land, during a meeting with HCMC People's Committee Chairman Nguyen Thanh Phong on April 5.
The Keppel Land leader said the firm had completed investing in the first phase of the project, including a shopping mall, an office building for lease, which has attracted many multiple-national corporations, and well-operated serviced apartments. Up to 30,000 people visit these locations every day.
Meanwhile, construction of the luxury hotel, as well as a large-scale convention center, will be developed in the next phases of the project. Keppel Land is quickly putting subprojects into service and creating more added values for the entire project, and city center.
Alongside Saigon Centre, Keppel Land is simultaneously boosting investments in another project in the city's District 2, named Saigon Sport City. This is the key project of both Keppel Land and Keppel Corporation, since it is a big-ticket project and requires strong cooperation among many divisions of the corporation, including the urban solution unit.
The Singaporean property firm plans to team up with the world's leading technology firms, such as Microsoft, to develop Saigon Sport City into a symbolic smart urban area in the city. It will deploy technology solutions in security, trade, energy, and sustainable environment, according to the Keppel Land chairman.
Addressing the meeting, the municipal chairman hailed the investing activities of Singaporean investors in the city, including Keppel Land, and stressed that the city will work to improve the business environment to better support local and foreign investors.
Regarding the projects of Saigon Centre 3 and Saigon Sport City, Phong said he expected Keppel Land to quickly finish essential procedures for carrying out the project.
Hua expressed his thanks to the municipal government for creating favorable conditions for the firm to make investment in the city for nearly 30 years. Also, he expected Keppel Corporation to become a long-term partner to invest in the urbanization progress of HCMC and to make contributions to the city's development.
Keppel Corporation works in the fields of marine, oil, and information infrastructure, while providing sustainable solutions for living environments and smart urban projects, apart from the real estate sector. It has worked in 30 countries throughout the world, including the U.S., the U.K., India, and Japan.
To date, Keppel Land has been approved to carry out 20 projects, building over 22,000 houses in Vietnam.
Source: thesaigontimes.vn