US, RoK investors interested in LNG power development in Vietnam
Wednesday, February 12,2020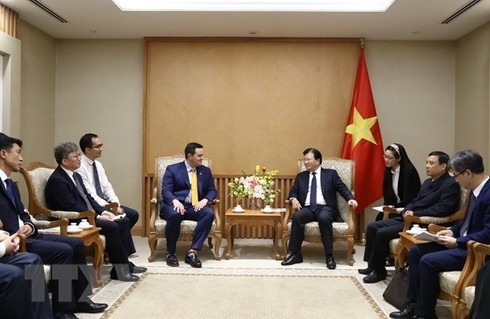 AsemconnectVietnam - Deputy Prime Minister Trinh Dinh Dung on February 11 hosted a reception in Hanoi for a group of investors from the US and the Republic of Korea (RoK) who show their interest in liquefied natural gas (LNG) power development in Vietnam.
During the reception, the Deputy PM noted with the serious intention of the investors while affirming the Vietnamese Government's readiness to incentivize and facilitate the involvement of domestic and foreign firms in power projects in Vietnam.

The demand for electricity in Vietnam is seeing an annual average surge of 10% and the country is diversifying its sources of power towards reducing coal-fired power and raising the share of gas-fuelled power and renewable energy, Dung said, adding that gas-fired power is set to hold 12% of total electricity generation or 17,000 MW, by 2030.

Investment by US investors in Vietnam will contribute to improving the trade balance between the two countries, Deputy PM Dung noted.

The investors expressed their desire to invest in LNG power projects in Vietnam to develop the clean energy source, ensure sufficient power supply for both production and consumption and expand the high quality workforce in the gas-fired power sector.

They said they had undertaken a careful study of conditions related to investment, and pledged to make long-term and effective investment in LNG power projects in Vietnam.

Source: vov.vn