Workshop addresses incentives for technology transfer to LDCs under the TRIPS Agreement
Wednesday, February 12,2020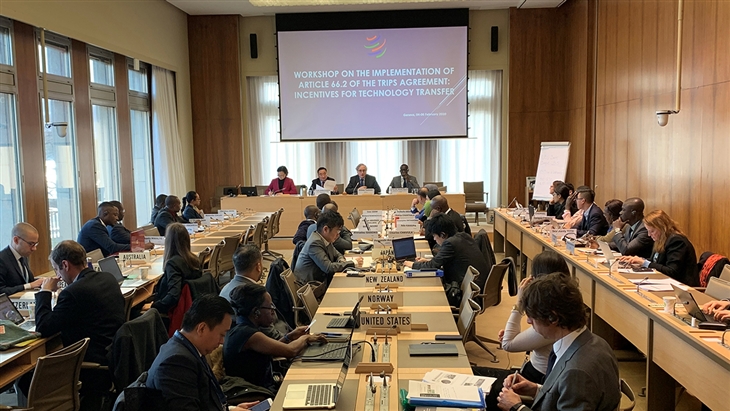 AsemconnectVietnam - A workshop on incentives for technology transfer to least-developed countries (LDCs) under the Agreement on Trade-Related Aspects of Intellectual Property Rights (TRIPS) was held in Geneva on 10 February. Twenty-one capital-based government officials from 15 WTO LDC members and observers took part in the event.
Article 66.2 of the TRIPS Agreement
calls on developed countries to provide incentives to enterprises and institutions in their territories for the purpose of promoting and encouraging technology transfer to LDCs in order to enable them to create a sound and viable technological base.
As on previous occasions, the workshop provided the opportunity to exchange views between cooperation partners and to deepen the dialogue on incentives for transfer of technology to respond to the needs identified by LDCs. The event built upon a series of workshops annually convened in conjunction with sessions of the TRIPS Council aimed at strengthening cooperation in this area and looked at charting ways forward to enhance future dialogue, cooperation and effective use of transparency tools.
The chair of the TRIPS Council, Ambassador Lundeg Purevsuren of Mongolia, and Ambassador Ahmad Makaila of Chad, on behalf of the LDC group, opened the workshop and stressed the importance of an event that addresses a critical area of interest for LDCs within the scope of the TRIPS Agreement. The purpose is to improve stakeholder participation and to enhance the quality of the annual dialogue between developed country delegations and the LDC delegations, they said. WTO members should also aim at enabling LDC members and observers to analyse and enhance the benefits of the transparency mechanism concerning technology transfer measures under Article 66.2 of the TRIPS Agreement.
The workshop included presentations on technology transfer by WTO trainers as well as partner institutions and regional organizations, such as the World Intellectual Property Organization, the Organisation for Economic Co-operation and Development, the African Regional Intellectual Property Organization and the African Intellectual Property Organization.
LDC participants delivered presentations on their priority needs for technological development, related technology transfer projects and their experience with projects discussed in the reports from developed countries on the implementation of TRIPS Article 66.2. Additionally, participants heard presentations from eight developed countries. These presentations help to ensure transparency in the monitoring and implementation of Article 66.2 and provide an opportunity for LDC beneficiaries to learn about specific programmes implemented or planned in their countries.
All LDC participants, many of which have direct and hands-on experience in coordinating projects involving the transfer of technology in their countries, also attended the TRIPS Council and took part in the discussion on the implementation of Article 66.2 of the TRIPS Agreement.