Economic cooperation: One of 3 pillars in Vietnam-ASEAN ties
Sunday, January 26,2020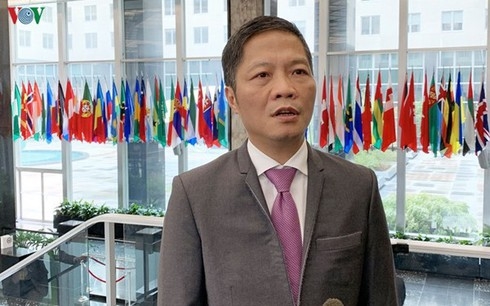 AsemconnectVietnam - Vietnam has assumed the ASEAN Chairmanship this year. In addition to promoting the regional bloc's partnerships and regional connectivity, Vietnam will prioritize economic cooperation.
ASEAN has been a leading trade partner during Vietnam's economic integration since it joined ASEAN in 1996. Two-way trade turnover between Vietnam and ASEAN has risen from nearly 6 billion USD to more than 60 billion USD.
Vietnam is a signatory to 16 free trade agreements, including several "new-generation" deals and deals with 15 members of the G20 group. Minister of Industry and Trade Tran Tuan Anh said this reflects Vietnam's increasing international integration.
He added, "Our cooperation with ASEAN paved the way for further regional and global economic integration. It has elevated Vietnam's position in politics, diplomacy, and economic affairs."
ASEAN economic integration has brought about opportunities to boost trade and restructure the national economy towards a socialist-oriented market economy and a state governed by law.
Minister Anh said, "The ASEAN Economic Community's formation in December 2015 realized a shared vision within ASEAN with Vietnam's active contribution. The ASEAN Economic Community and the ASEAN Vision 2025 are vital to ASEAN's role in Southeast Asia, East Asia and Asia Pacific."
The year 2020 marks the end of the 5-year term of the 12th National Party Congress and the beginning of another 10 years of socio-economic development strategy.
In this context, Vietnam will pursue a consistent and clear development strategy for 10 years and beyond. Specific objectives include ASEAN resilience and innovation, e-commerce, removal of barriers to free trade in Industry 4.0.
Minister Tran Tuan Anh said those are the priorities of this ASEAN Chairmanship year: "As ASEAN Chair, Vietnam should pioneer efforts to improve resilience and rejuvenate cooperative mechanisms between ASEAN and its partners."
Vietnam has proposed 17 economic, trade, investment and manufacturing initiatives since the start of its ASEAN Chairmanship. Existing free trade agreements and the upcoming Regional Cooperative Economic Partnership (RCEP) agreement will create new opportunities for the regional bloc this year.

Source: vov.vn