Series of supporting industry exhibitions gets underway in HCM City
Thursday, December 12,2019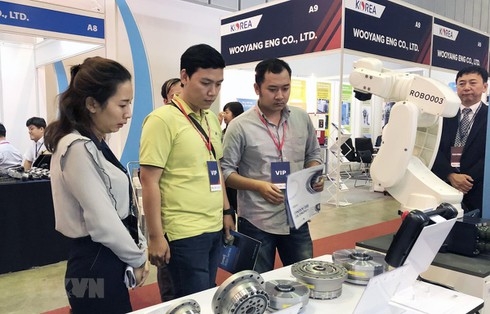 AsemconnectVietnam - The Vietnam International Machinery Fair 2019 & Vietnam Supporting Industry Fair 2019 opened in HCM City on December 11 to great fanfare with participants coming from across the world to take part in the functions.
For this year's event, a total of 300 exhibitors from 12 countries globally are to showcase their products from the supporting industry, cutting-edge industrial technologies, and new production trends from the field across 460 pavilions.
Pham Thanh Kien, Director of HCM City's Department of Industry and Trade, said the exhibition is poised to enjoy the participation of a number of leading brands such as Doosan Infracore, TOPEYE Corporation, Neuromeka, Shinseng Industrial Co., Ltd, HBL Inc., and Chowel Corporation.
Both the Vietnam International Machinery Fair 2019 (VIMAF) and the Vietnam Supporting Industry Fair 2019 (VSIF) are scheduled to conclude on December 14, with the events hosting a wide range of activities including trade exchanges and visits to production factories.
Upon addressing those in attendance at the opening ceremony, Nguyen Thanh Phong, Chairman of the Ho Chi Minh City People's Committee, emphasised that recent years have seen the city implement a range of programs to support businesses.
With regard to the supporting industry, agencies in the southern city have started to undertake a variety of programs aimed at stimulating investment and strengthening connectivity between firms at home and abroad.
The city has gradually developed into a supplier for multinational corporations and a key part of the supporting industry's supply chain.
The annual VIMAF and VSIF exhibitions aim to provide enterprises both in Ho Chi Minh City and nationwide with a platform in which they can seek partners and attract further investment.
Most notably, it is hoped that the occasion will help to promote the development of the city's industrial sector, whilst simultaneously enhancing the competitiveness of businesses, and contributing to Ho Chi Minh City's socio-economic growth.

Source: english.vov.vn/economy/series-of-supporting-industry-exhibitions-gets-underway-in-hcm-city-407439.vov