Binh Duong plays host to 2019 Horasis Asia Meeting
Tuesday, November 26,2019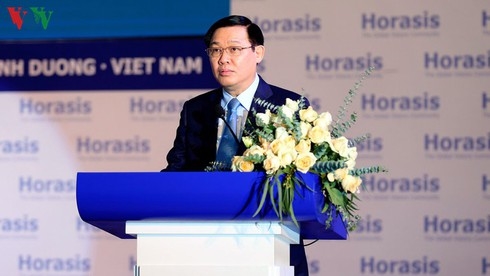 AsemconnectVietnam - As host of the 2019 Horasis Asia Meeting, the southern province of Binh Duong is seeking to elevate its image to international friends whilst taking advantage of the platform to gain additional investment from businesses, said Deputy Prime Minister Vuong Dinh Hue at the forum's opening ceremony.
Deputy PM Hue noted that this year's event is poised to play a key role in the "Binh Duong Smart City 2019" series which has recently been taking place in the city.
He urged Binh Duong to improve its overall business climate and develop a high-quality workforce in order to meet Industry 4.0 requirements and build a sustainable economy in line with relevant environmental protection measures.
It is essential to develop a more modern and attractive living environment that puts a focus on protecting natural resources whilst dealing with environmental issues to create a sustainable smart city, he noted.
Deputy PM Hue expects that the province's future breakthroughs will contribute to the overall prosperity of the southern key economic region and the entire country, adding that the Government will create the optimal conditions for investors to do business in the locality.
Tran Thanh Liem, Chairman of Binh Duong province People's Committee, said that the 2019 Horasis Asia Meeting serves as an important international event that brings together over 1,000 delegates, including top leaders from over 60 countries worldwide.
This collection of people are coming together with the aim of devising thorough solutions that can contribute to the development of a peaceful, stable, and prosperous future.
Liem expressed his hope that Binh Duong province will seek ways in which to reallocate the locality's development resources in a more effective manner.
This should be in line with the province's current situation in order to develop the local economy in a dynamic way in the context of international integration and attempts to build Binh Duong into a smart city in the time ahead, he added.
This year's event is expected to provide a venue for both provincial authorities and the business community to share practical experience, fresh business perspectives, and advanced development models that are in line with current trends.
It is hoped that these factors will contribute to resolving existing problems and consequences arising from the industrial development process.

Source: vov.vn