More players from China join watch market
Tuesday, September 10,2019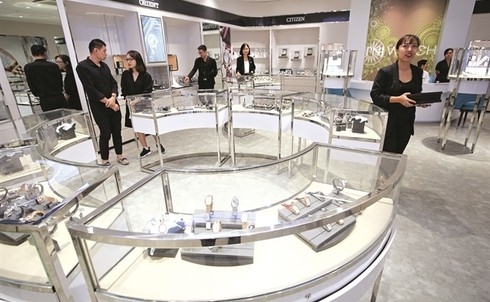 AsemconnectVietnam - At an international watch exhibition held in HCM City, Chinese companies stated that made-in-China watches, with diverse designs and materials and reasonable prices will find a foothold in the Vietnamese market.
The chairman of Guangzhou Watches Association said at the exhibition that many Chinese manufacturers were planning to relocate their factories from China to Vietnam where they can find great opportunities.
China has been the production base of the world's famous watch brands for many years, which has allowed Chinese companies to master technology and production. The country makes famous watch brands such as Seagull, Peacock Memorigin and Longio and others which have been present in Vietnam such as SKMEI, Sunrise, Aolix and Curren.
However, China is also considered the center for imitation watches. According to the Swiss Watch Association, China sells 30 million watches imitating Chinese models, which is even higher than the 25 million genuine products Swiss watch manufacturers sell.
If Chinese watch manufacturers and suppliers join the Vietnamese market, Vietnamese producers will be under pressure.
In Vietnam, PNJ, Doji and The Gioi Di Dong are considered the biggest watch distributors. They are all leading in the jewelry distribution sector and are seeking to increase profit through watch distribution.
A report released by PNJ in 2018 showed that the Vietnamese watch market is worth $750million, or VND17 trillion.

Rong Viet Securities commented that the market is fragmented with no distribution brand holding more than 20 percent of market share.

Seven years ago, PNJ, a well-known jewelry brand, jumped into the watch retail sector. To date, it has opened 22 PNJ Watch shops where thousands of models from 23 brands are being displayed.

Doji, another jewelry brand, joined the market last year. However, it is taking cautious steps in the new playing field distributing only 61 watch models from three brands - Emporio Armani, Michael Kors and Versace.

The Gioi Di Dong, joining the market last March, has been expanding its network very quickly. Just within two months, it has opened 18 watch shops and has had monthly revenue of VND10.8-18 billion.

The company plans to continue running the shop-in-shop model at 30-40 shops, hoping to earn VND5 trillion a year more from the new business field.

Analysts say the watch market attracts retailers because of the profit margin. The gross margin of fashion watches could be up to 60-70 percent, or 40 percent at least.

However, Rong Viet Securities believes that retailing watches is not as lucrative as people think. People now buy more watches, but the price of genuine products is still too high compared with the income of the majority of people.

Source: vov.vn