Vietnam, Taiwan seek to intensify trade ties
Wednesday, August 14,2019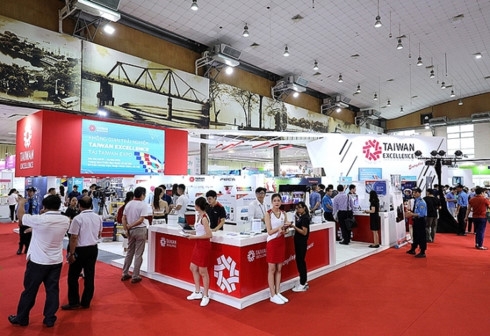 AsemconnectVietnam - Representatives from the Taiwan External Trade Development Council (TAITRA) and Vietnam Chamber of Commerce and Industry (VCCI) affirmed their commitments to strengthening connectivity between the two sides towards stronger co-operation in investment and trade.
Taiwan has been an important economic trading partner of Vietnam for several years. By the end of the first quarter of the year, Taiwan had invested in 2,616 projects capitalized at more than US$31.7 billion in the country, ranking fourth among countries and territories with investment in Vietnam.
Both nations have seen impressive achievements in trade ties. In 2018, two-way import-export turnover surged by 7 per cent to US$16.3 billion in comparison to the previous year.
Both sides have regularly conducted trade promotion activities to bolster connectivity. Most notably, the recent Taiwan Expo 2019 organised by TAITRA has received great attention from several businesses and consumers.
TAITRA President James C.H.Huang recently mentioned that the ongoing US-China trade war has caused a number of challenges for Taiwanese businesses when investing in China. Simultaneously, Vietnam has been able to entice Taiwanese investors due to its attractive business climate, political stability, rapid economic growth, and a young workforce.
The Taiwanese market also holds great potential for Vietnamese enterprises. At present, local firms are exporting key items to Taiwan including mobile phones, aquatic products, footwear, in addition to garments and textiles. There also exists great demand for the import of food and consumer goods for residents and tourists within Taiwan.
Mr James C.H.Huang said Taiwan has resumed expanding co-operation in the fields of garments and textiles and smart production with regional countries, including Vietnam.
In addition, the Taiwanese government has devised policies to help foreign investors gain further insights into Taiwan's market and business climate through expanding trade promotional activities.
VCCI Vice President Hoang Quang Phong said Taiwanese businesses are strong in the apparel and electronics sectors. With Vietnam enforcing a number of new-generation Free Trade Agreements (FTAs), local businesses will be able to co-operate with Taiwanese firms to take full advantage of the opportunities presented by these FTAs.

Source: vov.vn