Czech Republic aspires to bolster all-round cooperation with Vietnam
Thursday, July 18,2019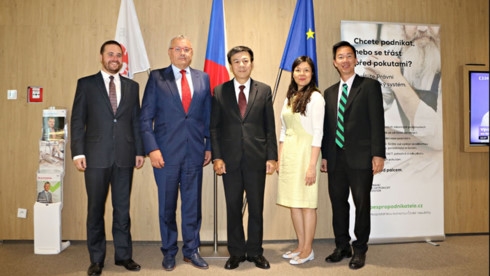 AsemconnectVietnam - Vietnam's ambassador to the Czech Republic Ho Minh Tuan and President of the Czech Chamber of Commerce (CCC) Vladimír Dlouhý discussed measures to step up cooperation in economics, trade, and investment between the two countries during their working session in Prague on July 17.
The Vietnamese diplomat said the recently signed EU-Vietnam Free Trade Agreement (EVFTA) in Hanoi on June 30 will facilitate trade and investment activities between Vietnam and the EU.
Located in the heart of the EU, the Czech Republic has cultivated a time-honoured relationship with Vietnam with the two economies supplementing one another. These factors have opened up a wealth of opportunities to increase two-way trade turnover and facilitate the export of Czech machinery and other equipment to the Vietnamese market.
During the meeting, ambassador Tuan asked Mr Dlouhy to call on European parliamentarians at the European Parliament to soon ratify the EVFTA and put it into practice.
Vietnam and the Czech Republic will celebrate the 70th anniversary of the establishment of diplomatic ties by 2020 and when the EVFTA comes into force, businesses from both countries will benefit from tariff reductions with trade barriers being removed, Tuan noted.
With the goal of helping Czech businesses take full advantage of the trade deal, the Vietnamese Embassy is prepared to co-ordinate efforts alongside the CCC to organise seminars to gain insights into the pacts and help businesses learn more about the roadmap for trade and investment facilitation and liberalization process, thus devising proper business plans, the ambassador said.
In turn, Mr Dlouhy agreed with the proposal by Ambassador Ho Minh Tuan and affirmed his support for the ratification of the EVFTA, in addition to the EU-Vietnam Investment Protection Agreement (EVIPA).
Mr Dlouhy expressed his desire to foster a comprehensive relationship with Vietnam, noting that once in effect, both the EVFTA and the EVIPA will create a window of opportunity to promote the export of goods to Vietnam and maintain trade balance between the two countries.
The Czech Republic are keen to boost links in such fields as automobile manufacturing, food, electronic equipment, and tourism.
The CCC is willing to cooperate with the Vietnamese Embassy to host seminars and forums to help Czech businesses get full information about markets, policies, and cooperation opportunities in Vietnam.
According to statistics released by the CCC, last year's two-way trade turnover reached nearly US$1.2 billion with Vietnam's export staples to the Czech Republic being audiovisual electronic equipment, footwear, rubber, agro-fishery products, tea, coffee, fine arts and handicraft, in addition to metal and plastics.
The country's major imports from the Czech Republic include boilers, mechanics equipment, glass, crystal, plastic products, pharmaceuticals, and industrial seedlings.

Source: vov.vn