Trademark protection important for farm produce to go far in int'l markets
Wednesday, March 15,2023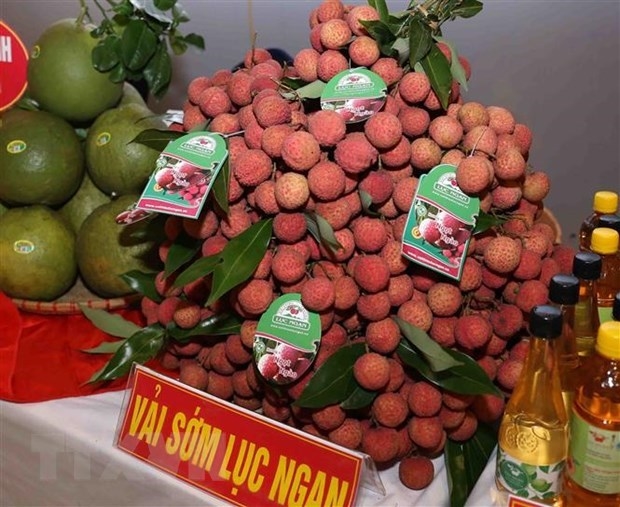 AsemconnectVietnam - It's critical for Vietnam to focus on promoting intellectual property rights for areas associated with agricultural products which would enable farm produce to go far in international markets.
The Ministry of Agriculture and Rural Development was planning to propose the Government approval to build a decree on managing national brands of agricultural products. This is pressing as the export of agricultural products was seeing a significant drop in the context of increasing uncertainties in the global market.
Statistics showed that the agro-forestry-aquatic product export value was estimated at 6.28 billion USD in the first two months of this year, dropping by 22.5% against the same period last year.
Director of the ministry's Agro Processing and Market Development Authority Nguyen Quoc Toan said that economic and political instabilities coupled with changes in production policies of many countries made many farm produce of Vietnam lose advantages, such as coffee, rice, cashew, tra fish and timber and wooden products.
It's time to attach greater attention to protecting brands and geographical indications for farm products to go far in the international markets, he said, adding that protected brands and geographical indications would help increase value while creating confidence among consumers about their origin and quality.
Bac Giang was a good example of protecting the brands of agricultural products in foreign markets.
The northern province was known for the largest "thiêu" lychee production in Vietnam with a total area of more than 28,000 hectares and an annual output of about 200,000 tonnes. The specialty was thiều lychee from Luc Ngan district which provided 120,000 tonnes and brought a value of more than 3 trillion VND each year.
Luc Ngan "thiêu" lychee is currently granted certificates of industrial property protection by the Ministry of Science and Technology in seven countries, including China, Laos, Cambodia, the Republic of Korea, Singapore, Australia and the US. This is also the first agricultural product of Vietnam granted a certificate of geographical indication in Japan, opening up significant opportunities for this product to reach out to international markets.
Bac Giang also developed trademarks for Yen The hill chicken which was protected in China, Laos and Singapore and Chu noodle protected in Japan, the Republic of Korea, Thailand and Laos. The province also built brands for Yen Dung fragrant rice and Van Village wine.
Nguyen Phuc Thuong, Deputy Director of the provincial Department of Science and Technology, said that trademark protection contributed to increasing the value of agricultural products. Products with protected trademarks had guaranteed quality and origin, met the requirements of export markets and gained the trust of consumers.
However, the protection of geographical indications in foreign markets remained complicated in terms of time, procedures and costs, he said.
For example, it took nearly three years to negotiate the protection of geographical indication for Lục Ngạn thiều lychee in Japan.
Many other provinces and cities paid attention to the development of intellectual property for local products.
However, the use of geographical indications for the commercialisation of products remained inefficient.
Stressing that products with protected geographical indications were mainly agricultural products, Mai Van Dung, from the Intellectual Property Office of Vietnam, said there were challenges in the protection of geographical indications.
While there was an increasing trend of protecting processed products, not many processed products of Vietnam were protected, he said. In addition, the production scale of protected products remained modest.
According to Tran Le Hong, Deputy Director of the Intellectual Property Office of Vietnam, the number of geographical indications increased strongly recently but just a few products were successfully commercialised in the domestic market and for exports.
To date, only 40 out of 94 products with protected geographical indications were exported, of which, only 26 were printed on the packaging and labels when exported while the rest of 14 were exported under other brands.
According to Thuong, greater effort must be taken to increase communication and provide training to improve the awareness of intellectual property and form a culture of intellectual property protection as well as encourage innovation.
Consultancies and guidance would also be given to localities, businesses and cooperatives in registering and establishing rights to products of high economic value with a focus on building geographical indications for key products.
Special attention should be paid to foreign market research for commercially potential products to implement protection in export markets.
Trademark protection alone was not enough, he said, adding that it was also critical to strengthen production linkage and develop value chains to ensure traceability, origin and quality of products./.
Source:
en.vietnamplus.vn/trademark-protection-important-for-farm-produce-to-go-far-in-intl-markets/249861.vnp