Directive on solutions to promote growth and sustainable development in the Central
Tuesday, December 31,2019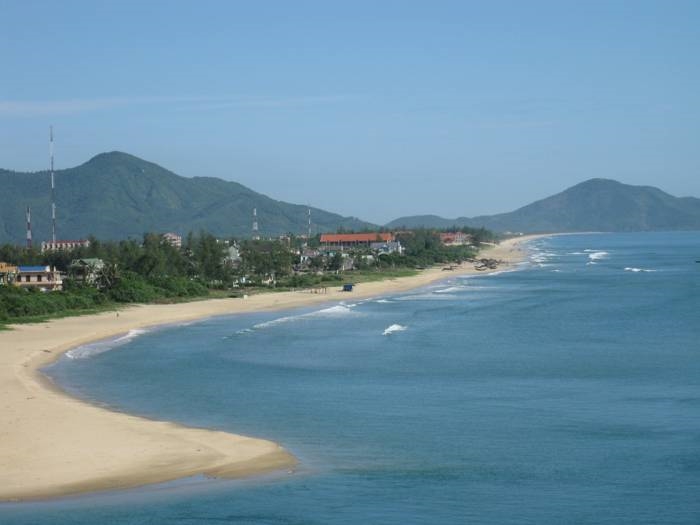 AsemconnectVietnam - Improve business environment, enhance competitiveness, create conditions for businesses, cooperatives and business households to develop, focusing on advantageous industries of the region such as seaports, airports, economic zones, tourism resorts, coastal urban areas, fishing ports, aquaculture, fishery logistics centers, marine-attached tourism, historical and cultural tourism, cultural heritages, tangible and intangible, natural heritage...
Directive on solutions to promote growth and sustainable development in the Central
The central region from Thanh Hoa to Binh Thuan is linked by 14 provinces and centrally-run cities with a coastline of up to 1,900 km, with many potentials and advantages for developing marine economy; Large infrastructure is concerned with basic investment with 9 airports, including 5 international airports; 14 groups of deep sea ports, including 8 national general seaports, regional hubs and 11/17 coastal economic zones of the country. The Central Region has gained many important results such as the average GRDP growth rate of the whole region in the period of 2016-2018 reached about 7.62% / year, the proportion of contribution to GDP of the whole country in 2018 reached 19.28. %. The economic restructuring in a positive direction, increasing the proportion of the service sector, industry, state budget revenues of localities in the region all met and exceeded the yearly estimates in the 2016-2018 period, the environment business investment continues to be completed, development of marine economy is concerned, social issues, environmental protection, health care, education and training and poverty reduction in the Region are focused on. .
However, the Central Region still has some shortcomings and limitations that need solutions to be implemented or it will become the development bottleneck of the Region, namely: the growth motivation of the Region in general, the role of industry in particular, it is still weak and unsustainable. There are not many production and business projects, large industrial projects, especially processing and manufacturing industries; Many localities have restructured the economy still slowly, with unclear priorities in the sector development strategy; Some provinces and cities have not identified marine economy based on their local comparative advantages; Institutions for economic development in the Central provinces and for the whole region are lacking and incomplete, especially decentralized institutions, economic management and regional integration institutions; The quality of human resources is still low and often follows the needs of the market; The central key economic region has not yet shown its role as a growth nucleus and a leading economic driver of the region; Budget revenue is not sustainable, especially revenue from land use fees, lottery and taxes, fees account for a high proportion of the total domestic revenue; Transport infrastructure connecting with the Central Highlands region is weak and inadequate; The quality, business environment is not high, the capacity of State management, the capacity of officials, public servants and officials in many localities is weak. In addition, there are other challenges that need to be addressed such as environmental pollution, sustainable poverty reduction, ethnic minorities, and policy families.
In order to create favorable conditions for the Central Region to bring into full play its potential, advantages, breakthrough and sustainable development, the Prime Minister requests the Ministers, Heads of ministerial-level agencies and Heads of Government-attached agencies. Chairmen of the People's Committees of the Central Region provinces and cities (hereinafter referred to as ministries, branches and localities) shall focus on directing the implementation of the following objectives and solutions:
I. Objectives
1. Applying the strategy of sustainable marine economic development in the spirit of Resolution No. 36-NQ / TW of October 22, 2018 in the five economic pillars: (1) Fishery, focusing on fishing and farming planting and processing aquatic and marine products; (2) Tourism, especially sea and island tourism, and exploiting the tourism strengths of the Region; (3) Seaports and logistics services; (4) Develop manufacturing and processing industries associated with seaport advantages; (5) Renewable energy: wind power, solar power and other types of energy research.
2. Concerned and continue to implement synchronously solutions on regional linkage and regional development institutions, strong coordination mechanism in the region, focusing on building breakthrough regional planning, arousing local potential advantages, allocating resources appropriately, building institutions favorable for the development of the Region. Continue to invest in transport infrastructure connecting inter-regions and intra-regions.
3. Improve business environment, enhance competitiveness, create conditions for businesses, cooperatives and business households to develop, focusing on advantageous industries of the region such as seaports, airports, economic zones, tourism resorts, coastal urban areas, fishing ports, aquaculture, fishery logistics centers, marine-attached tourism, historical and cultural tourism, cultural heritages, tangible and intangible, natural heritage...
4. Strengthening the protection and development of afforestation, proactively coping with climate change, preventing natural disasters, especially sea level rise and saline water intrusion. Preventing, controlling and significantly reducing pollution of the marine environment; regional leader in minimizing ocean plastic waste.
II. Mission, solution
1. Mechanisms and policies
a) Ministry of Planning and Investment
- Research and develop specific mechanisms and policies to create conditions for the Central Region and Central Key Economic Region to develop sustainably; studying and finalizing the regional coordination mechanism, the operation mechanism of the Council of Key Economic Zones in the direction that they must be real, effective and effective; study, finalize and report to competent authorities reasonable zoning plans taking into account traditional, historical, cultural, ethnic, economic and transport links.
- Accelerate the development of national master plans and regional plans in the 2021-2030 period according to the Planning Law; guide transition localities in implementing valid plans; identify difficulties and problems and propose competent authorities to consider and promptly handle them; coordinate with localities in speeding up the elaboration of provincial plans in the 2021-2030 period according to law provisions on planning.
- Promptly publicizing the gross output data in the provinces and cities in the Region; Preside over and provide guidance on the method of calculating statistics on the marine economy and the coastal strip to unify the whole country.
b) Ministry of Natural Resources and Environment
- Accelerate the development of the National Marine Spatial Plan for the 2021-2030 period according to the Planning Law.
- Perfecting institutions for sustainable development of marine economy, giving priority to the completion of the legal corridor, studying and proposing solutions to perfect the integrated and unified management mechanism of the sea; addressing land management bottlenecks.
c) People's Committees of provinces and cities in the central region
- Localities in the Region should consider focusing on performing tasks and solutions stated in the Government's Resolutions on tasks and major solutions for implementing the socio-economic development plan and budget estimate. State policies and Resolution No. 02 / NQ-CP of the Government on continuing to perform key tasks and solutions to improve business environment, enhance national competitiveness in 2019 and orientations by 2021, the central political task of the party committees, authorities, departments, agencies, districts, towns, communes, and wards will be drastically implemented; identify important roles of private economy, state economy, cooperative economy to pay attention to promoting development; proactively reviewing and implementing timely solutions to remove difficulties for production and business, promoting growth, successfully implementing the annual and 5-year plans for the 2016-2020 period.
- Arouse aspirations to rise strongly of the whole region and each locality. Innovating thinking, promoting the spirit of self-reliance, resilience and identifying breakthrough factors to strive to rise up, develop rapidly, sustainably and contribute practically to the realization of development aspirations of the region and the whole country.
- In order to ensure sustainable revenue sources for central regions, in the context of complicated real estate market, localities in the Region need to narrow the cases of leasing land with one-off rental payment for both the lease period, shifting to the form of leasing land with annual rental payment, ensuring a stable income from the land in the spirit of the National Assembly's Resolution No. 82/2019 / QH14 of June 14, 2019.
- Implement synchronously solutions to ensure social security, improve people's income and life in accordance with each stage of development. Ensuring that all people have equal access to basic services and social welfare, are facilitated comprehensive development and good integration with the community; effectively implement policies to support vulnerable population groups. Implement synchronously, comprehensively and effectively poverty reduction programs and projects; create opportunities for poor households to access support policies on land, credit, vocational training, employment and career change; support and create conditions for poor households to develop production and increase incomes to sustainably escape poverty.
- The Party Committees at all levels and grassroots administrations pay more attention to the tasks of ensuring political and social stability, doing well the work of receiving people, settling complaints and denunciations, leaving the security and order complicated. In particular, it is necessary to well perform the task of preventing and fighting against corruption and wastefulness associated with the work of building and regulating the Party, and building the responsibility of setting an example of the head according to the Central Resolution. To attach importance to building a clean and strong apparatus from the grassroots, saying no to negative, wholeheartedly, wholeheartedly serving the people.
- Renovating and reorganizing the apparatus of the streamlined and effective political system according to Resolution No. 18-NQ / TW and Resolution No. 19-NQ / TW of the Central Executive Committee in accordance with the socialist-oriented market economy. Streamlining staff associated with restructuring, improving quality, effective use of staff, civil servants and officials; reduce recurrent expenditure and contribute to wage policy reform; thereby focusing resources to perform tasks related to regional connectivity, climate change response.
- Actively responding to climate change, sea level rise and prevention of natural disasters and drought. Environmental protection, conservation, sustainable development of marine biodiversity; Continue to protect forests, increase afforestation development so forest cover in the Central region ranks first in the country.
2. Regarding linkages of branches and domains
a) Ministry of Transport
To report to the Prime Minister in the first quarter of 2020 on the situation of operation of seaports in the Central region and solutions to effectively exploit available ports and airports; investment plan to complete regional highways, coastal roads and transversal roads connecting the Central Coast provinces to the Central Highlands; connecting existing railways with seaports.
b) Ministry of Industry and Trade
Prioritizing the development of the network of logistics centers in the region, taking advantage of geographical location, near the supply of goods such as industrial parks, port systems, close to consumers. Support and create conditions for provinces and cities with potentials for developing renewable energy (wind and solar power).
c) Ministry of Culture, Sports and Tourism
Report to the Prime Minister in the second quarter of 2020 on the implementation of the Scheme on Restructuring the tourism industry to meet development requirements into a key economic sector approved by the Prime Minister in Decision No. 1685 / QD-TTg dated December 5, 2018, which clarifies the results of implementing key tasks such as building a tourism market information system, regulations on coordination of tourism activities by region, management model national tourist area; the development of the contingent of trainers and trainers in the field of tourism; support for community tourism development; the current situation and solutions to enhance the connectivity in tourism activities, aiming to better exploit the tourism potential of the Central region.
d) Ministry of Agriculture and Rural Development
Develop a strategy for development of aquaculture on the sea, which assesses the potential and advantages of the provinces and cities in the Central region to 2030, with a vision to 2050; to study forest restructuring and forest economic formation; Aquaculture orientation, intensification of processing, deep value chain to report to the Prime Minister in November 2019.
e) Ministry of Information and Communications
Research and develop mechanisms and policies to link regions, connect and share databases in order to develop and apply information technology, build digital government, electronic government and smart cities to solve problems, resolving internal issues, improving the competitiveness of the Region to report to the Prime Minister in the first quarter of 2020.
g) Ministry of Science and Technology
- Research and support the construction of technology incubation centers and science and technology business incubators in universities, enterprises, economic zones, industrial parks and scientific urban areas in the province , a city in the Region from which to form the nucleus of scientific and technological application activities and innovation.
- Focusing on researching and applying new and high technologies to developing key products, having the strengths of the Central Region in the fields of agriculture, fisheries, pharmaceuticals, tourism.
h) Ministry of Education and Training, Ministry of Labor, War Invalids and Social Affairs
Guide and support provinces and cities in the Region to renovate and improve the quality of vocational education, develop human resources, especially high-quality human resources in the context of industrial revolution 4.0, to meet requirements demand for socio-economic development of the Region.
i) People's Committees of central provinces and cities
- Coordinate closely with ministries and branches to well perform the coordination activities among provinces and cities in the region in accordance with the Decision No. 941 / QD-TTg dated June 25, 2015, No. 2059 / QD. -TTg on November 24, 2015 and No. 2360 / QD-TTg dated December 22, 2015 of the Prime Minister; promptly propose to the Government appropriate mechanisms and policies to remove difficulties and obstacles in the process of organization and implementation. Continuing to organize the good implementation of Resolution No. 39-NQ / TW of the Politburo, term IX, promoting socio-economic development and assurance of national defense and security in the North Central and Central Coast regions. No. 25-KL / TW of the Politburo on the continued implementation of Resolution No. 39-NQ / TW and the Prime Minister's Decisions on the establishment of the Steering Committee, Coordination Group and Regulation on coordinating economic regions key, which focuses on a number of tasks:
+ Building modern coastal urban areas, identifying the sea as the center for calculating the urban urban construction planning. Focus on building coastal cities with favorable conditions and advantages to spread nuclear to promote development and become economic centers of each sub-region.
+ Continue to implement Decree No. 17/2018 / ND-CP dated February 2, 2018 amending and supplementing a number of articles of Decree No. 67/2014 / ND-CP dated July 7, 2014; Decree No. 89/2015 / ND-CP of October 7, 2015 amending and supplementing a number of articles of Decree No. 67/2014 / ND-CP of July 7, 2014 and Decree No. 67/2014 / ND- CP July 7, 2014 on a number of fisheries development policies, organizing short-term training courses for fishermen. To quickly review the implementation of the above Decrees; On that basis, propose mechanisms and solutions for the next period to better meet practical requirements.
+ Strengthening regional and subregional links and links between central provinces and the Central Highlands, for cooperation and development. Collaborate with Central Highlands provinces in the storage and regulation of fresh water. Promote co-ordination between localities inside and outside the region in the process of promoting investment, mobilizing and allocating resources, building socio-economic infrastructure; training, attracting and creating jobs; scientific research and technology transfer; building inter-provincial and inter-region tourism programs and routes; providing information, building socio-economic database for regions in service of forecasting and coordinating environmental protection and coping with climate change.
- Training human resources to ensure quality and reasonable industry structure. Focusing on training high-quality human resources, especially human resources in a number of fields: management leadership, science and technology, transportation, services, tourism, manufacturing and processing ... To meet leadership, management, production and business requirements in the context of Industry 4.0. Developing human resource training associated with the needs of enterprises / labor markets and characteristics and objectives of socio-economic development of the Region. Continue to accelerate the labor restructuring process towards reducing the proportion and number of employees in the agriculture, forestry and fishery sector, increasing the size and proportion of non-agricultural labor in line with the economic development process to rapidly increase social labor productivity. Review and reorganize the vocational training institution network; strengthen cooperation between vocational training institutions and enterprises; synchronously connecting vocational training with creating jobs in the country and sending workers to work abroad under contracts.
- Controlling and overcoming environmental pollution, sources of pollution in industrial parks, clusters, trade villages, river basins and production establishments which are likely to cause serious pollution. Strengthen inspection, examination and resolutely strictly handle violations in the field of environmental protection, especially the areas that are pressing for people. Beside industrial development, more attention should be paid to urban development, and the harmonization and development of industrialization associated with urbanization.
3. Solution on resources
a) Ministry of Planning and Investment
- Assume the prime responsibility for, and coordinate with concerned agencies in, advising competent agencies to prioritize the arrangement of resources for construction of basic infrastructure works, coastal roads, and key projects of regions and projects to overcome drought and protect freshwater sources to ensure sustainable development.
b) Ministry of Finance
- Assume the prime responsibility for coordinating with concerned agencies in studying tax, charge and decentralization mechanisms for provinces and cities in the region, suitable to the development level of each locality.
- Assume the prime responsibility for, and coordinate with the Ministry of Planning and Investment in, studying rational rates of regulation in the period of stabilizing new budgets for local budgets to ensure corresponding contributions of each provincial budget / regional cities for the central budget, creating resources for localities in the region to increase investment in developing technical and social infrastructure; studying and building mechanisms to leave revenues for localities to invest in building basic research centers and scientific research cities.
c) Ministry of Transport
- Concentrate State resources to invest and synchronize socio-economic infrastructure, especially key transport infrastructures, with the effect of spreading regional links. Coordinate with localities to call for investors to pay attention to investing in expressways in the form of PPP, taking advantage of ODA and other lawful capital sources for infrastructure development. Combining transport infrastructure investment with urban development to ensure publicity and transparency to increase attractiveness to investors.
d) People's Committees of provinces and cities in the central region
- In the context of extensive international economic integration from the CPTPP, EVFTA, EVIPA Agreements, creating favorable conditions for space, resources and opportunities for the private sector to develop more smoothly; ensure the private economy is equal before the law, in competition, allocating resources with other economic sectors; Honoring typical projects and businesses that have contributed, condemned and struggled against businesses that violate business ethics; create opportunities to access resources, cut production and business costs, reduce product costs ... creating an open, transparent and favorable environment. Doing well the attraction, calling and investment orientations, having supporting policies according to priority groups of development in each area based on advantages and potential of each locality. Renewing mechanisms and policies to attract maximum financial resources from all economic sectors, especially mobilizing idle capital from the population to develop production and business.
- Promote FDI attraction in line with the process of integration and selection, projects with high technology level, environmentally friendly, creating jobs and increasing people's income. To renew foreign investment promotion activities in the direction that it is necessary to concentrate on branches and domains where the region has advantages; targeting potential partners, especially developed countries, and continuing to expand to partners who have invested heavily in the region. Encourage entrepreneurship and innovation in all economic activities.
- Mobilize and effectively use State capital to develop technical and social infrastructure, develop human resources, science and technology, upgrade local health care, protect the environment and implement National target program. Investing from the budget for important infrastructure development projects and projects, but it is difficult to attract outside investors; enhance the attraction of calling for investment in the form of public-private partnerships (PPP), especially in the transport sector, promoting the advantages of waterway transport of the Region. Strictly conduct the auction of land use rights, especially in urban areas to create resources for investment in infrastructure, to create a foundation to promote regional connectivity, socio-economic development and create the most favorable conditions for the citizen.
- Research and develop economic zones, hi-tech parks, high value-added processing and manufacturing industrial parks and eco-industrial parks; investing in expanding airports, including international airports in the direction of privatization, to ensure compliance with current law provisions.
- Restructure the state budget according to Resolution No. 07-NQ / TW of November 18, 2016 of the Central Executive Committee. Accordingly, restructure the state budget and manage public debt in the direction of ensuring a safe, sustainable finance, contributing to macroeconomic stability; strengthening the mobilization, management, allocation and effective use of financial resources, and promoting socio-economic development.
III. Organization of implementation
Ministries, central branches and People's Committees of provinces and cities in the Central Region shall direct agencies and units to implement the tasks stated in this Directive, and take responsibility before the Government and the Prime Minister. The Government shall review the implementation results, periodically evaluate the implementation results and send them to the Ministry of Planning and Investment (before June 15 and December 15 every year) for summarizing and reporting to the Government and the Prime Minister. Government at the Government's regular meetings in June and December each year. Other ministries and agencies shall closely coordinate with provinces and cities in the Central Region and the Central Key Economic Region in order to promptly remove difficulties and create favorable conditions for the development of the Region.

Long Giang
Source: Vitic / thuvienphapluat.vn