Adjusted master plan on construction of Mong Cai border gate economic zone till 2040
Tuesday, December 31,2019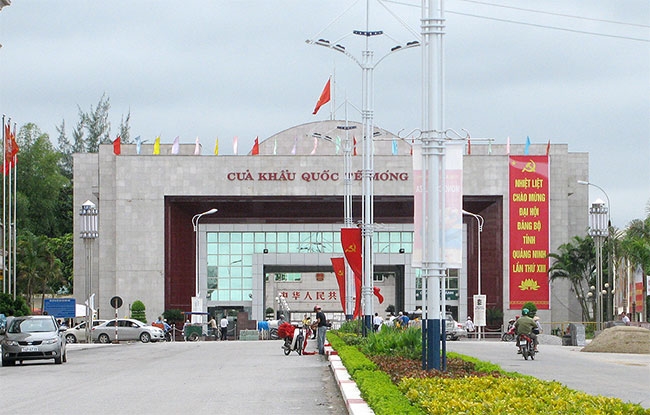 AsemconnectVietnam - Being an important economic development center of the Northern region, the economic belt of coastal areas of Tonkin Gulf and the focal point of Kunming economic corridor (China) - Hanoi - Hai Phong - Mong Cai - Phong Thanh.
Adjusted master plan on construction of Mong Cai border gate economic zone till 2040
1. Scope and boundary:
The planning scope is about 121,197 hectares, of which the land area is 66,197 hectares and the sea surface area is 55,000 hectares, including the natural area of ​​Mong Cai city (including 17 administrative units under the wards: Tra Co, Tran Phu, Ka Long, Ninh Duong, Hai Yen, Hai Hoa, Binh Ngoc, Hoa Lac and communes: Hai Tien, Van Ninh, Hai Dong, Quang Nghia, Vinh Thuc, Vinh Trung, Hai Son, Hai Xuan, Bac Son) and 09 administrative units of Hai Ha district (Quang Ha town, Quang Dien, Quang Phong, Phu Hai, Quang Thang, Quang Thanh, Quang Minh, Quang Trung and Cai Chien communes). The boundaries of the planned area are specified as follows:
2. Planning period: Short-term period to 2030, long-term period to 2040.
3. Objectives:
- To build Mong Cai border-gate economic zone into a sustainable and dynamic economic growth pole of Quang Ninh province and the Northern key economic region; in line with Vietnam's sea development strategy, Quang Ninh province construction planning, socio-economic master plan of Mong Cai border-gate economic zone and socio-economic development orientations of Quang Ninh province.
- To build Mong Cai city and Quang Ha town into a modern city associated with the construction of Hai Ha port industrial park; to be a national and international tourist center, a port and port logistics center, a financial, trade and border service center; have a synchronous and modern infrastructure system and complete service network; attract investment, attract workforce, ensure green and clean environment based on application of environmentally friendly technology.
- Defense - security is guaranteed, a solid line of defense to protect national sovereignty.
- As a legal basis to implement subdivision planning, detailed planning of functional areas and construction investment projects of the Economic Zone.
4. Characteristics:
- Being an important economic development center of the Northern region, the economic belt of coastal areas of Tonkin Gulf and the focal point of Kunming economic corridor (China) - Hanoi - Hai Phong - Mong Cai - Phong Thanh.
- Being a center of border trade, trade, tourism, services and seaports, industry and general services with high quality products of Quang Ninh province and the Northern key economic region.
- Being a national tourist area with nature of sea and island tourism, border gate trade.
- Being a green, modern and sustainable urban sea;
- Being an area with a strategic and important position in terms of security and defense of the Red River delta and the country.
5. Preliminary development forecast
- Preliminary projection of population size: around 2030, about 310,000 - 316,000 people; by 2040, about 460,000 - 470,000 people. Tourism development forecasts: about 5 million tourist arrivals by 2030; by 2040 about 6 million visitors.
- Forecast of construction land until 2040: Total demand for construction land: about 14,000 ha, an average of 300 m2 / person, of which:
+ Civil land: 3,000 - 4,000 ha, average of 65 - 85 m2 / person.
+ Non-residential land: 10,000 - 11,000 ha, on average 215 - 235 m2 / person.
(Forecasting of land size and population will be concretized during the study of planning adjustment).
- Economic and technical standards applied in urban development and other functional areas are in principle based on grade II urban standards. Encourage the application of international standards and standards appropriately to put into research in the project, as a premise to build Van Don economic zone to develop according to the model of smart cities and green cities.
(Specific targets will be determined during the adjustment study of the general planning).
6. The requirements of research focus in the content of adjusting the general planning on construction of Mong Cai border gate economic zone
- Overall review of the contents of the general planning approved in 2015 and the actual situation of urban development in Mong Cai border gate economic zone with comparison of criteria to serve as a basis for adjustment forecasts. Impact assessment of orientations from relevant plans and new changes in socio-economic development of countries, regions and provinces to identify major issues that need to be adjusted in the general planning scheme.
- Analysis of new drivers to forecast development needs in the new period to ensure that development orientations need to be in harmony with the requirements of preserving and promoting the values ​​of natural landscapes, tourism and historical relics cultural history towards sustainability and environmental protection in the region.
- Proposing adjustments on urban structure, functional subdivision, and distribution of urban centers. Proposing strategic solutions to overcome shortcomings in the development process of Mong Cai border-gate economic zone in terms of technical infrastructure, land use, and socio-economic infrastructure development with high quality, dealing with environmental issues, adapting to climate change. Proposing solutions for controlling landscape architecture and urban management according to planning (creating architectural accents to create a unique identity for Mong Cai border-gate economic zone on the principle of conservation promoting cultural values natural history and landscape).
- Developing strategic programs and projects that need investment priority. Programs and projects need to be highly feasible, flexible, and meet the immediate needs of development as well as have long-term stability, which is the driving force to promote economic growth of the economic zone. Mong Cai gate.
7. Requirements on the contents of the adjusted master plan on construction of Mong Cai border gate economic zone:
On the basis of reviewing and inheriting reasonable factors of the general construction planning scheme of Mong Cai border gate economic zone, which was approved by the Prime Minister in Decision No. 1626 / QD-TTg of September 18, 2015. , assessing the strategic orientations of the country and Quang Ninh province for Mong Cai border gate economic zone in order to optimally exploit and develop land funds and development potential of each region; propose functional areas, social infrastructure and reasonable technical infrastructure for the economic zone.
The content of the study complies with the Construction Law No. 50/2014 / QH13 dated June 18, 2014; Decree No. 44/2015 / ND-CP dated May 6, 2015 of the Government detailing a number of contents of construction planning and clarifying some of the following contents:
a) Assessment of natural conditions and current situation:
- Analysis and evaluation of natural characteristics of topography, climate, hydrology, geology ..., characteristics of ecological landscape, natural resources, cultural and tourism resources Mong border gate economic zone Cai and surrounding areas affect the economic zone development orientation. Assessment of construction land fund on the basis of favorable, unfavorable construction zones and construction ban.
- Assessment of socio-economic development: Overview of socio-economic development of Quang Ninh province, Mong Cai city and districts of Hai Ha and Van Don, real situation of development of industries, key areas; current status of population and labor.
- Assessing the current status of land use and landscape space: Statistics of land use status in Mong Cai border gate economic zone and neighboring districts; analysis and evaluation of land use efficiency and existing land use and spatial landscapes that need to be adjusted to meet development practice and requirements.
- Assessment of the current status of technical and environmental infrastructure systems: Including technical preparation, transportation, water supply, sewerage, power supply, lighting, solid waste treatment, cemeteries ... in scope of planning research. Identify outstanding issues on the urban technical infrastructure system that need to be addressed in order to improve urban quality with grade-I urban standards.
- Review relevant programs, projects and projects and the implementation of the general planning 2015 to date.
- General assessment of the current situation, proposing key contents to be adjusted in the new planning; identify strengths to exploit as a basis for the goal of sustainable development.
b) Analysis and evaluation of the role, position, potential and development motivation:
- Analyzing the role and position of Mong Cai border-gate economic zone in relation to regions (provinces, northern midland and mountainous areas, northern coastal region, ...), national and international (research To study and connect with the economic and transport development spaces of Dong Hung city and Phong Thanh port on the Chinese side. Identify potentials, development advantages, development cooperation relationships and identify development dynamics, select spearhead economic sectors in each period, creating the spillover of the door economic zone Mong Cai.
- Focusing on in-depth assessment of the potentials and strengths of Mong Cai border-gate economic zone in the areas of border trade, tourism, commercial services, historical and cultural culture, and money making to develop economic zone until 2040.
c) Space development orientation
- Research, review and inherit appropriately the orientations of the General Planning 2015 and relevant sectoral plans; On the basis of landscape terrain, the ability to connect infrastructure combining specific factors, research, propose spatial development structure and functional subdivision structure for Mong Cai border gate economic zone in the whole area. rules of spatial harmony, flexibility in sharing functions and requirements for development control, as follows:
- Adjustment of urban structure to ensure maximum exploitation of the advantages of natural landscape, water surface, river and sea (Ka Long river, five lakes in the Northwestern area of ​​Mong Cai city, ...) into urban space combines drainage and urban parks to build the image "Urban tourism sea islands - border trade".
- Promoting the value of the old street area in the inner city of Mong Cai, building a typical image to create an attractive urban core space on tourism, border gate economy to ensure urban infrastructure conditions. Integrating border space in the economic and commercial space of the province and the region.
- Adjust the location and size of urban development areas, service tourism in accordance with practical conditions, especially in islands and coastal spaces.
- Adjust existing land use functions in accordance with land management and planning orientation (especially the positions and sizes of national defense and security land, protective forest land).
- Adjust the direction of highways and high-speed railways in accordance with the reality of implementation in Vietnam and facilitate the connection with the Chinese roads and railways that have been invested to ensure the operation of the land fund to meet development needs.
- Proposing orientations for developing concentrated functional urban service areas for the Northern region, exploiting mountain spaces for tourist activities and ecological urban areas without committing to protection forest land.
- Orientations for building and developing eco-agriculture and urban agriculture associated with tourism and services, giving priority to developing hi-tech agriculture and concentrated agricultural production according to certified agricultural value chains.
d) Proposal for land use in the whole area and functional areas
- Proposing adjustment of land use planning for functional areas and main work items according to the selected structure and subdivision.
- Identify economic and technical indicators related to construction and land use in each area to serve development management and control.
- Determining land fund of areas preserving historical and cultural relics Dinh Tra Co, Xa Tac temple, .. old street spaces, border areas associated with the history of economic zones, protected areas To preserve nature, exploit landscape of Ka Long river, Bay area, island space for tourism, development reserve land ... on the basis of harmonious distribution, ensuring landscape and easy to deploy and perform.
- Determining land use functions for areas; determination of population density norms and land use criteria; propose land use plans suitable to each stage of development; determine the land fund planned for urban development.
d) Proposing orientations for development of landscape architecture (urban design)
- Identification of architectural areas, landscapes, central areas, gateway areas of the urban center, main spatial axis, large squares, green space - water surface, urban accents and recommendations principles and requirements of organizing space and architecture for functional areas of the border-gate economic zone.
- Identify solutions to effectively preserve and promote urban spaces with historical and cultural values, such as Mong Cai border gate area, clusters and valuable cultural-historical relics. Especially, in the city, province and the nation: Tra Co Communal Temple, Tac Commune Temple, Nam Tho Pagoda, Tran Phu Hill, ...
- Sea and island ecological space; spatial landscape axes connected to external roads, international border gates ...
f) Planning orientations for socio-economic infrastructure systems
Planning orientations for development of a system of socio-economic infrastructure works include: industry, services, tourism, working offices, houses, healthcare, education, culture, physical training and sports, ... meeting the socio-economic development needs of Mong Cai border-gate economic zone and its vicinity according to development stages.
To plan the development of socio-economic infrastructure systems along the direction of high quality, ensuring favorable access of people, tourists and laborers, suitable to the characteristics of Mong Cai border gate economic zone. .
g) Planning orientation of technical infrastructure system
- Technical preparation:
Review and identify suitable solutions for ground level and surface water drainage for urban areas and other construction areas in the whole economic zone; ensure flood and flood safety; prevention of natural hazards ... to cope with climate change and sea level rise. Select the model of the storm water drainage system, identify the main drainage basins, the structure of the drain and ditch networks in the concentrated construction area of ​​the economic zone. Proposing solutions to revetment preventing erosion. Zoning off areas where construction is banned or restricted due to geological structure, topography and natural disasters.
- Regarding traffic planning:
Priority is given to the development of a multimedia transport network that facilitates convenient connection between internal and external transport systems, organizing roads, railways and waterways strong enough to meet transport needs. Increased loading of the economic zone under new conditions (building new bridges across the Ka Long River to China and new seaports), decentralizing the grading of urban transport routes and proposing design solutions for the network Internal transport grid. Development planning of public transport system, clean transportation and waterway transport connecting islands. Proposing networks and constructions supporting the development of public transport operating in border-gate economic zones as well as connecting with other urban areas and surrounding areas. Determine the location, scale and number of traffic hubs.
- Regarding water supply planning:
Analyzing and assessing water resources, determining norms and demands of water use, proposing solutions for water supply planning and protection of water sources, projected focal works, network of water supply and repair pipelines fire and specifications.
- Planning on electricity supply and lighting:
Determining targets and demands of electricity use; choose the balance of power sources; propose solutions to design the power supply network, expected focal works for each planning period. Calculate demand and propose solutions for intelligent lighting. Proposing the exploitation and use of environmentally friendly renewable energy sources such as wind and solar power.
- Regarding communication planning:
Planning orientation of passive telecommunications infrastructure system, expected focal works for each stage of planning and synchronous optical transmission network in the direction of using common infrastructure, expanding the system public telecommunications to meet the demand for use, serving socio-economic development, urban development towards smart cities.
- Planning on wastewater drainage, solid waste collection and treatment, cemeteries:
Identify targets and forecast volumes of sewage drainage, solid waste and cemetery land demands. Orientation of wastewater and solid waste collection and treatment system; cemeteries and funeral homes.
h) Strategic environmental assessment
Identify and forecast environmental impacts caused by socio-economic development activities. Delineation of nature protection areas, landscape areas, areas banned from construction, conservation areas ... areas for protection of clean water sources, waste water treatment, dumping sites, areas affected by dust, smoke and gas toxic, noise ...
Propose solutions to protect the environment, overcome pollution and environmental impact factors in the construction process, focusing on solutions to control pollution of the marine environment with solutions to respond to climate change and sea level rise, ensuring sustainable development.
i) Proposal of priority programs and projects and implementation resources
Divergence the implementation and identify specific development goals for each planning period. Proposals for projects with priority for investment are mainly meant to create motivation for development, ensuring that they are in line with forecasting resources for implementation. First-time planning of technical, social and environmental protection systems. Proposing strategic projects, roadmap and modes of implementation.
k) Other requirements
- Construction planning needs to attach importance to economic, cultural and social development with national defense and security.
- Proposing planning management regulations in accordance with the planning scheme and complying with the relevant laws and practical requirements.
8. Composition of records
Dossier composition and project contents comply with the Government's Decree No. 44/2015 / ND-CP of May 6, 2015 and the law on planning and construction.
9. Organization of implementation
The planning time does not exceed 12 months after the planning tasks have been approved by the competent authorities and not counting the time for waiting for evaluation and approval.
Responsibilities of relevant agencies:
- Approving authority: The Prime Minister.
- Appraising agency: Ministry of Construction.
- Approving agency: People's Committee of Quang Ninh Province.
- Planning organization: Quang Ninh Economic Zone Authority.
- Planning agency: The consulting unit has appropriate operational capacity, is selected according to the law.
- Quang Ninh Provincial People's Committee allocates capital, approves total planning cost estimate; coordinate with the concerned ministries and branches in formulating and submitting a scheme on adjustment of the general planning on construction of Mong Cai border-gate economic zone till 2040 according to law provisions.

Long Giang
Source: Vitic / thuvienphapluat.vn