Adjusted master plan on construction of south Phu Yen economic zone, Phu Yen province to 2040
Friday, December 20,2019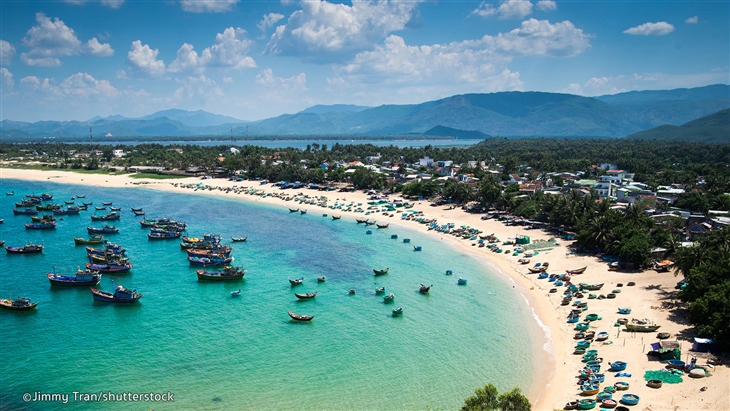 AsemconnectVietnam - To build and develop South Phu Yen economic zone into a multi-functional general economic zone with a focus on high-tech industries and industries attached to seaports
Adjusted master plan on construction of south Phu Yen economic zone, Phu Yen province to 2040
1. Scope and boundary:
Scope of plan covers an area of ​​about 20,730 ha, including entire administrative boundaries of Phu Lam, Phu Thanh and Phu Dong wards of Tuy Hoa city and communes of Hoa Hiep Bac, Hoa Hiep Trung and Hoa Hiep Nam, Hoa Tam, Hoa Xuan Dong, Hoa Vinh and parts of Hoa Xuan Tay, Hoa Tan Dong, Hoa Xuan Nam and Hoa Thanh communes of Dong Hoa district, Phu Yen province, the plan's boundary is determined as follows:
- North: adjacent to Da Rang river.
- South: adjacent to Van Ninh district - Khanh Hoa province.
- East sea bordering the east.
- West: adjacent to North - South expressway corridor.
2. Objectives:
- Building South Phu Yen economic zone suitable to the national maritime development strategy and Vietnam's marine economic development strategy.
- Concretize strategic policies of south Phu Yen economic zone in orientation of socio-economic development of the Government for the key economic region of Central and South Central Vietnam, as well as specify development orientations in plan of South Phu Yen - North Khanh Hoa.
- To build and develop South Phu Yen economic zone into a multi-functional general economic zone with a focus on high-tech industries and industries attached to seaports. To build south Phu Yen economic zone into a national and regional tourism and service center. Creating a breakthrough in socio-economy in the South Central region, a development linkage among provinces in the South Central Coast and Central Highlands.
- Building south Phu Yen economic zone into a dynamic economic region of Phu Yen province; having synchronous and modern technical and social infrastructure systems; landscape architecture space, advanced and civilized urban areas, sustainable environment and efficient use of land.
- As a legal basis to implement subdivision plan, detailed plan of functional areas and construction investment projects of the Economic Zone.
3. Characteristics:
- Being a multi-sector and multi-field marine economic zone with a focus on development: hi-tech industry, industries associated with seaports; Ecotourism; commercial and tourism urban center, river and sea associated with exploitation of Tuy Hoa airport and seaport system; traditional maritime economic development closely associates economic development with security, defense and climate change adaptation.
- Being one of the important points of transportation, trade and international exchanges of the Central region and Central Highlands; gateway connecting the East Sea of ​​the Central Highlands and ASEAN countries.
- Being a general economic zone with modern infrastructure as a driving force for development of the South Central Coast region, supporting and sharing links with Van Phong economic zone and surrounding areas.
4. Population and construction land:
- Current population size: About 140,000 people.
- Preliminary projection of population size to 2030: About 170,000 -180,000 people.
- Preliminary projection of population size until 2040: Approximately 220,000 - 250,000 people.
- Forecast of land for construction of economic zone till 2040 is about 11,000 - 12,000 ha.
5. Economic and technical indicators expected to apply:
Social and technical infrastructures are applied in accordance with requirements of current construction plan standards for grade II urban areas for urban development areas and current construction plan regulations with other functional areas.
6. Content of plan's research
- Adjusted master plan for construction of south Phu Yen Economic Zone in order to ensure compliance with the Decision No. 54/2008/ QD-TTg of April 28, 2008, establishing and promulgating Operation Regulation of Economic Zone of south Phu Yen, Phu Yen province.
- On basis of reviewing and inheriting rational elements of construction master plan of south Phu Yen economic zone, Phu Yen province, approved by the Prime Minister in Decision No. 1712/ QD-TTg dated 23rd October 2009, results of investment and investment attraction in recent years, proposed functional areas and technical infrastructure, social infrastructure suitable for economic zones;
- Comply with provisions of the Law on Construction No. 50/2014/ QH13 dated June 18, 2014; The Government's Decree No. 44/2015/ ND-CP of May 6, 2015, detailing a number of contents of construction plan has the following specific requirements:
a) Assessment of natural conditions and current situation:
- Natural conditions: Evaluating and analyzing position and relationship with key economic regions of the Central region, inter-provincial regions and intra-provincial regions; assessment of topographical conditions, geomorphology, geology, hydrology, seismic, climate, special weather phenomena ....
- Assessment of current socio-economic status, population, labor, current land use status, construction status, architectural status, landscape, ongoing programs and projects related to Nam Phu Yen economic zone.
- Evaluating the implementation of the general planning on construction of south Phu Yen economic zone, already approved in 2009; New approved urban plans, urban plans and rural plan. Assessing the appropriateness of projects that have been and are being invested.
- Assess the current situation of construction investment and development of south Phu Yen economic zone according to the approved planning in 2009.
- Overall assessment of the current situation, proposing issues to be addressed and the year of 2009's plan contents to be adjusted and strengths to be exploited as a basis for the goal of fast and sustainable development.
- Assessing effectiveness of the current transport system
- Evaluation, orientation, and connection to Van Phong Economic Zone.
b) Analysis and evaluation of the role, position, potential and development motivation:
- Determining main potentials and motivations for development of the economic zone on the basis of studying forecasts and orientations of national planning, regional plan, Van Phong economic zone planning, construction planning, urban planning and branch planning related to the development of south Phu Yen Economic Zone.
- Forecast of economic, social, population, labor and land development. Forecasting changes of natural environment due to the impact of urbanization and socio-economic development; forecast of land use demand, size of functional areas of the Economic Zone in each period; Forecast of economic and technical indicators applied to the region.
c) Organization of space and functional subdivisions:
- Determining the vision, nature and functions of south Phu Yen economic zone till 2040.
- Space development orientation, landscape architecture and urban design till 2040:
+ Research, review and inherit appropriately the results of researching the general planning project of Nam Phu Yen economic zone, Phu Yen province, approved in Decision No. 1712/ QD-TTg of October 23, 2009 and the approved construction plan, urban plan and sectoral plans with south Phu Yen Economic Zone;
+ Proposing development structure, spatial organization of functional areas in line with new development requirements;
. Areas following the year of 2009's general plan orientations need to remain stable;
. Areas following the year of 2009's general plan orientation need adjusting;
. Newly developed areas (hi-tech industrial parks, trade and service urban centers, tourist service areas, tourist urban centers and mixed use areas, aquatic product auction zones, etc. .);
. Studying solutions to renovate existing residential areas, functional areas in development buffer zones, urban areas and rural areas in the economic zone.
+ Proposing the layout of landscape architectural space, landscape architecture zoning, identifying main spatial axes, key spaces (Hoa Vinh urban area, Hoa Hiep Bac urban area and Hoa Hiep Nam urban area, urban areas along Da Rang river, coastal areas and along Da Nong river, etc.) and supporting functional areas. Creating and emphasizing the special features of Nam Phu Yen Economic Zone, making the most of natural factors, topography, river and sea space;
+ Development of architecture and landscape towards modern, advanced and civilized.
d) Land use plan of functional areas of south Phu Yen economic zone:
- Determining boundaries of functional areas of south Phu Yen Economic Zone, proposing adjusted land use plan for functional areas and construction items according to the selected subdivision structure.
- Adjusting land fund suitable for industrial functions, seaports, river ports, airports, development assistance, urban areas, tourism, services, hi-tech agriculture, etc.; determine suitable land fund to build resettlement areas, houses for workers and experts, a system of greenery and protective isolation corridors for infrastructure routes and technical infrastructure focal works.
- Identify economic and technical indicators related to construction and land use in each region. Identify areas that use underground space. Identify land use plans according to stages of development of Economic Zone.
d) Orientations for development of socio-economic and technical infrastructure systems:
- Socio-economic infrastructure system:
+ Organizing central network including system of operating centers, managing entire economic zone, tourism center, commercial and financial center, public service center, sport and physical center, parks, trees and open spaces, other specialized centers;
+ Distributing vocational training and job-training establishments in the region. Determine locations and sizes of markets, wholesale markets, trade and service centers, tourist and industrial centers, agricultural production centers, and support marine economic marine products, etc.
- Regarding the transportation system:
+ Prioritizing development of a convenient network of multimedia connections between domestic and external transport systems, organizing roads, railways, waterways, and air routes strong enough. meeting the increasing transport demand of the economic zone, especially with Bai Goc - Vung Ro seaport area and Tuy Hoa airport;
+ Determine linkage in the national transport development strategy, the Central key economic region and the region of Phu Yen province regarding roads, railways and airways, and solutions to connect to national highways 1A, North-South Expressway, National Highway No.29, Central Highlands Expressway, National Coastal Road and North-South Railway. Analyze the model of traffic network development, organize classification of traffic routes, adjust the alignment of routes to ensure connectivity with external traffic routes to meet the needs of economic social development of the region, specifically:
Air transport: Studying the plan of airport for passenger transshipment, cargo transshipment and aviation logistics until 2040.
Maritime transport and inland waterway: Studying the plan of Vung Ro - Bai Goc seaport and other service ports to become a mixed port; arrangement of access channels for transport boats, fishing boats, tourism and other activities; studying and proposing a plan for arrangement of dry ports, service ports and tourist ports in combination with logistics centers.
Railway traffic: Plan stations and routes of North-South railway, high-speed railway, Central Highlands railway to meet demand of transporting passengers and goods of the economic zone.
Road traffic: studying existing roads and road traffic projects connecting areas and functional areas in economic zones to ensure external and internal traffic; adjusting and supplementing the planning of new connecting routes.
Determine the location and scale of traffic works; organize public transportation system and system of car terminals and parking lots; determination of red-line boundaries of main axes and trench systems and technical tunnels.
Develop urban public transport in the direction of advanced and efficient, transport passengers conveniently connecting with Tuy Hoa City, Tuy Hoa airport and Van Phong economic zone, Nhon Hoi economic zone.
The study proposes to adjust and supplement a number of routes to make the most of the sea and river advantages.
- Regarding other technical infrastructure systems:
+ Delineation of development areas, areas banned from construction or restricted from construction. Proposing solutions to select land for construction of economic zones. Identify basins and main water drainage directions. Proposing solutions for construction ground. Determining the height of construction control, solutions on dykes, embankments and dams to protect against erosion;
+ Determining targets, proposing source solutions, balancing demand, proposing solutions, anticipating key works, organizing pipeline network networks, identifying and protecting focal works on electricity supply, water supply and telecommunications. Proposing exploitation and use of other energy sources;
+ Studying and proposing water source for Nam Phu Yen economic zone and Bac Van Phong area, Khanh Hoa province;
+ Planning and investing in rearranging people's cemeteries in order to ensure environment and efficient use of land;
+ Plan orientations for centralized waste and solid waste treatment facilities and waste water treatment zones for functional areas.
e) Strategic environmental assessment:
- Proposing solutions to control and protect background environment of industrial parks, urban areas, tourism and service areas, as well as other functional areas.
- Develop a master plan on drainage and wastewater treatment, good control of environmental protection activities.
- Identify and forecast impacts to the environment caused by socio-economic development activities. Delineation of nature protection areas, landscape areas, areas banned from construction, conservation areas ... areas for protection of clean water sources, waste water treatment, dumping sites, areas affected by dust, smoke and gas toxic, noise ... Propose solutions to protect the environment.
g) Proposal of priority projects and resources for implementation:
- Proposing projects prioritized for investment that are meant to create a driving force for development, ensuring that it is in line with the forecast of resources. First-time plan of technical, social and environmental protection systems. Proposing strategic projects, roadmap and modes of implementation.
- Proposing capital sources, determining the size of investment capital sources to carry out the plan and analyzing the feasibility of each capital source.
h) Other requirements:
- Research to connect the synchronous infrastructure of Nam Phu Yen Economic Zone with surrounding areas.
- Expected project results; problems that cannot be solved within framework of the project and propose solutions.
- Other recommendations with central and local.
- Draft construction management regulations according to the plan. Proposing mechanisms and policies to control development of the economic zone associated with security and defense.
- Studying the model of management and planning implementation, clearly defining the roles of each agency and organization in planning management and administrative management in the area of ​​Nam Phu Yen economic zone.
7. Profile components:
Dossier composition and project contents comply with the Government's Decree No. 44/2015 / ND-CP of May 6, 2015 and the law on planning and construction.
8. Organization of implementation:
- Approving level: The Prime Minister.
- Appraising agency: Ministry of Construction.
- Plan organization: The People's Committee of Phu Yen Province.
- The plan time does not exceed 12 months from the time the plan task is approved.
- The People's Committee of Phu Yen province cooperates with the concerned ministries and branches in drawing up a scheme on adjusting master plan of south Phu Yen economic zone, Phu Yen province, till 2040; allocating capital, approving the total cost estimate for elaboration of a scheme on adjustment of the master plan of south Phu Yen economic zone.
- Ministry of Construction guides localities in the process of elaborating a scheme on adjustment of the master plan of south Phu Yen economic zone, Phu Yen province, till 2040; assume the prime responsibility for and coordinate with ministries, branches and localities in, appraising schemes on adjusting master plan of south Phu Yen economic zone, Phu Yen province, till 2040 according to law provisions.
- The ministries and branches shall coordinate with the People's Committee of Phu Yen province in the process of planning to ensure uniformity and uniformity in implementation of the plan.

Long Giang
Source: Vitic/ thuvienphapluat.vn