Adjusted master urban plan of Bac Ninh province to 2035, vision to 2050
Sunday, June 30,2019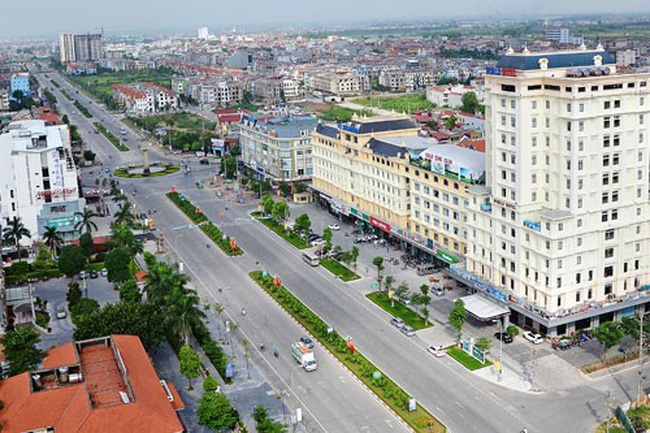 AsemconnectVietnam - Strengthen urban development management, create conditions to attract investment; human resource training; synchronous and modern infrastructure construction; sustainable development, prevention of natural disasters, response to climate change
Adjusted master urban plan of Bac Ninh province to 2035, vision to 2050
1. Scope, boundaries and scale of research:
The planning scope includes administrative units: Bac Ninh city, Tien Du district, Tu Son town, Que Vo district and Yen Phong district with a total area of ​​about 491.37 km2.
2. Planning period
- Short-term period to 2025.
- Long-term period until 2035.
3. Planning objectives
- Bac Ninh urban construction and development meets the criteria of a grade-I urban center under the central government, which is a premise for building Bac Ninh province into a centrally-run city by 2022,
- Construction and urban development Bac Ninh has become a cultural-ecological-knowledge city, following the model of smart urban.
- Strengthen urban development management, create conditions to attract investment; human resource training; synchronous and modern infrastructure construction; sustainable development, prevention of natural disasters, response to climate change.
- Establishing a basis to manage and attract resources for investment in construction and regional development according to planning and law, ensuring quality and efficiency.
4. Urban properties
- Being the political, administrative, economic, cultural, scientific, technical, educational and training center of Bac Ninh province. The inner city when Bac Ninh province is recognized as a central city.
- It is an economic focus of the Capital, Northern key economic region, development center: High-tech industry, trade, tourism and knowledge economy, urban economic development in the context. scene of the Industrial Revolution 4.0.
- Being an important traffic and communication hub of Hanoi Capital region, the northern key economic region, the Red River delta region and the whole country; associated with the economic corridors: Lao Cai - Hanoi - Hai Phong - Quang Ninh; Lang Son - Hanoi - Hai Phong - Quang Ninh.
- Having an important position in security and defense.
5. Vision to 2050:
- Becoming one of the important economic centers of the Northern economic region and Hanoi Capital region with a focus on commercial services, training - scientific research, cultural and medical tourism - holidays High quality, industrial and logistics.
- To become an exchange hub, a cultural, training and scientific research center of the Capital region, the northern economic region and the whole country, of international significance.
- Becoming a smart urban, a big urban area in Hanoi Capital, having a strong competitiveness with other cities in the country and the Asia-Pacific region.
6. Preliminary development forecast:
- About population growth forecasts
+ Current population in 2018: 889,281 people;
+ Population by 2025: 1,172,000 - 1,200,000 people;
+ Population by 2035: 1,340,000 - 1,430,000 people;
+ Population by 2050: 1,530,000 - 1,650,000 people; The maximum population is about 1.7 million people.
- Regarding planning norms: Applying standards of grade-1 urban centers. To encourage the application of smart urban and green urban standards.
(Specific targets will be determined in the period of general planning adjustment project research).
7. Key research requirements in the content of adjusting urban planning in Bac Ninh
- Adjusting the planning deadline: The short-term period to 2025, the long-term period to 2035, the vision of planning until 2050.
- Adjust the scope of planning for all administrative units at district level in the north of Duong River including: Bac Ninh City, Tu Son Town, Tien Du District, Que Vo District, Yen Phong District.
- Review the overall contents of the approved general planning in 2015 and the actual situation of urban development in Bac Ninh urban area in accordance with the approved strategic plans, especially regional planning. Capital and construction planning of Bac Ninh province.
- Forecast of development needs in the new period with development orientation towards creating characteristics and identity for Bac Ninh urban.
- Proposing solutions to control urban space development, high-rise buildings, arranging public spaces, underground space for urban residents, investing in social infrastructure systems towards high quality up to grade 1 urban standards.
- Connection of frame infrastructure system, especially transportation system. To develop inter-regional key infrastructure systems such as clean water supply, electricity supply, communication, wastewater treatment, solid waste and environmental protection. Study the possibility of underground transport development.
- Proposing areas to create architectural highlights to create a unique identity for Bac Ninh urban. Proposing management regulations, guidance on development control in a flexible manner in each stage.
8. Requirements on the contents of Bac Ninh urban general planning dossier: comply with the provisions of the Urban Planning Law of 2009, the Law on amendment 37 Laws related to 2018 planning, Decree and Circular related.
a) Analysis of position and context of regional development
Analyzing the role and position of Bac Ninh urban area in relation to Bac Ninh province, Hanoi Capital area, Northern key economic region and Red river delta region. Assessing the potentials and driving forces of development, long-term cultural history, spearhead and sprawling economic sectors create conditions for development and attractiveness of Bac Ninh urban.
b) Assess the status quo
- Analyzing and evaluating the natural characteristics of topography, climate, hydrology, geology ..., characteristics of ecological landscapes, natural resources, urban tourism resources in Bac Ninh and areas The neighborhood has an impact on Bac Ninh's urban development orientation. Detailed assessment of construction land fund based on favorable, unfavorable construction zones and construction prohibitions.
- Assessing the situation of socio-economic development: Current situation of development of key sectors and industries: Industry, handicraft, trade, service, tourism, agriculture ...
- Status of population, labor and employment: Statistics of population, labor, occupational structure, population and labor ratio; analyzing population development trends, population distribution (urban-rural), migration phenomena, urbanization issues.
- Assessment of the current state of land use and landscape space: Statistics of the current state of land use in the planning area; analyze and evaluate the effectiveness of land use and the problems of land use, the space landscape to be addressed to meet development requirements.
- Assessing the current status of socio-economic infrastructure system: Current status of social infrastructure development in the area. Identify outstanding problems of social infrastructure system to meet the standards of urban type I.
- Assessing the current status of technical and environmental infrastructure systems: Including technical preparations, traffic, water supply, wastewater drainage, electricity supply, lighting, solid waste treatment, cemeteries ... in scope of planning research. Determining outstanding problems of urban technical infrastructure systems to meet grade-I urban standards.
- Reviewing programs, planning, construction investment projects to implement the General Plan in 2015 up to now. Evaluate the management and mobilization of resources to implement the approved planning as a basis for building and adjusting planning orientations.
c) Development model, landscape architecture orientation and urban design
- Determine the model of Bac Ninh urban development associated with urban areas, rural residential areas in the province of Bac Ninh, towards the direction of urban culture - ecology - knowledge, according to the model of smart urban.
- Orientation for development of landscape architecture and urban design space:
+ Researching the spatial relationship between Bac Ninh urban area and districts in the province, analyzing and evaluating urban development models. Proposing the model and direction of urban development in Bac Ninh, selecting sustainable urban development plans to ensure the preservation and maximizing the advantages of water in urban areas; historical culture associated with monuments of Phat Tich Pagoda, Dam Pagoda, Dau Pagoda ...; regional and provincial educational and medical establishments in Bac Ninh city and Tien Du district; high-tech industrial parks in Yen Phong, Tu Son and Que Vo ...
+ Determining scope and scale of functional areas of urban areas. Identify and distribute residential units; public centers, service areas, green parks, industrial parks, tourism, cottage industries, warehouses, yards, administrative agencies, professional schools .. . and other special functional areas.
+ Studying the possibility of developing underground space for commercial, public, entertainment and ... functions associated with underground traffic systems and works.
+ Urban design: Identify architectural areas, landscapes, central areas, urban gateways, main space axes, large squares, green space - water surface, highlights in urban and proposed principles, requirements of spatial and architectural organization for existing urban areas and extended areas; landscape and heritage protection areas ... Proposing solutions to organizing the space of Dam mountain green trees, Buddha Tich mountain, Sot hills; water surface of Duong river, Cau river, Ca Lo river and Ngu Huyen Khe river ...
d) Land use planning in stages
Determining the function of the area; determine criteria of population density, criteria for use of urban planning land; development orientations and principles for each functional area; propose land use plan in accordance with each development stage; identify land bank planned to build urban development, boundaries of urban areas.
d) Planning of technical and environmental infrastructure systems
- Technical preparation: Proposing reasonable elevation solutions and surface water drainage for urban areas and other construction areas; ensure safety of flooding and flooding; prevention of natural disasters ... in response to climate change. Proposing technical solutions, zoning areas where construction is restricted or restricted due to geological and topographic structures, due to flood risks. Studying solutions to use the water system of Duong, Cau, Ca Lo, Ngu Huyen Khe and urban lakes, combined with the purpose of supporting tourism, improving the landscape with water drainage and regulation and climate change response.
- Traffic: Organizing traffic network including external traffic, urban traffic and waterway traffic, static traffic system in urban development, classification of urban traffic routes and subject Design solutions for internal transport networks. Proposing networks and works to support the development of public transport activities in urban areas as well as connecting with other cities and surrounding areas. Determining the size and number of traffic focal works. Study the possibility of undergroundization of urban railways, parking lots in urban centers.
- Water supply: Analyzing and evaluating the region's groundwater and surface water resources to propose water supply solutions (water source selection) and water source protection. Determining standards and demands for water use in production, in daily life, expected supply sources, key works, water supply pipeline networks and main technical parameters.
- Electricity and lighting: Determining standards and demand for electricity use; power balance options; propose solutions to design the power supply network, expected key works for each planning period. Calculate demand and propose solutions for smart lighting. Proposing to exploit and use other energy sources (if any).
- Communication: Orient the planning of passive telecommunications infrastructure system, anticipate key works according to each planning stage and synchronous optical transmission network in the direction of using lower facilities. floors and expansion of public telecommunications systems to meet the needs of use and serve socio-economic development and urban development under the model of smart urban.
- Waste water drainage, solid waste treatment and cemetery collection: Determining standards and forecasting volumes of waste water and solid waste discharge, cemetery land demand. Orientation of wastewater collection and solid waste treatment system; cemeteries and funeral homes in urban areas.
e) Strategic environmental assessment in accordance with legal regulations on urban planning and environmental protection.
- Analyzing and forecasting environmental impacts from urban development, industry, agriculture, transport, ... to provide solutions for the development of space and technical infrastructure. Optimal.
- Proposing solutions to solve the remaining environmental problems in the planning scheme. Determination of measures to prevent, minimize impacts and manage and supervise the environment from the viewpoint of economic development but without affecting the environment and natural landscapes, cultural works and historical relics .
g) Identify programs and projects prioritized for investment and propose implementation resources.
h) Draft Regulation on management according to urban planning adjustment scheme.
9. Product profile:
The composition of the dossier and the contents of the project shall comply with the Government's Decree No. 37/2010 / ND-CP on elaboration of appraisal and approval and Circular No. 12/2016 / TT-BXD of June 29, 2016 of The Ministry of Construction shall prescribe the dossiers of tasks and regional construction planning projects, urban planning and special functional zone plannings.
10. Organization of implementation
- Approval level: Prime Minister.
- Appraisal agency: Ministry of Construction.
- Approving agency: Bac Ninh Provincial People's Committee.
- Planning organization: Management Board of Bac Ninh Urban Development Area.
- Planning time limit: Not exceeding 12 months from the approved planning task.
- The People's Committee of Bac Ninh province allocates capital and approves the planning cost estimate; coordinate with related ministries and agencies to organize and submit for approval the Bac Ninh urban general planning adjustment project to 2035, vision to 2050 according to the law.

Long Giang
Source: Vitic / thuvienphapluat.vn