Adjusted master plan of Vung Tau city, Ba Ria - Vung Tau province till 2035
Monday, August 5,2019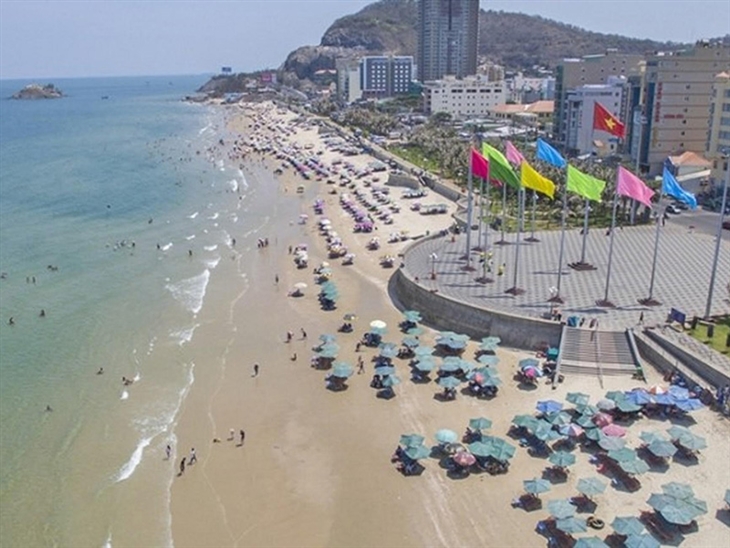 AsemconnectVietnam - Being an economic, cultural, public service center and an important exchange hub of the Southeastern region, the southern key economic region and Ba Ria - Vung Tau province
Adjusted master plan of Vung Tau city, Ba Ria - Vung Tau province till 2035
1. Scope of plan:
The planning scope covers the entire administrative area of ​​Vung Tau city, Ba Ria - Vung Tau province, with a total area of ​​about 15,043 ha. Specific boundaries are limited as follows:
- East and South borders the East Sea and a part of Long Dien district;
- West: border with Ganh Rai bay;
- The North borders Ba Ria city and a part of Phu My town.
2. Properties
- Being an economic, cultural, public service center and an important exchange hub of the Southeastern region, the southern key economic region and Ba Ria - Vung Tau province;
- Being a tourist, commercial - financial - banking center, aquatic logistics service, maritime service, seaport development, oil and gas exploitation and processing services of the whole country;
- Having an important position on national security and defense and marine environment protection.
3. Forecast of population size and land
a) Population scale:
- By 2025, Vung Tau city population will be around 500,000-520,000 people;
- By 2035, the population of Vung Tau city is about 620,000 - 650,000 people.
b) Land size:
- Felling in 2025: Urban construction land is about 7,500 - 8,000 ha. In particular, civil land is about 3,900 - 4,100 ha (85 - 90 m2 / person), civilian land is about 3,600 - 3,900 ha.
- By 2035: Construction land is about 10,000 - 11,000 ha. In which, civil land is about 5,500 - 5,900 ha (85 - 90 m2 / person), residential land is about 4,500 - 5,100 ha.
4. Space development orientation.
a) Model and structure of urban space:
Vung Tau city developed along the model of Northeast - Southwest line and 02 centers in Go Gang and Long Son, with the main functions including: Industry - Urban - Tourism. Water surface systems and regulating lakes such as A Chau, Bau Sen, Bau Trung, Rach Ba and Cua Lap; In the areas of Co May, Dinh, Cua Lap and Ba Coi rivers, the mangrove ecosystem and the landscape of Big Mountain, Nui Nho and Nua Mountain are the natural frame of the city.
b) Division of development area: Vung Tau city space is divided into 07 areas, specifically as follows:
- Long Son island area:
The center of the national oil and gas industry. Development of supporting industries and other industries; to form a new urban area in service of oil and gas industry and a low-density eco-urban area, meeting urban demands. Renovate and refurbish existing residential areas and preserve ecosystems and natural landscapes of the saltwater areas. The total land area is about 4,100 ha, of which urban construction land is about 2,670 ha. The maximum population size is about 45,000 people.
- Go Gang area:
To develop a new urban center in association with Go Gang airport and an ecological urban area in association with the mangrove ecological space. Formation of a high-tech fishery logistics and processing center. The total land area is about 1,400 ha, of which urban construction land is about 1,265 ha. The maximum population size is about 60,000 people.
- Bac Phuoc Thang area:
Preserving green belt, natural ecological landscape based on the system of rivers: Ba Coi, Co May, Dinh and Cua Lap and mangrove forests. Forming new urban areas, low-density eco-urban areas and tourist service centers attached to mangrove forests. The total land area is about 2,324 ha, of which urban construction land is about 700 ha. The maximum population size is about 35,000 people.
- Industry - Port area:
Maintain existing industrial parks and ports. Expanding Sao Mai - Ben Dinh port area, developing industrial zones, logistics and post-port service areas and key technical infrastructure projects. To renovate and embellish existing residential quarters in association with Cat Lo port area, without increasing population size in existing residential quarters. The total land area is about 987 ha, of which construction land is about 745 ha.
- Existing urban area:
Focusing on renovating, embellishing and rebuilding the city in the direction of preserving the traditional urban spatial structure, preserving architectural works, landscapes and valuable ecosystems. Effectively exploiting public land funds after relocation, giving priority to post-relocation land fund for public functions, trees and mixes (offices, trade, tourism and housing).
Nui Lon and Nui Nho areas maintain forest parks combining tourism, entertainment, creating focal points in the city. Enhance community access to fun, entertainment and green spaces on the mountain.
In Bai Sau area, maintaining the existing tourist land fund, giving priority to mixed development with various types of resort, commercial, housing and urban service works, ensuring construction social infrastructure system; synchronous technical infrastructure to meet the needs of tourism and improve the quality of life of people. For existing residential areas, limit population growth; exploitation and development of tourism services ..
In Ben Dinh isle, renovating and embellishing existing residential areas; forming a new modern urban area with a mixed function of housing - commercial services - office and ensuring social and technical infrastructure in residential areas.
The total area of ​​the whole area is about 2,074 ha, of which urban construction land is about 1,716 ha. The maximum population size is about 240,000 people.
- Bac Vung Tau area (existing northern urban area):
Developing functional areas: New administrative center of Vung Tau city, a center of culture, sports, commercial services, training centers. To form new and modern urban centers. Encourage the development of mixed works with modern architecture to create a spacious and synchronous urban space.
In Bau Trung area, prioritize the establishment of cultural parks - regulating lakes. The remainder rebuilds the city on the basis of developing a mixed area with the main functions including: new urban area, commercial service area and office, social housing area, resettlement and renovation. Existing residential site.
At the old airport area, urban reconstruction after relocating Vung Tau airport to Go Gang area. Development of mixed area with main functions: urban area, commercial center, finance, banking, office, entertainment ...
The total land area of ​​the whole area is about 2,212 ha, of which urban construction land is about 2,200 ha. The maximum population size is about 230,000 people.
- Chi Linh coastal tourism development area - Cua Lap:
Develop a mixed area with the main functions including: resort, entertainment, golf, urban residential areas, commercial services and public open spaces, sea square. Areas associated with the maritime space must prioritize the development of resort, entertainment, squares and open spaces for the community. Total land area is about 1,114 ha, of which urban construction land is about 1034 ha; proportion of land fund for tourism development, commercial service and marine square accounts for at least 50% of the area of ​​mixed urban construction land in the region. The maximum population size is about 45,000 people.
c) Orientation of organization of the central system
- Existing urban center:
The center of the existing urban area remains in place and scale. The use of land fund after relocation. The offices are prioritized to build and develop social infrastructure works, urban greenery parks and mixed use (offices, trade, houses), ensuring the balance of demand for lowering. social, technical and urban floors.
- Newly developed urban center
+ Administrative center: To build a new administrative center of the city in Bac Vung Tau area, bordering on September 2 road, with a scale of 14 hectares in a concentrated and modern direction.
+ Trade and service center:
Developing commercial, financial, banking, office and entertainment centers combined with urban areas in the existing airport area, scale of 170-180 ha.
Forming a network of urban and mixed-level commercial and service centers in the existing urban center, the center of new development areas along the 3/2 and 2/9 roads. Regional-level trade and service centers shall be arranged along main roads and centers of urban centers. Improving, upgrading and developing traditional markets in existing residential areas.
+ Training and education center:
Building an education and training center in the urban development area in the north of the city, on roads of 3/2 and 2/9 roads; Area scale is about 30 - 32 ha.
Upgrade and renovate and build high schools to meet the needs of residential areas according to standards.
+ Medical center:
To build urban-level medical centers, comprising a general hospital of 350-500 beds in ward 11, about 8 ha; international hospital in Go Gang area about 10 hectares; nursing centers, health care centers, specialized health care centers combining services for convalescence, medical examination and treatment.
+ Cultural center:
Constructing urban-level cultural works in Bac Vung Tau area, with an area of ​​about 9 hectares, including: Cultural houses, libraries, museums ... Renovating and perfecting the network of cultural works in urban areas.
+ Sports and fitness center:
Arranging a city sports center of about 20 hectares in the North Vung Tau area, on 2/9 road, connecting the space with the park of Lake Sun Lake.
+ Long Son center: is the center of urban area and petrochemical industry service - auxiliary port, about 60 - 70 ha.
+ Phuoc Thang Center: is a service center of trade - sports - entertainment - tourism, about 40 - 50 ha, expected at the northern gate of the city in the direction of national highway 51B.
- Specialized centers:
+ Transport, industrial and logistic centers: To form regional regional logistics and cargo transit service areas in association with Long Son and Sao Mai - Ben Dinh industrial parks.
+ Air service center: Arranged with Go Gang airport. An area formed to meet the requirements of aviation services, petroleum transport services and other technical activities; scale about 240 ha.
+ The post-fishery logistics center: To be arranged in the east of Go Gang area, with a scale of about 45 ha, meeting the demands for developing aquatic logistic services.
- Green park system:
Building urban green parks with a scale of about 450-500 hectares, connecting with natural lakes and canals, forming a green space network, regulating lakes in the city including: Bau Sen 30 ha , Bau Trung 45 ha, 21 ha commercial financial center park, 20 ha Rach Ba, 33 ha Sun Lake Park, Phuoc Thang central park (Cau Chay) 30 ha, Nui Nui Park 24 ha, Ho Mang Ca Park 40 ha, Long Son Park 30 ha, North Park Go Gang Airport 62 ha, Go Gang Central Park 46 ha, Big Mountain Park about 30 ha, Small Mountain Park about 50 ha.
In addition, maintaining a system of natural green trees in mangrove areas, on the Big Mountain, Small Mountain, Nui Mountain and in the coastal area.
d) Orientation of industrial parks, ports, ports and port logistics services:
- Maintaining existing industrial zones and clusters and ports associated with industrial zones including: Cat Lo, Dong Xuyen, VietSo Petro, expanding Sao Mai - Ben Dinh port area ... with a scale of about 550 ha.
- Formation of Long Son oil and gas industrial park - port, including: Long Son industrial park with scale of 850 ha, area of ​​petrochemical refinery area of ​​about 400 ha, ports and handicraft spots with an area of ​​about 1,572 ha;
- Phuoc Thang handicraft complex with a scale of about 40 ha.
5. Urban design
a) Orientation of overall urban design: Building urban space on the basis of the natural frame of the coast, the system of rivers, canals, mangrove forests and the natural landscape of Big Mountain, Small Mountain, Nua Mountain. Orientation of spatial organization in the following areas:
- Long Son island area: Taking Nua mountain is a center, an organization of industrial parks and a petrochemical service center in association with the sea space; organizing urban space in harmony with the ecological landscape of the mangrove area, exploiting the mangrove ecosystem, water surface and natural slope to create a typical landscape; not building large-scale projects in the mountains, changing the terrain and geomorphology of the area. Conservation of natural ecosystems in the area.
- Go Gang area: Creating urban space - modern airport, synchronous infrastructure, ensuring the requirements for isolation distance and flight safety corridor. Create a strip of trees along canals and ditches, protect natural drainage channels in the area and mangrove ecosystems.
- Bac Phuoc Thang area: Constructing ecological urban area, low density; forming regional roads as boundaries to control urban development restrictions. Priority is given to land fund for conservation and restoration of mangrove ecosystems combined with tourism research, discovery and experience.
- North Vung Tau area, Chi Linh - Cua Lap coastal tourism development corridor: Establishing the seaward space axis and forming community living space in the sea squares. Arrange high-rise buildings intermingling in the center of urban areas; set up a modern and dynamic marine urban space, featuring a typical image from the beach side to the urban area.
- Existing urban area: Embellishing and creating new landscape space along the coast from Bai Dau and Bai Truoc to Hon Ba area. Architecture of tourist centers, commercial and entertainment services, public squares, parks ... associated with indigenous culture, in harmony with Vung Tau sea. Forming and expanding tourism service and community activities space. Organization of accents on the route along the coast and open space; creating walking routes and community living spaces towards the coast.
b) Guidelines for urban design of important areas.
- Important natural spaces: Big Mountain, Small Mountain and Nứa Mountain are natural high points in urban areas that need protection and development control. To prioritize the development of symbolic constructions, forming public spaces for entertainment and recreation activities in combination with forest trees and trees.
- Urban gateways: To build the appearance of a modern urban landscape space in combination with a symbolic project at an urban connection point with a regional traffic system such as Bien Hoa - Vung Tau expressway and national highway 51 , Go Gang airport and passenger port in Sao Mai area - Ben Dinh, Bai Dau, Bai Truoc and railway station. Urban highlights are architectural works at commercial and service centers, city administrative centers, associated with squares and pedestrian axes and community living space, creating urban gateway image. Characteristic sea.
- Main space axes:
Forming the main space axes along the roads 30/4, 2/9, 3/2 with mixed works with modern architecture. Prioritize the development of horizontal routes to connect urban space with the sea space. Organization of parallel routes for bicycles; at the intersection of urban main roads, it is recommended to arrange high-rise buildings or accent works.
Coastal corridors in Bai Truoc area: Limit the development of large-scale projects to protect the natural landscape and cultural and historical values ​​of the city. To form a number of tourist service spots of special nature, limit the protection of sea view and create urban images in the direction of looking from the sea to the city.
Coastal corridors in Bai Sau to Cua Lap areas: Enhancing the approach of urban people to the beach through horizontal axes, creating sea squares and utility facilities for the community at delivery. cut between horizontal axis and coastal route. Organize the connection of coastal resorts, the space adjacent to the beach by the roads, walking, bike and clean, environmentally friendly to support the fun activities, travel of the community Beach; encourage the creation of an open way for people to access the coast smoothly.
- Highlights in urban areas:
Natural highlights: Protecting the landscape and topography and geomorphology typical of natural high points associated with urban images such as Nứa Mountain, Big Mountain, Small Mountain ...
Artificial accents: For valuable architectural works, historical and cultural relics, statues, monuments and a number of other works, protecting and embellishing the landscape of works associated with picture history. City city and typical image of the coastal city. Create additional cultural and artistic accents at open spaces and public spaces. Creating new accents in urban areas is high-rise buildings, buildings with unique and modern architecture at suitable locations such as: Center of new urban areas, intersection spaces between urban trunk roads, areas associated with squares, open spaces and tourist sites with special positions in marine space exploitation.
c) Control of urban floors:
- Areas to control the upper floors include:
Existing urban areas: Restricting the development of high-rise buildings in the area of ​​Nui Lon, Nui Nho and coastal corridors at Bai Truoc and Bai Sau to ensure the views towards the mountains, the view towards the sea and From the sea to the urban area, at the same time, it must ensure that 2/3 of the height of the peaks in each area is applied. In addition, the height of the building must be determined on the basis of calculating the appropriate land use coefficient, ensuring that it does not overload existing urban infrastructure and comply with current regulations.
Go Gang area: Controlling the high floor of the project to ensure safety for Go Gang's airport according to regulations.
Coastal corridors: Limit the construction of high-rise buildings with vertical facade to shield the view, wind direction, divide the space in urban areas with the sea space. Encourage construction of works in the direction perpendicular to the coast.
- Areas to encourage high-rise development: In new development areas, high-rise development is encouraged on the basis of ensuring population control, social infrastructure, infrastructure and compliance requirements. in accordance with current regulations. In the intersection areas between the main urban roads, the main urban trunk lines towards the sea encourage the construction of high-rise buildings as the highlight and shape of urban space.
d) Areas of marine space exploitation research:
In the maritime space areas from Bai Truoc to Bai Dau, Nghinh Phong and Cua Lap, specialized researches will be conducted to specifically assess natural conditions, geology, hydrology, tidal flats, and economic activities. onshore and coastal coasts, ecological environment and impacts of climate change and sea level rise to identify areas, serving as a basis for establishing high-grade tourist services and public services, make a difference of Vung Tau beach tourism. Do not encroach on the sea to expand the development of urban areas.
The area of ​​study consideration should be ensured: Exploiting in areas of reefs with good geology, bad landscapes and wetlands; ensuring views towards the sea and from the sea towards the city; does not affect maritime activities and international maritime corridors; does not negatively impact socio-economic activities on existing onshore areas; comply with legal regulations on environmental protection, marine spatial planning and coastal use planning.
6. Orientation of technical infrastructure system planning.
a) Traffic orientation
- Outbound traffic:
+ Road: Building Bien Hoa - Vung Tau highway; upgrading national highway 51 in the direction of regional traffic, connecting the city with other cities in the province and Ho Chi Minh city area.
+ Railways: To build a suitable Bien Hoa-Vung Tau railway, consistent with the planning on development of Vietnam's railway transport. Scale and location of recruitment, specific stations comply with approved specialized plans.
+ Airway: Follow the planning of Vietnam air transport development and related regional plans.
+ Waterway:
Inland waterways: To build the system of inland waterway ports according to the specialized transport planning and efficiently exploit the main routes on Dinh river; Mui Gioi river; Rang river; Cha Va river; Ba Coi river; Co May - Cua Lap river; Sao river; Rach Tre and Ben Dinh Rach.
+ Seaways: To build and develop seaports according to the specialized transport planning, to synchronously connect with the technical infrastructure of railways, roads and inland waterways. Major harbor areas include: Sao Mai - Ben Dinh, Long Son, Dinh river port and a system of passenger wharves and yachts at Dau beach and Front Beach.
- Urban transport
Upgrading and embellishing existing urban roads. Continue to build, renovate and perfect vertical axis roads; Additional development of horizontal axis network connecting the central area with the coastal area. The ratio of traffic land, static traffic and urban road network complies with current standards, standards and urban grade I criteria.
- Public transport: Developing bus traffic system to serve urban needs and link with neighboring areas. To attach importance to developing a system of bus networks connecting urban areas and convenient access to newly developed urban centers.
- System of bus stations, parking lots and stations:
+ Bus station system: Convert existing bus station into parking lot and bus center, serving the inner city area. In the first phase, to arrange inter-provincial passenger car terminals in the north of the city, on national highway 51, to meet passenger and cargo transportation and tourist tourist service; scale of about 5 ha, meeting the standard of class I. The period from after 2025, building a new bus station in the southeast of the highway; scale about 3.2 ha, meeting the standard of type I.
+ Public parking system: Planning and investing in the construction of public car parks attached to urban centers and central areas and mixed development areas; ensure the parking area reaches at least 3 ÷ 5% of urban construction land.
b) Orientation of technical preparation
- Leveling orientation:
The controlled ground level of each area selected according to the hydrographic regime has a direct impact on the urban area; comply with current regulations, in line with the plans already implemented, in harmony with adjacent areas. The ground level of construction of main areas is determined as follows:
+ Long Son - Go Gang area: Building height of 2 m từ 3.38 m;
+ Coastal urban areas with sea protection embankments: Elevation of construction foundation ≥ 2.7 m;
+ Bac Phuoc Thang area: Construction foundation height ≥ 2.85 m;
+ Old urban area: Construction foundation height ≥ 3m;
+ Areas within the protection area of ​​the dyke - tide prevention culvert: Construction elevation đại maximum water level at regulating reservoir + 0.3 m.
At the new construction sites, local leveling will be carried out, in accordance with the control altitude in combination with taking advantage of natural terrain; protect rivers and canals to support drainage and create urban landscapes
- Surface water drainage:
+ System: Construct separate rainwater drainage system for new construction area and semi-separate drainage for existing renovated areas.
+ Network: The whole city of Vung Tau is divided into 07 drainage basins, the main exit direction is to Ganh Rai and Dinh rivers and escape to the sea.
c) Water supply orientation:
- Demand for water: The total volume of water for domestic and industrial use by 2025 is about 160,000 m3 / day; in 2035, about 225,000 m3 / day.
- Water source: Use of Da Den lake surface water with additional surface water from Ray River lake.
- Water plant: Continue to use and maintain the capacity of Dinh river water plant and Nguyen An Ninh turbocharging station. Raising the capacity of Ho Da Den water plant in accordance with the needs of each period. Newly build Long Son booster pump station with capacity of 15,000 m3 / day and night (in 2025 period); 35,000 m3 / day and night (stage 2035).
d) Orientation for power supply and lighting planning:
- Demand for electricity supply: The total demand for power supply by 2025 is about 844 MVA, by 2035 about 1046MVA.
- Power from the national electricity system through source stations: 220kV Phu My - Ba Ria - Vung Tau; 220kV and 110kV Ba Ria - Vung Tau from Ba Ria thermal power plant; 500kV North Chau Duc power station and 550kV Long Dien.
- For 220kV stations and electricity grids: To raise the capacity of 220kV Vung Tau station to 2 x 250MVA; newly build 220kV Vung Tau 2 power stations with capacity of 2 x 250MVA, Long Son with capacity of 2 x 250MVA. Maintaining the direction of the 220kV double circuit of Ba Ria - Vung Tau; 220kV double circuit Long Dien - Vung Tau 2 - Vung Tau; 220kV branch branch double circuit supplying electricity to 220kV Long Son station, connecting 220kV Phu My - Chau Doc line.
- For stations and 110kV power grids:
Renovating 02 110kV transformer stations including Dong Xuyen with capacity of 40 + 63MVA and Thang Tam with capacity of 2x63MVA; building 07 new 110kV stations including Vung Tau, Vung Tau 3, Sao Mai - Ben Dinh, Phuoc Thang, Go Gang, Long Son industrial zone and LSP Long Son. Complete and build a new 110kV grid structure to supply power to 110kV stations.
- For the medium voltage grid: Improving underground subways of the central region.
- For lighting grid: At sectional roads cắt 3m, all lighting is standardized. For the entertainment center, the coastal area has a lighting design with its own characteristics to create an urban landscape.
d) Communication orientation:
- Network organization system: In the first stage, upgrade transmission equipment, meeting points that need to interchange traffic; upgrade capacity. Later stages, using new technology to increase capacity when needed.
- Switching network: Developing networks attaches special importance to applying technology, quality, building synchronous networks according to the new generation network model.
- About transmission: New generation transmission network must be applied advanced transmission technology, simple structure on the basis of existing transmission network.
e) Orientation of waste water drainage, solid waste management and cemeteries
- Waste water drainage planning:
+ Daily-life waste water: The total volume of daily-life and tourist wastewater in 2025 is 73,000 m3 / day; 2035 is 103,000 m3 / day. The existing city area uses a semi-private drainage system and escapes in four main basins to the treatment station of Rach Ba, Cay Khe, Go Gang and Long Son. New urban areas use separate drainage systems. Scattered areas build a system to collect and treat wastewater in each cluster of works.
+ Building 5 treatment stations for urban areas including: Rach Ba, capacity of 22,000 - 44,000 m3 / day; Cay Khe, with a capacity of 22,000 - 36,000 m3 / day; Go Gang capacity of 3,500 m3 / day; Long Son 1, capacity of 3,500 m3 / day; Long Son 2 has a capacity of 2,650 m3 / day.
+ Industrial wastewater: Total industrial wastewater flow in 2025 is 39,000 m3 / day: 2035 is 65,000 m3 / day. Use separate collection and treatment system, arranged according to each industrial zone and cluster. The quality of domestic and industrial waste water after being treated with pollution value must ensure that the new standards and standards are discharged into the environment.
+ Medical waste water: treat separately at a qualified facility to discharge into the general system.
- Planning on solid waste collection and treatment:
+ Total volume of daily-life solid waste: 702 tons / day by 2025; by 2035 is 1000 tons / day.
- Total volume of industrial solid waste: 350 tons / day by 2025; 2035 is 430 tons / day; Hazardous industrial solid waste is collected and treated separately. The rate of domestic and industrial waste collection is 100%.
+ The entire domestic, industrial and medical solid waste is brought to the provincial solid waste treatment area in Toc Tien - Phu My town.
- Planning of cemeteries and funeral homes:
Forecast of cemetery land demand is 20-30 ha. Existing cemeteries that do not guarantee environmental quality should close the burial stop. Encourage people to use cremation. Long Huong Cemetery, scale of 46 ha and Long Dien, scale of 27 ha.
g) Underground space planning: It is proposed to arrange underground traffic sections in special locations, taking into consideration the urban landscape architecture elements; Road (cars, motorbikes ...) underground, pedestrian walkways, underground parking in commercial centers and high-rise apartments.
h) Strategic environmental assessment
- Urban area
New urban areas, residential areas, construction projects of renovating and exploiting coastal space shall conduct environmental impact assessments in accordance with law. Quality control of waste water and waste at waste source receiving locations.
From Nghinh Phong nose to Cua Lap, it is necessary to handle coastal erosion phenomenon; In Cua Lap river, priority is given to the treatment of river mouth sedimentation and bank erosion. The construction areas along the mountain slopes need to limit the density and construction height to avoid landslides, erosion and landslides.
Lakes that are heavily polluted such as Rach Ba lake need to be prioritized to thoroughly treat waste, waste water, oil spill ... from areas of boats and households engaged in seafood production and trading and processing. ...
- Industrial parks - ports
To build a system of surrounding embankments to prevent landslides and isolation strips with mangrove green trees to prevent waves from storms. Implementing the plan to prevent incidents (oil spill, chemical spill, fire, labor safety); waste water is collected and treated, periodically reporting the environment in the port area.
- Protection forest area
Research and supplement native plants suitable for unusual weather. Sustainable management of wetlands to maintain water flow and quality. Preserving and restoring forests, greening some mountains to create landscapes for tourism to stabilize sloping land (Big mountain area, Small mountain, Nua mountain).
- Prevention of natural disasters and environmental protection
Setting up the overall forecast model application of the impact of climate change on socio-economic development and natural resources and environment. Assessing the impacts of climate change and natural disaster risks; building flood maps. New construction infrastructures should be considered to choose the location and design criteria ... in accordance with the impact factors due to sea level rise. Existing buildings must be reviewed, evaluated and planned to be upgraded or relocated in the appropriate roadmap.
7. Programs and projects prioritized for investment
- Urban development: Developing Vung Tau city development program in the period of 2020 - 2025, orientation to 2035; planning subdivisions and detailed planning for preparation of urban construction investment. Making projects: Social housing for low-income people, resettlement areas, cultural parks - Bau Trung new urban area, Bau Sen park, Rach Ba lake park, urban area - Ben Dinh service and new urban areas, built at 5 public land areas after relocating offices to Ba Ria city and other public land in Vung Tau city and administrative center; social infrastructure works to ensure quality according to urban criteria of grade 1 such as funeral houses, theaters, libraries ... Develop and promulgate regulations on management of planning and architecture.
- Industry and tourism: To invest in the construction of Long Son petrochemical refinery and Phuoc Thang handicraft complex. Renovation and embellishment of coastal resorts along Thuy Van road at Back Beach.
- Construction of technical infrastructure network in the first phase:
Transportation: Construction of Bien Hoa - Vung Tau highway, the main transport routes of the city such as: Cau Chay, Hang Dieu, Binh Gia road - 51B seaward direction, Nguyen Huu Canh, Thong Nhat road extended; other intersections at the intersections frequently occur traffic jams; parking lots in Bai Sau area and city center; to build an international passenger ship port; Go Gang airport.
Technical preparation: Open and dredge Ben Dinh canal. Construction of drainage ditches from Bau Trung lake to Cua Lap lake. To build rain water drainage culverts under planning main axes.
Water supply: Newly build Long Son booster pump station with a capacity of 15,000 m3 / day. Raising the capacity of Ho Da Den water plant is 160,000 m3 / day.
Electricity supply: Newly build 110kV source stations: 110kV Sao Mai - Ben Dinh with capacity of 2x63MVA; Long Son 110kV station with capacity of 2x63MVA; Phuoc Thang 110kV station, capacity of 2x40MVA. Renovating and laying underground systems of medium and low voltage networks in the central area and tourist areas.
Waste water drainage: Build a collection network to Cay Khe treatment station.
Communication: Building a city towards smart urban application, high technology application in areas such as transportation, health, public administration. Adding new stations according to urban planning orientations.
8. Organization of implementation
+ Assign Ba Ria - Vung Tau People's Committee:
- Promulgating management regulations according to the scheme on adjustment of Vung Tau city general planning till 2035.
- Public announcement of planning scheme.
- Review and make and adjust subdivision planning, detailed planning and urban design in accordance with the approved plan for general planning of Vung Tau city to 2035. Formulating and promulgating the Regulation on management of urban planning and architecture according to regulations.
- Prepare and approve urban development programs; elaborate a plan to implement the planning synchronously with the investment in technical and social infrastructure systems in the city.
- Develop mechanisms and policies related to finance and land to implement investment priority projects.
+ Assigning concerned ministries, branches and localities on the basis of approved planning in coordination with the People's Committee of Ba Ria - Vung Tau province to implement the branch plannings, construction plannings and urban plannings. locally ensure consistency and consistency.

Long Giang
Source: Vitic / thuvienphapluat.vn